This post may contain affiliate links. Read our disclosure here.
This lentil soup is easy, quick, and has lots of nutrients that make our bodies happy. Lentils are inexpensive and are a great source of fiber and protein. Plus, hot soup is really great for these gray and misty days.
Ingredients
3 strips of bacon
1 cup chopped onion
1 cup chopped carrots
2 stalks celery, chopped
1 tsp ground cumin
1 1/2 cups lentils
1 28 oz can diced tomatoes
1 1/2 quarts low-sodium chicken broth
salt and pepper to taste
optional:
sour cream
shredded cheese
Directions
In a large Dutch oven, cook the bacon over medium heat until cooked through and crisp. Remove the bacon from the pan and let cool on paper towels. Crumble and set aside.
Add the onion, carrots, and celery to the pot (there should be a little grease leftover from the bacon) and cook until tender, about 6 minutes. Add the cumin and stir until fragrant.
Stir in the lentils, diced tomatoes, and chicken broth and bring the mixture to a boil. Reduce to a simmer (about medium-low heat) and allow to cook, stirring occasionally, until the lentils are tender, about 35 minutes. Add salt and pepper to taste.
(Optional: I like my lentil soup to be a little bit creamy, so I took an immersion blender to the pot after the soup was ready and blended just enough so that some of the lentils and vegetables broke down. It made the soup taste a little thicker and chowder-like without adding the extra fat of heavy cream. If you don't have an immersion blender, add a couple of cups of the soup to a blender, blend until smooth, and stir it back into the soup pot.)
Serve the soup with the reserved bacon crumbles, shredded cheese, and sour cream.
Created by SouthernSavers.com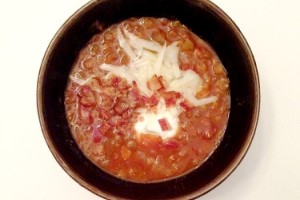 See more frugal recipes!