This post may contain affiliate links. Read our disclosure here.
If you're looking for a quick dinner that's also healthy, try this recipe for pan cooked salmon with a lemon butter sauce!
Salmon is rich in omega-3 fatty acids, is a good protein source, and may help reduce inflammation.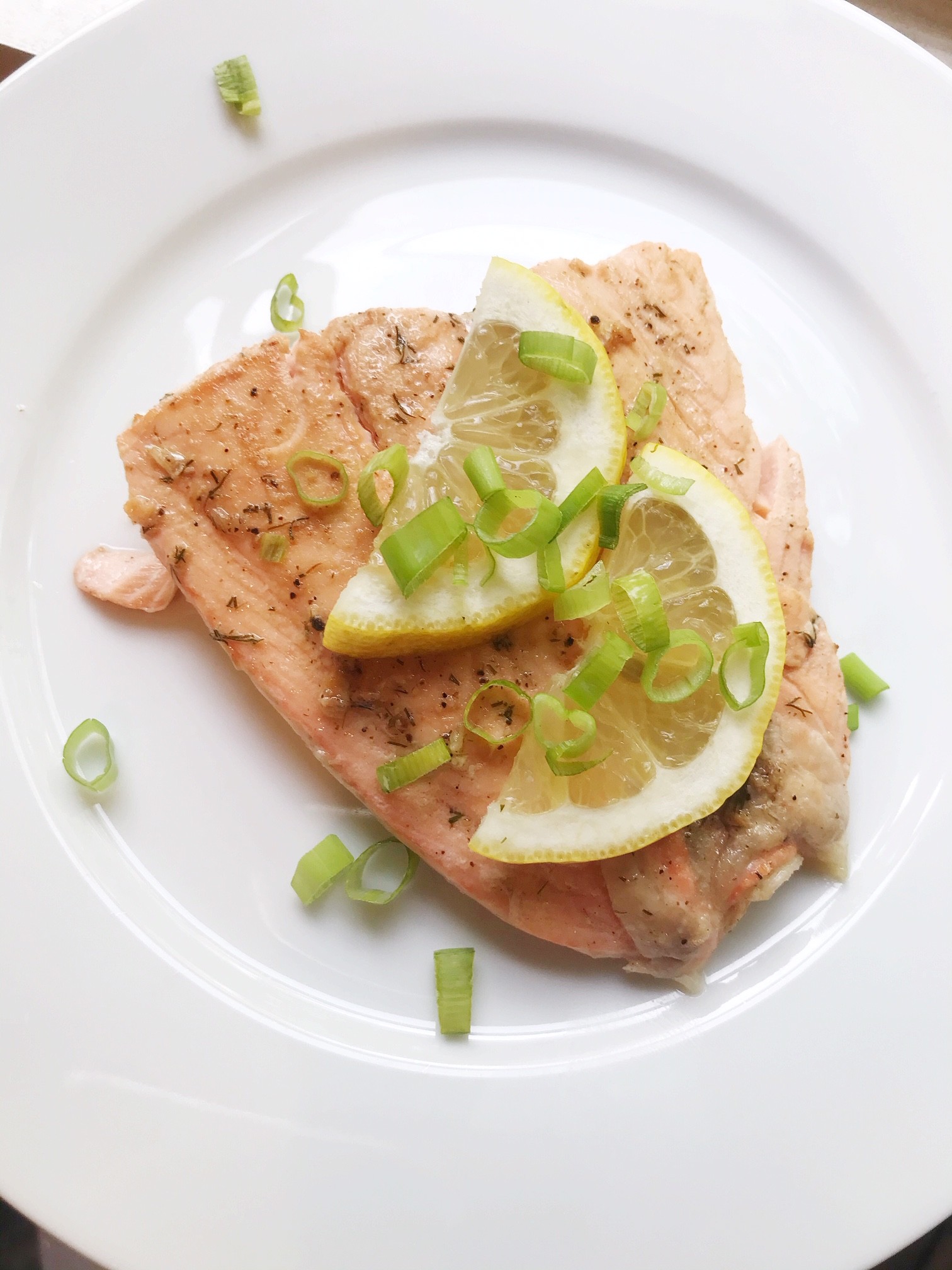 Pan Cooked Salmon with Lemon Butter Sauce
Ingredients
1 lb skin-on salmon fillets
salt and pepper
1/2 tsp garlic powder
1 tbsp olive oil
2 tbsp unsalted butter
1 tsp chopped fresh dill
2 tbsp lemon juice, divided
sliced green onions for garnish (optional)
Directions
Pat the salmon fillets with a paper towel to remove excess moisture. Season the flesh side of the salmon with salt, pepper, and garlic powder.
In a skillet over medium heat, add the olive oil, butter, and the salmon, skin-side down. Allow the salmon to cook, undisturbed, for 4-5 minutes.
While the skin-side is cooking, add the dill and 1 tbsp lemon juice to the pan. Spoon the melted butter/oil/seasoning mixture over the salmon while it's cooking (you can keep spooning the seasoned butter the whole time it's cooking; it will make it really flavorful).
Gently flip the salmon and continue cooking for 1 minute (or until your desired doneness). At this point you can remove the skin (though some people enjoy eating it).
Drizzle the remaining 1 tbsp of lemon juice over the cooked salmon and garnish with green onion and lemon slices (if desired).
Created by SouthernSavers.com
See more frugal recipes!