This post may contain affiliate links. Read our disclosure here.
Take a break from the sand and sea and dig into the dirt! There are lots of fun gardens you can grow this summer, from a tiny garden in a seashell to a garden that produces your salads!
I've listed a variety of fun garden ideas, including some gardens that kids would love to be a part of!
Easy Summer Gardens:
Salad Garden
Grow your own lunch this summer! Grow a salad garden and include everything you love in a salad, including your favorite lettuces, tomatoes, cucumbers, bell peppers, even strawberries and more. For an in depth guide on salad gardening, check out this article at HGTV!
Pizza Garden
Grow your own dinner, too! A pizza garden is a fun way to grow herbs and spices to make your own pizza sauce and toppings. Grow your garden in a big pizza shape for a fun variation. This is sure to get the kids interested, too! See more at HGTV.
Edible Rainbow Garden
A rainbow garden is a fun idea that the whole family will love. Not only is eating the rainbow super nutritious, but it will be beautiful to look at as well. Plant strawberries, orange bell peppers, yellow squash, blueberries, zucchini and more. Megan Zeni has a whole list of edible plants in all the colors to make a rainbow garden full of stuff you want to eat!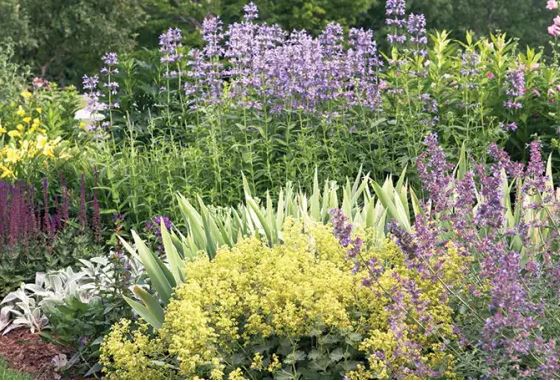 Summer Perennial Garden
If you're looking to beautify your yard, look no further than a summer perennial garden. Summer perennials tend to be the prettiest and easiest flowers of all, which makes it a win-win in my book. A mix of a few different perennials can make a striking display that you (and the bees) will enjoy all summer. Check out this in-depth article by Garden Gate Magazine.
Air Plant Seashell Garden
Sunburnt? Hot? Just want to stay in your A/C? You can still grow a fun summer garden! Collect your favorite shells from the beach, add in some air plants and you have a fabulous and unique summer garden. Check out this adorable display by Finding Silver Pennies. Plus, order air plants from Amazon!
Summer Gardens for Kids: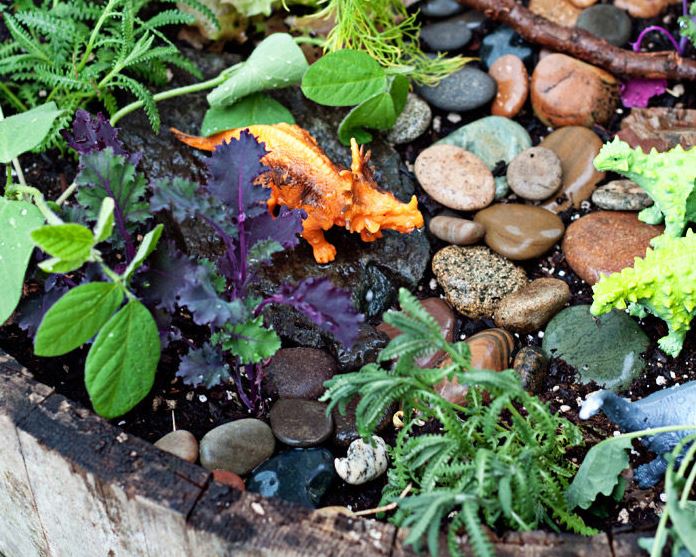 Dinosaur Garden
If you want to involve your little ones in the garden, the best way is to make it interactive! Enter dinosaur garden! In any size planter or raised bed, plant a variety of easy-care plants like herbs, veggies and maybe even an annual or two. Then add rocks and plastic dinosaurs and you have a party. See more here at Kitchen Treaty!
Fairy Garden
One of the most popular kids' gardens is a fairy garden, and for good reason. The beautiful, ethereal designs are not only attractive but so fun to create. Some great plants for a fairy garden are moss, colorful annuals, creeping jenny and other groundcover, succulents, herbs and more. Then add in tiny houses, pebble paths, dry creek beds and more. Check out this adorable upcycled water table fairy garden by Twitchetts! Add some fairy lights to make it fun at night, too!
Grass Heads
This might be the easiest summer garden for kids. A great activity for a rainy summer day and fun to watch grow over the a few weeks.
Use a small plastic cup or container as the head.
Decorate with googly eyes, a sharpie, paint or stickers to make a silly face.
Then fill with dirt and a sprinkling of grass seeds and put in a sunny spot. Make sure to water a little each day.
Use a ruler to see who can get their hair the tallest!
Check out these grass heads at Little Bins Little Hands!
TeePee Vine
In my humble opinion, I've saved the best for last. Kids want to play in the dirt? Kids want a playhouse? You want to be frugal? Here is a summer garden idea that checks all boxes! Check out this amazing vine tee pee at Sunset magazine. Costing only about $20 in materials, set this tee pee up in about an hour. Then watch as it grows and grows. Everyone will want to play in it!
See more freebies!