This post may contain affiliate links. Read our disclosure here.
This post is sponsored by Conagra, but the opinions expressed are my own.
As we go into College Bowl season it's a great time to step up your game and win the crowd over on game day with delicious recipes from Rosarita and Rotel.
Head over to loveeverylastbite.com/game-day and find tons of recipes plus vote on your favorite and you'll be entered to win a Party Pack with a $100 Walmart gift card!  
I'd love to have you vote for my entry!!
Both Rosarita and Rotel are go-to ingredients for us for any taco/nacho night and Rotel is a key player in our favorite chili.  Because we already love them when they asked if I make a new recipe that was quick and easy just for game day and was happy to join in the fun!
We went to Walmart to grab the ingredients (you could speed this up with Walmart's Online Grocery and Pickup service).  You'll find Rotel near the canned tomatoes and the Rosarita in the Hispanic section.
We decided to make something that all the girls could help with and I even let them name it.  Here's our Double Dipped Nachos. My littles (who are notorious double dippers) loved these and declared that they were like getting to double dip without getting in trouble.  We christened them with their name.  
You'll need 6 ingredients and can have them together in less than 10 minutes!
Double Dipped Nachos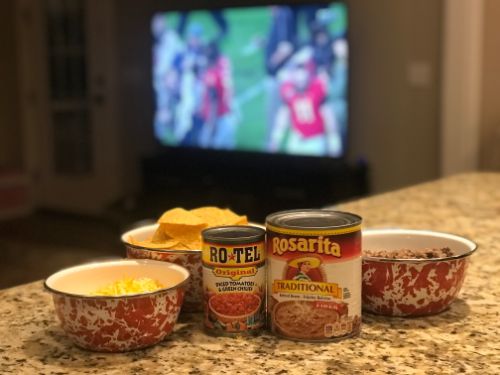 Ingredients Needed:
(2) cans of Rotel Original Diced Tomatoes and Green chiles
(1) 28 oz can Rosarita Traditional Refried Beans
1 lb. Ground Beef
1 packet of taco seasoning
1 8 oz pack of shredded cheese
1 bag of round tortilla chips
Directions:
Brown the ground beef and season with taco seasoning.

(I keep cooked ground beef in the freezer to make meals like this even faster). 

Lay the chips out in a baking pan.  

Put a small spoonful of Rosarita Traditional Refried Beans on each chip.

Add cooked ground beef on top of each cracker.

Cover with shredded cheese.

Bake at 375 for 3-4 minutes, until cheese is melted.

Pull out of the oven and top each chip with Rotel original diced tomatoes and sprinkle a tad more cheese on for good measure.
Serve and enjoy!
Tip: All the extra that falls around the chips in the pan, just mix that together and put it on some extra chips.  It's a perk of being the person to clean up the kitchen!
Why Rosarita and Rotel?
For over 70 years Rosarita has made traditional refried beans.  They are one of the most authentic and have great flavor that will always make any Mexican inspired dish amazing.  
Rotel adds a bold fresh flavor to every meal you put it in.  There is no bland here, instead zesty green chilies and vine-ripened tomatoes bring a bit of adventure to every meal.  Seriously you can always taste the difference!
I'd love to have your vote in the Win the Crowd contest, plus when you vote you'll be entered to win a $100 Walmart gift card and a Rosarita/Rotel prize pack!