This post may contain affiliate links. Read our disclosure here.
This spring and summer I'm working on stocking my freezer, but not in the way that you might be thinking of when you think about freezer cooking. Instead of making a bunch of casseroles and putting them in the freezer, I'm mostly freezing components of meals to make the dinner time hour easier. (But I will be making a few main dishes; don't worry!)
With my recent purchase of a bread machine, I have been making buns from scratch for sandwiches, hot dogs, and hamburgers. These are a thousand times better than anything you can get at the store, unless you want to pay big bucks for gourmet buns. I used to splurge on those for certain dinners, but now we can have delicious buns whenever we want. And if I utilize the freezer, then it takes no time at all.
Homemade Buns for Sandwiches, Hot Dogs, and Burgers (Freezer Recipe)
To begin with, I used my bread machine to make the dough, but you can also use a stand mixer. For a bread machine, always add your liquids, then sweeteners and salt, then flour, then the yeast.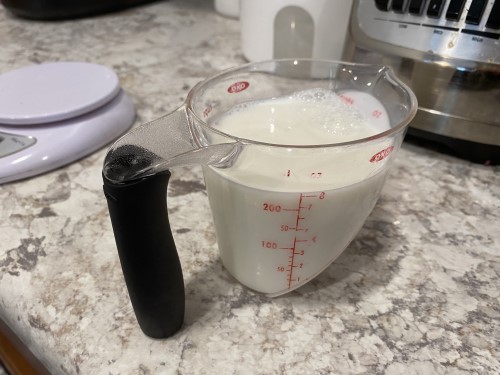 You'll start with 1.25 cups of milk (this is only 1 cup, obviously).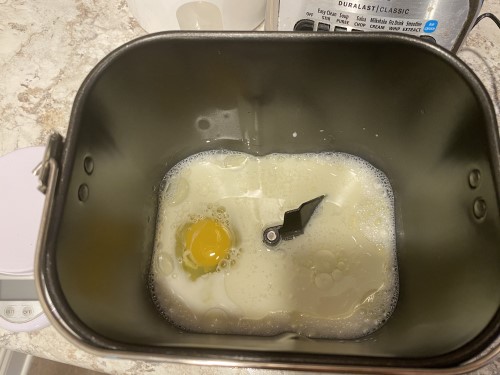 Then you'll add 6 tbsp. of melted butter or neutral oil and an egg, then 1.5 tsp salt and 2 tbsp. sweetener (I used white sugar).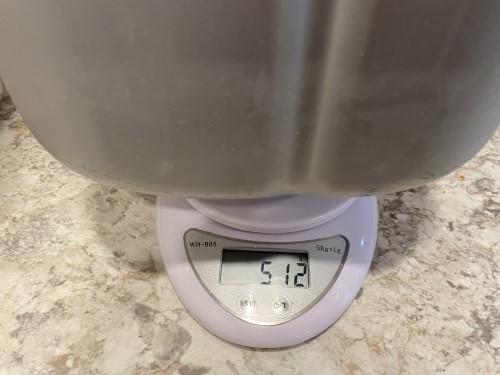 Now it's time for the flour. It's always a good idea when baking to measure your flour and make sure you have the right amount. A cup of bread flour weighs 128 grams, so I measured 512 grams (4 cups).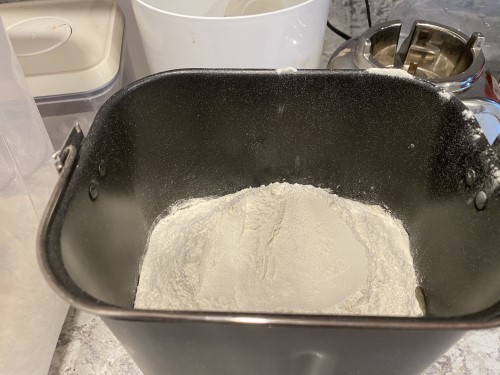 Make a little well on top of the flour for your yeast.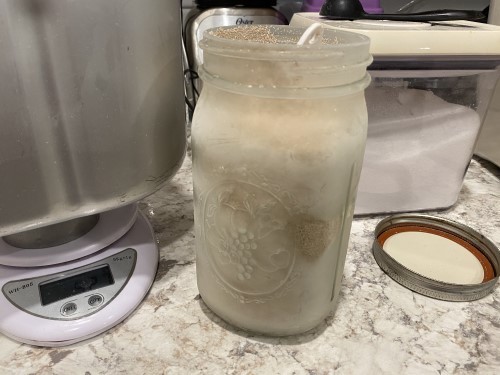 I buy yeast in bulk and keep it in the freezer in a Mason jar. It lasts forever!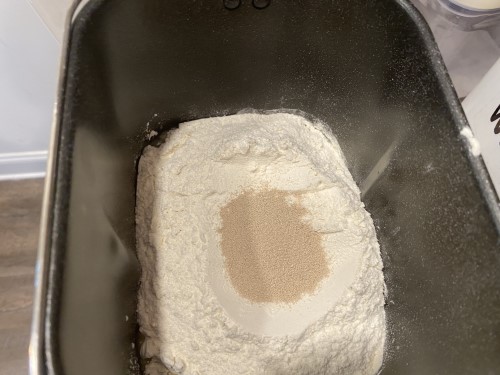 You add the yeast last because you don't want it to touch the salt or sugar.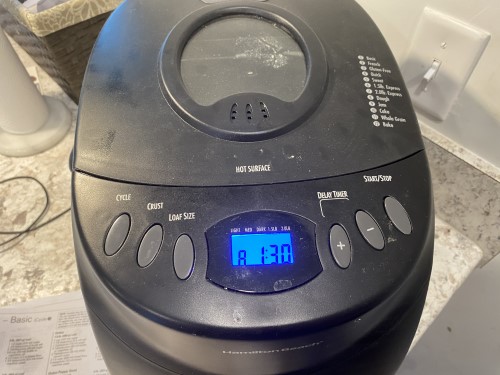 Then set the bread machine to the dough cycle and let it go to work.
If you're doing this in a stand mixer, let the yeast proof in slightly warmed milk with the sweetener. Then add in the egg and the oil and the salt. Finally, add the flour.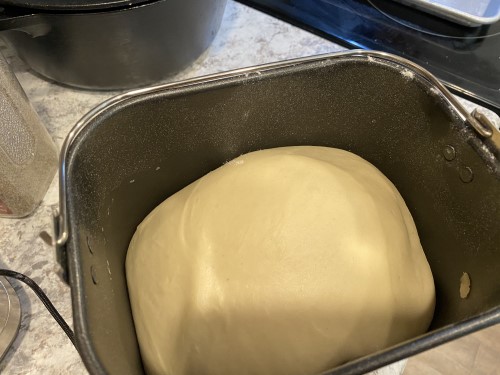 Here's what the dough looks like when it's done!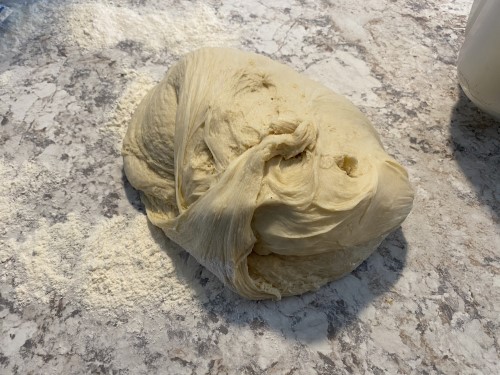 When you plop it out, it will be sticky. Make sure you put it on a floured counter and then add some flour to your hands.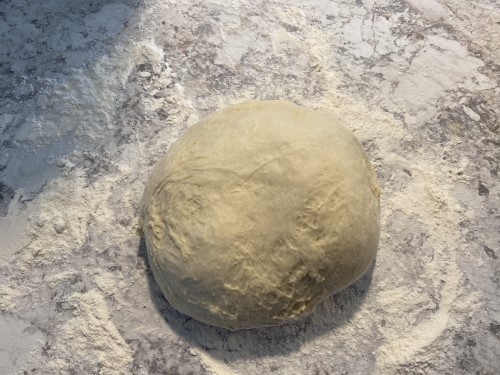 You want to work the dough until it's not as sticky and try to form it into a ball.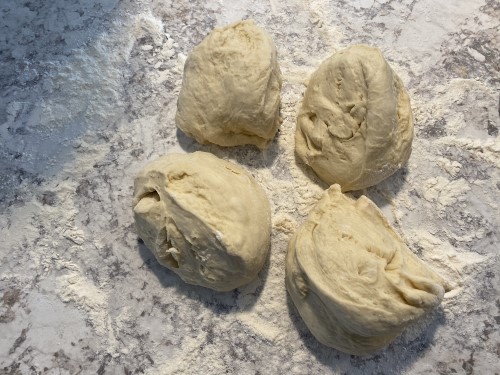 I find this is enough dough to make 16 buns of various sizes, so first I cut the dough into fourths.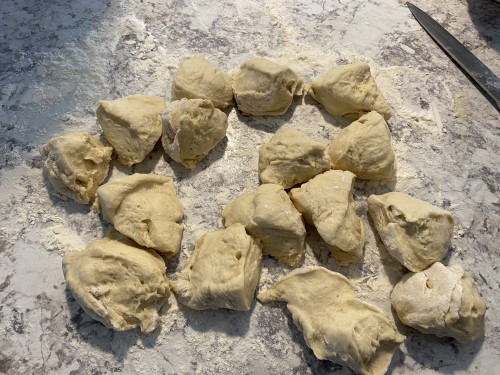 Then I cut those pieces into fourths and I've got 16 pieces!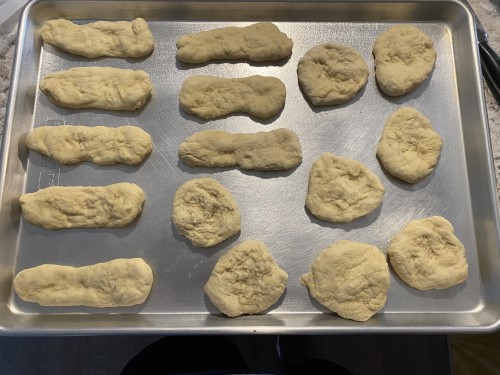 Form them into the shape you want and place on a greased cookie sheet. These aren't going to win any technical awards since none of them look exactly the same, but no one here cares!
When I was making these, I made half of the buns for meatball subs and the other half for a future meal of hamburgers. Eight buns for a meal is about right for our family. You could, of course, do all of the same kind. Or you could make larger buns.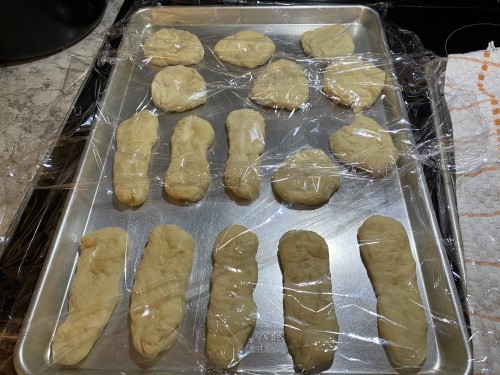 Then you'll need to cover them with some plastic wrap and let them rest for about 30 minutes.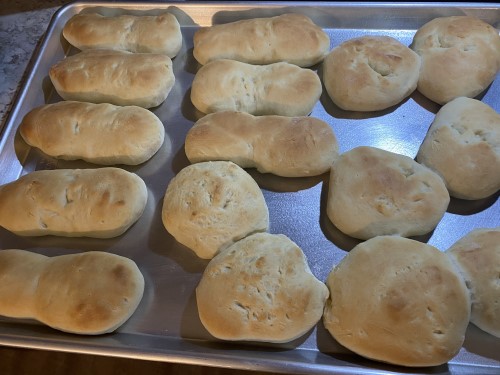 Then pop them in a preheated oven at 375 for about 15 minutes. You'll know they're done when the tops start to brown.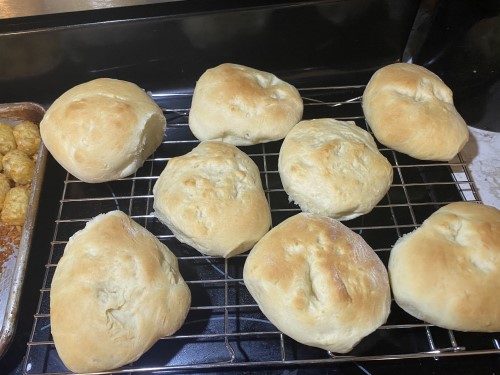 It's best if you let them cool before you try to slice them, so I stick them on a baking sheet. You'll also want them to cool completely before freezing them.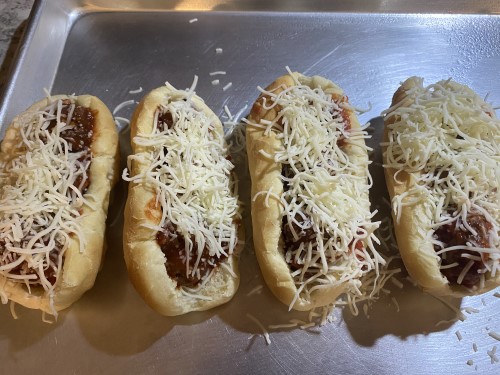 We used the longer buns for meatball subs and they were delicious!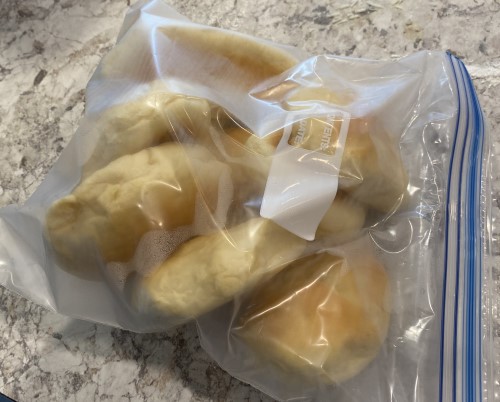 The hamburger buns I popped in a freezer bag and put in the freezer. You don't have to flash freeze them ahead of time; I find as long as the buns are cool, it's fine to just throw them in a bag.
Homemade Buns for Sandwiches, Hot Dogs, and Burgers
Ingredients
1 1/4 cup milk
1 egg
6 tbsp butter (or neutral oil like canola oil)
1.5 tsp salt
2 tbsp sweetener
4 cup bread flour
2 tsp active dry yeast
Directions
Add the ingredients in the order directed by your bread machine and use the dough setting.
Remove the finished dough onto a floured surface and add flour until it's no longer sticky.
Divide the dough into 16 sections and form into whatever shaped buns you want.
Place the buns on a greased cookie sheet.
Bake at 375 for about 15 minutes.
Let cool completely before slicing.
Created by SouthernSavers.com