This post may contain affiliate links. Read our disclosure here.
The arrival of spring and summer means that those of us with gardens are about to have arms overflowing with fresh produce! And even if you don't have your own garden, farmers' markets and produce co-ops are another way to find inexpensive produce to feed your family. The problem comes when you have more than you can eat before it starts to go bad! Today I'm going to share some basic tips on how to freeze fresh vegetables so you can enjoy them all year long.
Before we jump into everything, realize that this can be very small.  If you grab a deal on Squash, you can easily freeze an extra bag or two.  So don't just think this applies to folks with squash coming out of their ears!!
How to Freeze Fresh Vegetables
Blanching
For many vegetables, it's necessary to blanch them before you freeze them. Blanching is a process where you place vegetables in boiling water for a short period of time (see times for each vegetable in our printable guide), then remove them and place them in ice cold water to stop the cooking process. Blanching helps preserve the quality of the vegetable while it's in the freezer.
Use a stock pot to boil water. While the water boils, prepare a large bowl of ice water near the stove. Once the water is boiling, place prepped vegetables in the stockpot (it's easiest to use a metal strainer or mesh colander to do this). Once the vegetables have stayed in the water for the determined amount of time, remove them from the pot and immediately put them into the ice cold water for the same amount of time they were in the boiling water. Then dry them or let them air dry before putting them in the freezer.
Some vegetables don't need to be blanched before freezing—those are noted on the printable guide at the end of the post!
Canning
Canning is another option for preserving fresh vegetables. You can check out a post on canning I did a bit ago if you're interested in that method.  It's also super easy, but freezing definitely takes less up front gadgets and containers.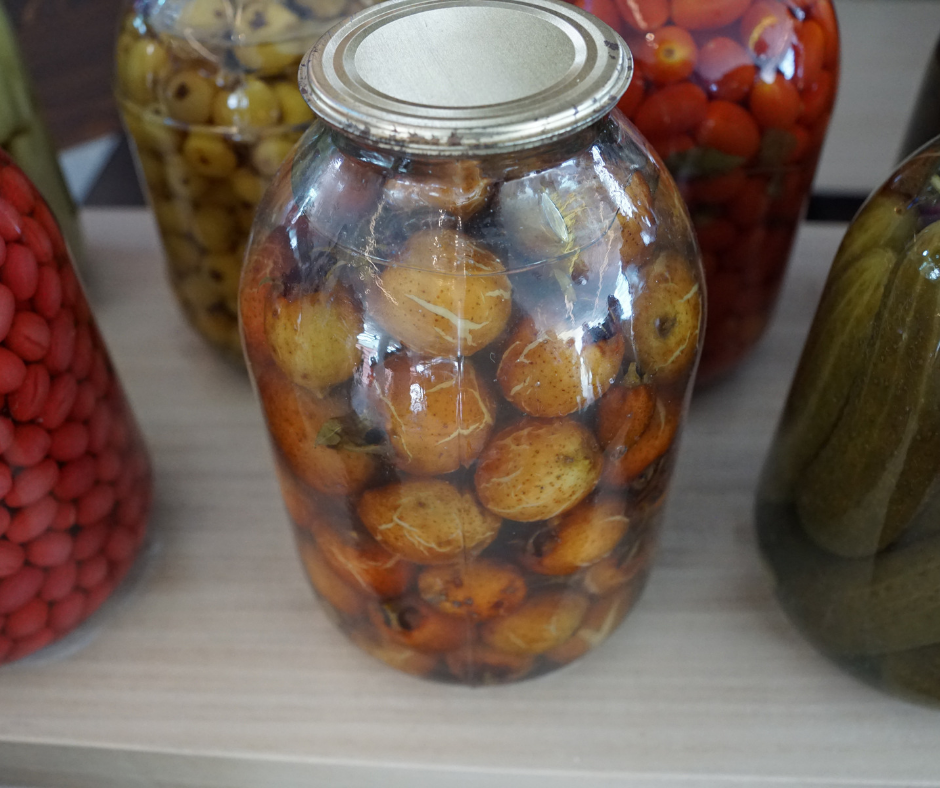 Freezing
You can choose how you want to freeze your vegetables once you've blanched them (if necessary). The best way to freeze is either in a Ziploc bag (if you plan to use them soon) or vacuum sealing. You can buy a vacuum sealer on Amazon for about $60, but you will save much more than that in the long run, because you can also use it to vacuum seal meat that you buy in bulk.
My rule of thumb is that ziploc freezer bags are good for storing 6 weeks or less, and anything over that needs to be vacuum sealed.

If you are freezing in a Ziploc bag, you want to make sure you remove as much air as possible. This will keep the vegetables from freezer burn. There are two methods folks recommend: The straw method involves using a straw to suck out as much air from the bag before sealing it. To use the water displacement method, place the bag down into a sink or bowl full of water. This will force the air up until you can seal the bag (be careful not to get any water in the bag!).  Personally pushing on the bag works for me.
Labeling
Be sure to label your items once you have them ready for the freezer! While it may seem obvious right now what's in each bag, in a few months you'll be thankful you labeled them.  Sharpies really don't cut it long term, so grab a pack of mailing labels and do it right.  Your future self will thank you when you don't accidentally though pork thinking it was beef…
Other Tips
For some vegetables, you may want to freeze them in a single layer on a sheet pan first, and then once they have frozen, move them to freezer bags so you can pull out the amount that you want.

Freeze the vegetables in the portion sizes that you plan to use them.

Consider freezing some vegetables together for future use in stir fries, casseroles, soups, etc. (For example, peppers, carrots and onions would go well together)
Printable Guide
Now that you know how to blanch vegetables, you can print out this handy guide and keep it in the kitchen. On the front there are instructions for how to prep vegetables for blanching and how long to blanch them. On the back, there's a chart with how to freeze fresh vegetables that don't need to be blanched.
How to Freeze Fresh Vegetables Printable Guide