This post may contain affiliate links. Read our disclosure here.
I'm on a mission to stock my freezer, by thinking outside the box and doing some less traditional freezer options. One thing I wanted to try was frozen pizzas.
I knew I could make more delicious pizza than store bought. We love homemade pizza night, and regularly make our own dough for it, but of course this takes much longer than popping a store bought pizza in the oven.
While these take a bit more time that opening a box… it's actually not a lot of hands on time.  That makes it the perfect work ahead freezer meal!
How to Make Homemade Frozen Pizzas
The first step is to decide how you want to make your pizza dough. You can use any recipe you want! I like Frugal Girl's bread flour recipe or our family recipe.
I make pizza dough in our bread machine because I just dump the ingredients in (in the right order) and turn it on. Ninety minutes later, I have my dough. I make sure I make enough dough for two pizzas!
While the dough was rising, I prepped my cardboard. Yep, we're going to freeze them on cardboard just like you buy at the store! You could also use metal pizza pans or old, clean cardboard if you put parchment paper between the pizza and the cardboard. I bought cardboard circles on Amazon.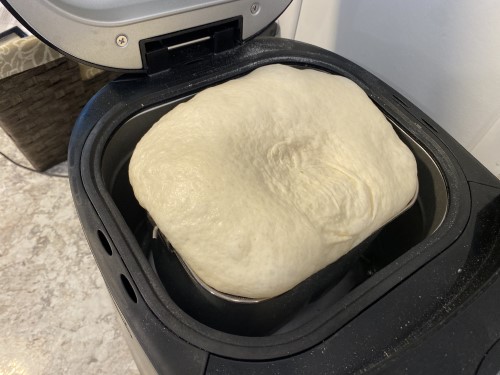 The dough for two pizzas is almost over the capacity for my bread machine, but it worked!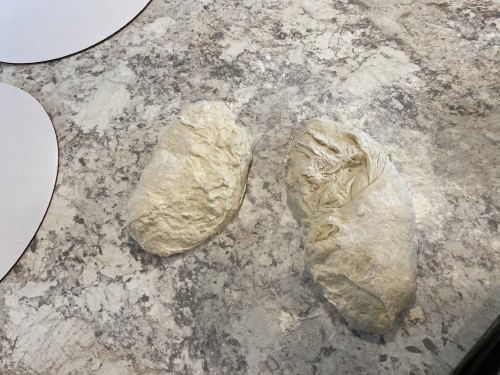 Once the dough is ready, form it into a large ball and cut it in half into two equal pieces. (In this picture, it's not perfect, but unless you're entering a pizza competition, it's fine.) You may need to put some flour on your hands to keep it from sticking.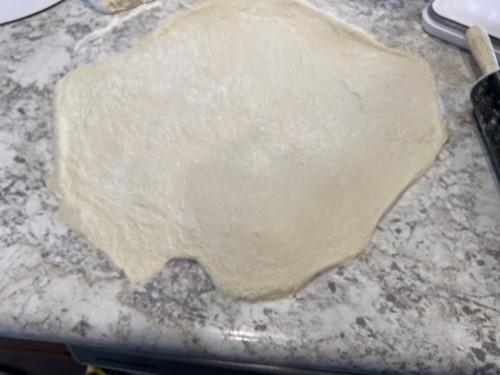 Roll it out into a circle slightly larger than your pizza round, using flour as needed, then transfer the pizza dough circle to the round.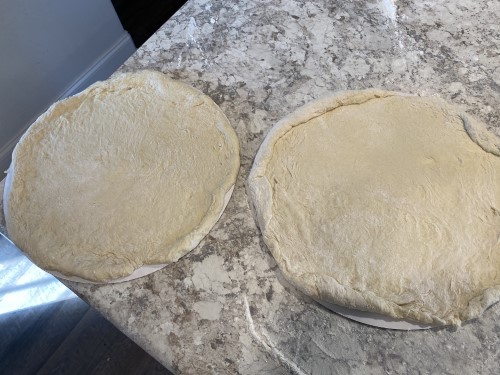 Fold the edges over themselves to make it fit on the circle. Again, it's not going to look perfect.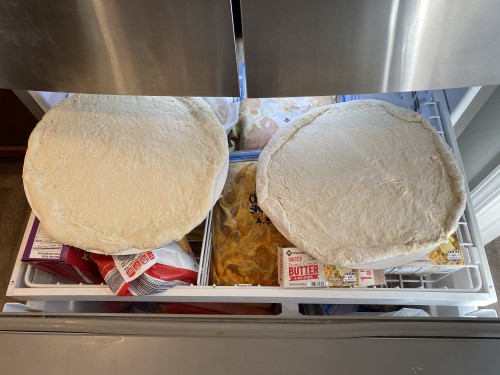 Flash freeze the dough for about 30 minutes in the freezer. You want it to feel hard when you touch it.
The great thing about these is that you can add whatever toppings you want. If you are going to cook any of the toppings, do that while the dough is flash freezing. I chose to make simple pepperoni pizzas.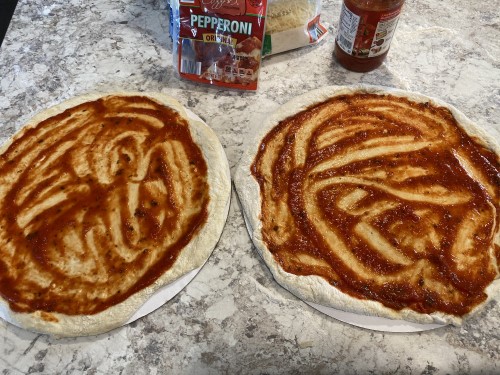 I just used jarred pasta sauce, but again, you're free to use homemade sauce or whatever you like.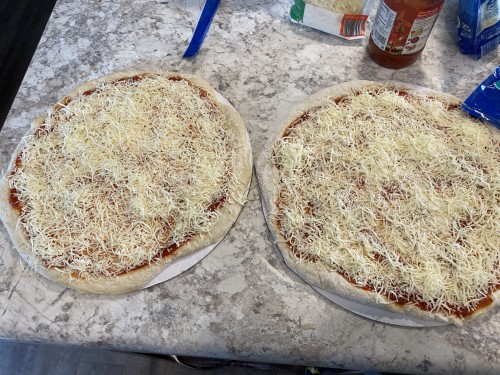 I then topped it with shredded Italian cheese.
I liked getting to put the pepperoni on—I feel like the ones from the store always go skimpy on the toppings.
P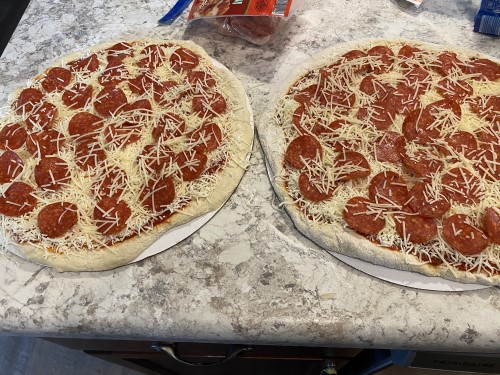 Then I sprinkled some Parmesan cheese on top of the pepperoni.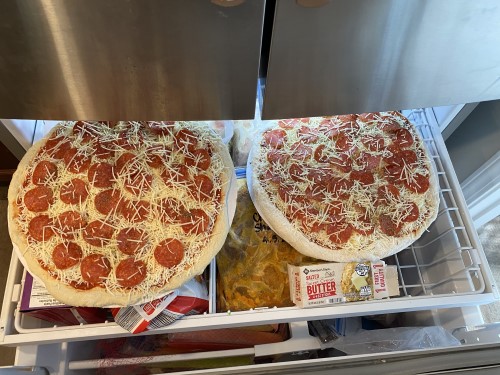 Freeze them again for an hour, or until the sauce no longer feels wet.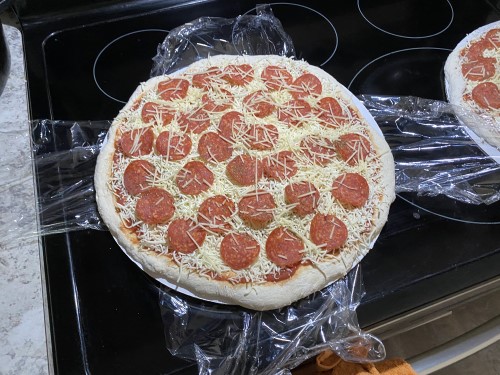 To wrap them, I laid two long pieces of plastic wrap in the shape of an X on the counter and put the pizza and cardboard on top of the X.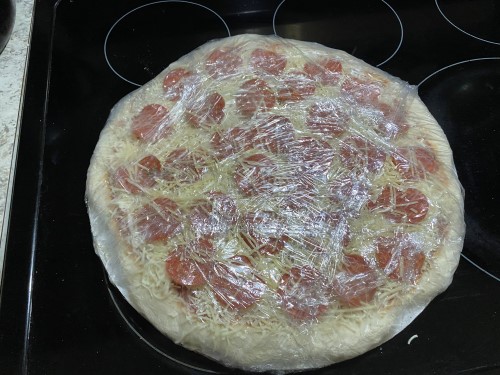 Then tightly wrap the edges around. I added one or two more lengths of plastic wrap to make sure the whole pizza was covered.
Now you have two delicious frozen pizzas ready to stick in the freezer for a busy night!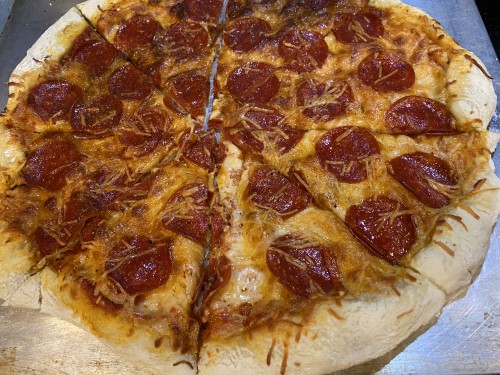 When you're ready to eat them, you have a few options. You can cook them on a preheated pizza stone at 500 for 10-15 minutes, or place them on a metal pan at 400 for 20-25 minutes. Make sure to remove the cardboard either way!