This post may contain affiliate links. Read our disclosure here.
Looking for a fun vacation spot for the whole family? Great Wolf Lodge is it! There is a huge indoor water park, crafts, games, ice cream, and so much more. All those options also means it can get really expensive, really quickly.
Thankfully there are a lot of ways to save! Here is a round-up of the best tips and tricks I know.
Play Around With Dates
You know that Sunday night the week before schools get out for a break? Great Wolf Lodge is going to be significantly cheaper that night. To the tune of 50% less. Enter a variety of dates to find the cheapest options and you can go from $599 to $139.99! Book at least 60 days out for the best deals.
Sometimes they will offer you a 2nd night at a reduced rate if they aren't fully booked.
2/9-2/10 with the code AMIDWEEK
2/13-2/14 with no code (I didn't see one for this night)
In general, midweek will always be the cheapest. If you go on a Sunday night you are able to take advantage of a huge discount and only have to take one day (Monday) off work (depending on your work schedule of course).
Great Wolf Lodge almost always has coupon codes on their site so keep an eye out for those pop-ups! You can also join their membership program (it's free) to take advantage of discounts.
They also have a military discount.  You can save up to 30%!
Sign Up For Emails
Great Wolf Lodge sends out fantastic coupon codes. They are often only valid for one day so be sure to keep an eye out if you are wanting to book at trip. $84 tends to be the cheapest price we see.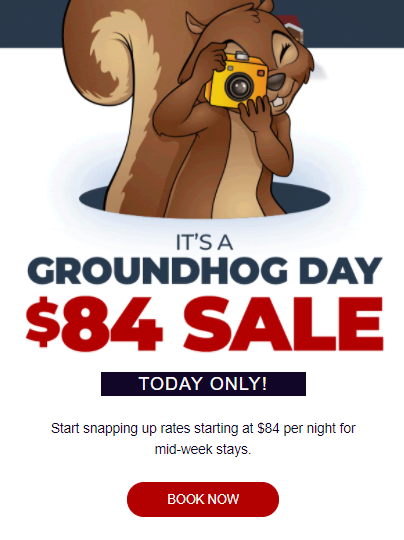 Check Groupon
Great Wolf Lodge is often on Groupon! You can compare prices between Groupon, GWL website, e-mail deals, etc to see which offer is the best whenever you want to book. Be sure to check for a Groupon coupon code and you may be able to save even more!
Expect Fees
No matter how much you pay or when you book, they are going to add on a $2o resort fee per night. I haven't found a way to avoid this, but if you know of a way let me know!
Room prices are based on an occupancy of 4 people. If you have more than that, they will charge you extra. One way to get around this (according to a reader) is to book through Groupon.
Skip The Passes
As you checkout, they are going to offer you a million add-ons. Just say no. Especially if you are only going for one or two nights it becomes stressful rather than fun to try to fit it all in.
Maximize Your Water Park Time
Check-in is at 4 but you can get into the water park at 1 pm. You can also stay as late as you want the day of your departure. In my opinion, it's not worth it to do the extended checkout for this reason. They have locker rooms with showers so everyone can easily change before leaving. We packed a smaller bag with just essentials and put the rest of our luggage in our car.
If you want to get in even earlier than 1 pm, you can rent a cabana. They are $100 – $199 and you get in at 10 am! Cabanas have a mini fridge, fans, a table and chairs. It's definitely more of a luxury add on and not necessary but could be worth it for certain families (like those with babies who will need a nap spot).

Take Your Own Food
Depending on which location you go to, rooms have a microwave and a mini-fridge. You can take milk, cereal, and fruit for breakfast; sandwiches for lunch; and a meal you only need to heat up for dinner. Don't forget the snacks! Running around will make everyone hungry so be prepared.
Be sure to confirm with your location on the microwave. Some locations do not have them.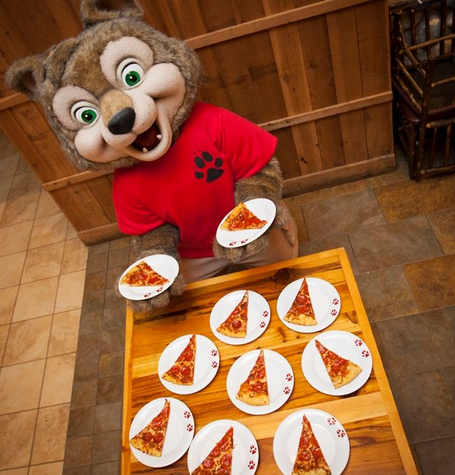 But If You Do Want To Eat There
A full pizza in the water park is probably your best bet! It's a good size so you're able to feed everyone for a reasonable amount. It's not the best pizza you'll ever have but it is convenient.
If you want to get drinks there, buy a souvenir drink cup. It is refillable for free-$1 the entire time you are there (again, check with your location for details before purchasing). Some locations even let you bring it back for your next stay to get free refills.

You can also have food delivered to the lobby.
Bring A Bear
We went to the Concord, NC location and there is a Build A Bear in the gift shop. Every kid in the hotel was walking around with those bears… which quickly add up when you have 5 children. My trick: take everyone a stuffed animal. They get to participate without the crazy expense.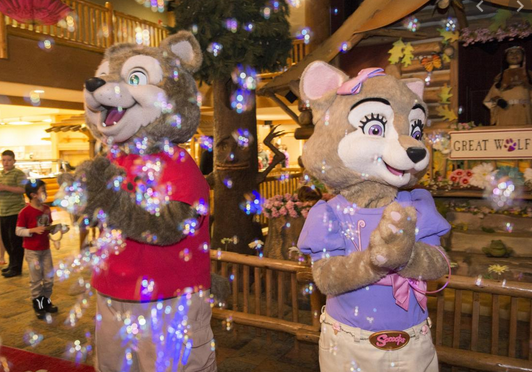 Do All The Free Activities
Great Wolf Lodge is very good at making money. They have magic wands, movies, bowling, candy shops, laser tag, etc. Thankfully they also have free activities like story time, crafts, dance parties, and seasonal activities. If you fill up your schedule with the water park and free activities they are less likely to feel like they are missing out on the others.
Another great option is to do a fun movie and popcorn night in your room and/or bring board games.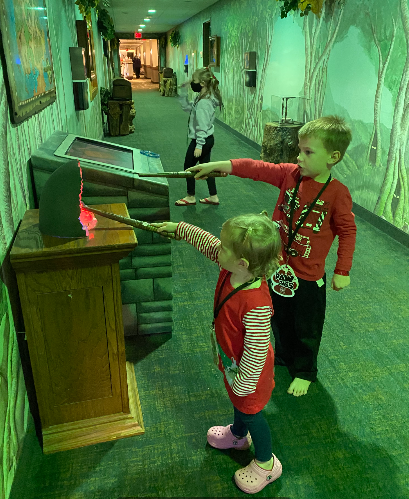 MagiQuest
MagiQuest is this fun game where you run around completing missions and get to open portals with your wand. This is my very basic explanation but it's really fun and well reviewed. This was the one extra that my kids absolutely loved so it *may* be worth it (depends on your family). If you are a returning guest, bring your MagiQuest wand back and you can trade it in for a fancy new topper for your new wand.
Things To Pack
Great Wolf Lodge has a gift shop so you can purchase everything you forget, but you'll save so much by taking things yourself.
You'll want:
flip flops
towels (they have them there but I'd rather not risk losing & then paying for them)
swim suits
swim diapers
cover-ups
water bottles
stroller
pajamas to wear around the hotel
& then all of the normal things you'd take on a trip
Plan To Go Back
My kids have been asking daily when we get to go back. We all loved it! Be sure to check your e-mail after your trip. They usually send out a code for 40% off your next stay!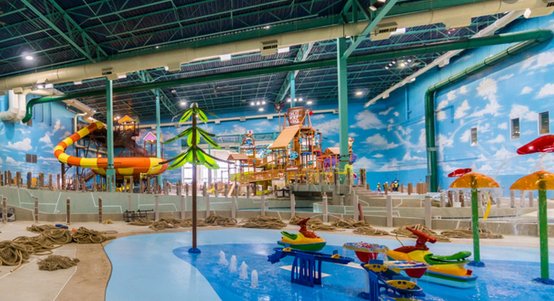 Other Tips From Southern Savers Readers
Go with another family so you can have someone keep an eye on the little kids while you and your spouse enjoy the big rides and then switch!
You can decorate the room doors from the Dollar Tree instead of paying their high fee for birthday decorations.
Buy glow sticks/bubble wands for the kids before you go for the dance party.
Depending on which location and Covid, you can buy a day pass and save your money for a cheaper/points hotel nearby. Then you can play as long as you want at the water park and other things without the expensive hotel costs.
If you find a better deal after your booking, if you call, they will price match it!
Get a regular hotel for the second day. If possible find one with a kitchen.
If you use Ibotta you will get a extra discount on your Groupon.
Pack for a 2nd night. They may offer you a 2nd night for a great price after you get there.