This post may contain affiliate links. Read our disclosure here.
With a large family, having easy and healthy snacks on hand is important to me. Hard boiled eggs fit the bill because they are full of protein, low mess, and super cheap (especially with 20+ chickens in the side yard)!
You can make a bunch at once and keep them in the fridge so they're easy to grab. I've recently discovered that I can make Instant Pot hard boiled eggs, which has been a game changer. You don't have to set a timer and watch it or mess with the eggs once you get them started. I've started making a dozen of them once a week and it's a great option to have in the fridge.
Instant Pot Hard Boiled Eggs
This is going to be a pretty short recipe since to make the basic eggs all you need is… eggs! (And water, I guess.) But once you have your hard boiled eggs, you can go in a lot of different directions. You can put them on a salad, add some seasonings and eat them by themselves, make egg salad, or even make deviled eggs.
Honestly, this recipe is more about the process than the ingredients. What do we all want from hard boiled eggs? I know that I don't want to waste eggs, and I want them to be easy to peel. Making them in the Instant Pots is an almost foolproof way to ensure these things happen.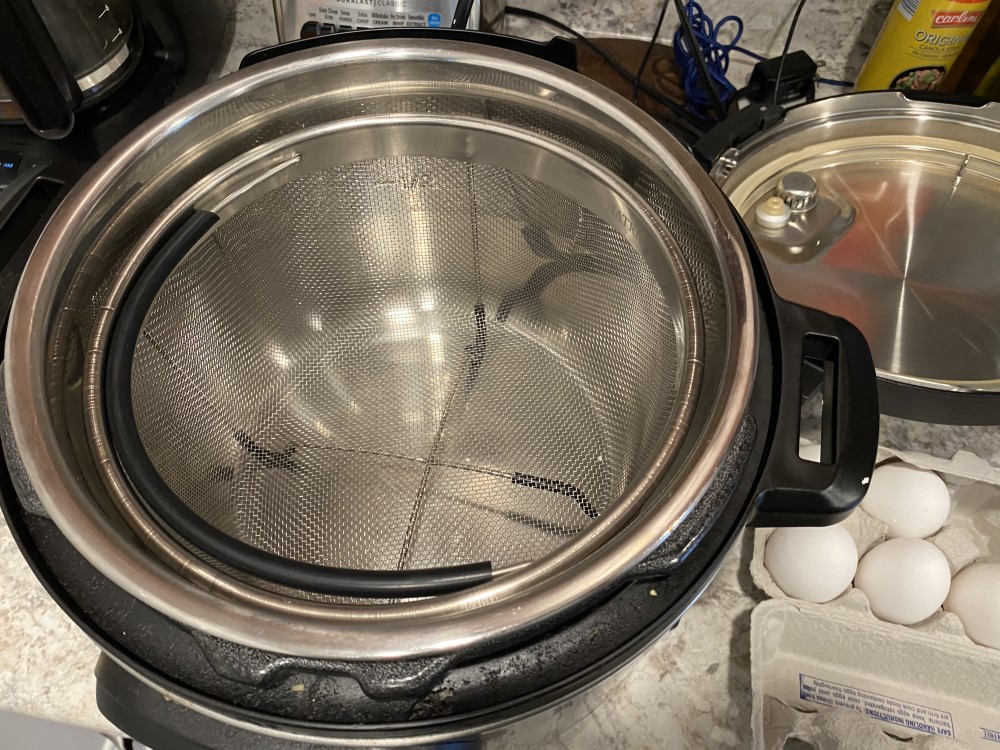 You can use either the trivet or the mesh basket to cook your eggs. You don't want them on the very bottom of the inner pot.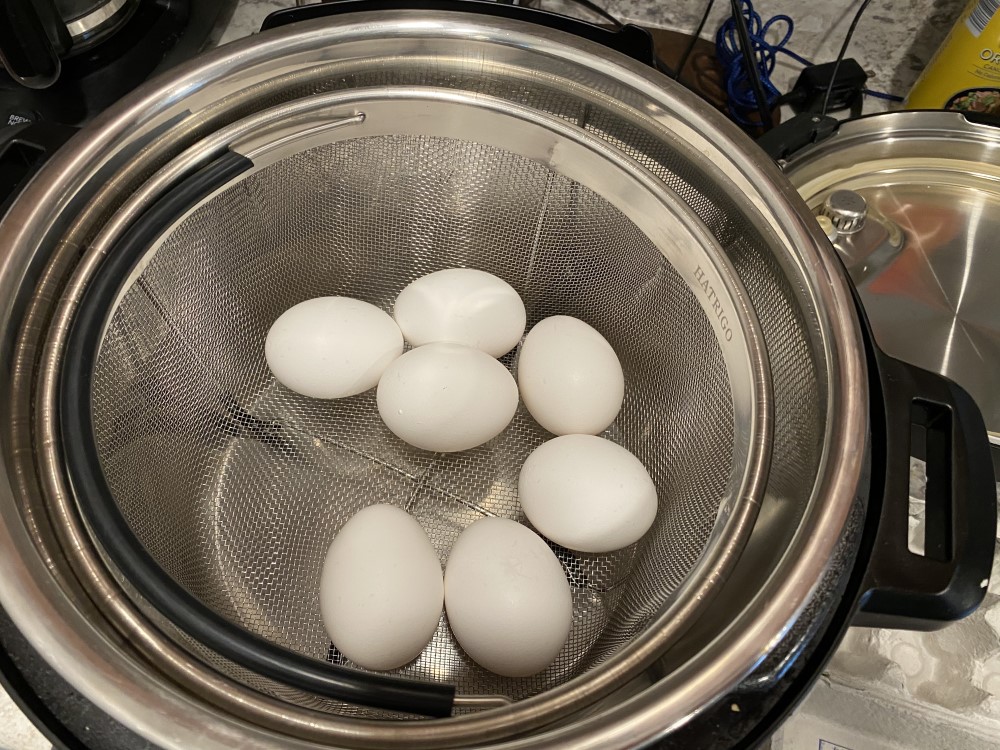 It depends on how big your Instant Pot is, but I can usually fit 8-9 eggs with no problem. You want to keep them in a single layer. (I only made 7 this time because that was how many eggs I had left in a carton.) Add about a cup of water (you can't really add too much water, but you can definitely not add enough!).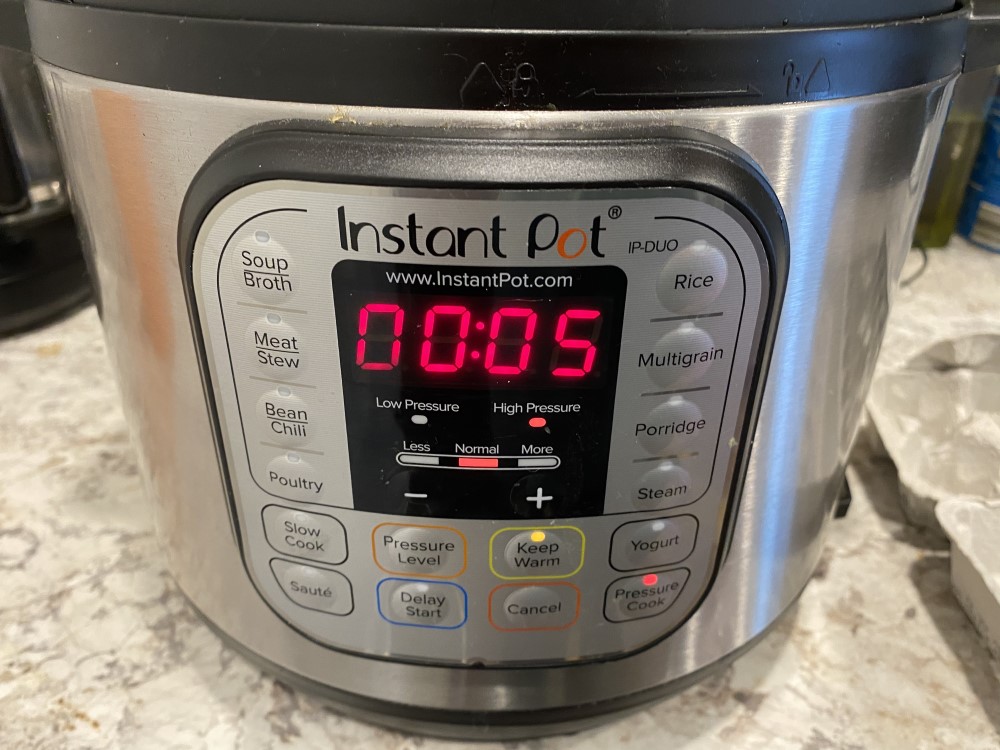 Everybody prefers their eggs different ways, so you can add or subtract a minute if you want, but I think the perfect Instant Pot hard boiled eggs take 5 minutes. They are just the right texture. Remember, always make sure the pressure valve is in the right position before you turn the Instant Pot on!
One of the great things about Instant Pot hard boiled eggs is you don't have to keep an eye on the time. Once the initial timer runs out, the clock will start counting up to tell you how many minutes the eggs have been done (in this case, 2 minutes). There's no danger in leaving the eggs in for a while if you forget about them or can't get to them. They'll still be fine!
As you can see, one of the eggs cracked in the process. This can happen no matter how you make hard boiled eggs, and thankfully, it's not a huge deal, especially if you're planning to use the eggs right away. You now have the option to put them in a ice bath, but I usually just run them under cold water until they no longer feel hot to the touch. Using the mesh basket for this is great because you can just use a pot holder to take the basket out and put it in the sink while you run the cold water over it.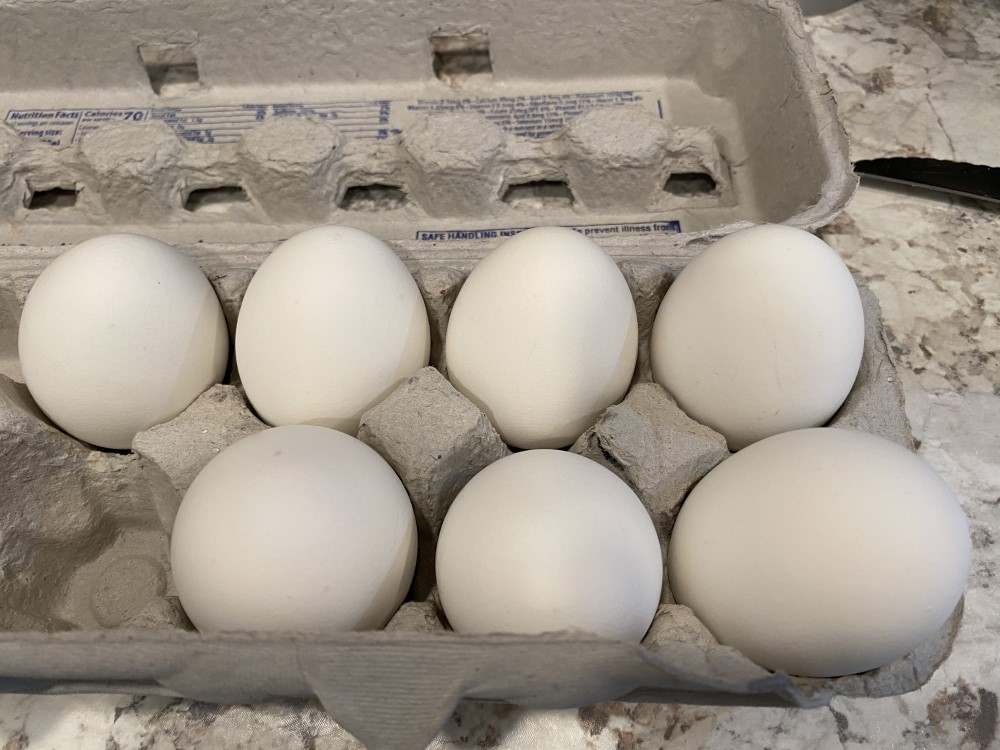 I always make sure to keep the egg carton the eggs were in so I can store the hard boiled eggs there. I use a sharpie to write HB on the outside of the carton so no one in my family tries to use these eggs to make cookies.
You can stop here with your Instant Pot hard boiled eggs, or you can go ahead and peel them in order to make them into something else.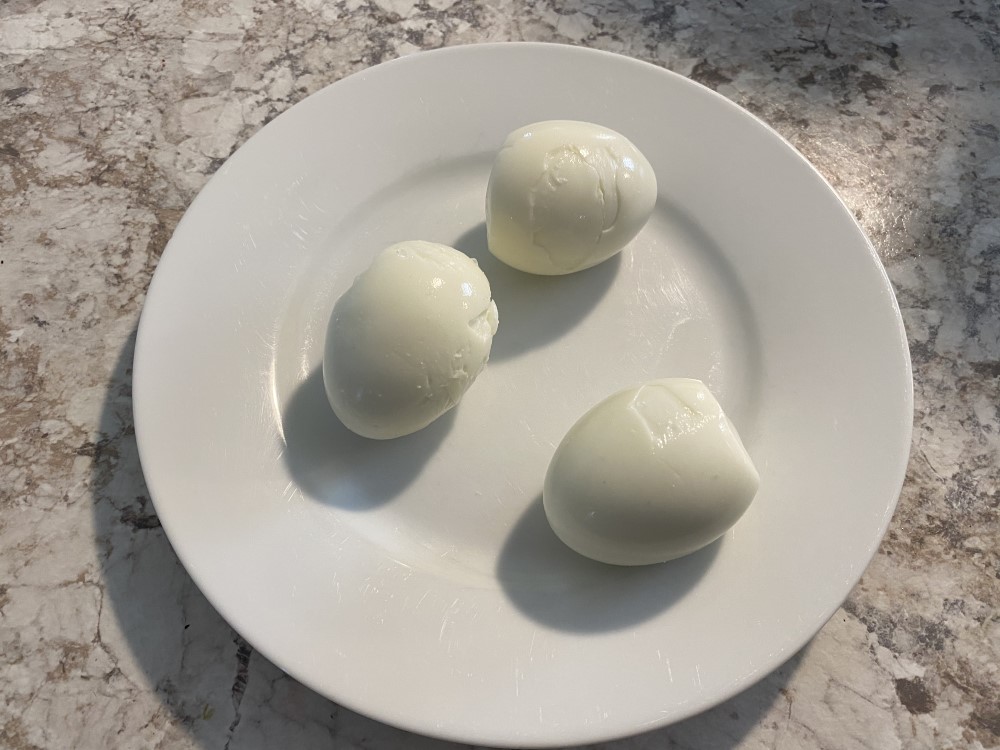 These eggs were actually pretty easy to peel, despite the picture. But because I didn't let them cool off initially (I was in a rush), one of them looks pretty bad. This isn't a big deal, though, because I wasn't trying to win any beauty contests with these eggs. The only time this really matters is if you were trying to make deviled eggs for a special occasion and really wanted them to look nice. My kids and I were going to eat this, so no one cared that they looked a little rough.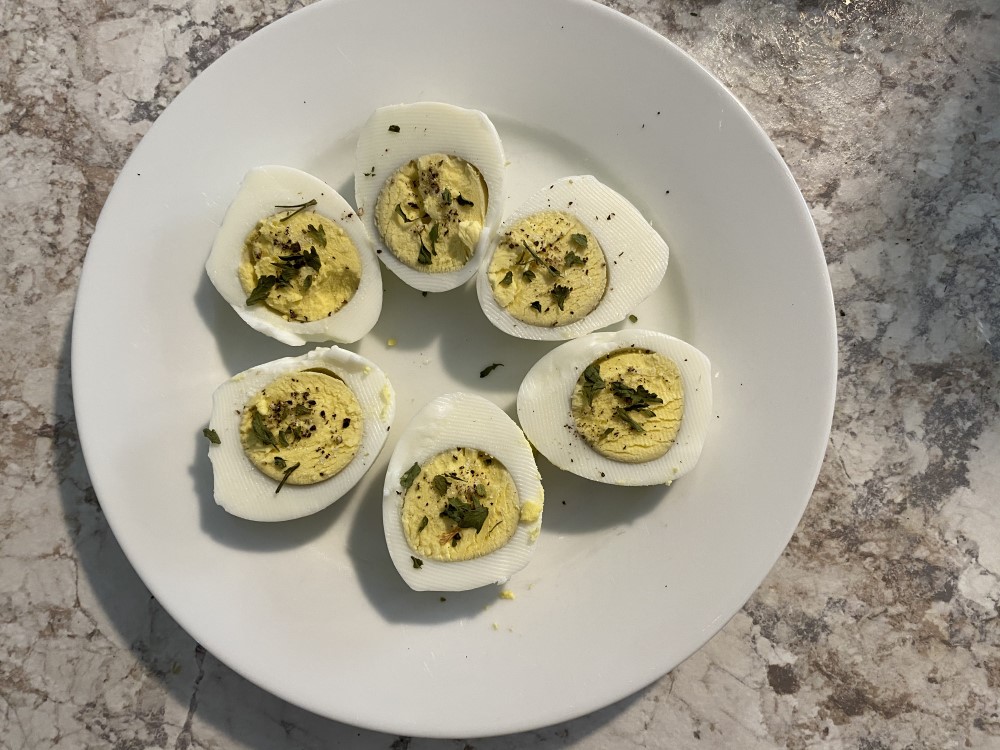 We all love deviled eggs, but just sprinkling some salt, pepper, and parsley on regular hard boiled eggs is almost as good and takes way less time. This is the perfect addition to a picnic lunch or just an afternoon snack.
I don't think there's a perfect way to make hard boiled eggs, but these Instant Pot hard boiled eggs come close because they require so little active attention. Let me know if you try them!
Want more Instant Pot recipes? See the ultimate list of Instant Pot recipes!