This post may contain affiliate links. Read our disclosure here.
We eat a lot of yogurt, but I'd never tried making my own. I'd heard in the past about using your slow cooker to make yogurt, but it seemed too complicated to be worth it. Then I heard about Instant Pot yogurt, I figured it would be worth a try. Once I finished making it, though, I started to wonder how it compared to store bought yogurt. I did all the work for you, so now you can decide if making Instant Pot yogurt is worth it.
Instant Pot Yogurt vs Store Bought Yogurt
THE PROCESS
If you google Instant Pot Yogurt, you will get approximately a thousand options. I went with one of the first links that popped up from Simply Recipes. I've used recipes from there before and they've been good, so I felt comfortable trying their Instant Pot Yogurt.
The first step was to get the ingredients, of which there are only two: milk and yogurt. Once you've made your first batch of yogurt, you can set aside some of that for the next batch. But for this first batch, I decided to go with what I could easily get at the store: a half gallon of regular whole milk and the smallest container of plain yogurt I could find.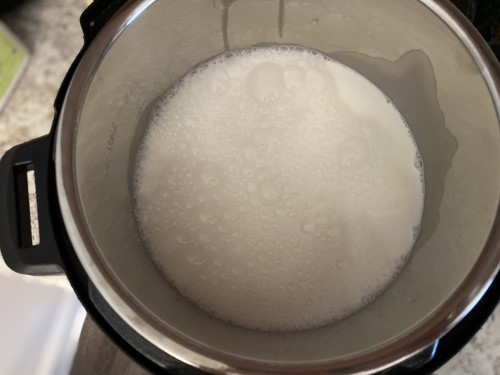 The next step is to pour the milk into the inner pot of your Instant Pot. I started with just a half gallon since I didn't want to waste a whole gallon on something that I might mess up, but you could definitely fit a gallon of milk in a 6 quart Instant Pot.
Here was the trickiest part for me. The directions I was using kept talking about the "adjust" button to use to get the milk boiling, but I couldn't find that anywhere. I tried pressing a variety of different buttons and finally, without any help from Google, figured out that if I pressed the "Yogurt" button twice, it would make it boil. It took about 30-45 minutes for it to come to a boil, and at that point, I turned the Instant Pot off and stuck an instant read thermometer in the pot.
You want the milk to come down to about 116 degrees before you stir in the yogurt starter. Once it's at the right temperature, you whisk together a couple tablespoons of the yogurt with some of the warm milk in a bowl, then whisk it all together.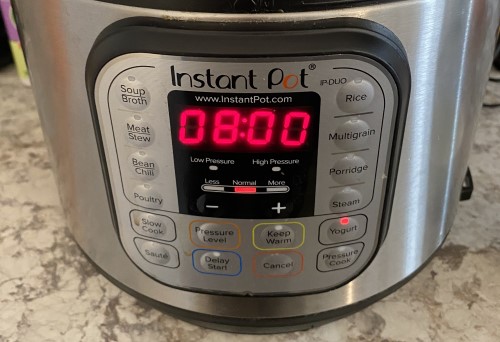 Then you press the Yogurt button one time, which sets the Instant Pot to 8 hours. I ended up cooking mine for about 5 hours, and when I checked it, it seemed to be the right consistency.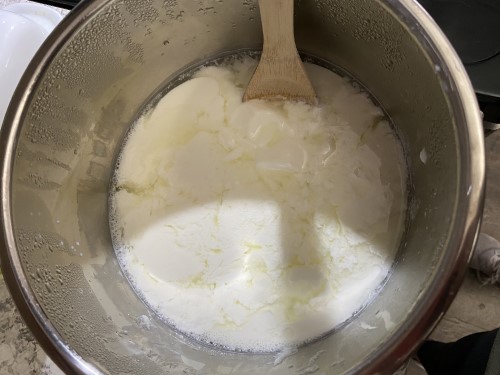 However, I didn't read the directions well and didn't realize I wasn't supposed to stir it. Once I took the pot out to let it come to room temperature, the yogurt began to separate.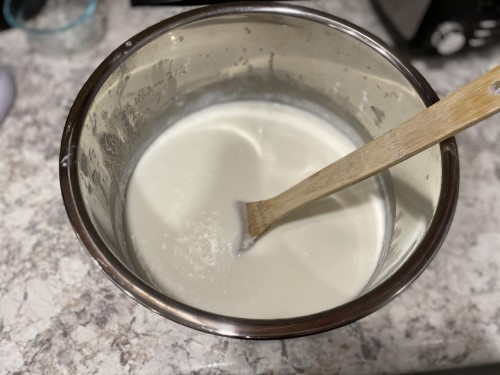 Thankfully, once it had cooled down a bit, I was able to stir it and get the consistency back to normal. Lesson learned!
In the end, it made about 2 full Mason jars of yogurt (48 oz) plus about 1/4 cup that I put in a smaller container to save for the next batch.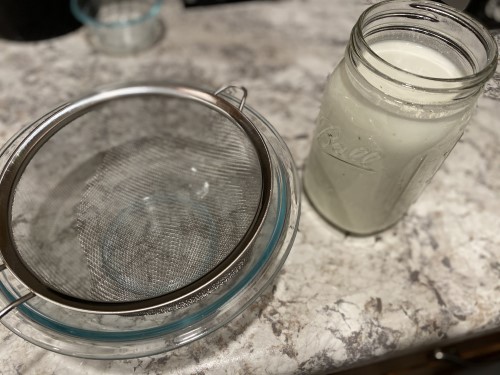 I decided that with one of the jars, I would strain it and attempt to make Greek yogurt. I tried straining it with a mesh strainer first.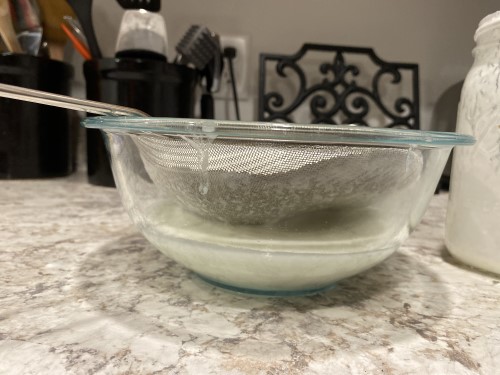 This was extremely unsuccessful. The yogurt just slowly moved through the strainer.
Next I put a kitchen towel over a bowl and secured it with a rubber band, then poured the yogurt on top. 
This is what I was going for! I could see the excess water dripping through, but the yogurt stayed on top of the towel.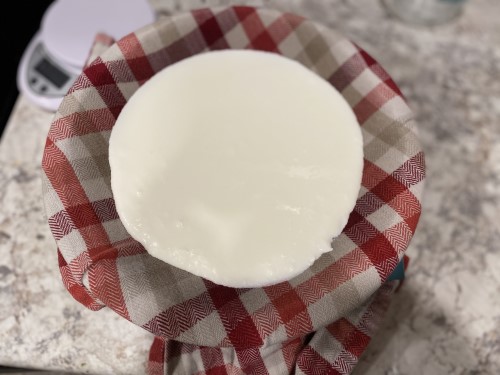 I put the bowl in the fridge for a few hours and let it continue to strain, and it turned out much thicker. It actually removed about half of the liquid, leaving me with 12 oz of Greek yogurt (along with the 24 oz of regular yogurt).
COMPARING TASTE
I found both the regular and Greek Instant Pot yogurt to be delicious. The consistency was perfect after it chilled in the fridge overnight, and the texture was just how I like it. And because the yogurt was plain and unsweetened, it was a blank slate. One of my daughters ate it with blueberries and bit of honey stirred in. I found I enjoyed it with maple syrup and a sprinkle of chocolate chips. It reminded me of the more expensive yogurt I've bought at the store.
COMPARING EFFORT
Obviously, it is easier to buy a carton of yogurt at the store. However, whole milk yogurt is not as easy to come by, so it may be hard to find at the store if that's what you want. That said, making the yogurt in the Instant Pot required almost no active effort. I needed to be home to check the temperature and press buttons on the Instant Pot, but other than that it was mostly just the time it took for it to do its thing.
COMPARING COST
Bear with me here because it's going to be a lot of numbers! To start, remember that 1/2 gallon of milk will produce about 48 oz of regular yogurt and 24 oz of Greek yogurt.
Here's a breakdown of costs per ounce:
I spent $1.99 on the milk and 60¢ on the yogurt, so total was $2.59 for the ingredients. That means regular yogurt is 5.4¢/oz and Greek yogurt is 10.8¢/oz.
Now let's compare it to the cost of buying store brand whole milk plain yogurt (not organic). At my local Kroger, 32 oz of regular yogurt is $1.79 (5.5 ¢/oz) , and Greek yogurt is $3.99 (12¢/oz). It is cheaper to make your own, but the difference in cost is much greater when you are comparing Greek yogurt.
Now let's see if it's cheaper to go organic!
Because every penny counts, we're going to assume that you buy a whole gallon because you want to get the best bang for your buck. The cheapest gallon of organic whole milk at my Kroger is $5.49. If you use all of that to make your own yogurt, then it comes out to 5.7¢/oz for regular yogurt and 11.4¢/oz for Greek yogurt. Organic regular yogurt at Kroger is 7.8 cents/oz, but Greek organic plain yogurt is 17.1 cents/oz! 
In summary, I think that Instant Pot yogurt wins in every category. However, the real cost differential comes when you strain it and make it into Greek yogurt. Also, if your family doesn't eat that much yogurt, then making your own might not impact your budget much. But my bet is if you start making this yogurt, your family will become a yogurt eating family!