This post may contain affiliate links. Read our disclosure here.
A great gift idea for kids is something they can build, design and play with.  You are not only giving them a gift, but they are learning new skills and making something they can be proud of!  One of the best Kids monthly box programs does just this.  KiwiCo. Crates are well thought out and perfect for any age.
Extra Savings:
Right now get 1 month free on any 6 month subscription with code GEARS.
You'll find boxes for all age groups and all interests.  Don't just think of this for kids, adults would love the Eureka or Maker crates!!
This is a monthly crate program but you can order just 1 month, or 3-12 month subscriptions.
Here are the different KiwiCo Crates:
prices are with a 6 month subscription
Panda Crate (0-24 months)  – $18.50 a month
designed to help babies learn by doing what they do best — playing, exploring, and most importantly, interacting with loving adults in their lives.  You select what stage they are developmentally so crates are tailored to their skills.
Koala Crate (Ages 2-4) – $18.50 a month
created to expose preschoolers to new materials, tools, and concepts for hands-on learning and fun.  Find 2-3 projects in each box.
Kiwi Crate (Ages 5-8) – $18.50 a month
STEAM-based projects are designed to spark a love for learning. Created to celebrate kids' natural creativity and curiosity, while helping parents provide enriching experiences for their children.
Atlas Crate (Ages 6-11) – $18.50 a month
designed to help your child develop an appreciation for other world cultures through immersive, hands-on STEAM activities.
Doodle Crate (Ages 9-16+) –  $18.50 a month
an invitation for young makers to express themselves creatively. Dig into fun crafting tools and interesting techniques, and see how materials can transform.
Tinker Crate (Ages 9-16+) – $26.95 a month
infusing STEM concepts into each crate's themes with enriching projects and activities that are accessible and fun for all types of learners.
Maker Crate (Ages 14-104) – $26.95 a month
monthly craft box dedicated to the discovery of new art and design tools to help turn artistic visions into design realities
Eureka Crate (Ages 14-104) – $26.95 a month
explore hands-on lessons in the creative application of the science principles behind real-world problems.
Tip: The price is even cheaper with a 12 month subscription.
Our KiwiCo Review
This is not a paid review, I paid for these myself and wanted to share so you knew what to expect.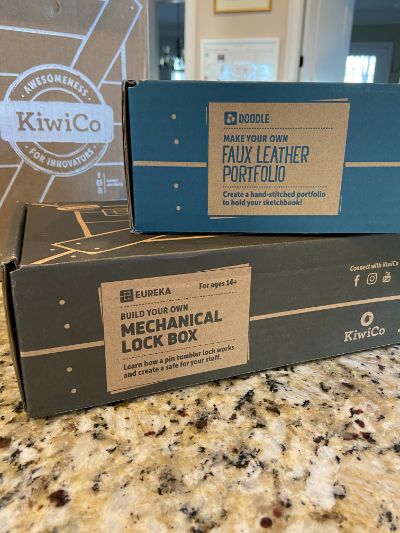 We signed up for a subscription as a birthday present for two of our girls.  Ems (15 yr old) got a Doodle Crate and Sarah (8 yr old) got a Eureka Crate.  I know the Eureka crate is over Sarah's age level, but this kiddo longs to be an architect and loves to build things!  She also loves any project that dad can help with.
The Eureka Crate is definitely for the builders and thinkers. I would also say the age level of 14+ is spot on. With the detailed guide Sarah was able to build most of the project, though having Dad to hold things or make sure we followed the steps was a help for her.
While we could buy her a kids safe of some sorts for probably the same amount, having one she built herself made for a very awesome gift.  She is eagerly awaiting the next box!
Her project this month was a Mechanical Lock Box complete with it's own key!  It took her a couple of hours to put the box together and she was then off finding all her treasures to keep safe.
For Ems, the Doodle Crate box this month was a Faux Leather Portfolio.  It comes with everything you need to complete the project as well as a blank sketch book to go in the portfolio.  She decided to not use the sketch book and found that her Bible fit perfectly in it instead.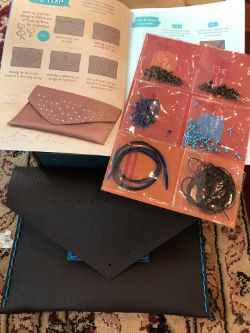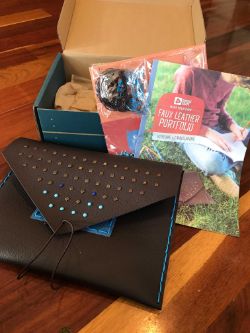 The kit comes with tons of extra brads to decorate the outside with.  This was great because she could create her own design on the front rather than having to do a set pattern.  In the end she has a new accessory and learned basics of leather working.
One note for this kit, at checkout it gives you the option of getting a deluxe book for an added price.  I didn't add that and we don't feel like we missed out any extra steps or help.  It could be amazing… but she was just as content without it.
What KiwiCo Crate Should You Get?
Think about who you are giving a crate too.  Are they a faster learner?  Do they like a challenge?  I might consider going with a crate a tad older than them.
If you want to give them a crate they can do on their own and just have fun then stick with the age guidelines.  The boxes are very well designed for their specific age levels.