This post may contain affiliate links. Read our disclosure here.
In the fall, like most people, I get in the mood for pumpkin. There are lots of hot options that include pumpkin, but I decided to try using pumpkin in my morning smoothie to see if it would also hit the spot. Good news—it does! This is a fresh and filling breakfast option that tastes like fall, even though it's cold. The best part is that, while you don't have to, you can make these pumpkin pie smoothies ahead of time to save you some time in the morning!
Make Ahead Pumpkin Pie Smoothies
You only need five ingredients to prep these smoothies. The only other ingredient is a frozen banana, but you'll wait to add that until you're ready to make the smoothies.
I took a picture of the ingredients because I wanted you to realize how flexible this recipe is. You need the pumpkin, but you can use a different kind of yogurt, a different kind of sweetener, or a different kind of milk! You can also leave out the oats if you don't want the extra filling.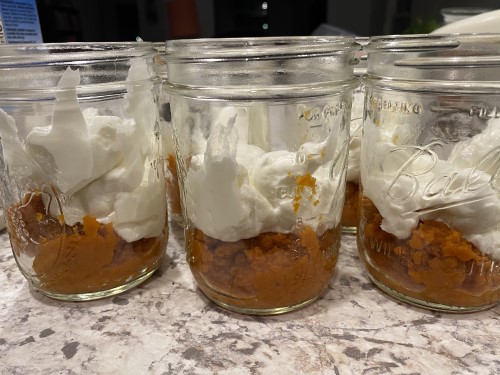 You'll also need containers to put the ingredients in so you can store them in the fridge. I love using Mason jars for this kind of thing. I added the pumpkin and yogurt first, but it truly doesn't matter what order you put things in the jars, as long as you save the milk for last.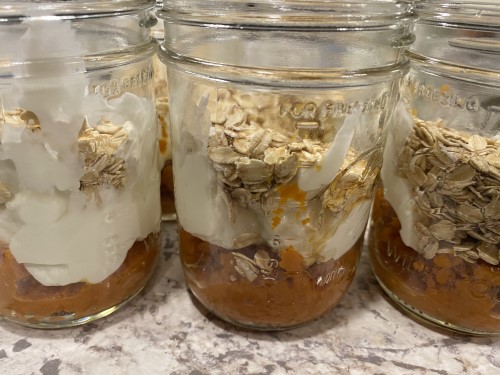 It's totally optional, but you can also add pumpkin pie spice or cinnamon to the jars, if you really want to enhance the flavor.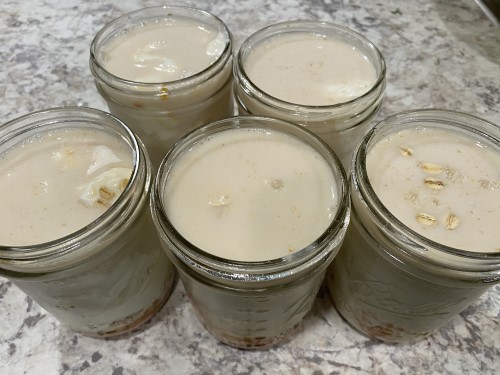 As you can see, these jars are extremely full! But since they're not going in the freezer, it's fine.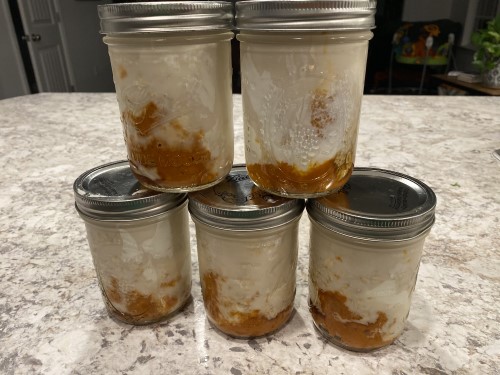 Then you'll just need to put lids on each of your containers and stick them in the fridge.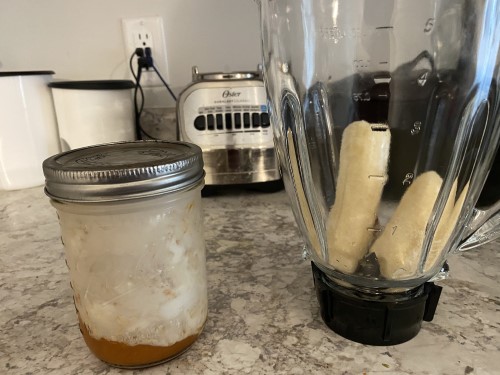 When you're ready to make your smoothie, put a frozen banana in the blender and then add the contents of the jar. Then blend until smooth!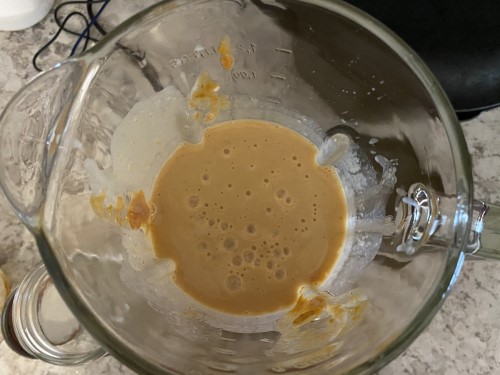 This really does taste like pumpkin pie in smoothie form, and it keeps me full for the whole morning. I highly recommend it if you're looking for a new way to use pumpkin!
Note: If you didn't freeze your bananas ahead of time, you can just add a fresh banana and a handful of ice cubes to get a similar texture.
Make Ahead Pumpkin Pie Smoothies
Ingredients
5 frozen bananas
1 can pure pumpkin puree
1.25 cups vanilla Greek yogurt
1.25 cups rolled oats
5 cups almond milk (or ther milk)
5 tbsp. maple syrup (or other sweetener)
Directions
If you didn't already, freeze the bananas without the peels.
Use 5 containers and divide the ingredients equally among the containers: 1/3 cup pumpkin puree, 1/4 cup yogurt, 1/4 cup oats, 1 cup almond milk, and 1 tbsp. sweetener.
When you're ready to make the smoothie, add the contents of one container and one frozen banana.
Created by SouthernSavers.com