This post may contain affiliate links. Read our disclosure here.
Someone in my family recently asked for a trifle for their birthday. I asked what kind–there are so many! They thought about a Funfetti/birthday cake flavor, but they also really love Oreos. I googled around and couldn't find anything quite like what they were looking for, so I decided to use my previous trifle experience and cobbled together my own recipe that I call an Oreo Birthday Cake Trifle!
This has layers of pudding, birthday cake, Oreos, and a cream cheese Oreo whipped cream that is out of this world. You can mix this up by using a different kind of cake mix or by using different Oreo flavors, but I promise you that this version does not disappoint!
Oreo Birthday Cake Trifle Recipe
You can make the cake with a Funfetti cake mix, but I couldn't find one at the store so I opted for a white cake mix and I added my own sprinkles.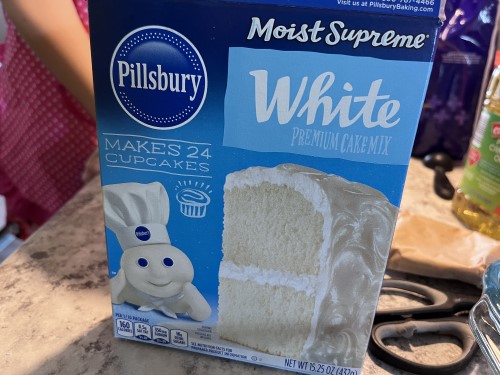 This mix called for adding oil, water, and eggs.
Mix it up according to the box and then add your own sprinkles!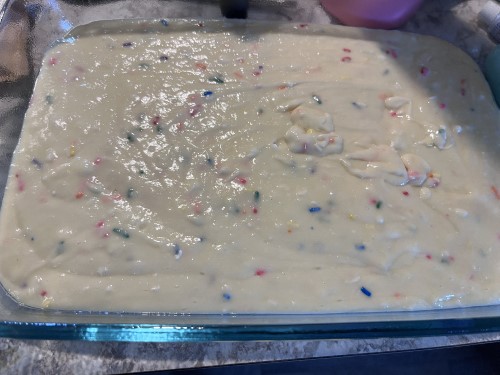 I like to cook this in a 9×13 cake pan because it is easy to cut it into equally sized cubes.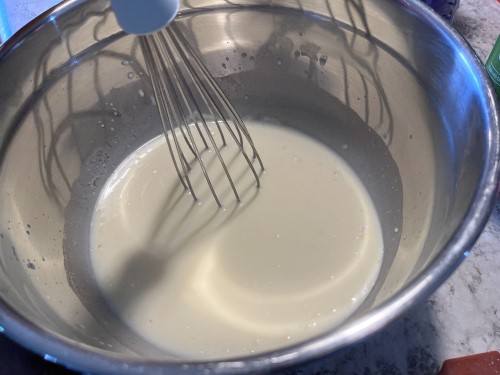 While the cake bakes and cools, mix up the pudding and place it in the fridge to set.
Now you're making the whipped cream! You'll whip up cold cream cheese until it's smooth, then add powdered sugar, vanilla, and heavy cream. This is the consistency you want the whipped cream to be at. It should be stiff with peaks in it — you should be able to try a spoonful (which I recommend) and it hold its shape.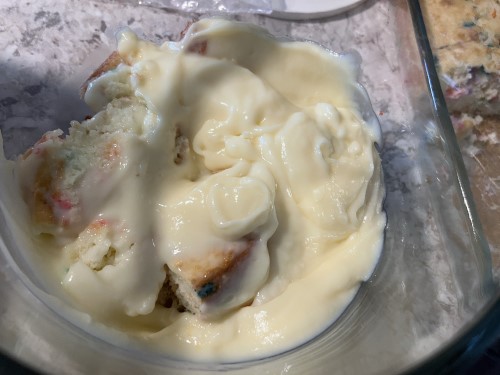 Now it's time to assemble the trifle. You'll need your cake cut into cubes, your pudding, your Oreo whipped cream, whole Oreos, and your sprinkles. First place half the cake cubes in the bottom of the trifle dish and top with half the pudding.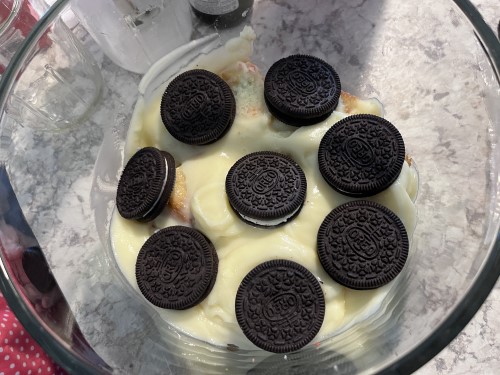 Then add Oreos on top — I spread them out but you could use more.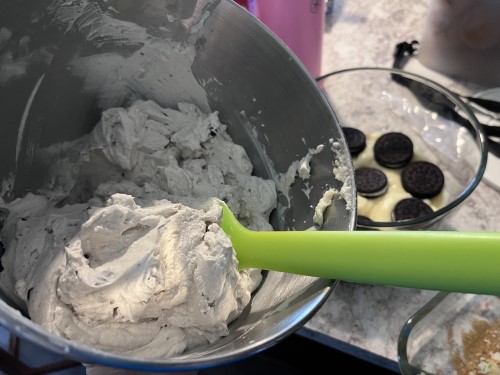 Now top the Oreos with about half the whipped cream.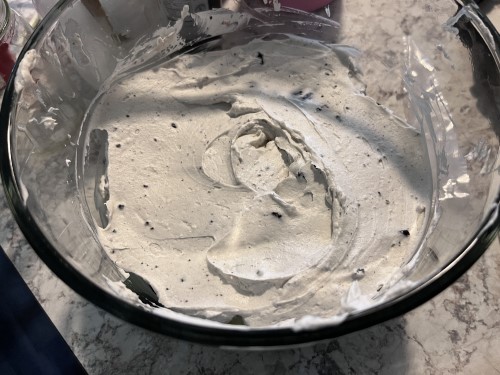 Spread it out into an even layer.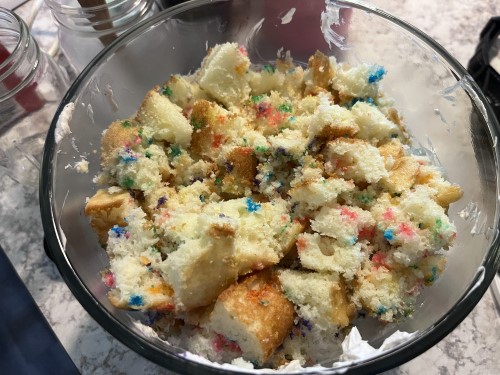 Now top with the rest of the cake cubes.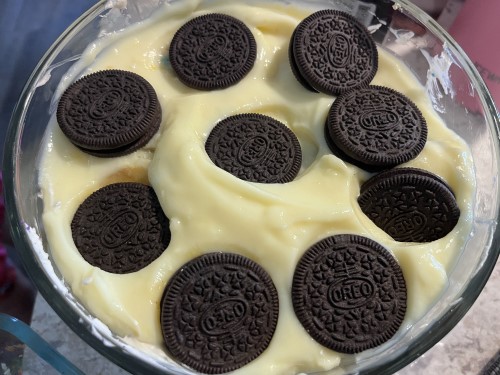 Then top with the rest of the pudding and more whole Oreos.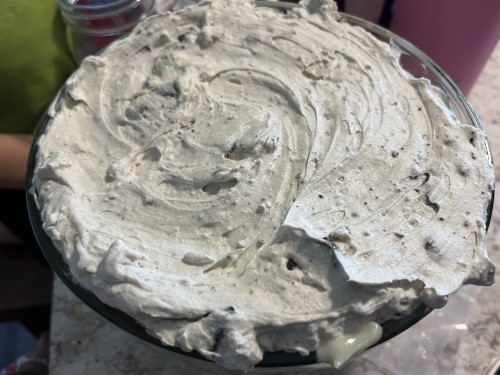 Now finish it off with an even layer of the rest of the whipped cream.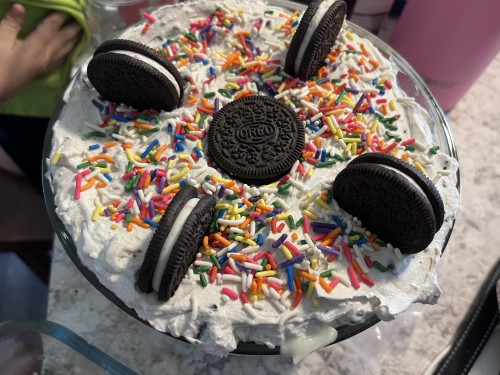 You can decorate the top however you'd like — I chose to use some more whole Oreos and the rest of the sprinkles I had!
You can see all the delicious layers if you look at the side.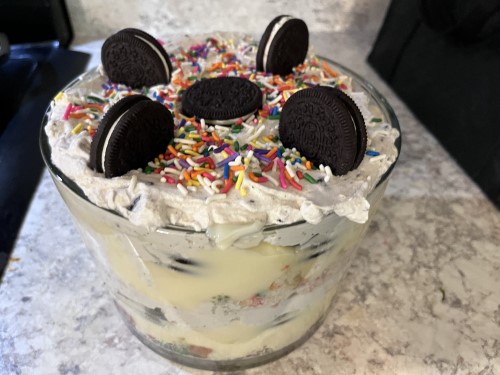 You can eat this right away, but it works best if you can let it sit in the fridge for at least a few hours or even overnight. But I promise — this will be requested again!
Oreo Birthday Cake Trifle Recipe
Ingredients
1 box white cake mix
1/2 cup oil
1 cup water
3 eggs
1 jar rainbow sprinkles
2 3.9-oz boxes cheesecake pudding mix
4 cups whole milk
8 oz cream cheese
1 cup powdered sugar
1 tsp vanilla extract
2 cups heavy cream
2/3 cup crushed birthday cake Oreos
approximately 14 whole oreos + more for garnishing the top
Directions
Following the boxed cake mix, mix up the batter and add about 1/2 cup rainbow sprinkles (or more if you want!)
Bake the cake according to the box and, once it is cool, cut into 1 inch cubes.
While the cake bakes and cools, make the pudding by whisking the milk with the pudding mix and putting it in the fridge to set.
Put 8 ounces of cold cream cheese into a mixing bowl and mix on a medium speed until smooth.
Add in 1 cup of powdered sugar gradually and mix on low, using a rubber scraper as needed.
Add in 1 tsp of vanilla extract, then turn the mixer to a medium high speed and gradually pour in 2 cups of cold heavy cream.
As soon as you've finished adding the heavy cream, pour in 2/3 cup crushed Oreos.
Once the whipped cream gets thick and starts to hold it shape, scrape down the sides and place it in the fridge until you're ready to use it.
Place about half of the cubes of cake into the bottom of a trifle dish, fully covering the bottom.
Add an even layer of pudding over the cake bits, using about half the pudding mix.
Create the next layer using about 7 whole Oreos.
Top with 1/2 of the whipped cream and spread out with a spatula.
Add the rest of the cake cubes on top of the whipped cream, then add the remaining pudding and top with more whole Oreos.
Finish with the rest of the Oreo whipped cream.
Top with more whole Oreos and/or sprinkles.
Place in the fridge until ready to eat — it is best if it can sit for a few hours or even overnight before you eat it!
Created by SouthernSavers.com