This post may contain affiliate links. Read our disclosure here.
It's summer time, and for many of us that means breaking out the grill. But if you don't have a grill, you may wonder if you can enjoy delicious chicken or burgers some other way. The answer is yes! I'm going to share how to make oven hamburgers so you can have yummy burgers all year long, regardless of whether you own a grill.
How to Make Oven Hamburgers
As you've probably figured out by now, I love recipe and meal ideas that don't have me tied to super specific ingredients. If a recipe calls for red onion but yellow onions are on sale, I want to be able to use a yellow onion without affecting the final dish. This is one of those recipes. You can use any kind of bacon, any kind of onion, and omit the jalapenos if you don't like spicy foods. Or you can add other ingredients like mushrooms or bell peppers if you like those better.
I cook the toppings in our 12-inch cast iron skillet, and because the bacon renders its own fat, you don't have to add any oil.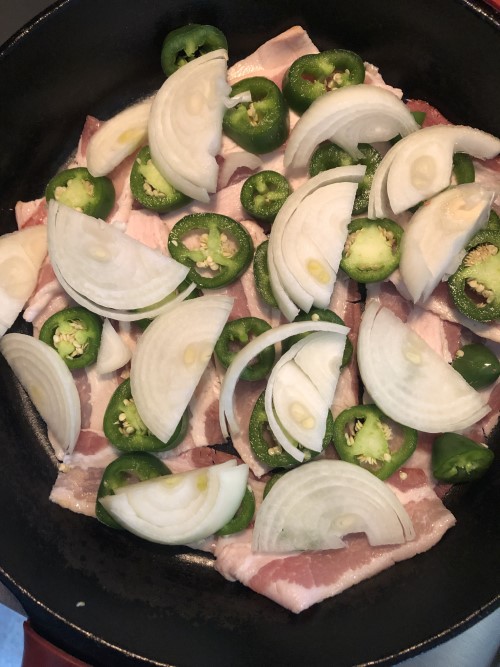 Put the burgers on a cooling rack set on top of a foil-lined sheet pan, and because our oven isn't big enough to fit the pan and skillet side by side, I put them on separate oven racks and switch the positions halfway through the cooking time.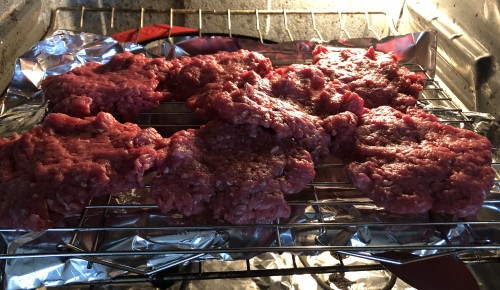 It's hard to give exact cooking times for this recipe because everyone has their own preferences regarding the doneness of their hamburgers, and some people like their bacon crunchier than others. I usually cook our burgers medium rare, which means the burgers are done a few minutes before the toppings the reach the way I like them. But that gives me time to put some sliced cheese on top of the burgers and let the cheese melt!
This recipe does not include hamburger buns, because I usually eat mine without a bun for a totally keto-friendly meal. But we have hamburgers several times a month and I always have buns on hand for those who want them.
Oven Hamburgers with Bacon, Jalapeno, and Onion
Ingredients
2 lb ground beef
2 tsp salt
1 tsp black pepper
1 tsp garlic powder
1/2 lb bacon
3 jalapeno peppers, sliced
1 onion, sliced
Directions
Preheat oven to 400 degrees.
Mix together the ground beef and spices in a large bowl.
Cover roasting pan or sheet pan with foil.
Form into 7-8 burgers and place them on a roasting pan or on a cooling rack set on a sheet pan.
Cut raw bacon slices in half and arrange in large cast iron skillet or on another sheet pan. Arrange onion and jalapeno slices on top.
Place both pans in the oven and cook for 20 minutes; then check the internal temperature of the burgers (minimum of 145 degrees for medium rare) and the texture of the bacon.
If you want to continue cooking the bacon, use a spatula to stir the bacon and vegetable around first.
Continue cooking either or both sheet pans depending on how crunchy you like your bacon and/or how cooked you like your burgers.
Created by SouthernSavers.com
These burgers would be delicious served with our easy sauteed green beans!