This post may contain affiliate links. Read our disclosure here.
I was craving something for lunch the other day and after a quick inventory of what I had, decided what I really wanted was a huge bowl of pasta. But I wanted it to fill me up and not just be only carbs, so I added what I had on hand to beef it up a bit. Then I saw a jar of pesto and felt like I was having a magical moment. I decided to throw some things together and see what happened, and the result was this pesto balsamic pasta salad. It's hearty enough to be a meal in and of itself, or you could serve it as a side at a potluck or alongside something else like grilled meat.
Pesto Balsamic Pasta Salad Recipe
Your first step is going to pick out what kind of pasta you want! Any kind will do.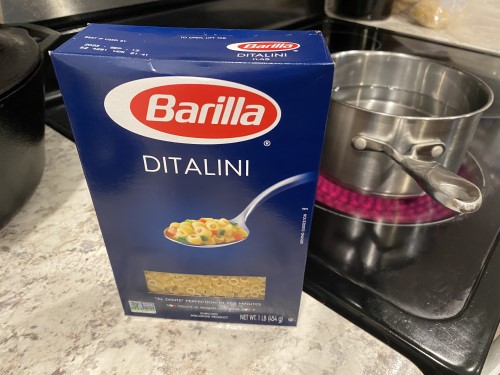 I chose ditalini because I had it in the pantry and the noodles are about the same size as the chickpeas, so I thought it would go well together.
While the pasta is cooking, you can drain and rinse the chickpeas.
Then prep your veggies. I had a jar of quick pickled onions and they add so much flavor.
I also chopped up a pepper from our garden along with the onions.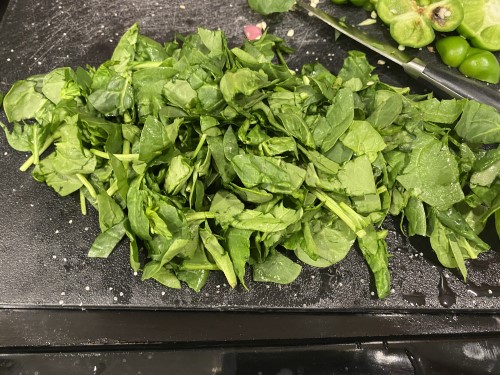 I had a big bag of spinach that was starting to look a little sad, so I chopped that up, too.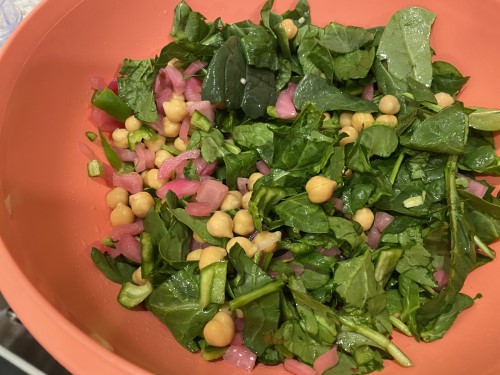 Mix together the veggies with the chickpeas while waiting for the pasta (and remember, you can add any veggies you want!).
I also diced up some Muenster cheese and pepperoni. Any cheese will work if it sounds good to you—feta would have been delicious, but I didn't have any.
Once the pasta is cooked, drain it and rinse it with cold water.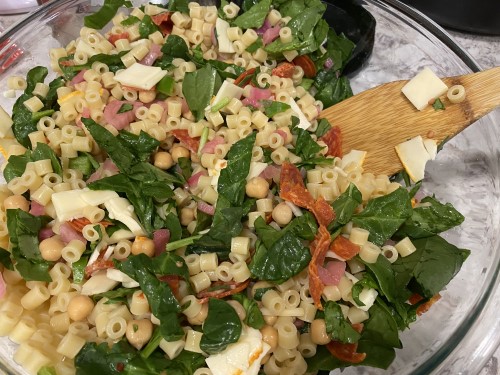 Then throw the pasta in with the veggies.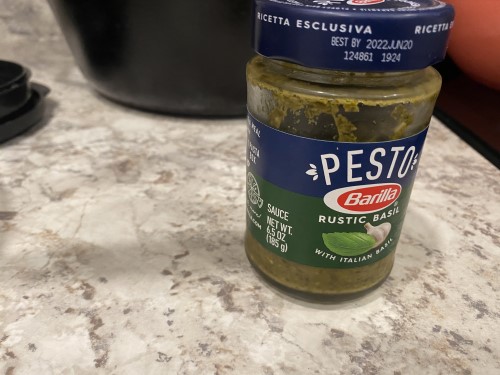 This half jar of pesto was what initially inspired me to try this pasta salad. I used about 1/4 cup, bu you can use as much or as little as you want. You could also use homemade pesto!
Stir in the pesto and the balsamic, then add some garlic powder and other seasonings to taste: salt, pepper, crushed red pepper, Italian seasoning, etc.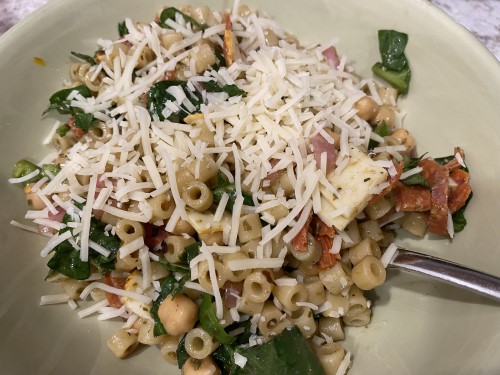 I topped mine with some parmesan cheese before eating, and it was delicious!
Pesto Balsamic Pasta Salad Recipe
Ingredients
1 box pasta, cooked and drained
1 can chickpeas
2 cups fresh spinach, chopped
1 large bell pepper, diced
1/2 cup pickled onions (optional)
6 oz cubed mozzarella or feta cheese
1/2 cup pepperoni, diced
1/4 cup pesto
2-3 tbsp. Balsamic vinegar
1/2 tsp. Garlic powder
Salt, pepper, crushed red pepper, Italian seasoning
Parmesan cheese for topping
Directions
Cook the pasta according to the package directions, then drain it and rinse with cool water.
Drain and rinse the chickpeas.
Stir together the pasta, chickpeas, spinach, bell pepper, onions, pepperoni, and cheese.
Add the pesto, balsamic vinegar and garlic powder,
Add additional seasonings to taste, then top it with parmesan cheese for serving.
Created by SouthernSavers.com