Welcome to Southern Savers,
where finding deals and steals is simple and rewarding!
See I told you, this would help!
Coupon Abbreviations
SC

= Store Coupon

MC

= Manufacturer Coupon

SS

= Smart Source

RMN

= Retail Me Not

PG

= Proctor and Gamble
Coupon Terms
WYB

= When You Buy

B1G1

= Buy One Get One Free

.75/1

= 75 cents off one item

.75/3

= 75 cents off three items

EXP

= Expiration Date
Going Nuts? I can help you understand coupon terms and abbreviations
Home > Publix Deals > Publix Ad: 11/6-11/12 or 11/7-11/13
This post may contain affiliate links. Read our disclosure here.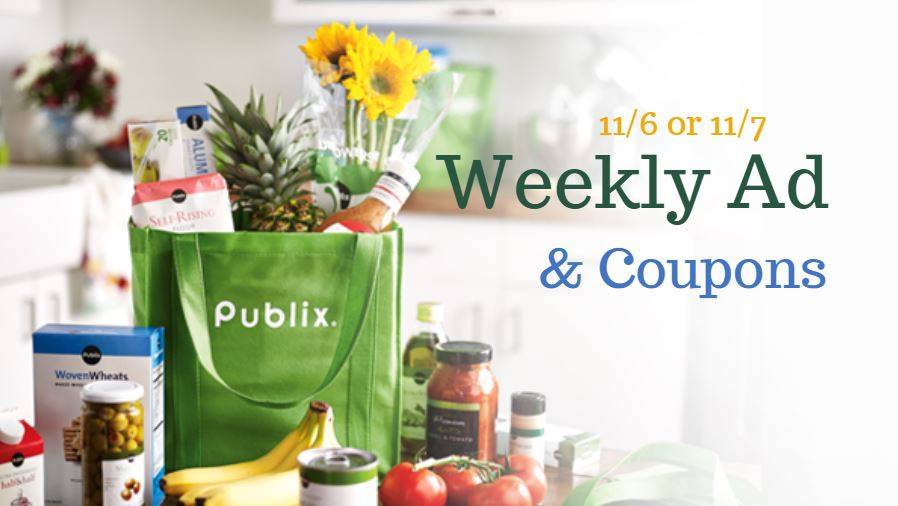 Here are the deals from the new Publix ad that starts on 11/6 (or 11/7, depending on your area). Get FREE College Inn broth, FREE Bush's beans, and more.
Buy One Get Ones
Strawberries or Red Raspberries, 6-16 oz, at $3.99 ($1.99)
Fresh Express Salad Blend or Kit 5-13 oz, at $4.39 ($2.19)
Cherubs Tomatoes, 10 oz, at $5.19 ($2.59)
GreenWise Organic Baby Cut Carrots, 16 oz, at $2.59 ($1.29)
Potato Inspirations Organic Potatoes, 24 oz, at $4.19 ($2.09)
Publix Deli Pulled Pork Sandwich, at $4.49 ($2.24)
Publix Chicken Fillets, at $6.19 ($3.09) lb
Publix Chicken Drumsticks or Thighs, at $2.49 ($1.24)
Smithfield Smoked Ham Cubed or Diced Fully Cooked, 8 oz, at $3.29 ($1.64)
-$1/2 Smithfield Anytime Favorites, Publix eCoupon


(makes it $1.14 ea.)

Ball Park Beef Franks or Fat Free Turkey Franks, 14-15 oz, at $5.19 ($2.59)
Publix Aprons Chicken Meatloaf Stuffed Peppers, at $5.99 lb
Publix Boneless Pork Loin Chops, at $5.28 ($2.64) lb
Publix Thinly-Sliced Pork Loin Chops, at $5.28 ($2.64) lb
Beyond the Meat The Beyond Burger, 8 oz, at $5.89 ($2.94)
-$1 off Beyond Meat product (sign up) printable
-$1 off Beyond Meat Burgers, limit 2, SS 09/29


(makes it $1.94)

Publix Peanut Butter Pretzels, 11.99-16 oz, at $6.19 ($3.09)
Rana Pasta or Sauce, 7-15 oz, at $4.59 ($2.29)
-$1 off Giovanni Rana Refrigerated Pasta, SS 10/13
-$1 off Giovanni Rana Refrigerated Sauce, SS 10/13


(makes it $1.29)

Country Crock Spread 2 pk 7.5 oz or 15 oz tub or Butter Sticks, 16 oz, at $2.71 ($1.35)
Chobani Greek Yogurt Regular, Flip or Less Sugar 4 pk., or Gimmies Yogurt 6 pk., at $4.69 ($2.34)
-$1/2 Chobani MultiPacks, Tubes, 32 oz tubs, or Savor Toppers, limit 1, SS 10/27 (EXP 11/8)
-$1/2 Chobani multi serve products, on same receipt, limit 5, cannot use with other coupons, Checkout 51 mobile app
-$1/2 Chobani Multiserve, Multipack or Savor, Publix (EXP 11/6) eCoupon
-$1/2 Chobani multi-serve products, on same receipt, SavingStar (EXP 11/6) mobile app


(use $1/2 and SavingStar, makes it $1.34 ea.)

Totino's Pizza Rolls 20-44.5 oz, at $8.99 ($4.49) or less
-$1 off Totino's pizza rolls 90 ct. or mini snack mix printable (limit reached)
-$1 off Totino's Pizza Rolls Snacks 90-ct+, excl Mini Snack Bites, SS 10/13
-$1 off Totino's Pizza Rolls, 50-ct+, SS 10/06


(makes it $3.49)

Haagen-Daz Ice Cream, Gelato, or Sorbeto, 14 oz, or Bars or Squares, 9 oz, at $5.85 ($2.92)
Mayfield Ice Cream 1.5qt or Ice Cream bars 6 ct, at $6.15 ($3.07)
My/Mo Mochi Ice Cream, 9.1 oz, at $5.15 ($2.57)
-$1.25 off My/Mo Ice Cream with Mochi Bits, 1-pt, Ibotta mobile app
-$2 off Bubbies Mochi Ice Cream, 6-pk boxes, limit 2, Checkout 51 mobile app
-$2 off Bubbies Mochi Ice Cream, any, SavingStar mobile app
-.50/1 My/Mo Mochi Ice Cream, 6-ct box, Ibotta mobile app


(makes it 57¢)

Yasso Frozen Greek Yogurt Bar, 12-14 oz, at $4.99 ($2.49)
-$1 off Yasso Frozen Yogurt Desserts (sign up) printable


(makes it $1.49)

Red's Burrito 4.5-5 oz, (price not listed)
Dr. Praeger's Purely Sensible Foods, at $5.15 ($2.57)
-$1 off Dr. Praeger's product printable
-$2 off Dr. Praeger's Pure Plant Protein product printable
-$1/2 Dr. Praeger's Cakes, 10 oz, on same receipt, Ibotta mobile app
-.50/2 Dr. Praeger's Littles, 10 oz, on same receipt, Ibotta mobile app
-.50/2 Dr. Praeger's Veggie Burgers, 10 oz box, on same receipt, Ibotta mobile app


(makes it 57¢ or less)

White Castle Hamburgers or Chicken Breast Sandwiches or Cheeseburgers, 9.5-11 o, at $4.65 ($2.32)
-.75/1 White Castle 4 or 6-ct includes cheese, original, jalapeno, chicken, turkey, veggie, black bean, SS 09/29


(makes it $1.57 ea.)

Celentano Pasta or Eggplant Parmigana, 12.5-24 oz, at $3.89 ($1.94)
-$1 off Celentano Pasta Product, any (sign up on Rosino page) printable
-$1 off Celentano frozen pasta, meatball or entree, RMN 09/29
-$1 off Celentano frozen pasta or entree, RMN 09/29


(makes it 94¢)

Cooked Perfect Meatballs, 18-32 oz, at $9.49 ($4.74)
Barber Foods Stuffed Chicken Breast, 8-10 oz, at $5.69 ($2.84)
Green Giant Vegetables or Le Sueur Sweet Peas, 4 pk 14.5-15.25 oz, at $4.49 ($2.24)
Nando's Peri-Peri Sauce or Perinaise, 8.6-9.1 oz, at $4.09 ($2.04)
Progresso Soup, 14-19 oz, at $3.99 ($1.99)
Pepperidge Farm Stone Baked Artisan Dinner Rolls 8 ct, (price not listed)
College Inn Broth or Stock or Sauce , 24-32 oz, at $3.79 ($1.89)


(excluding Organic and Culinary Stock)


-$1/3 College Inn Broth or Stock cartons, 32 oz printable
-$1/3 College Inn Broth or Stock aseptic cartons, 32 oz+ printable
-$1 off College Inn Hearty Beef, Savory Chicken or Mexican-Style Sauce Simple Starter, or Culinary Stock any flavor, SS 10/06
-$1/2 College Inn Broth or Stock 32 oz (Excludes Bone & Culinary), (Publix Coupon), Additional Coupon Flyer or (EXP 11/8) printable
-$1 off College Inn Simple Starter 24 oz LIMIT 1, (Publix Coupon), Additional Coupon Flyer or (EXP 11/8) printable
-.50/1 College Inn broth or stock, 32 oz any flavor, SS 11/03
(use store and $1 off, makes it

FREE

)
Hunt's or Rotel Tomatoes, Sauce or Puree, 10-15 oz, at $1.55 (77¢)
PopCorners Popped-Corn Snack, 7 oz, at $4.09 ($2.04)
Pepperidge Farm Cookies, 6.9-8.6 oz, at $3.89 ($1.94)
Back to Nature Granola, 11-12.5 oz, at $4.29 ($2.14)
Back to Nature Crackers or Cookies, 4-12 oz, at $3.79 ($1.89)
Melitta Cone Coffee Filters, 100 ct. #4, at $3.99 ($1.99)
Lakewood Juice or Juice Blend or Pure Aloe Gel, 32 oz, at $10.29 ($5.14)
Old El Paso Dinner Kit, at $4.39 ($2.19)
Publix Bakery Butter Pound Cake, 12 oz, at $4.59 ($2.29)
Planters Peanuts 16 oz , at $4.37 ($2.18)
-$10 Publix Gift Card WYB $50 in Participating Products at Publix: Kraft, Nabisco, PepsiCo and P&G select items, Stocking Spree online rebate
Kettle Brand Potato Chips, 6.5-8.5 oz, at $3.49 ($1.74)
-$1/2 Publix Ground Meat WYB Lay's 5-8 oz or Lay's Kettle 6.5-8 oz, excl Oven Baked & Multipacks, Publix eCoupon
Keebler Fudge Stripes Cookies or Fudge Shoppe, Vienna Fingers, Coconut Dreams, Elfin Mix or E.L. Fudge , 6.5-14.2 oz, at $3.49 ($1.74)
Pringles Potato Crisps or Loud Corn, 4.5-5.96 oz, at $1.79 (89¢)
-$1/2 Pringles full size cans, incl LOUD, 146-g+ (850 points) printable


(makes it 39¢ ea.)

Entenmann's Loaf Cake, 11.5-14.5 oz, at $4.89 ($2.44)
Sun-Maid Natural California Raisins, 22.58 oz, at $4.67 ($2.33)
Betty Crocker Fruit Snacks, 4.5-8 oz, at $2.99 ($1.49)
-.50/2 Betty Crocker Fruit Shapes, Fruit by the Foot, Fruit Gushers, Fruit Roll-Ups or Mott's Fruit Flavored Snacks or Sunkist Fruit Flavored Snacks, Publix eCoupon
-.50/2 Betty Crocker Fruit Shapes, Fruit by the Foot, Fruit Gushers or Fruit Roll-ups, or Mott's or Sunkist Fruit Flavored Snacks, SS 10/13


(makes it $1.24)

Classico Sauce 15 or 24 oz or Pioneer Woman Pasta Sauce , 24 oz, at $5.15 ($2.57)
Mueller's Pasta, 12-16 oz, at $1.79 (89¢)
Post Honey Bunches Oats of Cereal or Pebbles, Sour Patch Kids, Oreo O's OR Golden Crisp, 11-14.75 oz, at $4.39 ($2.19)
Kellogg's Nutri-Grain or Special K Bars, 6.96-10.4 oz, at $3.69 ($1.84)
-$1 off Kellogg's Nutri-Grain bars, Special K Bars or Rice Krispies Treats squares, 5-ct, + (850 points) printable


(makes it 84¢)

Krusteaz Muffin Mix or Cake & Muffin, Cornbread & Muffin or Bars 11.5-21 oz or Red Lobster Biscuit Mix, 11.36 oz, at $3.59 ($1.79)


(excluding Gluten Free)


-.50/1 Krusteaz Cornbread Mix printable
-.75/2 Krusteaz Cornbread Mixes, on same receipt, excl Protein and Gluten Free, Ibotta mobile app
-.75/2 Krusteaz Muffin or Crumb Cake Mixes, excl Protein and Gluten-Free varieties, on same receipt, Ibotta mobile app
-$1/2 Krusteaz Pancake or Waffle Mixes, on same receipt, excl Protein and Gluten Free varieties, Ibotta mobile app
-.50/1 Krusteaz Pancake Mix, Publix eCoupon


(use .50/1, makes it $1.29)

Kraft Macaroni & Cheese Dinner, 5.5-7.3 oz, starting at, at $1.19 (59¢)
-$10 Publix Gift Card WYB $50 in Participating Products at Publix: Kraft, Nabisco, PepsiCo and P&G select items, Stocking Spree online rebate
Ralston Family Farms Nature's Blend Rice or Jasmine or Basmati White Rice, 24 oz, at $4.79 ($2.39)
General Mills Cinnamon Toast Crunch Cereal or Lucky Charms, Cocoa Puffs, Trix, Kix or Cookie Crisp, 10.4-13.8 oz, at $4.34 ($2.16)
-$1/2 General Mills Cinnamon Toast Crunch, Lucky Charms, Reese's Puffs, Cocoa Puffs, Trix, Cookie Crisp, Golden Grahams, Kix, or Cinnamon Toast Crunch Churros cereal boxes, SS 09/29 (EXP 11/9)
-$1/2 General Mills Cheerios, Cinnamon Toast Crunch, Lucky Charms, Reese's Puffs, Chex, Cocoa Puffs, Trix, Cookie Crisp, Golden Grahams, Kix, Fiber One, Wheaties, Raisin Nut Bran, Total, Basic 4, Oatmeal Crisp, Publix eCoupon
-$1/3 General Mills Cereal boxes any flavor – Cheerios, Cinnamon Toast Crunch, Lucky Charms, Reese's Puffs, Chex, Cocoa Puffs, Trix, Cookie Crisp, Golden Grahams, Kix, Fiber One, Wheaties, Raisin Nut Bran, Total, Basic 4, Oatmeal Crisp, or Nature Valley Granola pouches, SS 10/27
-$1/3 General Mills Cheerios, Cinnamon Toast Crunch, Lucky Charms, Reese's Puffs, Chex, Cocoa Puffs, Trix, Cookie Crisp, Golden Grahams, Kix, Fiber One, Wheaties, Raisin Nut Bran, Total, Basic 4, Oatmeal Crisp Cereal, Nature Valley Granola (pouches) printable


(makes it $1.66 ea.)

Kellogg's Rice Krispies Treats bars, 5.64-6.2 oz, at $2.99 ($1.49)
-$1 off Kellogg's Nutri-Grain bars, Special K Bars or Rice Krispies Treats squares, 5-ct, + (850 points) printable


(makes it 49¢)

Quaker Instant Oatmeal or Instant Grits, 8.4-15.1 oz, at $4.39 ($2.19)
-$1/2 Quaker Old Fashioned, Quick or Instant Oats, or Oatmeal Squares cereal, SS 10/13


(makes it $1.69)

Lindsay Spanish Olives Manzanila Pimento Stuffed or Sliced with Pimento, 5.75 oz, at $2.05 ($1.02)
-$1/2 Lindsay olives (sign up) printable


(makes it 52¢)

Pepperidge Farm Whole Grain Bread, 22-24 oz, at $7.30 ($3.64)


(excludes Farmhouse)


-$1.25 off Pepperidge Farm Whole Grain Thin Sliced Breads, 22 oz loaf, Ibotta mobile app


(makes it $2.39)

Knorr Sides or Ready to Heat Rice or Selects, 3.5-8.8 oz, at $1.34 (67¢)
-750 points WYB (2) Knorr Rice or Pasta Sides, limit 2 on separate receipts, get 2,000 bonus points w/ code N0REC at sign up, Fetch Rewards mobile app
Peter Pan Peanut Butter, 40 oz, at $7.30 ($3.64)
Welch's Concord Grape Jam or Jelly or Natural Spread or Strawberry Spread or Farmer's Pick Concord Grape or Strawberry Spread, 17-30 oz, at $3.59 ($1.79)
Powerade Sports Drink, 32 oz, at $1.33 (66¢)
Crystal Light Drink Mix 10-12 qt., or 7-10 ct. or Mio Water Enhancers 4,5, 10 ct, at $3.59 ($1.79)
Infusium Hair Care Products, 13-13.5 oz, at $6.99 ($3.49)
Clear Eyes Lubricant Eye Drops or Maximum Redness or Itchy Eye Relief or Triple Action or Redness Relief , 15ml, at $4.19 ($2.09)
-.50/1 Clear Eyes product, excl Pocket Pal printable


(makes it 59¢)

Celsius Dietary Supplement 4 pk 12 oz, at $7.39 ($3.69)
Febreze Home Collection Candle, 12 oz, at $8.99 ($4.49)
Purex Laundry Detergent 65-75 oz or 22-29 ct, at $6.15 ($3.07)
-$1 off Purex Detergent Unit Dose Pods, any size printable
-$1 off Purex Unit Dose printable


(makes it $2.07)

Purex Crystals in Wash Fragrance Booster, 15.5 oz, at $3.99 ($1.99)
Brawny Paper Towels, 2 ct, at $5.99 ($2.99)
-.75/1 Brawny package, 2 rolls+, Publix eCoupon


(makes it $2.24)

Solo Plastic Cups 30-50 ct , at $3.59 ($1.79)
Method Dish Soap, 18 oz, at $3.69 ($1.84)
Milk-Bone Dog Snacks , 36-40 oz, at $12.29 ($6.14)
-.50/1 Milk-Bone Biscuits or Soft & Chewy dog treats
printable


(makes it $5.64)

9Lives Cat Food 3.15 lb or Meow Mix irresitibles Treats for Cats, 2.25-3 oz, at $3.99 ($1.99)
–B1G1 Meow Mix Irresistible Treats for Cats, or Brushing Bites, 2.25-3 oz pouch, (Publix coupon), Publix Pet flyer or (EXP 11/6) printable
–B1G1 Meow Mix Irresistible Treats for Cats, or Brushing Bites, 2.25-3 oz pouch (Publix coupon), SS 10/13 (EXP 11/6)


(makes it 99¢ ea.)

Scotties Facial Tissues, 54-110 ct, at $1.55 (77¢)
-.50/3 Scotties facial tissue boxes, or (1) multi-pack , SS 10/27
New England Ground Coffee 9-12 oz bag or K-Cups , 12 ct, at $8.79 ($4.39)
Argyle Pinot Noir Wine, 750 ml, at $26.99 ($13.49)
Kona Beer 6 pk 12 oz, at $10.29 ($5.14)
Hess Select Chardonnay Wine or Pinot Gris or Sauvignon Blanc, 750 ml, at $14.39 ($7.19)
GreenWise Sparkling Water 12 pk 12 oz, at $4.59 ($2.29)
Pure Leaf Tea 6 pk 16.9 oz, at $6.65 ($3.32)
Produce
Asparagus, $2.99 lb
Cranberries, 12 oz, $1.66
Florida Navel Oranges, 4 lb, $2.99
Pomegranates, $2.50
Gala Apples, 98¢ lb
Bartlett Pears, 98¢ lb
Red Seedless Grapes, $1.99 lb
South Georgia Pecan Co. Shelled Pecans, 16 oz, $8.99
Granny Smith Apples, $1.29 lb
Hass Avocado, $1
Sweet Onions, $1.29 lb
Publix Yellow Onions, 3 lb, $2.99
Green Beans, Yellow or Zucchini Squash, $1.69 lb
Publix Sliced White Mushrooms Pre Washed , 12 oz, $2.50
Organic Fuji Apples, 2 lb, $2.99
Meat
Medium White Shrimp 41-50 per lb, $4.99 lb
Lean Ground Beef 3lb+, $4.49 lb
Boneless Top Sirloin Steaks or Top Round London Broil, $4.99 lb
Top Sirloin Fillets, Regular or Steakhouse Cut, $5.99 lb
Fresh Tilapia Fillets, $5.99 lb
GreenWise Italian Chicken Sausage, 16 oz, B2G1 at $6.49
Oscar Mayer Lunchables or Brunchables, B3G3
Boneless Chuck Roast, $4.99 lb
Publix Pork Boston Butt Roast Bone In, $1.99 lb
Oscar Mayer Bacon 12-16 oz, B2G1 at $10.29
Fridge or Frozen
Bolthouse Farms Smoothie or Protein Shake, 15.2 oz, $2
GreenWise Organic Ice Cream, 32 oz, $3.33
Florida's Natural 100% Orange Juice or Ruby Red Grapefruit, 52 oz, $3
Kraft Singles, 10.7-12 oz, $3
Cracker Barrel Cheese Slices, 7 oz, $3
Pillsbury Grands! Biscuits 16.3-17.3 oz, $1.66
-$1/3 Pillsbury Refrigerated Baked Goods Products, SS 10/13
-$1/3 Pillsbury refrigerated baked goods products printable


(makes it $1.33 ea.)

Egglands Best Eggs , dozen, $2
-.50/1 Eggland's Best Eggs, SS 09/08
-.75/1 Eggland's Best Eggs, SS 09/08
-.55/1 Eggland's Best Eggs, SS 09/08


(makes it $1.25)

DiGiorno Pizza, 17.2-31.6 oz, $5
a2 Milk, 59 oz, $3.50
-.75/1 A2 milk, carton printable
-.75/1 a2 milk, 1.74 L carton, limit 5, cannot use with other coupons, Checkout 51 mobile app
-.75/1 a2 milk, 1.75 L, SavingStar mobile app


(makes it $2)

Red's Bowl , 7.5-8.5 oz, $3.33
P.F. Chang's Home Menu Meal for two, 22 oz, $5.99
P.F. Chang's Appetizers, Mini Egg Rolls, Dumplings or Rice, 8.2-16 oz, $2.50
Daisy Sour Cream or Cottage Cheese, 16 oz, $2
Oui by Yoplait French Style Yogurt, 5 oz, $1.33
-$1/4 Yoplait Oui French-style yogurt, Publix eCoupon
-$1/4 Yoplait Oui yogurt printable


(makes it $1.08 ea.)

Kellogg's Eggo Waffles, 10.7-12.3 oz, $2.50
-$1 off Kellogg's Eggo frozen item 5.3 oz + (850 points) printable


(makes it $1.50)
Grocery
GoGo Squeez Organic Applesause on the Go 4 pk 3.2 oz, $2.50
Kind Bars, 4.86-7.1 oz, $3
Nabisco BelVita Breakfast Biscuits or Bites 5 ct 8.8-8.81 oz or Protein Soft Baked Biscuits 4 ct , $2.99
-$10 Publix Gift Card WYB $50 in Participating Products at Publix: Kraft, Nabisco, PepsiCo and P&G select items, Stocking Spree online rebate
-$1/2 BelVita breakfast biscuits, 8.8 oz+, on same receipt, limit 5, cannot use with other coupons, Checkout 51 mobile app
-$1/2 belVita breakfast biscuits, 8.8 oz+, on same receipt, SavingStar mobile app


(makes it $2.49 ea.)

Sara Lee Artesano Bread, Original, Golden Wheat Brioche 20 oz loaf or Buns or Rolls, 12 pk, $2.50
Bush's Best cannellini Beans or Chili, Pinto, Butter, Navy, White, Great Northern or Kidney or Savory 15-16 oz, $1


(excluding Baked and Organic)


-$1 off Bush's Savory Beans varieties, limit 2, Checkout 51 mobile app
(makes it

FREE

)
GreenWise Organic Whole Kernel Corn or Sweet Peas or Cut Green Beans, 14.5-15 oz, 75¢
Publix Premium Coffee, 12 oz or 12 ct, $4.99
Smartfood Popcorn or Smartfood Delight 4.5-10 oz or Frito-Lay Simply Snacks 4.5-9 oz, $3
Bush's Best Black Beans, 15-16 oz, 79¢
Nabisco Wheat Thins or Good Thins Crackers or Triscuit Or Flavor Originals, 3.5-9.1 oz, $2.50
-$10 Publix Gift Card WYB $50 in Participating Products at Publix: Kraft, Nabisco, PepsiCo and P&G select items, Stocking Spree online rebate
Doritos Tortila Chips or Ruffles Potato Chips, 7.75-11.25 oz, $2.50


(excluding Oven Baked and Simply)

Pepperidge Farm Swirl Bread, 14-16 oz, $2.50
Dove Chocolate Promises, 7.61-8.46 oz, $3.33
Duncan Hines Comstock Pie Filling & Topping, 20-21 oz, B2G1
Mott's 100% Apple Juice or Juice Blend or Beverage or Mott's for Tots 64 oz bottle or Applesauce 6 pk 3.9 or 4 oz or 4 pk 3.2 oz, $2
-.50/1 Mott's Clear Pouch apple sauce 3.2 oz, (1) 12-pk+ or (2) 4-pk, SS 10/06


(makes it $1.50)

Mott's Apple Sauce, 23-24 oz, $1.66
Beverages
Coca-Cola products 12 pk 12 oz, B2G1 at $5.93
Coca-Cola Products 6 pk 7.5 oz, B2G1 at $5.93
–

FREE

Late July Chips 5.5-6 oz WYB (2) Coca-Cola Products 6 pk 7.5 oz, (Publix Coupon), Additional Coupon Flyer or (EXP 11/8) printable
Budweiser or Bud Light 15 pk 16 oz, $13.99
Zephyhills or Deer Park Natural Spring Water 24 pk 16.9 oz, $3.50
Pepsi Products, 2L, B2G1
Henry's Hard Sparkling Water 12 pk Variety Pack or Arnold Palmer Spiked Tea 12 oz can or 15 pk Redd's Ale Variety Pack 12 oz , B2G1
-1,500 points WYB Henry's Hard Sparkling Water, 6-pk+ bottles or cans, limit 1, check residency requirements, get 2,000 bonus points w/ code N0REC at sign up, Fetch Rewards (EXP 11/6) mobile app
Starbucks Coffee 9-12 oz or K-Cups 6-10 ct, $6.99
-.50/1 Starbucks Whole Bean & Ground Coffee, any, Ibotta mobile app
-$1 off Starbucks Coffee, RMN 10/27


(makes it $5.99)
Personal Care
Crest Pro-Health Toothpaste 5.1-6.3 oz, 3D White 4.1 oz or Crest Complete Scope 8 oz or Crest Scope Mouthwash 1L or Crest Pro-Health Rinse, 500 ml, $3.99
-$15/$50 Proctor & Gamble products from Pantene, Herbal Essences, Head & Shoulders, Aussie, Ivory, Safeguard, Olay, Secret, Always and Always Discreet, Old Spice, Crest, Oral-B, Pampers, Gillette, Venus, Tampax; excl trial, SavingStar mobile app
-$1 off Crest Mouthwash, 473 mL/16 oz+, limit 2, PG 10/27 (EXP 11/9)
-$2 off Crest Toothpaste, 3 oz+, excl Cavity, Regular, Baking Soda, Tartar Control/Protection, F&W Pep Gleem, Kids, limit 2, PG 10/27 (EXP 11/9)
-$15 gift card WYB $50 in P&G Beauty Products (brands include Pantene, Herbal Essences, Head & Shoulders, Ivory, Aussie, Safeguard, Olay, Secret, Always Discreet, Old Spice, Venus, Gillette, Oral-B, Crest, Pampers, Tampax and Always) rebate


(makes it $1.99)

Dove Body Wash 22 oz, Shower Foam 13.5 oz, or Body Polish 10.3-10.5 oz or Bath Bombs, $5.99
-$1 off Dove Product, any (sign up) printable
-$1 off Dove Bath Bombs, 2-ct+, limit 2, RMN 11/03
-Free Dove Men+Care Body Wash 13.5 oz+, up to $6, WYB (1) Dove Body Wash 13.5 oz+ OR Exfoliating Body Polish 10.5 oz, limit 2, RMN 11/03


(buy (2), makes it $2.99 ea.)

Dove Bath Bars 6 pk 4 oz, $6.49
-.75/1 Dove Beauty Bar, 4-ct+, limit 2, RMN 11/03


(makes it $5.74)

Zone Perfect Nutrition Bars 5 pk 1.23 – 1.76 oz or Ready to Drink Shakes 4 pk 11 oz, $5 off WYB (3)
Zone Perfect Shakes, 4 ct., $7.99
Zone Perfect Bars, 5 ct., $5
-$1.50/2 Zone Perfect multipacks printable
-$2.50/2 ZonePerfect multipacks printable
-$1.50/2 ZonePerfect Multi-packs, 4 ct+ Carton, Publix eCoupon


(buy (3), use $2.50/2, makes it $2.50 ea.)

Crest Pro-Health Advanced Mouthwash, 1L, $5
-$15/$50 Proctor & Gamble products from Pantene, Herbal Essences, Head & Shoulders, Aussie, Ivory, Safeguard, Olay, Secret, Always and Always Discreet, Old Spice, Crest, Oral-B, Pampers, Gillette, Venus, Tampax; excl trial, SavingStar mobile app
-$1 off Crest Mouthwash, 473 mL/16 oz+, limit 2, PG 10/27 (EXP 11/9)
-$15 gift card WYB $50 in P&G Beauty Products (brands include Pantene, Herbal Essences, Head & Shoulders, Ivory, Aussie, Safeguard, Olay, Secret, Always Discreet, Old Spice, Venus, Gillette, Oral-B, Crest, Pampers, Tampax and Always) rebate
-$1 off Crest Mouthwash 473 mL 16 oz+, excl trial size, Winn Dixie printable


(makes it $4)

Oral-B Glide Floss 35-54.7 yd or 75 ct, $1 off


Oral-B Glide Flass, 54.7 yd., $3.29 (after sale)


-$15/$50 Proctor & Gamble products from Pantene, Herbal Essences, Head & Shoulders, Aussie, Ivory, Safeguard, Olay, Secret, Always and Always Discreet, Old Spice, Crest, Oral-B, Pampers, Gillette, Venus, Tampax; excl trial, SavingStar mobile app
-$2 off Oral-B Glide Manual Floss, Floss Picks, Interdental Brush or Picks, excl trial size, Publix eCoupon
-$15 gift card WYB $50 in P&G Beauty Products (brands include Pantene, Herbal Essences, Head & Shoulders, Ivory, Aussie, Safeguard, Olay, Secret, Always Discreet, Old Spice, Venus, Gillette, Oral-B, Crest, Pampers, Tampax and Always) rebate


(makes it $1.29)

Method Hand Wash or Foaming Hand Wash 10-12 oz, $2.50


(excluding Holiday Gel or Foam Fragrances)

Method Foaming Hand Wash Refill, 28 oz, $4.99
Advil or Excedrin Medicine 80-100 ct, $6 off WYB 2
(prices after sale)
Advil LiquiGels, 80 ct, $8.29
Advil Ibuprofen Tablets, 100 ct., $8.14
-$1 off Advil or Advil Migraine item, 20 ct.+ printable
-$3 off Advil film-coated product, 80 ct or larger printable
-$3 off Advil film-coated (register), 80-ct+ printable
-$1 off Advil or Advil Migraine, 20-ct+ printable
-$1 off Advil product, excl trial size printable
-$1 off Advil Liqui-Gels, 20-ct+, (register) printable
-$3 off Advil Film Coated item, 80-ct+, (sign up) printable
-$1 off Advil or Advil Migraine, 20-ct+ (register) printable
-$1 off Advil Liqui-Gels Minis, 20-ct+, (register) printable
-$1.50 off Excedrin Product, RMN 10/06
-$3 off Advil product 80-ct+, excl Advil PM (Publix coupon), RMN 10/20
-$3 off Advil product, 80-ct+, RMN 11/03 (EXP 11/10)
-$1 off Advil product 40-ct+, or Advil PM 20-ct+, RMN 11/03
-$3 off Advil Respiratory product, RMN 11/03 (EXP 11/10)
-$3 off Advil 80-200 ct or Advil PM 80-120 ct LIMIT 1, (Publix Coupon), Health & Beauty Flyer or
-$3 off Advil Respiratory product printable
-$3 off Advil Base or Migraine 80 ct.+, excl Advil PM printable
-$1 off Advil product 40 ct.+ or Advil PM 20 ct.+
printable


(use store and $3 off mfr., makes it $2.29)

Thermacare Heatwraps 2-4 ct box or Ultra Pain Relieving Cream, 2.5 oz, $5.99
-$1 off ThermaCare heat wrap, 2 ct. + printable
-$1 off Thermacare product, 2-ct+ printable
-$1 off ThermaCare Ultra Pain Relieving Cream printable
-$3 off ThermaCare product, excl HeatWraps 1-ct, RMN 11/03
-$3 off ThermaCare product , excl 1 ct. printable


(makes it $2.99)

Aveeno Products .5-33 oz or 5-25 ct, $3 off WYB (2)
(excluding Bars, Cosmetics and Trial Size)
(regular prices)
Aveeno Baby Wash, 8 oz, $6.79
Aveeno Calm Makeup Removing Wipes 25 ct $6.99
Aveeno Positively Radiant Brightening Cleanser 6.78 oz $7.19
-$2 off Aveeno Baby Product, excl products 3.0oz or smaller, 10 ct wipes and trial/travel, limit 1, SS 11/10
-$2 off Aveeno Body Lotion, Body Wash or anti-itch product, excl 2.5 and 1 oz and after shave, limit 1, SS 11/10


(makes it $4.79)
Baby Care
Huggies Diapers 40-88 ct box, GoodNites Underwear 24-32 ct box or Pull-Ups Training Pants 56-74 ct, $7 off WYB (2)
(prices after sale)
Huggies Snug & Dry Diapers box, $14.99
Huggies Pull-Ups, Box, $23.49
-$1 off Huggies diapers (sign in) printable
-$1.50 off Huggies GoodNites Bedtime Pants printable
-$1.50 off Huggies Pull-Ups Training pants printable
-$1 off Huggies Diapers printable
-$1 off Huggies Snug & Dry Diapers, sizes 1-6, 21-44 ct, Ibotta mobile app
-$1 off Huggies Pull-Ups or Goodnites pants or mats, excl 7 ct. or less printable
-$1 off Huggies diapers, excl 9 ct. or less printable


(makes it $13.49 ea.)

Huggies Wipes 56-64 ct, B2G1 at $2.59
-$1/2 Huggies Wipes printable
-.50/1 Huggies wipes, 48 ct.+ printable


(use $1/2 and .50/1, makes it $1.22 ea.)

Similac Infant Formula Powder or Go & Grow Drink 22.5-30.8 oz or 1.41-1.93 lb, $5 off WYB (2)


Similac Infant Formula Powder $24.49 (after sale)


-$5/2 Similac Powder Infant Formula, 1.38 lb +, Publix (EXP 11/8) eCoupon


(makes it $21.99 ea.)
Household
Pyrex Glass Bakeware or Anchor Hocking, Good Cook or Bialetti Pizza Stone 50% off
Febreze Air Fresheners, Oils, Aerosols, Candles or Spray, $3 off WYB (3)
(prices after sale)
Febreze Air Effects, $2.29
Febreze Wax Melts, $2.19
–B1G1 Febreze product, up to $3, excl trial, limit 2, PG 10/27
-$1 off Febreze Unstopables item, excl trial size, Publix eCoupon


(buy (3), use B1G1, makes it $1.52 ea.)

Renuzit Gel Air Freshener, 7 oz, 63¢
Cottonelle Toilet Paper Double Rolls 12 Roll or Mega Rolls 6 ct or Flushable Wipes 168 ct, $5.99
-.55/1 Cottonelle Toilet Paper (sign up) printable
-.55/1 Cottonelle Flushable Wipes printable
-$2/2 Cottonelle Toilet Paper 6 pk+, Viva Paper Towels 6 pk+ or Kleenex Bundle Pack, Publix eCoupon


(makes it $4.99 ea.)

Lysol Disinfectant Spray 15-19 oz or Disinfecting Wipes 3 pk 35 ct or Laundry Sanitizer , 41 oz, $5.99
-.75/2 Lysol Disinfectant Wipes, 35-ct+ printable
-.50/1 Lysol Disinfectant Spray, limit 2, SS 10/13 (EXP 11/10)
-.50/1 Lysol Disinfecting Wipes, limit 2, SS 10/13 (EXP 11/10)
-$1 off Lysol Laundry Sanitizer, limit 2, SS 10/13 (EXP 11/10)


(makes it $4.99)

Bounty Quilted Napkins, Print 160 ct or White 200 ct, $2.69
-.25/1 Bounty napkins, excl trial, limit 2, PG 10/27 (EXP 11/9)


(makes it $2.44)

Tide Tide Pods or Gain Flings Detergent 46-50 oz or 20 ct , $6
-$2 off Tide Pods, excl liquid, powder, Tide Simply products, pods 9 ct. or less, trial/travel sizes printable
-$2 off Tide liquid laundry detergent, Purclean detergent or Tide Antibacterial Spray, excl Tide Pods, Tide Rescue, Tide Simply products, Tide detergent 10 oz, Studio by Tide, trial/travel sizes printable
-$2 off Gain Flings 12-26 ct, or Liquid or Powder Laundry Detergent, excl trial, limit 1, RMN 10/06 (EXP 11/9)
-$2 off Tide detergent, 75 oz or less, or Purclean 50 oz or less, or Antibacterial Spray, excl trial size, limit 1, PG 10/27
-$2 off Tide PODS, 31-ct or less, excl Simply PODS, PODS 9-ct or less and trial, limit 1, PG 10/27


(makes it $4)

Downy Fabric Softener or Conditioner 40-77 oz or Downy or Dreft Scent Booster, 8.6 oz, $6
-$1 off Downy liquid fabric conditioner 48-60 load+ incl Odor Protect liquid fabric conditioner 32 oz, Nature Blends 44 oz+, or Downy WrinkleGuard liquid fabric conditioner 25 oz, or Bounce or Downy Sheets 70-120-ct incl Bounce or Downy WrinkleGuard 40-60 ct, or In-Wash Scent Boosters 5.7 oz+ incl Downy Unstopables, Fresh Protect, Odor Protect and Infusions, or Bounce Rapid Touch-Up 3-in-1 spray, or Downy Wrinkle Releaser Spray; excl Downy Libre Enjuague and trial, limit 1, PG 10/27
-$2 off Downy liquid fabric conditioner 72-load+2ld or larger (includes Downy Odor Protect 48 oz+ or Downy WrinkleGuard 40 oz+ or Downy Nature Blends 67 oz+ or Bounce or Downy Sheets 130-ct+, incl Bounce or Downy WrinkleGuard 80-ct+, or In-Wash Scent Boosters 8.6 oz+ incl Downy Unstopables, Fresh Protect, Odor Protect and infusions; excl Downy Libre enjuague, Gain Fireworks and trial, limit 1, PG 10/27


(makes it $5)

Hefty Tall Kitchen Bags or Strong Trash bags, drawstring , 18-45 ct, $5.99
Ziploc Slider Bags Storage or Freezer Quart or Gallon 10-20 ct or Sandwich or Snack 30-40 ct, $2.19
-$1/2 Ziploc Products, any printable
-$1/2 Ziploc products, excl accessory bags printable
-$1/2 Ziploc products, limit 2, SS 11/03
-$5 Visa Gift Card WYB (4) Windex, Pledge, Ziploc, Glade, Scrubbing Bubbles, Shout, Drano, or Fantastik in the same transaction, Online rebate


(buy (4), use (2) $1/2, makes it 44¢ ea. after rebate)

Lysol Toilet Bowl Cleaner or Lime A Way 24 oz or Lysol Disinfecting or Daily Cleansing Wipes, 35 ct, $2
-.75/2 Lysol Disinfectant Wipes, 35-ct+ printable
-.50/1 Lysol Disinfecting Wipes, limit 2, SS 10/13 (EXP 11/10)


(makes it $1.50 ea.)

Clorox Bleach, 55-64 oz, $2
-.65/1 Clorox bleach, 55 oz+ (sign up) printable


(makes it $1.35)
Pet Care
Rachael Ray Nutrish Dog Food Peak or Zero Grain , 12-14 lb, $19.99
-$3 off Rachael Ray Nutrish Dog Food, 3 lb+ bag, RMN 10/06
-$2 off Rachael Ray (1) 3 lb+ bag Nutrish dry dog food or (1) variety pk Nutrish wet dog food printable


(makes it $16.99)
Publix LINKS
Latest Articles
Categories
Videos
← PREV NEXT →
Printable Coupons
See our full list of printable coupon resources