Welcome to Southern Savers,
where finding deals and steals is simple and rewarding!
See I told you, this would help!
Coupon Abbreviations
SC

= Store Coupon

MC

= Manufacturer Coupon

SS

= Smart Source

RMN

= Retail Me Not

PG

= Proctor and Gamble
Coupon Terms
WYB

= When You Buy

B1G1

= Buy One Get One Free

.75/1

= 75 cents off one item

.75/3

= 75 cents off three items

EXP

= Expiration Date
Going Nuts? I can help you understand coupon terms and abbreviations
Home > Publix Deals > Publix Ad: 12/4-12/10 or 12/5-12/11
This post may contain affiliate links. Read our disclosure here.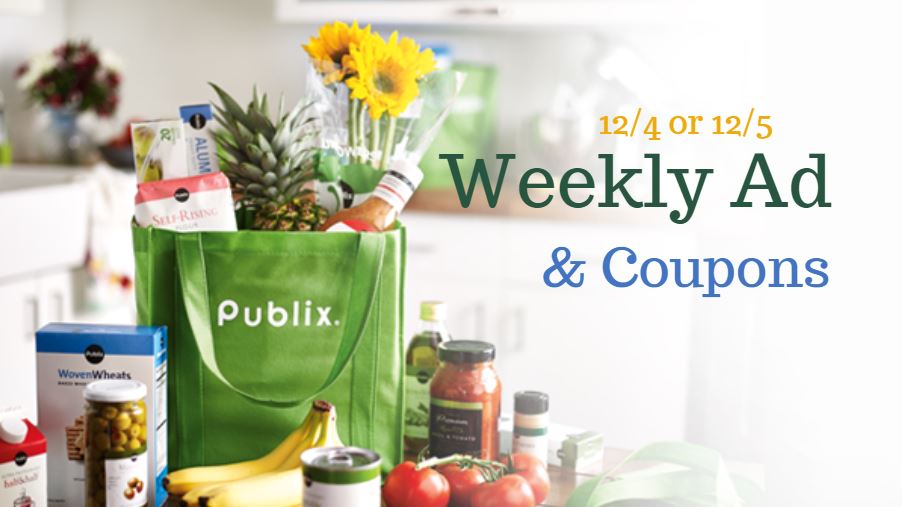 Here are the deals from the new Publix ad that starts 12/4 (or 12/5 depending on your area). Get FREE Halls cough drops, FREE Handi-Foil pans, and more.
In Ad Coupon
$10 off $50 Gas Station Gift Card with $50 Grocery Purchase
Hallmark Greeting Cards or Gift Wrap B1G1
Buy One Get Ones
Publix Pineapple Chunks, at $5.19 ($2.59) lb
Red Raspberries, 6 oz, at $3.99 ($1.99)
Publix Boneless Skinless Chicken Breast, at $5.09 ($2.54)
Publix Chicken Drumsticks or Thighs, at $2.19 ($1.09) per lb or less
Smithfield Boneless Ham Steak, 8 oz, at $3.99 ($1.99)
-$3/3 Smithfield items, excl Boneless Sliced Hams, Smoked & Spiral Hams, Bone-in Ham Steaks & Fresh Pork Chops, Publix eCoupon
-$1/2 Smithfield Anytime Favorites, Publix eCoupon


(makes it 99¢)

Jimmy Dean Bacon, 16 oz, at $9.19 ($4.59)
-$1/2 Jimmy Dean products, limit 1, RMN 11/10 (EXP 12/8)
-.75/2 Jimmy Dean Refrigerated Items, limit 1, RMN 11/10 (EXP 12/8)
-$1/2 Jimmy Dean Refrigerated Items, limit 1, RMN 11/10 (EXP 12/8)
-$1 off Jimmy Dean Refrigerated Items, limit 1, RMN 11/10 (EXP 12/8)


(makes it $3.59 ea.)

Oscar Mayer Beef Franks or Cheese Wieners, 14-16 oz, at $5.99 ($2.99)
Sabra Family Size Hummus, 17 oz, at $5.63 ($2.81)
Pillsbury Grands Biscuits, 16.3-17.3 oz, at $3.79 ($1.89)
-$1/3 Pillsbury Refrigerated Baked Goods Products, SS 10/13
-$1/3 Pillsbury Refrigerated Baked Goods items, Publix eCoupon
-$1/3 Pillsbury Refrigerated Baked Goods Products, SS 11/17
-.75/1 Pillsbury Grands frozen biscuits, SS 11/17
-$1/3 Pillsbury refrigerated baked goods products printable


(makes it $1.14)

Organic Valley Stringles String Cheese , 6 oz, at $5.69 ($2.84)
Publix Tilapia Fillets, 24 oz, at $9.99 ($4.99)
Publix Premium Alaskan Panko Pollock Fillets, 12 oz, at $6.99 ($3.49)
Margaritaville Appetizers, 8-19 oz, at $8.99 ($4.49)
-$1 off Margaritaville seafood item printable


(makes it $3.49)

Steak-umm Sandwich Steaks, 21 oz, at $9.99 ($4.99)
Cooked Perfect Meatballs, 18-32 oz, at $10.29 ($5.14)
Cooked Perfect Chicken Tenders or Chunks, 18-22 oz, at $9.99 ($4.99)
Palermo's Primo Thin Pizza 13.35-16.55 oz, at $6.81 ($3.40)
-$1 off Palermo's Pizza (sign up) printable


(makes it $2.40)

Totino's Pizza Rolls, 50 ct, at $5.61 ($2.80)
-$1.50/2 Totino's pizza rolls 50 ct. or mini snack bites 125 ct. printable


(makes it $2.05 ea.)

Cole's Bread 10.5-16 oz, at $3.29 ($1.64)
-$1/2 Cole's items printable


(makes it $1.14 ea.)

Boston Market Home Style Meats 13-15 oz, at $3.79 ($1.89)


(excluding Boston Market Pot Pie)

Celentano Pasta or Eggplant Pamigiana, 12.5-24 oz, at $3.89 ($1.94)
-$1 off Celentano Pasta Product, any (sign up on Rosino page) printable
-$1 off Celentano frozen pasta, meatball or entree, RMN 09/29
-$1 off Celentano frozen pasta or entree, RMN 09/29


(makes it 94¢)

Blue Bunny Mini Swirls Ice Cream Cones or Bunny Snacks 6 pk 2.4 oz or 8 pk 2.3 oz, at $5.15 ($2.57)
-.75/1 Blue Bunny ice cream and novelties (sign up) printable


(makes it $1.82)

Baskin Robbins Ice Cream, 14 oz, at $4.69 ($2.34)
Flora Taralli Love Knots, 7.05-8.5 oz, at $2.79 ($1.39)
Flipz Chocolate Covered Pretzels, Milk or White Chocolate, 7.5 oz, at $3.49 ($1.74)
Green Giants Vegetables 14.5-15.25 oz, starting at, at $1.44 (72¢)


(excludes Asparagus)

Ronzoni Pasta 10-16 oz, at $2.05 ($1.02)


(excluding Lasagna, Jumbo Shells, Cauilflower and Turmeric)

Harvest Snaps Snack Crisps, 3-3.3 oz, at $2.50 ($1.25)
Publix Bakery Chocolate Chip Cookies, 13 ct, at $5.31 ($2.65)
Julia's Table Soft White or Super Seed Rolls, 13.2-15.6 oz, at $6.99 ($3.49)
Publix Smore Cookies, 13 ct, at $5.11 ($2.55)
Late July Organic Snack Chips or Tortilla Chips, 5.5-6 oz, at $3.59 ($1.79)
-$1 off Late July snacks or Pretzel Crisps, 6 oz+ printable


(makes it 79¢)

Arnold Whole Grains Bread or Country, 24 oz, at $4.49
Nestle Crunch Bars or Butterfinger, Baby Ruth or Assorted, 10-10.5 oz, at $3.99 ($1.99)
Starburst Skittles or Lifesavers Candy 12.5-15.6 oz, at $2.99 ($1.49)


(excluding Jelly Beans)

General Mills Chex Mix Snack or Bugles or Gardetto's, 7.5-8.75 oz, at $2.91 ($1.45)
Nabisco Honey Maid Grahams or Original Grahams, 7.04-14.4 oz, at $4.49 ($2.24)
-$10 Publix Gift Card WYB $50 in Participating Products at Publix: Kraft, Nabisco, PepsiCo and P&G select items, Stocking Spree online rebate
-.75/1 Nabisco Honey Maid Grahams, 14 oz+, limit 5, cannot use with other coupons, Checkout 51 mobile app
-.75/1 Nabisco Honey Maid Grahams, 14 oz+, SavingStar mobile app


(makes it $1.49)

Doritos Tortilla Chips or Ruffles Potato Chips 7.75-11.25 oz, at $4.29 ($2.14)


(Excluding Oven Baked and Simply)

Russell Stover Chocolates Pecan Delights Milk Chocolate, Nut Chewy & Crisp or Assorted Creams, 8.1-11 oz, at $9.99 ($4.99)
-$1/2 Russell Stover Box, 4 oz+, limit 1, SS 11/17


(makes it $4.49 ea.)

Ferrero Rocher Fine Hazelnut Chocolates , 12 ct, at $5.49 ($2.74)
-$1 off Ferrero Rocher or Ferrero Rocher Collection, 6.8–10.4 oz, SS 11/10
-$1 off Ferrero Rocher or Ferrero Collection, 6.8-10.6 oz printable


(makes it $1.74)

Old El Paso Taco Shells or Flour Tortillas or Soft Tortilla Bowls 8-18 ct or Refried Beans, 16 oz, at $3.09 ($1.54)
Village Harvest Organic Rice Side Dish, 8.5 oz, at $2.60 ($1.30)
Progresso Soup, 14-19 oz, at $3.09 ($1.54)
McCormick Chili Mix or Seasoning 7.1-1.5 oz or McCormick Black Pepper 3 oz or Table Grinders .85-.61 oz, starting at , at $1.25 (62¢)
Del Monte Tomatoes, 14.5 oz, at $1.69 (84¢)
-.50/4 Del Monte Canned Vegetables, 10-18 oz printable
-.40/4 Del Monte canned vegetables, 10-18 oz single cans, SS 11/03


(makes it 72¢ ea.)

Swanson Broth or Cooking Stock, 32 oz, at $4.09 ($2.04)


(excluding Organic)


-.75/2 Swanson Broths or Stocks, 32 oz+, SS 11/10


(makes it $1.67)

Mt. Olive Pickles 16 oz, at $3.06 ($1.53)


(excluding Organic and Simply Vidalia)

Duke's Mayonnaise, 32 oz, at $4.67 ($2.33)
-.75/1 Duke's Product, limit 1, SS 11/10 (EXP 12/8)
-$1/2 Duke's Product, limit 1, SS 11/10 (EXP 12/8)
-.55/1 Duke's Product, limit 1, SS 11/10 (EXP 12/8)


(makes it $1.48)

Heinz Yellow Mustard Squeeze Bottle, 20 oz, at $2.55 ($1.27)
General Mills Lucky Charms Cereal, Trix or Cinnamon Toast Crunch, 10.5-13.8 oz, at $4.34 ($2.16)
-$1/2 General Mills Cheerios, Cinnamon Toast Crunch, Lucky Charms, Reese's Puffs, Chex, Cocoa Puffs, Trix, Cookie Crisp, Golden Grahams, Kix, Fiber One, Wheaties, Raisin Nut Bran, Total, Basic 4, Oatmeal Crisp, Publix eCoupon
-$1/3 General Mills Cereal boxes any flavor – Cheerios, Cinnamon Toast Crunch, Lucky Charms, Reese's Puffs, Chex, Cocoa Puffs, Trix, Cookie Crisp, Golden Grahams, Kix, Fiber One, Wheaties, Raisin Nut Bran, Total, Basic 4, Oatmeal Crisp, or Nature Valley Granola pouches, SS 10/27 (EXP 12/7)
-$1/3 General Mills Cheerios, Cinnamon Toast Crunch, Lucky Charms, Reese's Puffs, Chex, Cocoa Puffs, Trix, Cookie Crisp, Golden Grahams, Kix, Fiber One, Wheaties, Raisin Nut Bran, Total, Basic 4, Oatmeal Crisp Cereal, Nature Valley Granola (pouches) printable (limit reached)
-$1/2 General Mills Cinnamon Toast Crunch, Lucky Charms, Reese's Puffs, Cocoa Puffs, Trix, Cookie Crisp, Golden Grahams, Kix or Cinnamon Toast Crunch Churros Cereal boxes, SS 11/24
-$1/3 General Mills Cheerios, Cinnamon Toast Crunch, Lucky Charms, Reese's Puffs, Chex, Cocoa Puffs, Trix, Cookie Crisp, Golden Grahams, Kix, Fiber One, Wheaties, Raisin Nut Bran, Total, Basic 4, Oatmeal Crisp cereal, Nature Valley Granola (pouches) printable


(use $1/2, makes it $1.66)

Quaker Instant Oatmeal or Grits , 8.4-15.1 oz, at $4.39 ($2.19)
-$10 Publix Gift Card WYB $50 in Participating Products at Publix: Kraft, Nabisco, PepsiCo and P&G select items, Stocking Spree online rebate
-$1/2 Quaker Old Fashioned, Quick or Instant Grits, excl cups, SS 11/17
-$1/2 Quaker Old Fashioned Quick or Instant Oats, box, SS 11/24


(makes it $1.69)

Quaker Chewy Bars, 6.1-7.4 oz, at $2.57 ($1.28)
-$10 Publix Gift Card WYB $50 in Participating Products at Publix: Kraft, Nabisco, PepsiCo and P&G select items, Stocking Spree online rebate
-$1/2 Quaker Chewy Granola Bars
printable (limit reached)


(makes it 78¢)

Quaker Breakfast Squares Soft Baked or Baked Squares 10.5 oz or Breakfast Blend, Baked Crispy Snack Bars, 7 oz, at $3.59 ($1.79)
-$10 Publix Gift Card WYB $50 in Participating Products at Publix: Kraft, Nabisco, PepsiCo and P&G select items, Stocking Spree online rebate
Quaker Cap'n Crunch Cereal 15.4-20 oz, Oatmeal Squares 14.5 oz, Life 18 oz or Simply Granola 26-28 oz, at $5.85 ($2.92)
-$10 Publix Gift Card WYB $50 in Participating Products at Publix: Kraft, Nabisco, PepsiCo and P&G select items, Stocking Spree online rebate
Hershey's Chocolate Baking Chips or Reese's Peanut Butter Chips, 10-12 oz, at $2.99 ($1.49)
Barilla Ready Pasta, 8.5 oz, at $1.85 (92¢)
Ragu Sauce, 14-24 oz, at $3.49 ($1.74) or less


(excluding Pizza Sauce)


-$1/2 Ragu sauce printable
-.60/2 Ragu Pasta Sauce, limit 2, SS 12/08
-$1/2 Ragu Pasta Sauce, limit 2, SS 12/08


(makes it $1.24)

Kraft Dressing 14-16 oz, at $3.69 ($1.84)
-$10 Publix Gift Card WYB $50 in Participating Products at Publix: Kraft, Nabisco, PepsiCo and P&G select items, Stocking Spree online rebate
Ocean Spray 100% Juice, Drink or Sparkling 6 pk 8.4-10 oz, at $4.49 ($2.24)
Betty Crocker Fruit Snacks, 4.5-8 oz, at $2.99 ($1.49)
-.50/2 Betty Crocker Fruit Shapes, Fruit by the Foot, Fruit Gushers, Fruit Roll-Ups or Mott's Fruit Flavored Snacks or Sunkist Fruit Flavored Snacks, Publix eCoupon
-.50/2 Betty Crocker Fruit Shapes, Fruit by the Foot, Fruit Gushers or Fruit Roll-ups, or Mott's or Sunkist Fruit Flavored Snacks, SS 10/13 (EXP 12/7)
-.50/3 Betty Crocker or Mott's or Sunkist Fruit Flavored Snacks, boxes, SS 11/10


(makes it $1.24)

Halls Cough Suppressant Drops or Throat Drops, 20-30 ct, at $2.19 ($1.09)
-$1.25/2 Halls products 10-ct+, SS 11/03
-$1/2 Halls items, 10 ct+, Publix eCoupon
-$1/2 Halls Drops, 20-ct+, (Publix coupon), Publix Get Relief flyer or printable
-$1/2 Halls products, 10-ct+, on same receipt, SavingStar mobile app
(Buy 2, use store and $1.25/2, makes both

FREE

)
Publix Antacid or Omeprazole Acid Reducer Antacid Tablets 72-150 ct or Acid Reducer, 14 ct, at $9.25 ($4.62)
Publix Diapers or Training Pants, 19-44 ct, at $7.99 ($3.99)
All Laundry Detergent, 32-40 oz, at $6.15 ($3.07)
Lysol All Purpose Spray Cleaner or Multi-Purpose or Kitchen Cleaner 22-32 oz , at $3.99 ($1.99)


(excluding Bath and Mold & Mildew)




(makes it $1.49)

Handi-Foil Pans or Cookie Sheets or Storage Containers, 1-5 ct, starting at, at $3.99 ($1.99) or more
-$2.50 off Handi-Foil item, Publix (EXP 12/4) eCoupon
(makes some

FREE

)
Blue Wilderness Adult Dog Food , 11 lb, at $36.99 ($18.49)
-$5 off Blue dry dog or cat food, 5-lbs+, SS 11/10


(makes it $13.49)

Meow Mix Cat Food, 5-6.3 lb, at $10.29 ($5.14)
-$1 off Meow Mix dry cat food printable


(makes it $4.14)

Murphy-Goode Cabernet Sauvignon Wine, 750 ml, at $16.39 ($8.19)
Bosco Montepulciano D'Abruzzo Riserva Wine , 750 ml, at $13.29 ($6.64)
Canoe Ridge Vineyard Cabernet Sauvignon Wine or Red Blend, 750 mL, at $18.49 ($9.24)
Califia Farms Almond Milk Creamer, 32 oz, at $4.09 ($2.04)
-$1 off Califia Farms Oatmilk 48 oz, or Oat Barista Blend 32 oz printable


(makes it $1.04 – if included)

Coca-Cola Products 6 pk 16.9 oz, at $5.15 ($2.57)


(Excludes Dasani)

Evian Natural Spring Water 6pk 1L , at $13.29 ($6.64)
Publix Premium Ground Coffee, 12 ct, at $7.49 ($3.74)
Swiss Miss Hot Cocoa MIx, 6-30 ct, at $2.59 ($1.29)
Eight O Clock Coffee 10-12 oz or K-Cups, 12 ct, at $8.19 ($4.09)
Gevalia Kaffee Coffee 10-12 oz or 6-12 ct box or Ice Coffee 32 oz or Maxwell House Coffee 10-11.5 oz, at $9.55 ($4.77)


(excluding Maxwell House K-Cups)


-$1 off Gevalia Cafe at Home, any, limit 5, cannot use with other coupons, Checkout 51 mobile app
-$1 off Gevalia Cafe at Home product, any, SavingStar mobile app


(makes it $3.77)
Produce
Asparagus, $2.99 lb
Mandarins 3 lb, $4.99
Cranberries 12 oz, $2
Hass Avocado, $1
-.75/3 Avocados from Mexico printable


(makes it 75¢ ea.)

Fuyu or Hachiya Persimmons, $1
Green Beans Zucchini or Yellow Squash, $1.69 lb
Publix Premium Salad Kits, 7-8.75 oz, $2.50
Grape Tomatoes, $1.50
Red n Tasty Tomatoes, $1.99 lb
Broccoli, $2.50
Publix Baby Cut Carrot, 1 lb, $1.50
Red Seedless Grapes, $1.99 lb
Gala Apples, $1.29 lb
Bartlett Pears, $1.29 lb
Large Red or Bosc Pears, $1.49 lb
GreenWise Organic Red Delicious Apples, 2 lb, $2.99
Organic Honeycrisp Apples, $2.99 lb
Meat
Publix Deli Chicken Tender Whole Sub, $6.99
-$1 off Publix Deli Whole Sub Combo, (Publix Coupon), Additional Coupon Flyer or (EXP 12/6) printable
Boneless Chuck Roast, $4.99 lb
-$3 off Beef Roast Any Brand, 2 lb+, Ibotta mobile app
Chuck Short Ribs, $5.99 lb
Publix Aprons Stuffed Jalapeno Peppers, $6.99 lb
-$2 off Publix Aprons Meal Kit, Publix eCoupon
Lean Ground Beef 3lb+, $4.49 lb
-$1/2 Publix Ground Meat WYB Lay's 5-8 oz or Lay's Kettle 6.5-8 oz, excl Oven Baked & Multipacks, Publix eCoupon
Publix Boneless Pork Loin Chops, $3.99 lb
Publix Thinly Sliced Boneless Pork Loin Chops, $4.29 lb
Boneless Top Sirloin Steaks, $4.99 lb
Top Sirloin Fillets, $5.99 lb
Publix Aprons Parmesan Chicken Breast Cutlets or Bites, $6.49 lb
-$2 off Publix Aprons Meal Kit, Publix eCoupon
Medium White Shrimp Easy to Peel 41-50 ct per lb, $5.99 lb
Salmon Fillets, $9.99 lb
Fridge or Frozen
Eggland's Best Eggs Large, 18 ct, $3.49
-.50/1 Eggland's Best Eggs, SS 09/08 (EXP 12/8)
-.75/1 Eggland's Best Eggs, SS 09/08 (EXP 12/8)
-.55/1 Eggland's Best Eggs, SS 09/08 (EXP 12/8)
-.50/1 Eggland's Best Eggs, SS 11/17
-.55/1 Eggland's Best Eggs, SS 11/17


(makes it $2.74)

Publix Premium Greek Yogurt, Blended Greek or Indulgent, 5.3 oz, $1
Publix Sweet Cream Butter, 16 oz, $3.33
-.75/1 Publix Butter Sweet Cream Salted or Unsalted, 16 oz box, 4 quarters, Publix eCoupon


(makes it $2.58)

Chobani Greek Yogurt, Regular, Flip or Less Sugar, 4.5 or 5.3 oz, $1
-$1/5 Chobani single-serve and non-dairy products, limit 1, SS 11/10
-$1/5 Chobani Single-Serve Yogurt & Non-Dairy items, Publix (EXP 12/8) eCoupon (limit reached)


(makes it 80¢)

Yoplait Go-Gurt or Simply Go-Gurt Yogurt, 8 pk, $2
-$1/2 Yoplait Go-Gurt item, 8 ct, Publix eCoupon
-$20 in Fandango Movie Certificates WYB (2) Yoplait or Go-Gurt Participating products, Online rebate


(makes it $1.50 ea.)

Publix Cream Cheese or Neufachatel 8 oz or Publix Sour Cream, 16 oz, $1.66
Publix Whipped Cream, 14 oz, $3.50
Rana Pasta or Sauce, 7-15 oz, $3.50
-$1 off Giovanni Rana Refrigerated Pasta, SS 10/13
-$1 off Giovanni Rana Refrigerated Sauce, SS 10/13


(makes it $2.50)

Publix Shredded Cheese, 6-8 oz, B2G1
Crunchmaster Crackers, 3.54-4 oz, B2G1 at $3.59
-$1 off Crunchmaster Product (sign-up) printable
-$1 off Crunchmaster Grain-Free, any bag or box, Ibotta mobile app
-$1 off Crunchmaster product, any bag or box, Ibotta mobile app
-$1 off Crunchmaster products, (limited areas) printable
-$1 off Crunchmaster products, (limited areas) printable
-.75/1 Crunchmaster items, Publix eCoupon
-$1 off Crunchmaster items, Publix eCoupon
-$1 off Crunchmaster Grain-Free Crackers, limit 1, Checkout 51 mobile app
-$1 off Crunchmaster Multi-Seed crackers, excl Grain-Free, limit 1, Checkout 51 mobile app
-$1 off Crunchmaster product, limit 2, SS 11/10
(buy (3) use (3) $1 off, (3) Ibotta and (2) Checkout51, makes it

FREE

)
Kellogg's Eggo Waffles, 10.7-12.3 oz, $2.50
-$1 off Kellogg's Eggo frozen item 5.3 oz + (850 points) printable
–

FREE

Publix Large Eggs Dozen WYB (2) Eggo Waffles or Pancakes 10.-29.6 oz, (Publix Coupon), Additional Coupon Flyer or (EXP 12/6) printable


(makes it $1.50)

Amy's Entrees or Bowls, 8-10.3 oz, $3.33
Publix Premium Ice Cream or Frozen Yogurt, Half Gallon, $3.50
P.F. Chang's Home Menu Meal for Two 22 oz, $5.99
Grocery
Kinder Joy Sweet Cream Topped with Cocoa Wafer Bites 3 pk, $3.50
-$1 off Kinder Joy Holiday Multipack, 2.8oz+, SS 11/17


(makes it $2.50)

Ghiradelli Chocolate Squares 4.1-5.3 oz or Lindt Lindor Chocolate Truffles, 5.1 oz, $3.33
Dove Chocolate Promises, 7.61-8.46 oz, $3.33
Nabisco Premium Saltine or Soup & Oyster Crackers, 8-17 oz, $1.99
-$10 Publix Gift Card WYB $50 in Participating Products at Publix: Kraft, Nabisco, PepsiCo and P&G select items, Stocking Spree online rebate
Bumble Bee Premium Tuna, Chunk Light Tuna in Water, 4 pk 5 oz, $2.50
Fiora Grated Cheese, Parmesan or Three Cheese Blend, 8 oz, $3
Smucker's Preserves or Marmalade, Jam or Jelly 18 oz or Fruit Spread, 17.25 oz, $2.50
GoGo Squeez Applesauce, Yogurtz or Blastz 4 pk 3-3.9 oz , $2.50


(excluding organic)

Nabisco Variety Packs Snacks, Classic Mix, Fun Shapes or Oreo Mini Mix, 20 pk, $5.99
-$10 Publix Gift Card WYB $50 in Participating Products at Publix: Kraft, Nabisco, PepsiCo and P&G select items, Stocking Spree online rebate
Nabisco Family Size Cookies or Crackers 10-25.6 oz, $3.50
-$1 off Oreo Chocolate Candy, WYB Nabisco Oreo cookies printable
-$10 Publix Gift Card WYB $50 in Participating Products at Publix: Kraft, Nabisco, PepsiCo and P&G select items, Stocking Spree online rebate
Frito-Lay Snacks 16-18 ct or 8-18 oz, $5.99
-$10 Publix Gift Card WYB $50 in Participating Products at Publix: Kraft, Nabisco, PepsiCo and P&G select items, Stocking Spree online rebate
-Free Munchies Crackers 8pk 11.04-11.36oz WYB (1) Frito-Lay Multipack 16-18 ct (up to $2.39), Publix eCoupon
Cheez-It Baked Snack Crackers or Snack Mix, Grooves Cracker Chips or Snap'd , 7.5-12.4 oz, $3
-$1 off Sunshine Cheez-It 7 oz + (850 points) printable
-.50/1 Cheez-It Snap'd, 7.5 oz, Ibotta mobile app
-$1/2 Cheez-It 7.5-21 oz, (Publix Coupon), Additional Coupon Flyer or (EXP 12/6) printable


(use store and (2) Ibotta, makes it $2 ea.)
Beverages
Bon Viv Spiked Seltzer 12 pk 12 oz, $14.99
-$1 off Bon & Viv Spiked Seltzer, 12-pk, check residency requirements, Ibotta mobile app


(makes it $13.99)

Yuengling Beer 12 oz 12 pk, $11.99
Budweiser or Bud Light Beer 16 oz can or Miller Lite, Coors Light 16 oz 15 pk, $13.99
-1,000 points WYB Miller High Life, 12-pk+ cans or bottles, limit 1, check residency requirements, get 2,000 bonus points w/ code N0REC at sign up, Fetch Rewards mobile app
Charles Krug Cabernet Sauvignon Wine , 750 ml, $25.99
-$3 off Charles Krug 750 mL, check residency requirements, Ibotta mobile app


(makes it $22.99)

Josh Cellars Cabernet Sauvignon, 750 ml, $10.59
-.75/1 Josh Cellars 750 mL, select varieties, check residency requirements, Ibotta mobile app


(makes it $9.84)

Dunkin Donuts Coffee 10-12 oz bag or K-Cups 10 ct or Folgers Coffee 12 oz or K-Cups 10 ct, $6.49
-$1.25 off Dunkin Donuts Coffee, Publix eCoupon
-.75/1 Dunkin' Donuts k-cups coffee or hot cocoa printable


(use $1.25 off, makes it $5.24)

Gatorade Thirst Quencher 8 pk 20 oz, $5
-$10 Publix Gift Card WYB $50 in Participating Products at Publix: Kraft, Nabisco, PepsiCo and P&G select items, Stocking Spree online rebate
Bubly Sparkling Water 12 pk, B2G1 at $5.15


(makes it $3.43 ea.)

Gatorade Thirst Quencher 6 pk 12 oz, $3
-$10 Publix Gift Card WYB $50 in Participating Products at Publix: Kraft, Nabisco, PepsiCo and P&G select items, Stocking Spree online rebate
Propel Water Beverage 6 pk 16.9 oz, $3
Publix Spring Water 24 pk 16.9 oz or Purified Water 32 pk 16.9 oz, $3.50
Snapple Tea or Juice Drink 6 pk 16 oz, B2G1
Pepsi 2L, B2G1
Personal Care
Crest Pro-Health Advanced Toothpaste 3.5 oz or Complete 4.5-5.4 oz or 3D White 3-3.5 oz or Pro-Health, 4.6 oz, $3
-$15/$50 Proctor & Gamble products from Pantene, Herbal Essences, Head & Shoulders, Aussie, Ivory, Safeguard, Olay, Secret, Always and Always Discreet, Old Spice, Crest, Oral-B, Pampers, Gillette, Venus, Tampax; excl trial, SavingStar mobile app
-$15 gift card WYB $50 in P&G Beauty Products (brands include Pantene, Herbal Essences, Head & Shoulders, Ivory, Aussie, Safeguard, Olay, Secret, Always Discreet, Old Spice, Venus, Gillette, Oral-B, Crest, Pampers, Tampax and Always) rebate
-$2 off Crest Toothpaste 3 oz+, excl Cavity, Regular, Baking Soda, Tartar Control/Protection, F&W Pep Gleem, kids, limit 2, PG 11/24 (EXP 12/7)
-$2 off Crest Toothpaste, 3 oz+, excl Whitening Therapy & Gum variants, Cavity, Regular, Baking Soda, Tartar Control/Protection, F&W Pep Gleem, Kids & trial size, Publix eCoupon


(makes it $1)

Crest Pro Health Advanced Mouthwash or Scope Advanced, 1 L, $5
-$15/$50 Proctor & Gamble products from Pantene, Herbal Essences, Head & Shoulders, Aussie, Ivory, Safeguard, Olay, Secret, Always and Always Discreet, Old Spice, Crest, Oral-B, Pampers, Gillette, Venus, Tampax; excl trial, SavingStar mobile app
-$15 gift card WYB $50 in P&G Beauty Products (brands include Pantene, Herbal Essences, Head & Shoulders, Ivory, Aussie, Safeguard, Olay, Secret, Always Discreet, Old Spice, Venus, Gillette, Oral-B, Crest, Pampers, Tampax and Always) rebate
-$1 off Crest Mouthwash 473 mL or 16 oz+, limit 2, PG 11/24 (EXP 12/7)


(makes it $4)

Oral-B Glide Floss 2-3 ct or Oral-B Manual Toothbrush, 2-6 ct, $2 off WYB (2)
-$15/$50 Proctor & Gamble products from Pantene, Herbal Essences, Head & Shoulders, Aussie, Ivory, Safeguard, Olay, Secret, Always and Always Discreet, Old Spice, Crest, Oral-B, Pampers, Gillette, Venus, Tampax; excl trial, SavingStar mobile app
-$15 gift card WYB $50 in P&G Beauty Products (brands include Pantene, Herbal Essences, Head & Shoulders, Ivory, Aussie, Safeguard, Olay, Secret, Always Discreet, Old Spice, Venus, Gillette, Oral-B, Crest, Pampers, Tampax and Always) rebate
-$1 off Oral-B Adult manual toothbrush, excl kids, Healthy Clean, Cavity Defense and trial, limit 2, PG 11/24 (EXP 12/7)
-$1 off Oral-B Glide Manual Floss, Floss Picks, Interdental Brush or Picks, excl trial size, Publix eCoupon
Garnier Fructis Hair Care Products , 3.4-12.5 oz, $2.50


(Excluding Garnier Sleek Shot)

Clairol Nice n Easy or Natural Instincts Hair Color, $6.99
-$2 off Clairol Nice N' Easy, Root Touch Up Permanent Creme or Natural Instincts Hair Color, excl Crema Keratina, SS 11/24 (EXP 12/7)
-$4/2 Clairol Nice N' Easy, Root Touch Up Permanent Creme or Natural Instincts Hair Color, excl Crema Keratina, SS 11/24 (EXP 12/7)
-$5/2 Clairol Nice'n Easy, Root Touch-Up Permanent Creme or Natural Instincts hair color products printable (limit reached)


(makes it $4.99)

Gold Bond Ultimate Lotion or Cream, 8-14.5 oz, $5.99
-$5/3 Gold Bond Ultimate products, SavingStar mobile app
-$1.50 off Gold Bond Ultimate Eczema, Diabetics', Rough & Bumpy, or Psoriasis product, excl hand cream, SS 10/27 (EXP 12/7)
-$1.50 off Gold Bond Ultimate Lotion, 13 oz+, SS 10/27 (EXP 12/7)
-$4/2 Gold Bond Ultimate Neck & Chest, Dark Spot or Strength & Resilience items, SS 10/27 (EXP 12/7)


(makes it $3.99 ea.)

Cetaphil Skin Care Products or Differin 5-16 oz or 3 pk 4.5 or 25 ct, $3 off
(excluding Cetaphil Travel Cleanser 2 oz or Cetaphil Single Cleaners Bar 4.5 oz)
(prices after sale)
Cetaphil Gentle Skin Cleansing Cloths, 25 ct., $3.49
Cetaphil Baby Wash & Shampoo 7.8 oz $2.49
Differin Acne Treatment Gel .5 oz $10.79
-$1 off Cetaphil product, excl trial/travel sizes, single bars, baby products printable (limit reached)
-$2 off Differin product, excl trial, Ibotta mobile app
-$1 off Differin bonus – redeem marked offer on 92+0 separate shopping trips, Ibotta mobile app
Burt's Bee Toothpaste 4.7 oz or Crest Toothpaste; Gum Therapy or Brilliance 4.1 oz or 3D White 2 pk 4.1 oz, $1 off
-$2 off Crest Toothpaste 3 oz+, excl Cavity, Regular, Baking Soda, Tartar Control/Protection, F&W Pep Gleem, kids, limit 2, PG 11/24 (EXP 12/7)
-$2 off Crest Toothpaste, 3 oz+, excl Whitening Therapy & Gum variants, Cavity, Regular, Baking Soda, Tartar Control/Protection, F&W Pep Gleem, Kids & trial size, Publix eCoupon
Pantene, Head & Shoulder's, Herbal Essences ,or Aussie Hair Care, 3.2-32.1 oz, or Pantene Rescue Shots, 1.5 oz, $2 off WYB (2)
(prices after sale)
Pantene Shampoo or Conditioner, 12.6 oz, $2.87
Head & Shoulders 2 in 1, 13.5 oz, $4.99
Aussie Total Miracle Shampoo 12.1 oz $2.29
Herbal Essences Hair Care 10.1 oz $1.90
Herbal Essences Bio:Renew Hair Care 12.6 oz $4.99
-$15/$50 Proctor & Gamble products from Pantene, Herbal Essences, Head & Shoulders, Aussie, Ivory, Safeguard, Olay, Secret, Always and Always Discreet, Old Spice, Crest, Oral-B, Pampers, Gillette, Venus, Tampax; excl trial, SavingStar mobile app
-$15 gift card WYB $50 in P&G Beauty Products (brands include Pantene, Herbal Essences, Head & Shoulders, Ivory, Aussie, Safeguard, Olay, Secret, Always Discreet, Old Spice, Venus, Gillette, Oral-B, Crest, Pampers, Tampax and Always) rebate
-$1 off Head & Shoulders product, 10 oz+, or Royal Oils, excl trial, limit 2, PG 11/24 (EXP 12/7)
-$5/2 Head & Shoulders products 10 oz+, or Royal Oils, excl trial, limit 2, PG 11/24 (EXP 12/7)
-$5/2 Herbal Essence Bio:Renew Shampoo, conditioner or Styling products, excl masks, 100 mL shampoo & conditioner, color, body wash and trial, limit 2, PG 11/24 (EXP 12/7)
-$1 off Pantene product incl Gold Series Collection, excl single count Intense Rescue Shot, One Step Nourishing Mask and trial, limit 2, PG 11/24 (EXP 12/7)
-$5/3 Pantene products incl Gold Series Collection, excl single count Intense Rescue Shot, One Step Nourishing Mask and trial, limit 2, PG 11/24 (EXP 12/7)
-$2/2 Pantene ProV 24-25.4 oz, Waterless 3.9-5.9 oz, Head & Shoulders 5-32.1 oz, Herbal Essences or Aussie Shampoo Conditioner or Stylers 12.1-29.2 oz, (Publix Coupon), Health & Beauty Flyer or printable


(buy (2) @ $4.99, use store and $5/2, makes it $1.49 ea.)

Tampax Pearl or Radiant 28-36 ct or Always Infinity, Radiant, Ultra Thin or Maxi Pads, 18-46 ct, $6.99
-$15/$50 Proctor & Gamble products from Pantene, Herbal Essences, Head & Shoulders, Aussie, Ivory, Safeguard, Olay, Secret, Always and Always Discreet, Old Spice, Crest, Oral-B, Pampers, Gillette, Venus, Tampax; excl trial, SavingStar mobile app
-$15 gift card WYB $50 in P&G Beauty Products (brands include Pantene, Herbal Essences, Head & Shoulders, Ivory, Aussie, Safeguard, Olay, Secret, Always Discreet, Old Spice, Venus, Gillette, Oral-B, Crest, Pampers, Tampax and Always) rebate
-$3/2 Always Radiant, Infinity, or PURE Pads, 10-ct+, excl Discreet, limit 2, PG 11/24
-$3/2 Tampax Pearl, Radiant, or Pure Tampons, 14-ct+, limit 2, PG 11/24
-$3/2 Always Radiant or Infinity Pads or Pure Pads 11 ct+, excl Discreet, Publix eCoupon
-$3/2 Tampax Pearl or Radiant tampons or Pure tampons, 14 ct+, Publix eCoupon


(makes it $5.49 ea.)

Aleve Bayer or Midol Medicine, Aleve 80-270 ct, Bayer 200-300 ct or Midol 16-40 ct, 20% off
(prices after sale)
Aleve 130 ct, $8.79
Aleve PM 80 ct $11.99
-$1 off Midol product, 20 ct.+ printable
-$1 off Bayer Aspirin, 50-ct+ printable
-$2 off Aleve product, 80-ct+, excl Aleve-D printable
-$2 off Aleve regular or PM, 40 ct+, excl Aleve-D, Publix (EXP 12/5) eCoupon


(makes it $6.79)

Boost Nutritional Drink 4-24 pk 8 oz or 4 pk 11 oz or 6 pk 6 oz, $5 off WYB (3)
(excluding Boost Kids Essentials)
Boost Original Drink, 6 pk., $6.33 (after sale)

-$2 off Boost Nutritional Drinks or Drink Mix (sign up) printable
-$4/2 Boost Drink, multipacks or canisters, RMN 11/03
-$2 off Boost nutritional drink or drink mix printable


(makes it $4.33 ea.)
Baby Care
Pampers Diapers 44-112 ct, $7 off WYB (2)
(prices after sale)
Pampers Diapers, 88 ct., $22.49
-$15/$50 Proctor & Gamble products from Pantene, Herbal Essences, Head & Shoulders, Aussie, Ivory, Safeguard, Olay, Secret, Always and Always Discreet, Old Spice, Crest, Oral-B, Pampers, Gillette, Venus, Tampax; excl trial, SavingStar mobile app
-$15 gift card WYB $50 in P&G Beauty Products (brands include Pantene, Herbal Essences, Head & Shoulders, Ivory, Aussie, Safeguard, Olay, Secret, Always Discreet, Old Spice, Venus, Gillette, Oral-B, Crest, Pampers, Tampax and Always) rebate
-$1.50 off Pampers Diapers or Easy Ups Training Underwear, excl trial, limit 2, PG 11/24 (EXP 12/7)
-$2 off Pampers Easy Ups Training Underwear or Underjams absorbent nightwear, excl trial, limit 2, PG 11/24 (EXP 12/7)
Pampers Wipes, 112-216 ct, $5.99
-$15/$50 Proctor & Gamble products from Pantene, Herbal Essences, Head & Shoulders, Aussie, Ivory, Safeguard, Olay, Secret, Always and Always Discreet, Old Spice, Crest, Oral-B, Pampers, Gillette, Venus, Tampax; excl trial, SavingStar mobile app
-$15 gift card WYB $50 in P&G Beauty Products (brands include Pantene, Herbal Essences, Head & Shoulders, Ivory, Aussie, Safeguard, Olay, Secret, Always Discreet, Old Spice, Venus, Gillette, Oral-B, Crest, Pampers, Tampax and Always) rebate
Happy Baby Organic Baby Food Stage 1 or 2, 4 oz, $1
Gerber 2nd Food Baby Food, 2 pk 4 oz, $1
-$2.50/6 Gerber Puree 2-pk tubs printable
-$4/8 Gerber Puree 2-Pack Tubs or Pouches, RMN 10/20


(makes it 50¢ ea.)

Similac Formula Powder 22.5-30.8oz or 1.41-1.93 lb, $5 off WYB (2)
Enfamil or Enfagrow Ready to Use 32 oz or 6 pk 8 oz, $4 off WYB (2)


(excluding Nutramigen)
Household
Quilted Northern Bathroom Tissue Double Rolls 12 Roll or Mega Roll 6 ct, $6.49
-.50/1 Quilted Northern Bath Tissue printable
-.50/1 Quilted Northern bath tissue (sign up) printable
-.50/1 Quilted Northern bath tissue, 6 double-roll+, RMN 11/17
-$1/2 Quilted Northern Bath Tissue pack, 6 rolls+, Publix (EXP 12/5) eCoupon
-$1 off Quilted Northern bath tissue, 6 rolls+, (Publix coupon), Publix Winter Savings or printable
-.50/1 Quilted Northern Bath Tissue pack, 6 double roll+, Publix eCoupon


(makes it $4.99)

Solo Cups or Plates 18 oz 50 ct or Plates 30-94 ct, $4


(excluding 44-48 ct plates)

Kleenex Tissues, 30-144 ct, $1.25
-.50/3 Kleenex Facial Tissue 3 boxes or bundle pack (sign up) printable
-.50/3 Kleenex Facial Tissues or (1) Bundle Pack printable
-$3/$18 Kleenex products purchases, multiple receipts ok, SavingStar mobile app
-.50/2 Kleenex Facial Tissue 30-ct+, or any bundle pack or Kleenex Wet Wipes 20-ct+, SS 11/10 (EXP 12/8)
-.50/2 Kleenex facial tissues, excl trial/travel sizes printable


(makes it $1 ea.)

Glad Drawstring Bags, Tall Kitchen 13 Gallon 80-90 ct or Large 30 Gallon Trash Bags, 50 ct, $11.99
-$2.50 off Glad Large Trash Bags, 34 ct+, Publix (EXP 12/8) eCoupon (limit reached)


(makes it $9.49)

Ziploc Bags, Storage or Freezer 14-24 ct; Sandwich or Snack 66-90 ct or Containers 2-4 ct, $3
-$1/2 Ziploc Products, any printable
-$1/2 Ziploc products, excl accessory bags printable
-$1/2 Ziploc products, limit 2, SS 11/03
-$5 Visa Gift Card WYB (4) Windex, Pledge, Ziploc, Glade, Scrubbing Bubbles, Shout, Drano, or Fantastik in the same transaction, Online (EXP 12/6) rebate


(makes it $2.50 ea.)

Snuggle Fabric Softener 31.7-64 oz or 70-80 ct or In Wash Booster 9 oz, $3
-$1 off Snuggle Product, excl trial, limit 1, RMN 12/01


(makes it $2)

Clorox Disinfecting Wipes, 70-75 ct, $3.50
-.65/1 Clorox disinfecting wipes, 32-ct+ (sign up) printable
-$1/2 Clorox Disinfecting Wipes, 30-35 ct, (Publix coupon), Publix Get Relief flyer or printable


(makes it $2.67 ea.)

Cascade Dishwasher Detergent 14, 16, 18 or 25 ct or 45 oz or Cascade Complete , 45 oz, $4.99
-$1 off Cascade ActionPacs Dishwasher Detergent 20-37 ct, limit 2, PG 11/24 (EXP 12/7)
-.50/1 Cascade Dishwasher Detergent, Rinse Aid or Dishwasher Cleaner, excl trial, limit 2, PG 11/24 (EXP 12/7)


(makes it $3.99)

Scrubbing Bubbles Bathroom Cleaner 20 oz or 32 oz or Toilet Cleaning Gel 1 ct, $3.50


(excluding Fantastik Scrubbing Bubbles)


-.50/1 Scrubbing Bubbles toilet bowl cleaner product (EXP 12/6) printable (limit reached)
-$1.50/2 Scrubbing Bubbles Bathroom Cleaner items, limit 2, SS 11/03
-$1 off Scrubbing Bubbles Fresh Gel Product, limit 2, SS 11/03
-.50/1 Scrubbing Bubbles toilet bowl cleaner, limit 2, SS 11/03
-$5 Visa Gift Card WYB (4) Windex, Pledge, Ziploc, Glade, Scrubbing Bubbles, Shout, Drano, or Fantastik in the same transaction, Online (EXP 12/6) rebate
–

FREE

Scrubbing Bubbles Toilet Cleaning Gel WYB (2) Scrubbing Bubbles products 1-10 ct or 20-32 oz (excluding Toilet Bowl Cleaner 24 oz), (Publix Coupon), Health & Beauty Flyer or printable


(buy (3), use store, $1.50/2 and (2) $1 off, makes it $1.16 ea.)

Energizer Batteries, AA or AAA or Max C, D or 9V or Electric or Hearing Aid 2-24 pk, 25% off
(excluding Coin Cell Batteries)
Energizer Max AAA 16 ct $9.21 (after sale)

-$5 Paypal Rebate WYB $15+ in Energizer Batteries, Online rebate
-$1.25 off Energizer Batteries or Flashlight, SS 11/10
-$1 off Energizer hearing aid batteries, SS 11/10
-$4 off Energizer Hearing Aid brand batteries 8 or 16-ct, sizes 10, 13, 312, (Publix coupon), Publix Winter Savings or printable
-$3 off Energizer MAX brand batteries, AA or AAA 16-pk, (Publix coupon), Publix Winter Savings or printable
-$3 off Energizer Ultimate Lithium brand batteries, AA or AAA 4 or 8-ct, or 9V 1-ct, (Publix coupon), Publix Winter Savings or printable
-$1 off Energizer batteries printable
-$1 off Energizer Batteries, Publix eCoupon


(use $3 store and $1.25 off, makes it $4.96)

Air Wick Essential Mist Refills, 1 ct, $4.99
Tide or Tide POD Detergent 75-100 oz or 42 ct, $11.99
-$3 off Tide laundry detergent 92 oz+, Tide Heavy Duty 69 oz+, Tide Purclean 75 oz+, excl Studio by Tide, Tide Pods, Rescue, Simply, Tide detergent 10 oz, trial/travel size printable
-$3 off Tide Pods 26 ct. or 32 ct.+, excl liquid/powder detergent, Simply, Pods 9 ct. or less, trial/travel size printable
-$2 off Tide PODS 10-ct+, excl Simply and Simply PODS, limit 1, PG 11/24 (EXP 12/7)


(makes it $8.99)

Downy Fabric Softener or Conditioner 40-77 oz bottle or Downy or Dreft Scent Booster 8.6 oz, $5.99
-$1 off Downy Liquid Fabric Conditioner 48-60 load incl Infusions or WrinkleGuard 25 oz or Odor Protect 32 oz or Nature Blends 44 oz, OR Bounce or Downy Sheets 70-120 ct incl Bounce or Downy WrinkleGuard 40-60 ct, OR In-Wash Scent Boosters 5.7 oz incl Downy Unstopables, Fresh Protect, Odor Protect or Infusions, OR Bounce Rapid Touch-Up 3-in-1 Spray OR Downy Wrinkle Releaser Spray; excl trial, limit 1, PG 11/24
-$2 off Downy Liquid Fabric Conditioner 72 load+ incl Infusions or WrinkleGuard 40 oz+ or Odor Protect 48 oz+ or Nature Blends 67 oz+, OR Bounce or Downy Sheets 130 ct+ incl Bounce or Downy WrinkleGuard 80 ct+, OR In-Wash Scent Boosters 8.6 oz+ incl Downy Unstopables, Fresh Protect, Odor Protect or Infusions; excl trial, limit 1, PG 11/24


(makes it $3.99)
Pet Care
Milk Bone Dog Biscuits, Snacks, Treats or Puffs, 5-24 oz, $3.33
Meow Mix Cat Food 12 ct 33 oz, $5
-$1 off Meow Mix
wet cat food variety pack (12 or 24 ct.) or (6) wet cat food single cups printable
Publix LINKS
Latest Articles
Categories
Videos
← PREV NEXT →
Printable Coupons
See our full list of printable coupon resources