Welcome to Southern Savers,
where finding deals and steals is simple and rewarding!
See I told you, this would help!
Coupon Abbreviations
SC

= Store Coupon

MC

= Manufacturer Coupon

SS

= Smart Source

RMN

= Retail Me Not

PG

= Proctor and Gamble
Coupon Terms
WYB

= When You Buy

B1G1

= Buy One Get One Free

.75/1

= 75 cents off one item

.75/3

= 75 cents off three items

EXP

= Expiration Date
Going Nuts? I can help you understand coupon terms and abbreviations
Home > Publix Deals > Publix Ad: 7/3-7/9 or 7/4-7/10
This post may contain affiliate links. Read our disclosure here.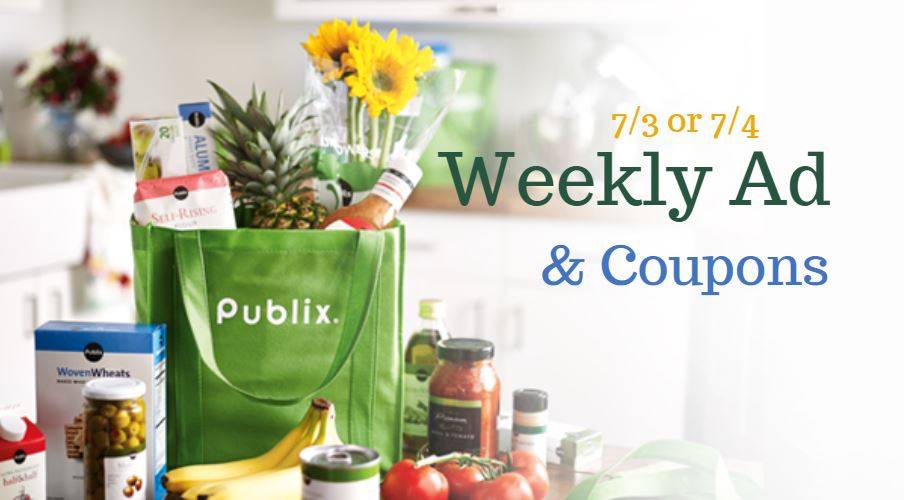 Here are the deals from the Publix ad that starts 7/3 (or 7/4 depending on where you are)! Get Pringles for 22¢, Luzianne tea for 89¢, Cascade for $2.82, and more.
In-Ad Coupon
$10 off $50 Gas Station Gift Card with $50 Grocery Purchase


(good through 7/7 only)
Buy One Get Ones
Red Seedless Watermelon Chunks, at $3.99 ($1.99) per lb
Hebrew National Beef Franks or Knockwurst, 9.43-12 oz, at $5.99 ($2.99)
Publix Premium Farm-Raised Mussels, 16 oz, at $5.99 ($2.99)
Chobani Greek Yogurt, 24-32 oz tub, at $5.69 ($2.84)
Chobani Squeezable Savor Topper, 14 oz, at $2.99 ($1.49)
Amish Country Chunk Cheese, 8 oz, at $4.39 ($2.19)
Pillsbury Ready To Bake! Cookies or Brownies, 11-16.5 oz, at $2.99 ($1.49)
-$1/3 Pillsbury Refrigerated Baked Goods Products, SS 04/14 (EXP 7/6)


(makes it $1.17 ea.)

Tombstone Pizza, 19.3-21.6 oz, at $5.99 ($2.99)
O, That's Good Pizza or Skillet Meal, 14.6-22.8 oz, at $7.99 ($3.99)
Good Food Made Simple Breakfast Burrito or Egg Patties or Oatmeal, 5-16 oz, at $4.69 ($2.34)
Boca Veggie Burgers, 10 oz, at $3.79 ($1.89)
Baskin-Robbins Ice Cream, 14 oz, at $4.62 ($2.31)
Popsicle or Fudgsicle Ice Pops, 9-34.6 oz, at $3.95 ($1.97)
-$1 off Popsicle Fruit Pops, Mango 12-ct, Ibotta App mobile app
-$1 off Popsicle Fruit Pops, Orange 12-pk, Ibotta App mobile app
-$1 off Popsicle Fruit Pops, Strawberry 12-ct, Ibotta App mobile app


(makes it 97¢ – if included)

Nestle Drumsticks Sundae Cones or Dessert Cones, 16.9-36.8 oz, starting at , at $4.69 ($2.34)
-$1.50/3 Haagen-Dazs, Outshine, Drumstick or Edy's products printable
-$5 Publix Gift Card WYB $20 in Haagen-Dazs, Outshine, Nestle, Edy's or Skinny Cow, Online rebate


(makes it $1.84 ea.)

Sea Cuisine Fish Fillets, 8.5-10 oz, at $7.99 ($3.99)
-$1 off Sea Cuisine product printable


(makes it $2.99)

Savannah Classics Hushpuppies, 16 oz , at $2.99 ($1.49)
P.F. Chang's Home Menu Entrees, 10.25-11 oz, at $4.49 ($2.24)
Banquet Brown'N Serve Sausage Links or Patties, 6.4 oz, at $2.19 ($1.09)
PopCorners Popped-Corn Snack, 7 oz, at $3.99 ($1.99)


(sold in Deli area)

Seneca Apple Chips, 2.5 oz, at $2.59 ($1.29)
Publix Bakery Cheese Coffee Cake Ring, 16 oz, at $5.99 ($2.99)
Ore-Ida Bagel Bites or Bagel Dogs, 7, 14, or 7.7 oz, at $2.59 ($1.29)
-$10 Publix Gift Card WYB $50 in Participating Products at Publix: Kraft, Nabisco, PepsiCo and P&G select items, Stocking Spree online rebate
Heinz Barbecue Sauce, 18.6-21.4 oz, at $2.59 ($1.29)
-$10 Publix Gift Card WYB $50 in Participating Products at Publix: Kraft, Nabisco, PepsiCo and P&G select items, Stocking Spree online rebate
Heinz Tomato Ketchup, 32 oz, at $3.25 ($1.62)
-$10 Publix Gift Card WYB $50 in Participating Products at Publix: Kraft, Nabisco, PepsiCo and P&G select items, Stocking Spree online rebate
Heinz Simply or No Sugar Added Ketchup, 29.5-31 oz, at $4.99 ($2.49)
-$10 Publix Gift Card WYB $50 in Participating Products at Publix: Kraft, Nabisco, PepsiCo and P&G select items, Stocking Spree online rebate
-$1 off Heinz Simply Tomato Ketchup, Organic, no sugar added or no salt added printable (limit reached)


(makes it $1.49)

Hellmann's Mayonniase, 15-20 oz, at $4.99 ($2.49)
-$1 off Hellmann's Mayonnaise (sign up) printable
-.75/1 Hellmann's Real Mayonnaise, 30 oz jar, Ibotta App mobile app


(makes it 74¢)

French's Classic Yellow Mustard, 14 oz, at $2.09 ($1.04)
Beef 'O' Brady's Wing Sauce, 12.5-15 oz, at $3.99 ($1.99)
Bush's Best Baked Beans or Grillin', 21-28 oz, at $2.90 ($1.44)
Pringles Potato Crisps or Loud Corn or Grain and Vegetable Crisps, 4.5-5.9 oz , at $1.79 (89¢)
-$1/2 Pringles full size cans, incl LOUD, 146-g+ (850 points) printable


(makes it 22¢)

Mott's Applesauce, 6 pk or 4 pk, at $2.79 ($1.39)
Nature's Own Buns or Rolls, 13-16 oz, at $3.59 ($1.79)
General Mills Lucky Charms, Cinnamon Toast Crunch, Trix, or Cocoa Puffs, 10.4-13.8 oz, at $3.99 ($1.99)
-$1/2 General Mills any flavor of Cinnamon Toast Crunch, Lucky Charms, Reese's or Cocoa Puffs, Trix, Cookie Crisp, Golden Grahams, Kix, or Cinnamon Toast Crunch Churros cereals, SS 06/02
-$1/2 General Mills Cheerios, Cinnamon Toast Crunch, Lucky Charms, Reese's Puffs, Chex, Cocoa Puffs, Trix, Cookie Crisp, Golden Grahams, Kix, Fiber One, Wheaties, Raisin Nut Bran, Total, Basic 4, Oatmeal Crisp, Publix eCoupon
-$1/2 General Mills Cereal: Cinnamon Toast Crunch, Lucky Charms, Reese's Puffs, Cocoa Puffs, Trix, Cookie Crisp, Golden Grahams, Kix, Cinnamon Toast Crunch and Churros, SS 06/30
-$1/3 General Mills Cheerios, Cinnamon Toast Crunch, Lucky Charms cereal printable


(makes it $1.49 ea.)

General Mills Fiber One, Chex, Wheaties, Total, or Raisin Nut Bran, 12-17.1 oz, at $4.99 ($2.49)
-$1/2 General Mills any flavor of Chex, Fiber One, Multi Grain Cheerios, Wheaties, Basic 4, Raisin Nut Bran, Oatmeal Crisp, or Total cereals, or Nature Valley Granola Pouches, SS 06/02
-$1/2 General Mills Cereal: Chex, Fiber One, Multi Grain Cheerios, Wheaties, Basic 4, Raisin Nut Bran, Oatmeal Crisp, Total, or Nature Valley Granola Pouches in the cereal aisle, SS 06/30


(makes it $1.99 ea.)

Kellogg's Special K or Nutri-Grain Bars, 5.28-10.4 oz, at $3.69 ($1.84)
-$1 off Kellogg's Nutri-Grain bars, Special K Bars or Rice Krispies Treats squares, 5-ct, + (850 points) printable


(makes it 84¢)

Barilla Collezione, Protein Plus, Gluten Free, or Organic Pasta, 12-16 oz, at $4.99 ($2.49)
Lawry's 30 Minute Marinade, 12 oz, at $2.99 ($1.49)
Quaker Instant Oatmeal or Grits, 8.4-15.1 oz, at $4.29 ($2.14)
-$4 off Secret Life of Pets Movie Ticket WYB (1) Quaker Participating Product, Online rebate
Bertolli Olive Oil, 16.9 oz, at $9.64 ($4.82)


(excludes Organic)

Mid's Pasta Sauce, 32 oz, at $5.15 ($2.57)
Ocean Spray Craisins Cranberries or Trail Mix, 5-6 oz or 6 ct., at $2.83 ($1.41)
M&M's Chocolate Candies, Peanut Butter, Peanut, or Milk Chocolate, Party Size, 38, or 42 oz, at $11.99 ($5.99)
-$1/2 M&M's Brand Chocolate Candies, 8 oz+, RMN 06/16


(makes it $5.49 ea.)

Nabisco Variety Pack Cookies or Crackers, 10-18 ct., at $6.69 ($3.34)


(including Snackwell's)


-$10 Publix Gift Card WYB $50 in Participating Products at Publix: Kraft, Nabisco, PepsiCo and P&G select items, Stocking Spree online rebate
-.75/2 Nabisco Cookie or Cracker Products, 3.5 oz+, any variety, SS 06/23


(makes it $2.97)

Thomas' Bagels, 4-6 ct., at $4.49 ($2.24)
Arnold Country Bread, 24 oz, at $4.49 ($2.24)


(excluding Whole Grains, Health-full, Dutch Country, and Sandwich Thins)

Orville Redenbacher's Gourmet Popping Corn, 6-12 ct or 30 oz jar, at $5.49 ($2.74)
Frito-Lay Party Size Snacks, 10.5-18 oz, at $5.29 ($2.64)
RXBar Protein Bar, 1.83 oz, at $2.50 ($1.25)


(excludes RXBar Kids)

Dove Invisible Solid Anti-Perspirant Deodorant, 2.6 oz, at $3.49 ($1.74)
Clear Eyes Lubricant Eye Drops, 15 mL, at $4.19 ($2.09)
-.50/1 Clear Eyes product, excl Pocket Pal printable


(makes it $1.59)

Dawn Sponges, 1-3 ct., at $2.99 ($1.49)
Playtex HandSaver Gloves, 1 pair, at $2.49 ($1.24)
Chinet Classic White Plates, Bowls, or Platters, 24-72 ct., at $6.55 ($3.27)
Kibbles 'n Bits Dog Food, 3.5 lb, at $5.49 ($2.74)
-$1 off Kibbles n Bits Dry Dog Food, RMN 06/23
-$1 off Kibbles 'n Bits dry dog food, bag, RMN 06/30


(makes it $1.74)

Three Dog Bakery Treats for Dogs, 13 oz, at $3.99 ($1.99)
Purina Tidy Cats Litter, 20 ln, at $8.90 ($4.45)
-$2/2 Purina Tidy Cats Clumping Cat Litter, any size, (excludes LightWeight) printable
-$1 off Purina Tidy Cats Clumping Cat Litter, excl Lightweight cat litter printable
-$1 off Purina Tidy Cats Clumping Cat Litter packages, excl Tidy Cats LightWeight Cat Litter, Publix eCoupon
-$2 off Purina Tidy Cats Free & Clean cat litter printable


(makes it $2.45 – if included)

Purina Fancy Feast Elegant Medleys Cat Food, 12 pk. 36 oz, at $10.69 ($5.34)
Rachael Ray Nutrish Dry Cat Food, 3 lb, at $6.99 ($3.49)


(excluding Zero Grain and Peak)


-$2 off Rachael Ray Nutrish Super Premium Dry Food for Cats printable


(makes it $1.49)

Luzianne Tea, 22-48 ct., at $2.79 ($1.39)
-.50/1 Luzianne product, SS 06/23


(makes it 89¢)

New England Coffee, 9-12 oz or 12 ct., at $8.59 ($4.29)
Publix Premium Coffee, 12 oz or 12 ct, at $7.99 ($3.99)
Ocean Spray Growing Goodness Juice Drink, 8 pk, 6 oz, at $3.99 ($1.99)
Good 2 Grow Juice or Juicy Waters, 3-6 pk. 6 oz, at $6.99 ($3.49)
Crystal Light Drink Mix or MiO Water Enhancers, 10 or 12 qt or 4, 5, 7, or 10 ct, at $3.29 ($1.64)


(excluding Liquid Bottles)


-$10 Publix Gift Card WYB $50 in Participating Products at Publix: Kraft, Nabisco, PepsiCo and P&G select items, Stocking Spree online rebate
Pepsi Products, 6-8 pk bottles, at $4.99 ($2.49)


(excluding Aquafina)

Canada Dry, 7UP, A&W, or Diet Rite, 12 pk cans, at $5.79 ($2.89)


(excluding Seltzer Water)

7UP Products, 6-8pk bottles, at $4.99 ($2.49)
-$1/2 7UP 6 or 8-pk, on same receipt, Ibotta App mobile app


(makes it $1.99 ea.)

Mott's Apple Juice or Beverage, 64 oz, at $3.07 ($1.53)
Ocean Spray 100% Juice or Organic Juice, 60 or 33.8 oz, at $3.99 ($1.99)
Produce
Asparagus, $2.99 lb
Pero Family Farms Mini Sweet Peppers, 8 oz, $2
Seedless Watermelon, $4.99
Blueberries, 11 oz, $2.50
Brusel Sprouts, $2.49
Peaches or Nectarines, $1.99 lb
Mangos, $1 ea.
Organicgirl Salad, 5-7 oz, $3.49
-$1 off OrganicGirl Salad (must register – then coupon is e-mailed) printable


(makes it $2.49)

Cherries, $1.99 lb
Publix Salad Blend or Kit, 5-12 oz, $2
Vidalia Onions, 99¢ lb
Sweet Corn Yellow, White or Bi-Color, 30¢
Russet Baking Potatoes, 69¢ lb
Baby Cut Carrots, 1 lb, $1.50
Florida's Natural 100% Orange Juice or Ruby Red Grapefruit, 52 oz, $3
Tomatoes On The Vine, $1.49 lb
Meat
St. Louis Style Pork Spareribs, $1.99 lb
Tyson Grilled & Ready Chicken, frozen, 19-22 oz, $6.99
Chicken Leq Quarters, 99¢ lb
Boneless Top Blade Roast, $5.99 lb
Hormel Black Label Bacon, 12-16 oz, $5.99
Ground Sirloin, 3 lb +, $3.99 lb
Hillshire Farm Lunch Meats, 7-9 oz, $3.33
-.50/1 Hillshire Farm Deli Meat, any excl Premium Carved Slow Roasted Seasoned Ham and Oven Roasted Turkey Breast , Ibotta App mobile app


(makes it $2.83)

Bone-In Ribeye Steaks, $7.99 lb
Poterhouse or T-Bone Steaks, $7.99 lb
Extra Large White Shrimp, 21/25 ct., $7.99 lb
Medium Cooked Shrimp, 41/50 ct., $6.99 lb
Fresh Catfish Fillets, $6.99 lb
Boston Butt Roast, $1.99 lb
GreenWise Italian Chicken Sausage, 16 oz, B2G1 at $6.49
Fridge or Frozen
Publix Sliced Cheese, 16 oz, $5


Publix Sliced Cheese, 6-8 oz, $2.50

Rana Pasta or Sauce, 7-15 oz, $3.50


(excludes Lasagna Sheets)


-$1 off Giovanni Rana Refrigerated Pasta, SS 06/09
-$1 off Giovanni Rana Refrigerated Sauce, SS 06/09


(makes it $2.50)

International Delight Creamer or Land O Lakes Half & Half Singles, 24 ct., $2.50
NestFresh Free Range Brown Eggs, 12 ct., $2.99
-.50/1 Nestfresh Eggs, 1 carton printable


(makes it $2.49)

Pillsbury Grands! Biscuits, 16.3-17.3 oz, $1.66
-$1/3 Pillsbury Refrigerated Baked Goods Products, SS 04/14 (EXP 7/6)


(makes it $1.33 ea.)

Silk Soymilk, Almondmilk, Cashewmilk, or Coconutmilk, 64 oz, $3
-.75/1 Silk coconut milk (sign up), half gal printable
-$1 off Silk Half Gallon (sign up) printable


(makes it $2)

Yoplait Yogurt, 4-6 oz, 50¢
-.50/5 Yoplait Yogurt Original, Light Whips! or Lactose Free, Publix eCoupon
-.50/5 Yoplait Yogurt cups, incl Original, Light, Whips!, Lactose Free and FruitSide, SS 06/02
-.50/5 Yoplait yogurt , incl Original, Light, Whips!, Lactose Free, FruitSide printable (limit reached)
-.40/2 Yoplait Oui Petites French-style yogurt, Publix eCoupon
-.50/5 Yoplait yogurt , incl Original, Light, Smooth, Whips, Lactose Free printable
-.50/2 Yoplait Oui yogurt jars printable
-.45/1 Yoplait YQ yogurt printable


(use .45/1, makes it 5¢)

a2 Milk, 59 oz, $3.33
-.75/1 a2 Milk, half-gal carton, limit 1, at Harris Teeter, Ingles, Lowes Foods, Publix, Ibotta App mobile app
-.75/1 A2 milk, carton printable
-.75/1 a2 Milk Chocolate, half-gallon, at Harris Teeter, Ingles, Publix, Ibotta App mobile app


(makes it $1.83 after Ibotta)

Publix Deli Potato or Macaroni Salad, Coleslaw, or Baked Beans, 14-16 oz, $2


(sold in deli area)

Publix Deli Hummus, 8 oz, B2G1 at $3
Devour Frozen Entrees, 9-12 oz, $2.50
-.50/1 Devour Frozen Meals – select varieties, Ibotta App mobile app


(makes it $2)

Smart Ones Entrees 6.49-10.5 oz, $1.66
-.50/1 Smart Ones Bowls, select varieties, excl Paninis, Ibotta App mobile app
-.50/1 Smart Ones Paninis – Turkey Veggie or Cordon Bleu varieties, Ibotta App mobile app
-.50/1 Frozen Food bonus – redeem (2) marked unique offers for Classico, Devour, TGI Fridays or Smart Ones items, Ibotta App mobile app


(makes it $1.16 ea.)

P.F. Chang's Home Menu Meal for Two, 22 oz, $5.99
Publix Premium Ice Cream or Frozen Yogurt, half gallon, $3.50
Grocery
Publix Bakery Apple Pie, 32-34 oz, $3.99
Stacy's Pita Thins or Bagel or Pita Chips, 6.7-8 oz, B2G1 at $3.49
-$1/2 Stacy's Pita Chips or Cheese Petites, 4-10.25 oz, Publix eCoupon


(makes it $1.99 ea.)

Nabisco Triscuit Crackers, 6.5-9 oz, $2.50
-$10 Publix Gift Card WYB $50 in Participating Products at Publix: Kraft, Nabisco, PepsiCo and P&G select items, Stocking Spree online rebate
-.75/2 Nabisco Cookie or Cracker Products, 3.5 oz+, any variety, SS 06/23


(makes it $2.17 ea.)

Canyon Bakehouse Gluten Free Bread or Bagels, 14-15 oz, $5.49
-$1 off Canyon Bakehouse gluten free product printable


(makes it $4.49)

Bumble Bee Premium Chunk Light Tuna, 4 pk., 5 oz, $2.50
Del Monte Fruit Cups or Refreshers, 2-4 pk, $2
-$1/2 Del Monte Fruit Cup Snacks printable
-.50/1 Del Monte Fruit & Oats, Fruit & Chia, or Fruit Refreshers printable


(makes it $1.50 ea.)

Lance Crackers or Cookies, 8.25-14 oz, $2.33
-$1/2 Lance Crackers, 8.4 oz+ printable


(makes it $1.83 ea.)

Keebler Town House, Club Crackers, Toasteds, Zesta, or Sandwich Crackers, 8-16 oz, $2.50
-$1 off Keebler crackers, 8 oz + (850 points) printable


(makes it $1.50)

Smucker's Preserves, Marmalade, Jam, Jelly, or Spread, 17.25-18 oz, $2.50
Beverages
Art of the Cooper Chardonnay or Cabernet Sauvignon Wine, 750 mL, 2 for $16.99
Sutter Home White Zinfandel Wine, 750 mL, $5.50
Michelob Ultra Pure Gold Organic Light Lager, 12 pk cans or bottles, $13.99
-$3 off Michelob Ultra, 12-pk cans or bottles, check residency requirements, Ibotta App mobile app


(makes it $10.99)

Budweiser or Bud Light, Miller Lite or Coors Light, 15 pk, $13.99
Budweiser, Miller, Coors, or Yuengling Beer, 24 pk, $17.99


or $19.49 in some areas


-$2 off Budweiser or Bud Light, 20-pk+ 12 oz cans or bottles, check residency requirements, Ibotta App mobile app
White Claw Hard Seltzer or Truly Spiked Sparkling, 12 pk, $13.99


or $14.99 in some areas

Bubly Sparkling Water, 12 pk, B2G1 at $5.49
Starbucks Coffee, 9-12 oz or 6-10 ct., $6.99
Gatorade Thirst Quencher, 32 oz, or Organic, 16.9 oz, 88¢
-$10 Publix Gift Card WYB $50 in Participating Products at Publix: Kraft, Nabisco, PepsiCo and P&G select items, Stocking Spree online rebate
Gatorade Thirst Quencher, 6 pk, 12 oz bottles, $3
-$10 Publix Gift Card WYB $50 in Participating Products at Publix: Kraft, Nabisco, PepsiCo and P&G select items, Stocking Spree online rebate
Coca-Cola Products, 12 pk cans, B2G1 at $5.49
Pepsi Products, 2 L, B2G1 at $2.09
Personal Care
Oral-B Glide Floss, 35-54.7 yd or 75 ct., $2.50
-$1 off Oral-B Glide manual floss, floss picks, or inter-dental brush or picks, excl trial, limit 2, PG 07/06


(makes it $1.50)

Simple, Vaseline or Pond's Products, 1.7-20.3 oz or 25-30 ct., 20% off
(prices after sale)
Vaseline Intensive Care Lotion, 10 oz, $3.35
Simple Cleansing Wipes $4.39
Pond's Clean Sweep Towels 28 ct $4.15
Coppertone Suncare Products, 1.5-10 oz or 2 pk, $2.50 off


Coppertone Suncare Sport Spray, 8oz, $6.49 (after sale)


-$4/2 Coppertone Products, 5 oz+, SS 06/23 (EXP 7/7)
-$1 off Coppertone Products, 5 oz+, SS 06/23


(makes it $4.49)

Hawaiian Tropic Suncare Products, 1.7-16 oz, $2 off
(excluding Lip Balm)
Hawaiian Tropic Sheer Touch SPF50 8 oz $6.99 (after sale)

-$1 off Hawaiian Tropic Suncare items, excl lip balm and trial, limit 2, SS 06/30


(makes it $5.99)

$5 Publix Gift Card WYB $20 in Biofreeze Pain Relief, 2.5-8 oz or 5-16 ct.
Tampax Pearl Tampons or Radiant, 28-36 ct., $6.99
-.50/2 Tampax Radiant or Pocket Radiant Tampons, 28-32 ct, Ibotta App mobile app
-$3/2 off Tampax Pearl, Radiant or Pure Tampons, 14-ct+, limit 2, PG 07/06


(makes it $5.24 ea.)

Always Infinity or Radiant Pads, 18-46 ct., $6.99
-$3/2 Always Radiant, Infinity, or Pure Pads 11-ct+, excl Discreet, limit 2, PG 07/06


(makes it $5.49 ea.)

ONE Protein Bar, 2.12 oz, $2
-.25/1 ONE Protein Bar, single bar, excl multipacks, Ibotta App mobile app
-.50/2 ONE Protein Bar, 1-ct, excl BASIX variety and multipacks, Ibotta App mobile app


(makes it $1.75)
Pharmacy
Prilosec OTC or Nexium Acid Reducer, 42 ct., $5 off
(prices after sale)
Nexium 42 ct., $23.99
Prilosec OTC, 42 ct., $23.99
-$5 Visa eGift Card WYB $25 in Pfizer Participating Products, including: Advil, Centrum, Caltrate, Thermacare, Nexium, Chapstick, Robitussin, Dimetapp and Preparation H, Online (EXP 7/9) rebate
-$3 off Prilosec OTC product, 28-ct+, limit 1, PG 06/23 (EXP 7/6)
-$5 off Nexium 24HR item, 42-ct, RMN 06/30
-$10/2 Nexium 24HR 42 ct or Preparation H Rapid Relief 1 oz , (Publix Coupon), Health & Beauty Flyer or printable
-$5 off Prilosec OTC 42 ct LIMIT 1, (Publix Coupon), Health & Beauty Flyer or printable
-$5 off Nexium 24HR product, 42 ct. printable
-$1 off Prilosec OTC, limit 1, PG 07/06


(buy (2) Nexium, use store and (2) $5 off, makes it $11.49 ea. after gift card)

Ensure Nutrition Shakes, 6-16 ct. or Glucerna, 4-6 pk, $5 off (3)
(prices after sale)
Ensure Shakes, 6 pk, $7.03
Glucerna Shakes, 6 pk., $8.33
-$3/2 Glucerna Products (sign up) printable
-$3 off Ensure Product printable
-$3 off Ensure High Protein 6-pk or Max Protein 4-pk, limit 2, SS 06/02
-$4/2 Ensure Multipacks, limit 2, SS 06/02
-$4/2 Glucerna products, limit 2, SS 06/02
-$3 off Ensure Multipack, limit 2, SS 06/23
-$3 off Glucerna multipack shakes, limit 2, SS 06/23


(use $3 off, makes it $4.03)
Baby Care
Household
Publix Long Lasting Alkaline Batteries, AA/AAA-10 ct., C/D-4ct., or 9V-2ct., $3.33
Febreze Air Fresheners, Oils, Aerosols, Candles, or Spray , $3 off (3)
Febreze Air Effects, $2.29
Febreze Wax Melts, $2.19
(prices after sale)
–B1G1 Febreze product, up to $3, excl trial, limit 2, PG 07/06
Angel Soft Bath Tissue, 12 dbl or 6 mega rolls, $5.50
-$1 off Angel Soft Mega Roll Bath Tissue, 6 ct. printable
-$1 off Angel Soft Mega Bath Tissue, 12 roll+ or 6 mega+ (by email) printable


(makes it $4.50)

Viva Paper Towels, 6 big rolls, $6.49
-.50/1 Viva Paper Towels printable
-.50/1 Viva paper towels, 6 ct.+ printable


(makes it $5.99)

Hefty Slider Bags, Freezer or Storage, 10-20 ct., $1.50
Ziploc Containers, 2-4 ct., $2.50
-$1/2 Ziploc Products, any printable
-$9 Fandango Movie Ticket to see Toy Story 4 WYB (2) Ziploc Packages featuring Toy Story, Online rebate


(makes it $2 ea.)

OxiClean Detergent or Stain Remover, 45-60 oz, 27 ct., or 1.77 lb , $5
-$1 off OxiClean laundry detergent, May not be combined with any other offers, including instant coupons printable
-$1 off OxiClean Cleaner printable
-$1 off OxiClean Versatile Stain Remover 3 lb+, or 2in1 Stain Fighter printable


(makes it $4)

Clorox Bleach, 55-64 oz, $2
-.50/1 Clorox Bleach, 55 oz + (sign up) printable
-$1/2 Clorox Clean-Up, Disinfecting Wipes 35-ct+, Liquid Bleach 55 oz+, Manual Toilet Bowl Cleaner, or Clorox 2 Products, excl trial, SS 06/02 (EXP 7/7)


(makes it $1.50 ea.)

Cascade Dishwasher Detergent, 15-18 or 25 ct., or Dawn Ultra Dish Liquid, 40 oz, $4.99
-Free Mr. Clean Liquid 45 oz, WYB (2) Cascade Action Pacs 14-60 ct or Dawn Ultra Detergent 40 oz, (Publix Coupon), Health & Beauty Flyer or printable
-.50/1 Cascade Dishwasher Detergent, Rinse Aid or Dishwasher Cleaner, excl trial, limit 2, PG 07/06
-$1/2 Dawn Ultra, 16.2-40 oz, limit 2, PG 07/06
-.50/1 Mr. Clean product, excl trial, limit 2, PG 07/06


(buy (2), use store and (3) .50/1, makes it $2.82 ea.)

Glad Trash Bags, 25-45 ct, $6.99
-$2.50 off Glad large trash bags, 34 ct.+ printable (limit reached)


(makes it $4.49)
Publix LINKS
Latest Articles
Categories
Videos
← PREV NEXT →
Printable Coupons
See our full list of printable coupon resources