Welcome to Southern Savers,
where finding deals and steals is simple and rewarding!
See I told you, this would help!
Coupon Abbreviations
SC

= Store Coupon

MC

= Manufacturer Coupon

SS

= Smart Source

RMN

= Retail Me Not

PG

= Proctor and Gamble
Coupon Terms
WYB

= When You Buy

B1G1

= Buy One Get One Free

.75/1

= 75 cents off one item

.75/3

= 75 cents off three items

EXP

= Expiration Date
Going Nuts? I can help you understand coupon terms and abbreviations
Home > Publix Deals > Publix Ad & Coupons: 1/15-1/21 or 1/16-1/22
This post may contain affiliate links. Read our disclosure here.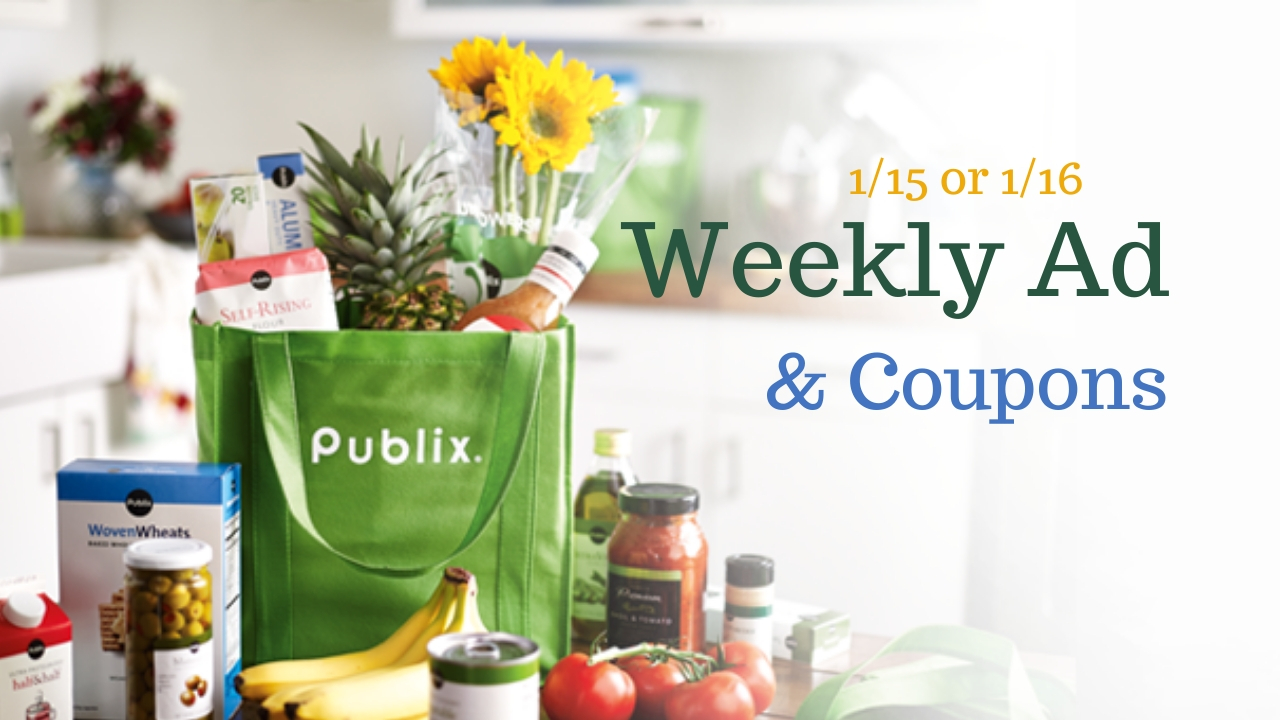 Here are the deals from the new Publix ad that starts on 1/15 (or 1/16 depending on your area). Get FREE movie certificates when you buy Yoplait, Tillamook cheese for $1.29, and more.
Buy One Get Ones
Publix Spinach, 9 oz, at $3.19 ($1.59)
Publix Cantaloupe Chunks, at $4.19 ($2.09) lb
Grape Tomatoes, 10-12 oz, at $3.19 ($1.59)
Publix White Whole Mushrooms, 8 oz, at $2.19 ($1.09)
Litehouse Dressing & Dip or Coleslaw Dressing, 13 oz, at $3.99 ($1.99)
Publix GreenWise Chicken Drumsticks or Thighs Bone In , at $3.49 ($1.74) lb
Publix GreenWise Chicken Fillets, at $8.29 ($4.14) lb
Hope Cashew & Almond Dip, 8 oz, at $6.15 ($3.07)
Lantana Hummus, 10 oz, at $4.49 ($2.24)
Fresh Cravings Organic Cashew Dip, 8 oz, at $4.69 ($2.34)
-$2 off Fresh Cravings Organic Plant Based Dips, Publix eCoupon
(use ibotta, makes both

FREE

)
Publix Deli Soup, 16 oz, at $4.99 ($2.49)
Sartori MontAmore Cheese, 7 oz, (price not listed)
Publix Premium Mussels, 16 oz, at $5.99 ($2.99)
Matlaw's Stuffed Seafood Appetizers, 9-11 oz, at $3.99 ($1.99)
Jimmy Dean Bacon Applewood or Hickory Smoked, 16 oz, at $8.99 ($4.49)
-.55/1 Jimmy Dean product, limit 1, RMN 01/05


(makes it $3.94)

Miyoko's Creamery Vegan Cream Cheese, 8 oz, at $6.15 ($3.07)
Tillamook Sliced Cheese, 7-8 oz, at $4.59 ($2.29)
-$1 off Tillamook Cheese item, Publix eCoupon


(makes it $1.29)

Oscar Mayer Beef Franks or Wieners , 14-16 oz, at $4.99 ($2.49)
I Can't Believe Its Not Butter 2 pk 7.5 oz or 13-16 oz 8 oz, at $3.67 ($1.83)
-.50/1 I Can't Believe It's Not Butter! product, limit 2, RMN 01/05 (EXP 1/19)


-.50/1 I Can't Believe It's Not Butter! product, SavingStar (EXP 1/19) mobile app (limit reached)


-.50/1 I Can't Believe It's Not Butter! item, Publix (EXP 1/19) eCoupon


(use .50/1 and SavingStar, makes it 83¢)

Kozy Shack Pudding 22 oz or 4-6 pk; or Caramel Flan 4 pk 4 oz or Goya Rice Desserts 4 pk 16 oz, at $3.49 ($1.74)
Red's Bowls Entrees, or Burritos, 4.5-8.5 oz, at $3.99 ($1.99)
Smart Ones Entrees, 6.49-10.5 oz, at $3.19 ($1.59)
-$2/5 Smart Ones frozen meals printable


(makes it $1.19 ea.)

Pillsbury Toaster Strudel Pastries 6 ct 11.7 or Scrambles 4 ct 7.2 oz, at $2.62 ($1.31)
Kellogg's Eggo Waffles 10.7-12.3 oz or Off the Grid Waffles, 10.7 oz, at $5.19 ($2.59)
-$1 off Kellogg's Eggo frozen item 5.3 oz + (850 points) printable
-.50/1 Off the Grid Waffles, 8-ct, Ibotta mobile app
-$1/3 Kellogg's Eggo waffles, pancakes or French Toast frozen items, 8.4 oz+, RMN 01/05
-$1 off Kellogg's Eggo Waffles, 10.75 oz+, Publix (EXP 1/15) eCoupon
-.50/1 Kellogg's Eggo waffles, pancakes or french toast frozen item, 8.4 oz+, RMN 01/05
-$1/2 Kellogg's Eggo waffles, pancakes or French Toast frozen items, 8.4 oz+, RMN 01/05
-.75/1 Kellogg's Eggo waffles, pancakes or french toast frozen item, 8.4 oz+, RMN 01/05


(makes it $1.59)

Dole Frozen Fruit, 6-16 oz, starting at, at $3.49 ($1.74)
-$1 off Dole Frozen fruit printable


(makes it 74¢)

Mrs. Paul's Fish Sticks or Fillets, 18-24.6 oz, at $6.39 ($3.19)
-$10 Publix Gift Card WYB $30 in participating Frozen Products: Marie Callender's, Bertolli, P.F. Chang's, Healthy Choice, Odom's Tennessee Pride, Blake's, Banquet, Birds Eye, Kid Cuisine, Alexia, Frontera, Mrs. Pauls, Glutino, Hungry Man, Gardein, Glutino, Duncan Hines, Online rebate
-$1 off Mrs. Paul's Fish Sticks or Fillets 18-24.6 oz LIMIT 1, (Publix Coupon), Additional Coupon Flyer or (EXP 1/17) printable


(makes it $2.19)

Lamb Weston Grown in Idaho Potatoes, Fries, Hash Browns or Potato Puffs, 28 oz, at $3.99 ($1.99)
Dr. Praeger's Purely Sensible Food, Veggie Burgers, Pollock Burgers or Chick'n Tenders, 8-10 oz, at $5.15 ($2.57)
Banquet Brown n Serve Sausage, Links or Patties, 6.4 oz, at $2.29 ($1.14)
-$10 Publix Gift Card WYB $30 in participating Frozen Products: Marie Callender's, Bertolli, P.F. Chang's, Healthy Choice, Odom's Tennessee Pride, Blake's, Banquet, Birds Eye, Kid Cuisine, Alexia, Frontera, Mrs. Pauls, Glutino, Hungry Man, Gardein, Glutino, Duncan Hines, Online rebate
Tyson Chicken Nuggets or Tenders or Patties or Country Fried Steak or Steak Fingers , 20.5-32 oz, at $6.79 ($3.39)
California Pizza Kitchen Pizza, 10.7-15.5 oz, at $9.59 ($4.79)
Farm Rich Appetizers, 6-24 oz, starting at, at $4.49 ($2.24)
-$1 off Farm Rich products, 13.6 oz+ printable
-$1 off Farm Rich Toy Story 4 Mozzarella Shapes, 453 g, limit 2, Checkout 51 mobile app
-$1/2 Farm Rich Time Outs, any, on same receipt, limit 1, Checkout 51 mobile app
-.75/1 Farm Rich item, 12 oz+, excl Meatballs, Publix (EXP 1/15) eCoupon (limit reached)


(makes it $1.24 +)

Lightlife Meatless Veggie Burger or Plant Based Ground , 8-12 oz, at $7.99 ($3.99)
Sweet Earth Bowl or Burrito, 6-9 oz, at $5.29 ($2.64)
Stubb's Bar B Q Sauce, 18 oz, at $4.09 ($2.04)
Crystal Louisiana's Pure Hot Sauce, 12 oz, at $1.99 (99¢)
Bertolli Sauce, 15-24 oz, at $3.99 ($1.99)


(excluding Rustic Cut)

Ronzoni Pasta 8-16 oz, at $1.69 (84¢)


(excluding Cauliflower and Turmeric)

VeeTee Rice, 9.9-10.6 oz, at $2.25 ($1.12)
Hormel Premium Chicken Breast in Water with Rib Meat, 10 oz, at $2.79 ($1.39)
Publix Bakery Apple Coffee Cake, 14-15 oz, at $4.99 ($2.49)
BHU Refrigerated Protein Bar, 1.6 oz, (price not listed)
Hunt's Tomatoes or Sauce or Puree, 28-29 oz, at $2.19 ($1.09)
General Mills Chex Cereal, 12-14 oz, at $3.99 ($1.99)
-$1.50/3 General Mills Chex cereal
(EXP 1/15) printable (limit reached)
-$1.50/4 General Mills any flavor Cheerios, Cinnamon Toast Crunch, Lucky Charms, Reese's Puffs, Chex, Cocoa Puffs, Trix, Cookie Crisp, Golden Grahams, Kix, Fiber One, Wheaties, Raisin Nut Bran, Total, Basic 4, or Oatmeal Crisp cereal boxes, or Nature Valley granola pouches, SS 12/15
-$1/2 General Mills any flavor Cheerios, Cinnamon Toast Crunch, Lucky Charms, Reese's Puffs, Chex, Cocoa Puffs, Trix, Cookie Crisp, Golden Grahams, Kix, Fiber One, Wheaties, Raisin Nut Bran, Total, Basic 4, or Oatmeal Crisp cereal boxes, or Nature Valley granola pouches, SS 12/15
-$1/3 General Mills any flavor Cheerios, Cinnamon Toast Crunch, Lucky Charms, Reese's Puffs, Chex, Cocoa Puffs, Trix, Cookie Crisp, Golden Grahams, Kix, Fiber One, Wheaties, Raisin Nut Bran, Total, Basic 4, or Oatmeal Crisp cereal boxes, or Nature Valley granola pouches, SS 12/15
-$1.50/3 General Mills any flavor Cheerios, Cinnamon Toast Crunch, Lucky Charms, Reese's Puffs, Chex, Cocoa Puffs, Trix, Cookie Crisp, Golden Grahams, Kix, Fiber One, Wheaties, Raisin Nut Bran, Total, Basic 4, or Oatmeal Crisp cereal boxes, or Nature Valley granola pouches, SS 12/15
-$1/2 General Mills Chex, Fiber One, Multi Grain Cheerios, Wheaties, Basic 4, Raisin Nut Bran, Oatmeal Crisp, or Total cereals, or Nature Valley Granola Pouches, SS 01/05
-$1/3 General Mills Cheerios, Cinnamon Toast Crunch, Lucky Charms, Reese's Puffs Chex, Cocoa Puffs, Trix, Cookie Crisp, Golden Grahams, Kix, Fiber One, Wheaties, Raisin Nut Bran, Total, Basic 4, Oatmeal Crisp cereal, Nature Valley Granola pouches printable
-$5/$25 General Mills Big G Cereals any flavor – Cheerios, Cinnamon Toast Crunch, Lucky Charms, Reese's Puffs, Chex, Cocoa Puffs, Trix, Cooki Crisp, Golden Grahams, Kix, Fiber One, Wheaties, Raisin Nut Bran, Total, Basic 4, Oatmeal Crisp, or Nature Valley Granola pouches, SavingStar mobile app


(makes it $1.49)

Quaker Chewy Granola Bars, 6.1-7.4 oz, at $2.57 ($1.28)
-$1/2 Quaker chewy granola bars
(EXP 1/15) printable (limit reached)


(makes it 78¢)

Eight O' Clock Coffee, 10-12 oz, at $6.81 ($3.40)


(excluding K-Cups)

Kellogg's Froot Loops, Apple Jacks, Frosted Flakes or Raisin Bran, 14.7-24 oz, at $5.15 ($2.57)
-$1 off Kellogg's cereal, 8.4 oz + (850 points) printable
-$1 off Kellogg's Frosted Flakes, Froot Loops, Apple Jacks, Corn Flakes, Corn Pops or Crispix Cereals, 8.7 oz+, Publix eCoupon
-$1/2 Kellogg's Froot Loop, Apple Jacks or Frosted Flakes cereal
printable
-$5/$25 Kellogg's cereals, 8 oz+, multiple receipts OK, SavingStar mobile app
-$3/5 Kellogg's cereals, any printable
-$1/2 Kellogg's Krave, Apple Jacks, Corn Pops or Corn Flakes cereals printable
-.50/1 Kellogg's Raisin Bran cereal printable


(makes it $1.57)

Nature Valley or Fiber One Bars, 10.6-17.8 oz, at $6.99 ($3.49)
-.50/2 Nature Valley products printable
-$1/2 Nature Valley boxes of Granola Bars, Biscuits, Granola Cups, Layered Granola Bars, Soft-Baked Filled Squares, Protein Bars, Granola Snack Mix, OR Peanut or Almond Butter Granola Bites Or Wafer Bars, SS 01/05
-.50/2 Nature Valley Granola Bars, Biscuits, Granola Cups, Layered Granola Bars, Soft-Baked Filled Squares, Protein Bars, Granola Snack Mix, Peanut or Almond Butter Granola Bites or Wafer Bars, box 5-ct+, SS 01/05
-.50/2 Nature Valley granola bars, biscuits, granola cups, layered granola bars, soft baked filled squares, protein bars, granola snack mix, peanut or almond butter granola bites, 5 ct.+ printable
-Free S'ip S'well Water Bottle WYB $15 in Participating Snacks from: Annie's, Betty Crocker Fruit Snacks, Chex Mix, Bugles, Cascadian Farm, Epic, Fiber One, Larabar, Mott's, or Nature Valley, Online rebate
-.50/2 Nature Valley Granola Bars, Biscuits, Granola Cups, Layered Granola Bars, Soft-Baked Filled Squares, Protein Bars, Granola Snack Mix or Peanut or Almond Butter Granola Bites, Publix eCoupon


(makes it $3.99 ea.)

Quaker Cap'n Crunch Cereal 15.4-20 oz or Oatmeal Squares 14.5 oz or Life 18 oz or Simply Granola , 28 oz, at $5.69 ($2.84)
-$1 off Quaker Old Fashioned, Quick or Instant Oats, or Oatmeal Squares cereal, SS 01/12


(makes it $1.84)

Celestial Seasoning Tea, 18-40 ct., starting at, at $3.49 ($1.74)
-$1/2 Celestial Seasonings Tea, excl K-Cup Pod boxes, SS 11/10
-$1/2 Celestial Seasonings Tea, boxes, SS 01/19


(makes it $2.47 ea.)

McCormick Gourmet Spices .18-2.62 or 2 ct, starting at, at $4.19 ($2.09)
Thomas Swirl Cinnamon Raisin or Cinnamon Toasting Bread or Bagel Thins, 13-16 oz, at $3.99 ($1.99)
Blue Plate Mayonnaise, 30 oz, at $4.15 ($2.07)
Ocean Spray Organic 100% Juice 33.8 oz or 100% Juice Blend or Grapefruit Juice 60 oz or Growing Goodness Juice Drink, 8 pk 6 oz, at $4.15 ($2.07)
Back to Nature Trail Mix or Cashews or California Almonds, 9-10 oz, at $6.99 ($3.49)
Blue Diamond Almonds, 6 oz, at $3.99 ($1.99)
-$1.50/2 Blue Diamond Almonds, 6 oz cans, limit 1, SS 11/24


(makes it $1.24 ea.)

Planters NUT-rition Mix, 5.5 oz, at $4.15 ($2.07)
-750 points WYB Planters Nuts, any, limit 1, get 2,000 bonus points w/ code N0REC at sign up, Fetch Rewards (EXP 1/17) mobile app


(makes it $1.32)

Mentos Gum Sugar Free, 45-50 ct, at $3.69 ($1.84)
Pepperidge Farm Goldfish Snack Crackers or Tortilla or Grahams, 4-8 oz, at $2.41 ($1.20)
Pepperidge Farm Farmhouse Bread or Buns, 16-24 oz, at $3.99 ($1.99)
Nabisco Family Size Crackers 6.5-25.6 oz, at $5.99 ($2.99)
-.75/1 Nabisco select cookies or crackers – 7 oz+, excl Belvita Oreos and Triscuits, SavingStar mobile app
-.75/2 Nabisco Cookie or Crackers 3.5 oz+, any, SS 01/12


(makes it $2.24)

Nabisco Oreo Thins Sandwich Cookies, 10.1 oz, at $3.85 ($1.92)
-$1 off Oreo Chocolate Candy, WYB Nabisco Oreo cookies printable
-.75/2 Nabisco Cookie or Crackers 3.5 oz+, any, SS 01/12
-.75/2 Nabisco Oreo cookies, any 10.1 oz+, SS 01/12
-$1/2 Nabisco Oreo Cookies, 10.1 oz+, on same receipt, limit 5, cannot use with other coupons, Checkout 51 mobile app
-$1/2 Nabisco Oreo Cookies, 10.1 oz+, on same receipt, SavingStar mobile app


(use $1/2, makes it $1.42 ea.)

Keebler Chips Deluxe, Country Style, Soft Batch, Cinnamon Roll or Sandies Shortbread Cookies, 6-15 oz, at $3.50 ($1.75)
Lay's Potato Chips or Lay's Poppables Potato Snacks, 5-8 oz, at $3.49 ($1.74)
Nature's Own Perfectly Crafted Bread, 22 oz, at $3.69 ($1.84)
Eternal Naturally Alkaline Spring Water 6 pk 600 ml, at $6.15 ($3.07)
Halls Cough Suppressant Drops, 20-30 ct, at $2.19 ($1.09)
-$1/2 Hall's products, 10-ct+, on same receipt, limit 5, cannot use with other coupons, Checkout 51 mobile app
-$1/2 Halls products, 10-ct+, SS 12/15


(makes it 59¢)

Publix Make-Up Remover Wipes or Cleansing Towelettes, 25-30 ct, at $5.15 ($2.57)
Colgate MaxFresh Toothpaste or MaxWhite or MaxClean , 6 oz, at $3.69 ($1.84)
-.50/1 Colgate Toothpaste 3.0 oz+, SS 01/19
-$1/2 Colgate Toothpaste 3.0 oz+, SS 01/19


(makes it $1.34)

Celsius Dietary Supplement Beverage, Sparkling: 4 pk 12oz, at $7.39 ($3.69)
Lenny & Larry's The Complete Cookie, 4 oz, or Keto Cookie, 1.6 oz, at $2.19 ($1.09)
-$1 off Lenny & Larry's Complete Crunchy Cookies printable


(makes it 9¢)

Complete Multi-Purpose Solution, 12 oz, at $9.99 ($4.99)
Publix Disinfecting Wipes, 75 ct, at $4.09 ($2.04)
Air Wick Scented Oil Refills Air Freshener, 3 ct, at $7.99 ($3.99)
-$1.25 off Air Wick Scented Oil Twin or Triple Refill, limit 2, SS 01/05


(makes it $2.74)

Quilted Northern Bathroom Tissue Ultra Soft & Strong or Ultra Plush Double Roll, 6 ct, at $5.55 ($2.77)
-.50/1 Quilted Northern Bath Tissue printable
-.50/1 Quilted Northern bath tissue (sign up) printable
-.50/1 Quilted Northern bath tissue, 6 double roll+, RMN 01/05
-.50/1 Quilted Northern Bath Tissue, 6 Double Roll+, Publix (EXP 1/19) eCoupon


(makes it $2.19)

Solo Cups 18 oz, 38-50 ct or Plates 30-94 ct, at $5.99 ($2.99)


(Excluding 44-48 ct plates)

All Laundry Detergent 32-40 oz or 19-24 ct, at $6.19 ($3.09)
-$1 off All brand laundry product, limit 1, RMN 01/05


(makes it $1.99)

Woolite Laundry Detergent 50-100 oz or 30 ct, (price not listed)
Rid-X Septic System Treatment 9.8 oz, or twin pack, 24 oz, at $15.99 ($7.99) or less
Blue Wilderness Crunchy Dog Treats, 10 oz, at $6.29 ($3.14)
Blue Wilderness Food For Dogs Grain Free, 12.5 oz, at $2.89 ($1.44)
-$1/2 Blue wet dog or cat food, cans, SS 01/05


(makes it 94¢ ea.)

Blue Buffalo Cat Food or Food For Kittens, 5 lb, at $17.49 ($8.74)
-$5 off Blue dry dog or cat food, 5 lb+, SS 01/05
-$4 off Blue Buffalo dog or cat dry food printable
-$4 off Blue Buffalo Dog or Cat Dry Food printable


(makes it $3.74)

Blue Buffalo Healthy Gourmet Cat Food, 3 oz, at $1.39 (69¢)
-$1/2 Blue wet dog or cat food, cans, SS 01/05
-$1/3 Blue Buffalo dog or cat wet food printable


(makes it 19¢)

7 Moons Red Blend Wine or Dark Side Red Blend, 750 ml, at $13.99 ($6.99)
Heineken 0.0 Beer Alcohol Free Beer, 6 pk, at $10.29 ($5.14)


**regional deal**
Produce
Publix Idaho Russet Potatoes, 5 lb, $3.49
Honeycrisp or Pink Lady Apples, $1.99 lb
Bartlett Pears, $1.49 lb
Blueberries or Strawberries, 11-16 oz, $2.50
Navel Oranges, $1.29 lb
Mandarins, 3 lb, $4.99
Publix GreenWise Organic Gala Apples, 2 lb, $2.99
Publix Whole Baby Portabella Mushrooms, 8 oz, $2
Fresh Attitude Salad Spring Mix, Baby Kale, Baby Spinach, Arugula or Baby Romaine, 5 oz, $2
Green Beans Zucchini or Yellow Squash, $1.69 lb
Hass Avocados, $1
Cilantro, 99¢
Publix Baby Cut Carrots, 1 lb, 99¢
Sweet Onions, $1.29 lb
Simply 100% Orange Juice or Apple or Grapefruit or Cranberry Cocktail Not from Concentrate, 52 oz, $3.33
Simply Lemonade, Limeade or Juice Drink, 52 oz, $2.50
Meat
Sandra's Stuffed Chicken Breast, 10 oz, $3.99
-$1 off Sandra's Frozen Stuffed Chicken Entree, Publix eCoupon


(makes it $2.99)

Beyond Meat The Beyond Burger, 8 oz, B2G1 at $5.89
-$1 off Beyond Meat product (sign up) printable
-$1/2 Beyond Meat Beyond Burger, 8 oz, on same receipt, Ibotta mobile app


(buy (3), use (3) $1 off and Ibotta, makes it $2.59 ea.)

Perdue Short Cuts Carved Chicken Breast or Turkey, 8-9 oz, $3
-$1.50/3 Perdue Refrigerated Fully Cooked chicken products printable
-$1 off Perdue Short Cuts carved chicken breast, RMN 01/12


(makes it $2)

Perdue Harvestland Organic Grilled Chicken Breast Strips, 6 oz, $3
-$1.50/3 Perdue Refrigerated Fully Cooked chicken products printable


(makes it $2.50 ea.)

Publix Boneless Top Sirloin Steaks, $4.99 lb
Publix Pork Boston Butt Roast, $1.99 lb
Publix Ground Sirloin, $3.99 per lb 3lb +
Publix Pork Loin Rib Chops Center Cut, $3.49 lb
Publix Sirloin Tip Roast, $3.99 lb
Publix Beef Cubed Steaks, $4.99 lb
Publix GreenWise Chicken Sausage, 16 oz, B2G1 at $6.49
Publix Top Round London Broil, $3.99 lb
Tilapia Fillets, $6.99 lb
Medium White Shrimp Easy to Peel, 41-50 per lb, $4.99 lb
Medium White Shrimp Peeled & Deveined 51-60 per lb, $6.99 lb
Publix GreenWise Jumbo Sea Scallops 10-15 per lb, $16.99 lb
Oscar Mayer Lunchables, 2.25-4.4 oz, B3G3 at $2.24


(makes it $1.12 ea. – must buy 6)
Fridge or Frozen
Nutpods Unsweetened Dairy Free Creamer, 11.2 oz, $2
-.50/1 nutpods Dairy Free Coffee Creamer, any, Ibotta mobile app


(makes it $1.50)

Silk Cashewmilk or Soymilk, Coconutmilk, Almondmilk or Protein Almond/Cashew Milk, 64 oz, $3
-$1 off Silk Half Gallon (sign up) printable
-.65/1 Silk soy milk, half-gallon printable
-$5 Publix Gift Card WYB $20 in Participating Products: Dannon, So Delicious, Silk, Horizon, International Delight, Stok, Online rebate


(makes it $2)

Eggland's Best Eggs, 1 dozen, $2
-.50/1 Eggland's Best classic eggs, SS 10/13
-.50/1 Eggland's Best Eggs, SS 11/17
-.35/1 Eggland's Best Regular or Organic Hard Cooked and Peeled Eggs, or Cage Free Eggs, SS 11/17
-.55/1 Eggland's Best Eggs, SS 11/17
-.50/1 Eggland's Best Eggs, SS 01/05
-.55/1 Eggland's Best Eggs, SS 01/05


(makes it $1.45)

Stok Cold Brew Coffee, 13.7-15 oz, $2.50
-$5 Publix Gift Card WYB $20 in Participating Products: Dannon, So Delicious, Silk, Horizon, International Delight, Stok, Online rebate
Rana Pasta or Sauce, 7-15 oz, $3.50
Sargento String Cheese or Cheese Sticks, 9-12 oz, $4
-$1 off Sargento String or Stick Cheese, SS 01/05
-.75/1 Sargento String or Stick Cheese Snack, SS 01/05


(makes it $3)

Kraft Shredded or Chunk Cheese, 6-8 oz, $3
Oui by Yoplait French Style Yogurt 5 oz jar or YQ by Yoplait Ultra Filtered Yogurt , 5.3 oz, $1.33
-$1/4 Yoplait Oui French-style yogurt, Publix eCoupon
-$1/4 Yoplait Oui French-style yogurt, Publix (EXP 1/15) eCoupon
-$1/4 Oui by Yoplait French-style yogurt jars, SS 01/05


(makes it $1.08)

Yoplait Yogurt, 4-6 oz, 50¢
-.50/5 Yoplait Yogurt Original, Light, Smooth, Whips!, Lactose Free or FruitSide, Publix eCoupon
-$1/10 Yoplait yogurt cups, incl Original, Light, Smooth, Whips!, Lactose Free or FruitSide, SS 01/05
-.50/5 Yoplait yogurt incl Original, Light, Smooth, Whips!, Lactose Free or FruitSide printable
-.50/5 Yoplait Yogurt cups, incl Original, Light, Smooth, Whips!, Lactose Free or FruitSide, SS 01/05


(makes it 40¢)

Yoplait Go-Gurt or Simply Go-Gurt Portable Yogurt 8 pk 2 oz, $2
-$1/2 Yoplait Go-Gurt item, 8 ct, Publix (EXP 1/15) eCoupon
-$20 in Fandango Movie Certificates WYB (2) Yoplait or Go-Gurt Participating products, Online rebate
(makes it

FREE

+ profit after movie tickets)
Daisy Sour Cream or Cottage Cheese, 16 oz, $2
Publix GreenWise Organic Milk or Lactose Free Milk, 64 oz, $3.33
Chobani Greek Yogurt Regular, Flip or Less Sugar 4.5-5.3 oz, $1


(excluding Nut Butter and Oat on Bottom)


-$2/10 Chobani single serve Greek Yogurt, excl Nut Butter and Oatmeal varieties, limit 1, SS 01/12
-$1/5 Chobani single serve items, any, on same receipt, limit 2, cannot use with other coupons, Checkout 51 mobile app
-$2 off 10 Chobani Greek Yogurt products, excl Nut Butter and Oatmeal, limit 1, SS 01/19


(use $1/5, makes it 80¢ ea.)

Flatout Foldit Artisian Flatbreads, 85-9 oz, $2
Stacy's Bagel or Pita Chips or Pita Thins, 6.75-7.33 oz, B2G1 at $3.59
-$1/2 Stacy's products, 4 oz+ (EXP 1/18) printable (limit reached)
Rebel Ice Cream, 16 oz, $4
Marie Callender's or Healthy Choice Entree, 9.25-14 oz, $2.50
-$10 Publix Gift Card WYB $30 in participating Frozen Products: Marie Callender's, Bertolli, P.F. Chang's, Healthy Choice, Odom's Tennessee Pride, Blake's, Banquet, Birds Eye, Kid Cuisine, Alexia, Frontera, Mrs. Pauls, Glutino, Hungry Man, Gardein, Glutino, Duncan Hines, Online rebate
-$1/2 Marie Callender's Single Serve Meals, Bowls or Pot Pies 10-16 oz, (Publix Coupon), Additional Coupon Flyer or (EXP 1/17) printable


(makes it $2 ea)

Healthy Choice Simply Steamers Entree 9-10 oz or Power Bowls 7.2-9.75 oz, $3
-$10 Publix Gift Card WYB $30 in participating Frozen Products: Marie Callender's, Bertolli, P.F. Chang's, Healthy Choice, Odom's Tennessee Pride, Blake's, Banquet, Birds Eye, Kid Cuisine, Alexia, Frontera, Mrs. Pauls, Glutino, Hungry Man, Gardein, Glutino, Duncan Hines, Online rebate
-$1/2 Healthy Choice Single Serve Meals, Power Bowls or Morning Bowls 9-11 oz, (Publix Coupon), Additional Coupon Flyer or (EXP 1/17) printable


(makes it $2.50)

Blue Bell Ice Cream Half Gallon or Ice Cream Cups, 12 ct, $4.99
Grocery
Publix Bakery Apple or Dutch Apple Pie, 32-34 oz, $3.99
Del Monte Fruit 4 pk 3.75-4.5 oz or 2 pk 7 oz cup, $2
-.50/1 Del Monte Fruit & Oats, Fruit & Chia, or Fruit Refreshers printable
-.75/1 Del Monte Fruit & Oats, Fruit & Chia or Fruit Refreshers, 2-pk, SS 01/05
-$1/2 Del Monte fruit cup snacks, 4-pk, SS 01/05
–B1G1 Del Monte Fruit Refreshers 2 pk. Fruit & Chia 2 pk or Fruit & Oats 2 pk , (Publix Coupon), Additional Coupon Flyer or (EXP 1/17) printable


(Buy 2, use store and (2) .75/1, makes it 25¢ ea.)

Bush's Best Chili Beans or Butter, Great Northern, Navy, White, Pinto, Kidney or Cannellini or Savory, 15-16 oz, $1
-$1/2 Bush's Chili Beans, 15-27 oz, exc baked beans, grillin' beans, variety beans, organic bean, savory beans and chili magic, SS 01/05
-.55/2 Bush's Chili Beans, 15-27 oz, Publix eCoupon


(makes it 50¢)

Polaner All Fruit Spreadable Fruit, Preserves or Marmalade, 13.5-15.25 oz, $2.50
Green Mountain K-Cups Coffee or Donut Shop or Swiss Miss Hot Cocoa, 10-12 ct, $6.49
Starbucks Coffee 9-12 oz or K-Cups, 10 ct, $6.49
Werther's Orginal Carmel Coffee Hard Candies, 2.75 oz, $2
Path of Life Quinoa or Cauliflower, 10 oz, $3
-$1 off Path of Life items (sign up), excl club packs printable


(makes it $2)

Jif Peanut Butter, 15-16 oz, $2
Cheetos or Fritos Snacks, 7-9.25 oz, $2.50
Beverages
Gatorade Thirst Quencher 8 pk 20 oz, $5
Gatorade Thirst Quencher 6 pk 12 o, $3
Bodyarmor Super Drink, 16 oz, $1
-$1/2 BodyArmor Sports Drink printable


(makes it 50¢)

Coca-Cola Products 6 pk 16.9 oz, B2G1 at $5.15
Coca-Cola Products, 2L, B2G1 at $2.19
-$4 off Publix Deli Platter AND (2) Coca-Cola Products 2L, (Publix Coupon), Additional Coupon Flyer or (EXP 1/17) printable
Pepsi Products 12 pk 12 oz cans, B2G1 at $5.49
Pepsi Products 6 pk 7.5 oz cans, B2G1
Bubly Sparkling Water 12 pk 12 oz, B2G1 at $5.15
Aquafina Pure water 24 pk 16.9 oz, B2G1
Personal Care
TRESemme Shampoo or Conditioner, 11 or 28 oz, $3.50
-$4/2 Tresemme Shampoo and Conditioner, excl trial, limit 2, RMN 01/05 (EXP 1/19)
-1,250 points WYB TRESemme shampoo or conditioner, excl trial, limit 2 on separate receipts, enter code N0REC before first receipt to get 2000 Bonus points, Fetch Rewards mobile app


(buy (2), use both, makes it 87¢ ea.)

TRESemme Pro Collection Hair Care 22 oz or Styling , 9-10.5 oz, $4.50
-$4/2 Tresemme Pro Pure Products. excl trial, limit 2, RMN 01/05 (EXP 1/19)
-$1 off Tresemme hair care items, excl trial size, Publix (EXP 1/19) eCoupon
-1,250 points WYB TRESemme shampoo or conditioner, excl trial, limit 2 on separate receipts, enter code N0REC before first receipt to get 2000 Bonus points, Fetch Rewards mobile app


(use $4/2 and Fetch, makes it $1.87 ea.)

Dove Body Wash or Body Polish, Shower Foam or Shower Mousse, 10.3-22 oz, $6.29
-$1 off Dove Product, any (sign up) printable
-1,000 points WYB Dove body wash. excl trial; limit 2 on separate shopping trips, get 2,000 bonus points w/ code N0REC at sign up, Fetch Rewards mobile app
-$1 off Dove Body Wash 22 oz+, or Shower Foam 13.5 oz, limit 2, RMN 01/19
-$1 off Dove Men+Care Body Wash or Bar, limit 2, RMN 01/19


(makes it $4.29 after Fetch)

Dove Bath Bars or Men+Care Body and Face Bar 6 pk 3.75 -4 oz, $6.49
-$1 off Dove Product, any (sign up) printable


(makes it $5.49)

Cetaphil Skin Care Products or Differin 5-16 oz or 3 pk 4.5 or 25 ct, $3 off
(Excluding Cetaphil Travel Cleanser 2 oz or Cetaphil Single Cleanser Bars 4.5 oz)
(prices after sale)
Cetaphil Gentle Skin Cleansing Cloths, 25 ct., $3.49
Cetaphil Baby Wash & Shampoo 7.8 oz $2.49
Differin Acne Treatment Gel .5 oz $10.79
L'Oreal Pair Excellence Creme Hair Color or Superior Preference, $7.99
-$5/2 L'Oreal Superior Preference, Excellence or Feria Haircolor, limit 1, RMN 01/05 (EXP 1/18)
-$2 off L'Oreal Superior Preference, Excellence or Feria Haircolor, limit 1, RMN 01/05 (EXP 1/19)
-$6/2 L'Oreal Superior Preference, Excellence or Feria Haircolor Products, limit 1, RMN 01/19


(makes it $4.99 ea.)

Vicks DayQuil or NyQuil Severe Cold & Flu Medicine 12 oz or 24 ct, $9.99
-$1 off Vicks DayQuil or NyQuil Product, excl DayQuil & NyQui 8-ct, and trial, limit 2, PG 12/29
-$1 off Vicks DayQuil or NyQuil item, excl 8ct DayQuil or NyQuil & trial size, Publix eCoupon


(makes it $8.99)

Ensure Plant Protein Nutritional Drink Vanilla or Chocolate, 4 pk, $5 off
-$3 off Ensure Product printable
-$3 off Ensure Max Protein Multipack, limit 2, SS 01/05
-$7/2 Ensure Multipacks, limit 2, SS 01/05
-$3/2 Ensure or Glucerna Shakes 4,6,12 or 16 pk, Ensure Rapid Hydration Powders or Glucerna Bars 4-6 pk , (Publix Coupon), Health & Beauty Flyer or printable
Softsoap Hand Soap 11.25 oz or Antibacterial Liquid or Foam Hand Soap 8.7 oz, $2
-.50/1 Softsoap brand liquid hand soap, 8 oz+ printable
-.50/1 Softsoap Liquid Hand Soap Pumps 8 oz+, or refills 32 oz+, SS 01/19
-$1/2 Softsoap Liquid Hand Soap Pumps 8 oz+, or refills 32 oz+, SS 01/19


(makes it $1.50)

Softsoap Hand Soap Refill, 50 oz, $3.99
-.50/1 Softsoap brand liquid hand soap, 8 oz+ printable
-.50/1 Softsoap Liquid Hand Soap Pumps 8 oz+, or refills 32 oz+, SS 01/19
-$1/2 Softsoap Liquid Hand Soap Pumps 8 oz+, or refills 32 oz+, SS 01/19


(makes it $3.49)

Boost Nutritional Drink or HIgh Protein Drink 4-24 pk 8 oz 6 pk 6 oz or 4 pk 11 oz, $5 off WYB (3)
(excluding Boost Essentials)
Boost Original Drink, 6 pk., $6.33 (after sale)
-$2 off Boost Nutritional Drinks or Drink Mix (sign up) printable
-$5/2 Boost drinks, multipacks or canisters, RMN 01/05
-$2 off Boost nutritional drink or drink mix (EXP 1/21) printable (limit reached)


(buy (6), use (3) $5/2, makes it $3.83 ea.)

Lactaid or Imodium Medicine 24-60 ct or 8 oz, $6 off WYB 2
(prices after sale)
Imodium, 24 ct., $8.49
Lactaid, 60 ct., $10.49
-$1 off Lactaid Fast Act dietary supplement, 32 ct.+ printable
-$1 off Lactaid Fast Act dietary supplement, 32-ct+ printable
-Get a $10 Fandango or Visa Reward when you spend $30 or more on Aveeno, Aveeno Baby, Coach, Neutrogena, Clean & Clear, Neosporin, Band-Aid, Tylenol, Pepcid, Sudafed, Bengay, Visine, Imodium, Lubriderm, Johnson's, Listerine, Lactaid, Desitin, TENA, Motrin, Benadryl, Reach or Zyrtec Products (in one transaction) rebate


(makes it $9.49)
Baby Care
Pampers Diapers 19-32 ct or Easy Ups Training Underwear 18-25 ct, $9.99


(excluding Pure Diapers)


-$1.50 off Pampers Easy Ups Training Underwear or Underjams Absorbent Night Wear, excl trial size, Publix eCoupon
-$1.50 off Pampers Swaddlers Cruisers or Baby Dry Diapers, excl Pampers Cruisers 360 FIT & trial size, Publix eCoupon


(makes it $8.49)

Pampers Wipes, Soft Pack 56-72 ct, $1.99


(Excluding Pure)


-.25/1 Pampers or Luvs Wipes, 56-216 ct, Publix eCoupon


(makes it $1.74)

Plum Organics Baby Food Stage 2 or Mighty 3.5-4 oz, $1.20
Plum Organics Snacks, 1.5 oz or 5-6 ct, $2.50
Household
Viva Paper Towels Big Rolls, 6 Roll, $5.99
-.50/1 Viva Paper Towels printable
-$1 off Viva Paper Towels, 6 pk+ printable
-.75/1 Viva Paper Towels, 6-pk+, SS 01/05


(makes it $4.99)

Bounty Quilted Napkins 160 ct or White 200 ct, $2.69
-.25/1 Bounty Napkins item, excl trial size, Publix eCoupon


(makes it $2.44)

Hefty Tall Kitchen Bags or Strong Trash Bags Drawstring, 18-45 ct, $5.99
Puffs Facial Tissue Plus Lotion, Non-Lotion or Ultra Soft & Strong 48-64 ct, $1.25
-$1/4 Puffs Single Packs, excl Puffs To Go Singles & trial size, Publix eCoupon


(makes it $1 ea.)

Reynolds Wrap Aluminum Foil 200 sq ft or Heavy Duty 130 sq ft or Non Stick 95 sq ft, $8.39
-.50/1 Reynolds Wrap aluminum foil printable


(makes it $7.89)

Renuzit Gel Air Freshener, 7 oz, 83¢
Gain Gain Flings or Tide Pods Detergent 75-100 oz or 26-35 ct, Gain Fabric Softener or Downy Fabric Conditioner 129 oz or Gain or Bounce Sheets, 240 ct, $9.99
-$2 off Tide PODS 10-31 ct, excl Power and Simply PODS, limit 1, PG 12/29
-$3 off Tide PODS 26-ct or 32-ct+, or Power Pods 21-ct+, excl Simply PODS, limit 1, PG 12/29
-$3 off Tide Pods 26 ct. or 32 ct. or Power Pods 21 ct.+ printable
-$3 off Tide
laundry detergent 92 oz+, Heavy Duty detergent 69 oz+ or Purclean detergent 75 oz+ printable
-$2 off Gain Flings!, 30 ct.+, excl detergent, fabric enhancers, trial/travel size printable
-$1 off Gain Flings! 12-26 ct. or liquid laundry detergent or powder detergent, excl Fireworks, Flings 9 ct. or lower, trial/travel sizes printable
-$1 off Gain Flings 12-ct+ or Ultra Flings 18-ct+, limit 1, RMN 01/12
-$1 off Gain Liquid or powder Laundry Detergent, excl Flings, Fabric Enhancers, Fireworks, Scent Blast items, and trial, limit 1, RMN 01/12
-$3 off Tide PODS 21-42 ct or Tide Liquid Detergent 69-100 oz LIMIT 1, (Publix Coupon), Health & Beauty Flyer or printable


(makes it $3.99)

Palmolive Dish Soap, 20 oz, $2
-.25/1 Palmolive Ultra Dish Soap, 20 oz + printable
-$1/2 Palmolive Ultra Dish Liquid 18.0+, SS 01/19


(makes it $1.50 ea.)

Dawn Sponges, 1-3 ct, $2.50
Clorox Toilet Bowl Cleaner or Cleaning Gel, 24 oz, $2
-$1/2 Clorox Clean-Up Cleaner + Bleach spray, disinfecting wipes 35 ct.+, liquid bleach 55 oz+ or manual toilet bowl cleaner printable
Clorox Fabric Odor Remover or Sanitzer, 14-42 ct, $3.50
-.50/1 Clorox Fabric Sanitizer Spray (sign up) printable


(makes it $3)

Publix GreenWise Bath Tissue 12 Double Roll, $5
Publix Wet or Dry Mop Wipes or Wet Floor Wipes or Dry Floor Cloths 12-16 ct or Dust & Floor Wipes or 180 Duster Refills, 16 ct, $3
Duracell Batteries, Coppertop or Optimum: AA or AAA; Hearing Aid Batteries , 6-16 ct, 25% off
3M Filtrete Ultra Allergen Reduction Filters, $13.99
Publix Glass Cleaner with Ammonia Refill, 67.6 oz, $2.99
Pet Care
Publix LINKS
Latest Articles
Categories
Videos
← PREV NEXT →
Printable Coupons
See our full list of printable coupon resources