Welcome to Southern Savers,
where finding deals and steals is simple and rewarding!
See I told you, this would help!
Coupon Abbreviations
SC

= Store Coupon

MC

= Manufacturer Coupon

SS

= Smart Source

RMN

= Retail Me Not

PG

= Proctor and Gamble
Coupon Terms
WYB

= When You Buy

B1G1

= Buy One Get One Free

.75/1

= 75 cents off one item

.75/3

= 75 cents off three items

EXP

= Expiration Date
Going Nuts? I can help you understand coupon terms and abbreviations
Home > Publix Deals > Publix Weekly Ad: 5/24-5/30 or 5/25-5/31
This post may contain affiliate links. Read our disclosure here.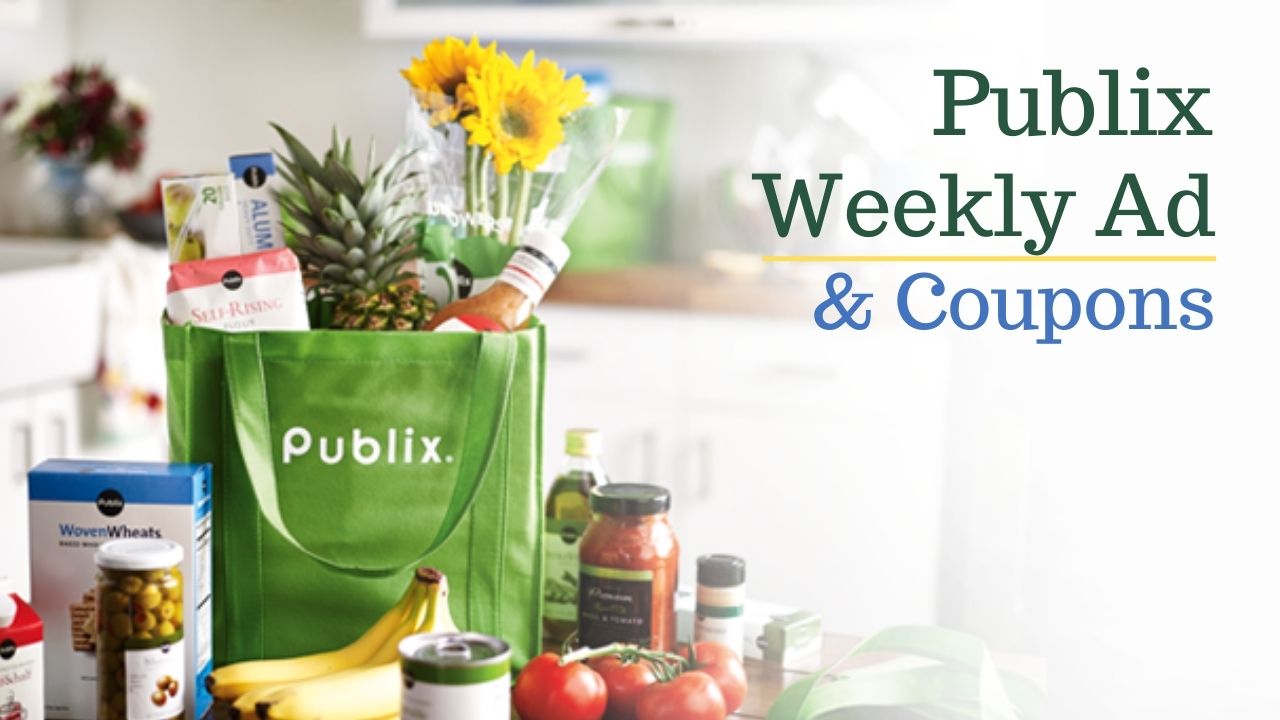 Here is a list of the deals from the new Publix weekly ad that will start on 5/24 (or 5/25, depending on your area). Get chicken breast for $1.99 and more.
Buy One Get Ones
Publix Red Seedless Watermelon Chunks, at $4.08 ($2.04) lb
Tomato Medley, at $3.59 ($1.79)
Alouette Spreadable Cheese, 6.5 oz, at $6.65 ($3.32)
Athenos Crumbled Feta Cheese, 3.5-4 oz, at $3.29 ($1.64)
Sabra Hummus, 10 oz, at $5.15 ($2.57)
Stacy's Pita Chips or Thins or Bagel Chips, 6.75-7.33 oz, at $5.35 ($2.67)
King's Hawaiian Hot Dog Buns or Hamburger or Slider Buns or Pretzel Buns Hamburger or Slider, 10-12.8 oz, at $4.99 ($2.49)


sold in deli area

Publix St. Louis Style Pork Spareribs or Pork Loin Back Ribs Whole in the Bag, at $6.69 ($3.34) lb
Hebrew National Kosher Beef Knockwurst or Franks or Kayem Beef Frankfurters, 9.43-12 oz, at $6.03 ($3.01)
Nathan's Famous Beef Franks, 9.43-12 oz, at $8.19 ($4.09)
Ball Park Angus Beef Franks, Original or Bun Size or Lean Bun Size or Smoked White Turkey or Hearty Beef, 14-16 oz, at $5.99 ($2.99)
Holmes Sausage or Polish Kielbasa Rope or Slices, 12 oz, at $5.69 ($2.84)
Smithfield Bacon, 12-16 oz, starting at, at $6.58 ($3.29)
-$10 off Smithfield WYB $30 participating items, Publix eCoupon (limit reached)
Springer Mountain Farms Chicken Breast, at $6.99 ($3.49)
-$1.50 off Springer Mountain Farms Product (sign up) printable


(makes it $1.99)

Brookwood Farms Pulled Pork or Pulled Chicken or Beef, 12-16 oz, at $8.99 ($4.49)
Curly's Pulled Pork or Chicken, 12-16 oz, at $8.99 ($4.49)
Hormel's Side Dishes, 19-20 oz, at $4.29 ($2.14)
SeaPak Morey's Fish, 10 oz, at $10.89 ($5.44)
-.75/1 SeaPak Product, 8 oz+ printable


(makes it $4.69)

Boca Veggie Protein Burgers or Veggie Chik'n Patties, 10 oz, at $4.89 ($2.44)


Veggie Burger Value Pack, 30 oz, B1G1 at $13.19 ($6.59)

Publix Premium Alaskan Panko Pollock Fillets Wild Sustainably Sourced, 12 oz, at $9.99 ($4.99)
Tyson Any'tizers Chicken Entrees or Fully Cooked Sold Frozen, 20-28.5 oz, at $14.99 ($7.49)


(Excluding Bone-In Wings, Grilled & Ready and Natural)

Carando Frozen Meatballs or Ground, 16-19 oz, at $5.99 ($2.99)
Breakstone's Sour Cream or Cottage Cheese, 16 oz, starting at, at $2.25 ($1.12)
Challenge Sweet Cream Butter, 16 oz, at $7.19 ($3.59)
-.50/1 Challenge Butter printable


(makes it $3.09)

Cracker Barrel Thick Shredded Cheese, 8 oz, at $5.79 ($2.89)
Kraft Shredded Cheese or Chunk, 6-8 oz, starting at, at $3.85 ($1.92)
Stonyfield Organic Yogurt 32 oz or 6 pk 4 oz, at $5.65 ($2.82)


(Excluding Greek 30 and 32 oz)

Icelandic Provisions Skyr Yogurt 4.4-5.3 oz, at $2 ($1)
-$1/2 Icelandic Provisions Single-Serve Cups, 4.4-5.3 oz, Publix eCoupon


(makes it 50¢)

LaLa Yogurt Smoothies 4 pk 6.7-7 oz, at $4.79 ($2.39)
La Colombe Cold Brew Coffee, 42 oz, at $5.99 ($2.99)
Hot Pockets Sandwiches, 8.5-13.5 oz, at $2.61 ($1.30)
Kidfresh Entrees Single Serve, 6.3-8 oz, at $6.45 ($3.22)
Red's Burrito, 4.5-5 oz, at $3.09 ($1.54)
Totino's Pizza Rolls, 100 ct 48.85 oz, at $12.59 ($6.29)
Tombstone Pizza Original, 18.4-21.6 oz, at $5.75 ($2.87)
Breyers Ice Cream or Frozen Dairy Dessert 1.5 qt or Vanilla Ice Cream Cups, 30 oz, at $6.99 ($3.49)
-$2/2 Ben & Jerry's Breyers, Klondike, Talenti, Magnum, Goog Humor, Reese's or Heath Frozen Dessert items, Publix eCoupon


(makes it $2.47)

Haagen-Dazs Ice Cream or Bars, 9-14 oz or 3 ct., starting, at $6.29 ($3.14)
-$1 off Haagen-Dazs Ice Cream Cartons 14 oz, or Ice Cream Bars, 3-ct+, limit 5, at Publix, Ibotta mobile app
-$5 off Haagen-Dazs WYB $20+ frozen treats Edy's, Oreo, Drumstick, Outshine, or Skinny Cow, Publix eCoupon
Haagen-Daz Butter Cookie Cones, 4 ct., at $8.79 ($4.39)
-$2.50 off Haagen-Dazs Butter Cookie Cone, 4-ct, limit 3, Ibotta mobile app
-$2/2 Haagen-Dazs Butter Cookie Cones, 4 pk, Publix eCoupon
-$5 off Haagen-Dazs WYB $20+ frozen treats Edy's, Oreo, Drumstick, Outshine, or Skinny Cow, Publix eCoupon


(use $2/2 and (2) Ibotta, makes it 89¢ ea.)

Delizza Patisserie Belgian Mini Cream Puffs, Mini Eclairs or Macarons, 4.56-14.8 oz, at $6.89 ($3.44)
-$2 off Delizza Patisserie item, Publix eCoupon (limit reached)
Jonny Pops Fruit Pops, 14.8 oz, at $5.49 ($2.74)
M&M's Ice Cream Sandwiches, 16 oz, (price not listed)
Mickey Mouse Ice Cream Bars, 6 ct, at $5.49 ($2.74)
Nestle Drumstick or Oreo Cones, 8-20 ct, at $5.49 ($2.74)
General Mills Cereal: Toast Crunch, Cheerios, Lucky Charms, Golden Graham's, Reese's Puffs, 12-16.7 oz, at $6.79 ($3.39)
-$1/2 General Mills Cheerios, Cinnamon Toast Crunch, Lucky Charms, Reese's Puffs, Chex, Cocoa Puffs, Trix, Cookies Crisp Golden Grahams, Kix, Fiber One, Wheaties, Raisin Nut Bran, Total, Basic 4, Oatmeal Crisp, Dunkaroos, Pokemon, Plentiful, Remix snack pouches, Nature Valley Granola pouches, Publix eCoupon


(makes it $2.89 ea)

Kashi Organic Cinnamon Harvest Cereal, 16.3 oz, at $5.95 ($2.97)
Kellogg's Mini-Wheats Cereal 14.3-18 oz or Raisin Bran, 15.9-16.6 oz, at $5.95 ($2.97)
-$1/2 Kellogg's Cereals, incl Jumbo Snax and Krave Duo Snax printable
-$1/3 Kellogg's cereals, 1.2 oz+ printable
-$1/3 Kellogg's Cereals, 1.2 oz+ , Publix eCoupon


(makes it $2.47)

Kind Bars 5.8-10.56 oz, at $9.99 ($4.99)
-$2.50 off Kind Nut Bars, 12-ct, limit 3, Ibotta mobile app
-$1 off Kind Nut Bars, 6-ct, limit 5, Ibotta mobile app
New England Ground Coffee 9-12 oz bag or K-Cups 12 ct, at $9.99 ($4.99)
Bumble Bee Premium Chicken Breast with Rib Meat Chunk In Water 98% Fat Free, 10 oz, at $4.29 ($2.14)
Campbell's Chunky Soup or Homestyle 18.6-18.8 oz or 15.25 oz bowl, at $3.29 ($1.64)
Prego Italian Sauce or Meat or Alfredo Sauce or Prego+, 22-24 oz, starting, at $3.03 ($1.51)
Rummo Pasta .75-1 lb, at $3.09 ($1.54)
Duncan Hines Cake Mix 15.25 oz or Brownie 16.7-18.3 oz, at $3.99 ($1.99)
Duncan Hines Creamy Frosting, 16 oz, at $1.99 (99¢)
GreenWise Organic Spices .75-2.75 oz jar or Vanilla Extract 2 oz, starting, at $3.99 ($1.99)
Weber Seasoning, 2.5-3.75 oz, at $2.89 ($1.44)
Frank's Redhot Sauce, 12-14 oz, at $4.39 ($2.19)
French's Mustard, 12-14 oz, at $2.49 ($1.24)
A.1. Sauce, 10 oz, at $7.19 ($3.59)
-$10 Publix Gift Card WYB $50 in participating Kraft, Heinz, Nabisco, P&G or PepsiCo products at Publix, online rebate
Heinz Tomato Ketchup, 32 oz, at $6.15 ($3.07)
-$10 Publix Gift Card WYB $50 in participating Kraft, Heinz, Nabisco, P&G or PepsiCo products at Publix, online rebate
Hellmann's Mayonnaise, 15-30 oz, at $8.63 ($4.31)
-750 points WYB Hellmann's or Best Foods AND Maille, limit 5, enter code N0REC before first receipt to get 2000 Bonus points, Fetch Rewards mobile app
-$3 off Hellmann's item, 30 oz, Publix eCoupon (limit reached)
-750 points WYB Hellmann's or Best Foods Garlic Aioli or Spicy Mayonnaise, limit 5, enter code N0REC before first receipt to get 2000 Bonus points, Fetch Rewards (EXP 5/26) mobile app
-$1 off Hellmann's product, 9 oz+, limit 2, Save 05/21
-$1 off Hellmann's item or Best Foods item, 9 oz+, Publix eCoupon


(use $3 off, makes it $1.31)

Mt. Olive Pickles, 24-32 oz, at $4.39 ($2.19)
Rib Rack BBQ Sauce or Marinade, 14-19 oz, at $5.95 ($2.97)
Sweet Baby Ray's Gourmet Sauces, Barbecue or Buffalo Wing, 18.5-28 oz, at $4.09 ($2.04)
-$1/4 Sweet Baby Ray's Barbecue Sauce, any, limit 2, Save 05/21
-$1.25/2 Sweet Baby Ray's Marinade, Wing, Dippin or Hot Sauce, limit 2, Save 05/21


(makes it $1.41 ea)

Nabisco Ritz Crackers, 11.6-13.7 oz, at $4.40 ($2.20)
-$10 Publix Gift Card WYB $50 in participating Kraft, Heinz, Nabisco, P&G or PepsiCo products at Publix, online rebate
-Free Publix Deli Dip Buffalo Chicken, Spinach, Artichoke Spinach, or Jalapeno Popper 16 oz WYB (2) Ritz Family Size Toasted Chips 11.4 oz, Publix (EXP 5/24) eCoupon (limit reached)
Emeralds Cashews or Deluxe Mixed Nuts, Almonds, Walnuts, Pecans or Virginia Peanuts, 5-10 oz, at $4.85 ($2.42)
Angie's Boom Chicka Pop Popcorn 6 ct 13.16-19.74 oz, at $7.09 ($3.54)
Orville Redenbacher's Gourmet Popping Corn 6-12 ct 11.64-19.75 oz or 30 oz jar, at $7.09 ($3.54)
PopCorners Popped-Corn Snacks or Crisps, 4-7 oz, at $5.15 ($2.57)
-$3/5 Pepsi item, Mtn Dew, Starry, Mug, bubly, Manzanita Sol, Brisk, & Lipton Iced Tea multipks, Fritos, Lay's, Doritos, Tostitos, Ruffles, Cheetos, PopCorners 5 oz+, Publix eCoupon
Frito-Lay Party Size Snacks, 8.13-17 oz, at $6.99 ($3.49)
-$3/5 Pepsi item, Mtn Dew, Starry, Mug, bubly, Manzanita Sol, Brisk, & Lipton Iced Tea multipks, Fritos, Lay's, Doritos, Tostitos, Ruffles, Cheetos, PopCorners 5 oz+, Publix eCoupon
-.50/1 Fritos corn chips, 6 oz+, Publix eCoupon
Cape Cod Kettle Cooked Potato Chips, 6.5-8.5 oz, at $5.29 ($2.64)
-$1/2 Snyder's of Hanover item, Kettle Brand, or Cape Cod chips Party Size only, Publix eCoupon


(makes it $2.14)

Hershey's Candy Bars or Reese's Cups or Kit Kat, 6 ct, at $7.19 ($3.59)
Werther's Original Caramels or Riesen Chewy Chocolate Caramels, 10.8-12 oz, (price not listed)
Nature's Own Hot Dog Buns or Hamburger, 15-16 oz, at $4.29 ($2.14)
-.75/1 Nature's Own Perfectly Crafted Brioche Buns, 8-12 ct., limit 5, Ibottta mobile app
-.75/1 Nature's Own Perfectly Crafted Everything Hamburger Buns, 8 ct., limit 5, Ibottta mobile app


(makes it $1.39)

Arnold Bread, 24 oz, at $5.29 ($2.64)
-1,500 points WYB (2) Arnold, Brownberry or Oroweat Keto Bread, limit 2, enter code N0REC before first receipt to get 2000 Bonus points, Fetch Rewards mobile app
Thomas English Muffins, 12-13 oz, at $5.29 ($2.64)
Lenny & Larry's Cookies 1.6-4 oz or 1 ct, at $2.10 ($1.05)
Royal Oak Super Size Charcoal Briquettes, 14 lb, at $9.99 ($4.99)
Maison de Madeleine Brut Wine or Rose, 750 ml, at $18.49 ($9.24)
New Belgium Beer 6 pk 12 oz, at $12.79 ($6.39)
Real Sangria Wine, 1.5L, at $11.26 ($5.62)
Simply Spiked Lemonade or Peach Variety Pack, 12 pk 12 oz, at $20.49 ($10.24)
-2,500 points WYB Simply Spiked Signature Peach, 12-pk+, limit 1, enter code N0REC before first receipt to get 2000 Bonus points, Fetch Rewards mobile app
Tropical Passion Fruit Moscato Wine or Mango Moscato, 750 ml, at $12.99 ($6.49)
Crystal Light Drink Mix 10-12 qt or 7-10 ct or 1.62 oz, 1.96 oz, at $4.19 ($2.09)
-$1/2 Crystal Light powdered beverages printable


(makes it $1.59 ea.)

Ocean Spray Juice Cocktail or Beverages 64 oz or Craisins 5 or 6 oz, at $4.85 ($2.42)


(Excluding 100% Juice)

Glaceau Vitaminwater, 20 oz, at $1.89 (94¢)
Ten Alkaline Spring Water with Electrolytes, 1 gal, at $3.99 ($1.99)
Essentia Purified Drinking Water, 1.5L, at $2.99 ($1.49)
Produce
Blackberries, 6 oz, $3.33
Blueberries, 11 oz, $3.33
Navel Oranges, $1.69 lb
Mangos, $1.25
Strawberries, 16 oz, $3.33
Athena Cataloupe, $3.49
California Cherries, $5.99 lb
GreenWise Organic Gala Apples, 2 lb, $4.99
Cosmic Crisp Apples, $1.99 lb
Small Red Seedless Watermelon, $3.99
Asparagus, $2.99 lb
Broccoli, $2.99
Corn Yellow, White or Bi-Color, 39¢
Fresh Attitude Salad, Spring Mix, Arugula, Half and Half, Baby Spinach or Hearty Harvest, 5 oz, $3.33
GreenWise Organic Yellow Onions, 3 lb, $4.99
Hass Avocados, $1.25
-$1/4 Avocados from Mexico, Publix (EXP 5/26) eCoupon


(makes it $1 ea.)

Hot House Cucumber, $1.66
Potato Inspirations Potatoes American Medley, 24 oz, $2.50
Publix Red Potatoes, 5 lb, $2.99
Sweet Onions Georgia Grown, 99¢ lb
Tomatoes on the Vine, $1.49 lb
Meat
Springer Mountain Farms Boneless Chicken Thighs, $3.49 lb
-$1.50 off Springer Mountain Farms Product (sign up) printable
GreenWise Chicken Wings, $4.49 lb
Chuck Flanken Style Ribs, $7.49 lb
Ground Chuck Publix Beef 3 lb +, $3.49 lb
Chuck Short Ribs, $6.99 lb
GreenWise Angus New York Strip Steak Boneless, $12.99 lb
GreenWise Boneless Skinless Chicken Thighs, $4.39 lb
Johnsonville Brats or Smoked Sausage, 12-14 oz, B2G1 at $6.13
Johnsonville Sausage Links or Bratwurst, 19 oz, B2G1 at $6.89
Oscar Mayer Deli Fresh Lunchmeats, Turkey Breast or Combo 8-9 oz or Carving Board Turkey Breast, 7.5 oz, $4.66
Just Bare Chicken Breast Bites or Strips, Lighty Breaded or Spicy Lightly Breaded Fillets or Bites, 24 oz, $9.99
Publix Pork Boston Butt Roast Bone-In, $1.99 lb
Publix Pork Italian Sausage Bulk, 16 oz, $4.69
Publix Pork Shoulder Blade Steaks Bone-In, $2.49 lb
Ribeye Steak Bone-In, $8.99 lb
GreenWise Peeled & Deveined White Shrimp Jumbo 21-30 per lb, 24 oz, $19.49 lb
GreenWise Sea Scallops 20-40 per lb, $18.99 lb
Fridge or Frozen
Sargento Cheese Slices, 6.84-8 oz, $3
-$1.50/2 Sargento Sliced or Shredded items, Publix eCoupon


(makes it $2.25)

Kraft Singles Cheese, 10.7-12 oz, $3.50
-$10 Publix Gift Card WYB $50 in participating Kraft, Heinz, Nabisco, P&G or PepsiCo products at Publix, online rebate
Tillamook Cheese Snack Portions or Chunk Slices or Shredded Cheese, 7-8 oz, $4
Blue Diamond Almond Breeze Almondmilk, 64 oz, $3
-$1 off Blue Diamond extra creamy almond milk printable


(makes it $2)

Dannon Light + Fit Greek Yogurt or Zero Sugar or Oikos Triple Zero, 5.3-7 oz, $1
Nestle Coffee Mate Coffee Creamer, 32 oz, $3.75
Two Good Greek or Two Good Smoothies, 5.3-7 oz, $1
-$1/2 Two Good single cup yogurts printable (limit reached)
-.60/1 Two Good Single Serve Yogurt Cups, 5.3 oz, limit 5, Ibotta mobile app
(Buy 2, use both, makes both

FREE

)
GreenWise Organic Burrito, 6 oz, $3
GreenWise Organic Ice Cream, 32 oz, $4
InnovAsian Cuisine Side Dish 18 oz or Potstickers Skillet Meal 8.7 oz or Entree Kit, 14 oz, $3.33
Night Hawk Entrees, 6.1-9 oz, $3.50
Stouffer's Family Size Entree, 28-40 oz, $7.99
-$2 off Stouffer's Family or Large Size Meals, 28-56 oz, limit 5, Ibotta mobile app


(makes it $5.99)
Grocery
Pepperidge Farm Buns or Rolls, 12.25-15.5 oz, $3
Nabisco Oreo Cookies 7.9-14.03 oz or Honey Maid Grahams 12.2-14.4 oz or Belvita 8.8 oz, $3.50


(excluding Family Size, Limited Edition and Gluten Free)


-$10 Publix Gift Card WYB $50 in participating Kraft, Heinz, Nabisco, P&G or PepsiCo products at Publix, online rebate
Nabisco Triscuit Crackers or Wheat Thins, Flavor Originals or Good Thins 3.5-9.1 oz, B2G1


(excluding Packages marked "Family Size")


-.75/1 Nabisco Wheat Thins or Good Thins, 3.5 oz +, limit 5, Ibotta mobile app
-$10 Publix Gift Card WYB $50 in participating Kraft, Heinz, Nabisco, P&G or PepsiCo products at Publix, online rebate
Bumble Bee Chunk Light Tuna, 4 pk 5 oz, $3.50
Bush's Best Baked Beans or Grillin, 21.5-28 oz, $2
Del Monte Fruit 4 pk 3.5-4.5 oz, $2.50
GreenWise Organic Applesauce Sweetened or Unsweetened, 6 pk 4 oz, $3
GreenWise Organic Beans, 15 oz, 99¢
Greenwise Organic Vegetables Quinoa or Quinoa & Kale or Squash, 10 oz, $2.50


(excluding GreenWise Rice Cauliflower)

Lay's Potato Chips or Poppables Potato Snacks 4.75-8 oz, B2G1


(excluding Lay's Kettle Chips, Baked and Simply)


-$1.50/2 Lay's potato snacks 6 oz+ & (1) Pepsi bottle or Mtn Dew 2 ltr items , Publix eCoupon
-$1 off Publix Deli Sub WYB (1) Lay's Potato Chips 8 oz, Publix eCoupon
-$2/3 Pepsi (2) 12 pk Pepsi Cola & (1) Lay's 4.75-8 oz bag, excl Baked & Kettle items, Publix eCoupon
-$1 off Publix Bakery Bread WYB (1) Lay's Potato Chips 8 oz, Publix eCoupon
-$1 off Publix Ground Beef WYB (1) Lay's Potato Chips 8 oz, Publix eCoupon
-$1 off Publix Bulk Produce Potatoes WYB 8 oz Lay's Potato Chips, excl Lay's Kettle Cooked & pre-bagged produce potatoes, Publix eCoupon
-.50/1 Lay's potato snacks, 6 oz+, Publix eCoupon
Mott's Applesauce, 6 pk 3.9-4 oz, $2.50
Nestle Toll House Morsels 10-12 oz, B2G1


(Excluding Organic and Allergen Free)

Tostitos Salsa or Dip, 23 oz, $5
-$2.50/2 Tostitos item or Tostitos Dips, Publix eCoupon


(makes it $3.75)

Welch's Fruit Snacks 8-10 ct or 4.5-9 oz, $3
-$1/2 Welch's Fruit Snacks or Fruit Rolls (sign up) printable
-900 points WYB (2) Welch's Fruit Snacks 5 oz, Fruit'n Yogurt 4 oz, or Juicefuls 4 oz, limit 1, enter code N0REC before first receipt to get 2000 Bonus points, Fetch Rewards mobile app


(use $1/2, makes it $2.50 ea)
Beverages
Coca-Cola Products 10 pk 7.5 oz, B2G1
Coca-Cola Products, 2L, B2G1
Pepsi Products, 12 pk 12 oz, B2G1
-$10 Publix Gift Card WYB $50 in participating Kraft, Heinz, Nabisco, P&G or PepsiCo products at Publix, online rebate
-$1 off Pepsi Zero, 12 pk, Publix eCoupon
Arizona Tea, 1 gallon, $3
Donut Shop K-Cup Coffee or Green Mountain or McCafe, 10-12 ct, $6.99
Swiss Miss Hot Cocoa K-Cups, 10 ct, $6.99
Dunkin K-Cups or Espresso Capsules 10 ct or Ground or Whole Bean 10-12 oz or Cold Brew, 8.46 oz, $6.99
Gatorade Thirst Quencher, 8 pk 20 oz, $6
Mott's 100% Apple Juice or Fruit Juice, Juice Blend, Mott's for Tots, Mighty or Plus 64 oz or 6 pk 8 oz, $2.50
Pure Leaf Brewed Tea 6 pk 16.9 oz, B2G1
Red Bull Energy Drink 4 pk 8.4 oz, B2G1
Sanpellegrino Sparkling Fruit Beverage or Drink 6 pk 11.15 oz, B2G1
-$1.50 off Sanpellegrino Sparkling Drinks, Momenti or Essenza, 6-8 ct., (Publix Coupon), Publix printable
Personal Care
Olay Body Wash, 17-30 oz, $1 off
-$2 off Olay body wash, 20 oz only, limit 3, Ibotta mobile app
Olay Regenerist Moisturizer or Total Effects 1.5-2.5 oz, $4 off


(Excluding Trial Size)


-$5 off Olay Regenerist Facial Moisturizer, Eyes or Serum product, excl Complete, Active Hydrating, & trial, limit 2, Save 04/30 (EXP 5/27)
-$10/2 Olay Regenerist Facial Moisturizer, Eyes or Serum products, excl Complete, Active Hydrating, & trial, limit 2, Save 04/30 (EXP 5/27)
-$10/2 Olay Regenerist Facial Moisturizer, Serum, or Eye, excl Complete, Active Hydrating, & trial size, Publix (EXP 5/27) eCoupon
-$5 off Olay Regenerist Facial Moisturizer, Serum, or Eye, excl Complete, Active Hydrating, & trial size, Publix (EXP 5/27) eCoupon
Herbal Essences 6.8-13.5 oz, $2 off WYB (2)


Herbal Essences Bio Renew, $5.49 (after sale)


-$4/2 Herbal Essences bio:renew hair care or Styling items, excl Masks, 100 mL hair care, Color Body Wash & trial size, Publix eCoupon


(makes it $3.49 ea.)

Head & Shoulders Hair Care, 5-28.2 oz, $2 off (2)
Head & Shoulders Hair Care, 13.5 oz, $5.28 (after sale)
Head & Shoulders Clinical Strength 13.5 oz $9.99 (after sale)
-.50/1 Head & Shoulders Conditioner, limit 5, Ibotta mobile app
-$1.25/2 Head & Shoulders 2-in-1 Product, 8.45 oz+, limit 1, Ibotta mobile app
-$1.50 off Head & Shoulders Shampoo or 2-in-1 Product, 8.45 fl oz+, limit 5, Ibotta mobile app
Pantene Pro-V Hair Care Products 3.2-27.7 oz, $2 off WYB (2)


Pantene Shampoo, 12 oz, $4.25 (after sale)

Aussie, 3.2-26.2 oz, $2 off WYB (2)


Aussie 3 Minute Miracle, 8 oz, $2.49 (after sale)

Always Infinity Radiant, Ultra or Maxi Pads, 18-46 ct, $7.99
-$1.50 off Always Infinity or Pure Cotton pads, 10-ct+, Ibotta mobile app
-$2 off Always Radiant Pads, 14-ct+, , Ibotta mobile app
-$1 off Always Radiant Pads, 14-ct+, Ibotta mobile app
-$1 off Always Infinity or Pure Cotton pads, 10-ct+, Ibotta mobile app


(makes it $5.99)

Banana Boat Sun Care Products 1.5-8 oz or 2 pk 6 oz, $2 off


(Excluding Lip Balm)


-$2 off Banana Boat sun care product, excl 1-2 oz, lip balm, trial size printable
L. Organic Tampons 22-36 ct or Pads 36-42 ct, $7.99
Neutrogena Sun Care .47-6.7 oz, $2 off


(Excluding Lip Balm)


-$6/2 Neutrogena sun care products, excl trial/travel size printable (limit reached)
-$2 off Neutrogena suncare product, exl trial & clearance items, limit 1, Save 05/21
-$2 off Neutrogena sun care products, excl trial/travel size printable
Oral-B Glide Floss 35-54.6 yd or Floss Picks, 75 ct, $1 off
-$1 off Oral-B Glide manual floss pick 1 pk or Glide floss picks 60 ct. or 75 ct., excl Essential floss, Satin floss, Oral-B Fresh printable
-$1 off Oral-B Glide Manual Floss & Floss Picks, excl Essential Floss, Satin Floss, Oral-B Fresh Mint Picks, Publix (EXP 5/27) eCoupon
Household
Brawny Paper Towels 4 Double Rolls, $6.49
-$1.50 off Brawny Paper Towels, 3 to 8 rolls (sign up) printable
-$1 off Brawny Paper Towel item, 4 roll+, Publix eCoupon


(makes it $4.99)

Reynolds Wrap Aluminum Foil, Regular, 75 sq ft box or Heavy Duty or Non-Stick 50 sq ft box, $4
Alcoholic Beverages
Blue Moon Beer 12 pk 12 oz or Terrapin 12-16 oz, $17.99
Heineken Lager or Heineken Light or Silver 12 oz, $16.49
-$2 off Heineken products, 6-pk+, excl Silver, limit 3, Ibotta mobile app
-$2 off Heineken Silver, 6 or 12-pk, limit 3, Ibotta mobile app


(makes it $14.49)

Pabst Blue Ribbon Beer, 12 pk 12 oz, $9.99
Yuengling Traditional Lager 12 pk 12 oz, $12.99
Bota Box Pinot Girgio Wine, 3L, $18.99
Bota Box Wine, 500 ml, $4
Publix LINKS
Latest Articles
Categories
Videos
← PREV NEXT →
Popular Posts