Welcome to Southern Savers,
where finding deals and steals is simple and rewarding!
See I told you, this would help!
Coupon Abbreviations
SC

= Store Coupon

MC

= Manufacturer Coupon

SS

= Smart Source

RMN

= Retail Me Not

PG

= Proctor and Gamble
Coupon Terms
WYB

= When You Buy

B1G1

= Buy One Get One Free

.75/1

= 75 cents off one item

.75/3

= 75 cents off three items

EXP

= Expiration Date
Going Nuts? I can help you understand coupon terms and abbreviations
Home > Publix Deals > Publix Weekly Ad: 7/20-7/26 or 7/21-7/27
This post may contain affiliate links. Read our disclosure here.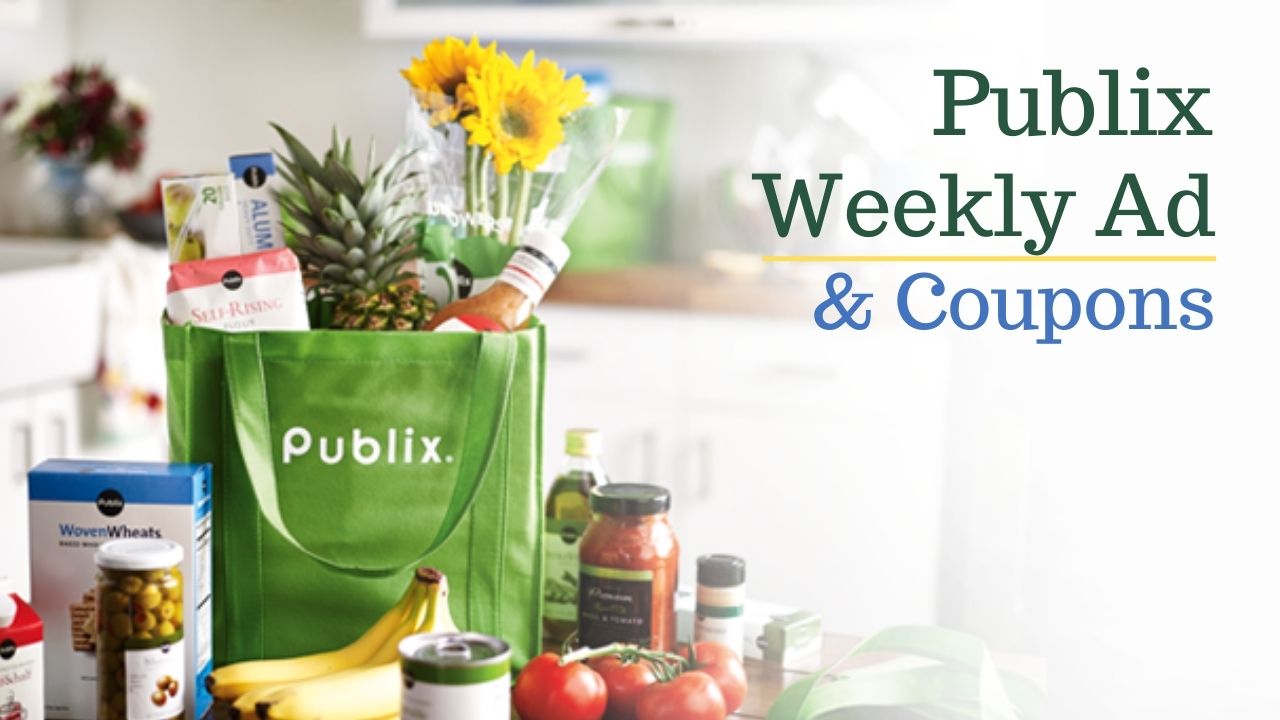 Here are the Publix weekly ad deals that will start on 7/20 (or 7/21, depending on your store). Get Godiva ice cream for $1.44 and more.
School Supplies
Westcott Kids 5″ Scissors, 1 ct, B1G1 at $1.79 (89¢)
Top Flight Filler Paper, Wide or College Rule 150 ct or Wide Rule Composition Book, B1G1 at $2.19 ($1.09)
Pilot G2 Premium Gel Roll Pens, 2 ct, B1G1 at $3.69 ($1.84)
Elmer's School Glue Sticks, 3 ct, B1G1 at $2.69 ($1.34)
Bic Mechanical Pencls #2, 10 ct., B1G1 at $4.09 ($2.04)
Bic Medium Point Pens, 10 ct., B1G1 at $2.29 ($1.14)
Crayola Colored Pencils, 12 ct., B1G1 at $2.59 ($1.29)
Crayola Markers, 8-10 ct., B1G1 at $4.19 ($2.09)
Master Lock Combination Lock, B1G1 at $7.39 ($3.69)
Sharpie Highlighters, 4 ct., B1G1 at $3.99 ($1.99)
Sharpie Permanent Markers, 8 ct., B1G1 at $8.99 ($4.49)
Top Flight Standard 1 Subject Notebook, 70 sheets, B1G1 at $1.19 (59¢)
Poly 2 Pocket 3-Tang Folder, B1G1 at $1.19 (59¢)
Crayola Crayons, 24 ct., 50¢
Dixon Pencils, 8 ct., 50¢
Buy One Get Ones
Sugar Kiss Melon Chunks, at $3.69 ($1.84) lb
Florida's Natural Lemonades or Fruits Splash Juice Cocktail, 59 oz, at $3.09 ($1.54)
-$1 off Florida's Natural Lemonade, 59 oz, Ibotta mobile app


(makes it 54¢)

Health-Ade Organic Kombucha, 16 oz, at $3.89 ($1.94)
Organic Strawberries, 16 oz, at $4.99 ($2.49)
Potato Inspirations Organic Potatoes, Enchanted Rose or Honey Gold, 24 oz, at $5.15 ($2.57)
Red Raspberries, 6 oz, at $3.99 ($1.99)
Smithfield Bacon, 12 oz, at $9.25 ($4.62)
Eckrich Smoked Skinless Sausage or Polska Kielbasa, 14 oz, at $8.15 ($4.07)
Dr. Praeger's Purely Sensible Foods, Veggie Burgers 8-10 oz or Veggie Plant Based Ground, 16 oz, starting at, at $4.19 ($2.09)
GreenWise Italian Chicken Sausage 16 oz, at $6.49 ($3.24)
Impossible Burger Patties Frozen, 8 oz, at $5.99 ($2.99)
-$1 Impossible Burger Patties, Ibotta mobile app


(makes it $1.99)

Matlaw's Stuffed Clams or Scallops, 9-11 oz, at $5.99 ($2.99)
Holmes Sasuage, Rope or Slices, 12 oz, at $7.19 ($3.59)
Rosina Meatballs, 20-26 oz, at $9.99 ($4.99)
La Bonne Vie Goat Cheese Crumbled, 4 oz, at $5.65 ($2.82)
Chobani Oat Milk 52 oz or Coffee Creamer, 24 oz, at $4.99 ($2.49)
-$1.25 off Chobani Oatmilk, 52 oz, limit 5, at Publix, Ibotta mobile app


(makes it $1.24)

Dannon Danimals Smoothie 6-12 pk or Low fat Yogurt 4 pk, at $5.75 ($2.87)
Icelandic Provisions Skyr Yogurt, 5.3 oz, at $1.85 (92¢)
-$1 off Icelandic Provisions Single Serve Cup, 4.4-5.3 oz, Publix eCoupon
(makes it

FREE

)
Kozy Shack Pudding 22 oz or 4-6 pk or Caramel Flan, 4 pk, at $3.35
Pillsbury Ready to Bake! Cookies, 11-16.5 oz, at $3.73 ($1.86)
Yoplait Go-Gurt Portable Yogurt or Simply Go-Gurt 8 pk 2 oz, at $3.15 ($1.57)
-$3 off WYB $15 Yoplait, Go-Gurt, or Oui products, Coupons.com mobile app
Enlightened Ice Cream, Light or Keto or Ice Cream Bars Regular or Keto, 10.6-16 oz, at $6.89 ($3.44)
-$1/2 Enlightened Product, any, (wait for pop-up and sign up) printable
-$1.25 off Enlightened Ice Cream Pint Light or Keto, Publix eCoupon


(makes it $2.19 ea.)

WholeFruit Bars, 16.5 oz, at $4.89 ($2.44)
-$1 off Whole Fruit fruit bars, Save 07/10


(makes it $1.44)

Godiva Ice Cream, 14 oz, at $6.89 ($3.44)
-$2 off Godiva Ice Cream, 14 oz, limit 1, at Publix, Kroger, Food Lion or Winn Dixie, Ibotta mobile app


(makes it $1.44)

Mayfield Ice Cream 1.5 qt or Sandwiches or Bars, 6 ct, at $6.79 ($3.39)
Green Giant Frozen Vegetables, 7-10 oz, at $1.99 (99¢)
Halo Top Ice Cream or Keto Pops, 14-16 oz, at $5.49 ($2.74)
-$1 off Halo Top Fruit Pops, any, Ibotta mobile app


(makes it $1.74)

My Mochi Ice Cream, 9.1 oz, at $5.79
-$1.50 off Bubbies Mochi Ice Cream, 6 ct., limit 2, at Publix, Ibotta mobile app


(makes it $4.29 )

Screamin' Sicilian Pizza Co Pizza, 18.4-25 oz, at $11.19 ($5.59)
-$1 off Screamin Sicilian Pizza (sign up) printable
-$2/3 PepsiCo (2) 2 Liters items & (1) Screamin Sicilian' Frozen Pizza, Publix eCoupon


(makes it $4.59)

Publix Peanut Butter Pretzels or Mulk Chocolate Cvovered Peanut Butter Pretzels, 11.99-16 oz, at $6.19 ($3.09)
Snack Factory Pretzel Crisps 5-7.2 oz, at $4.59 ($2.29)


(excluding Chocolate and White Chocolate Varieties)

Arnold Whole Grains Bread or Country, 24 oz, at $4.89 ($2.44)
Thomas Swirl Bread or Bagel Thins, 13-16 oz, at $4.99 ($2.49)
Entenmann's Little Bites Muffins or Brownies, Crumb Cake, Cookies or Mini Tarts, 6.85-8.75 oz, at $5.49 ($2.74)
Frank's RedHot Sauce, 12-14 oz, at $4.39 ($2.19)
General Mills Cereal: Cheerios, Toast Crunch, Reese's Puffs, Lucky Charms, Cookie Crisp, Kix, Cocoa Puffs, Golden Grahams or Trix, 8.9-19.7 oz, starting at, at $3.97 ($1.98)
-$1/2 General Mills Cheerios, Cinnamon Toast Crunch, Lucky Charms, Reese's Puffs, Chex, Cocoa Puffs, Trix, Cookies Crisp Golden Grahams, Kix, Fiber One, Wheaties, Raisin Nut Bran, Total, Basic 4, Oatmeal Crisp, Dunkaroos, Pokemon, Plentiful, Remix snack pouches, Nature Valley Granola pouches, Publix eCoupon
-$5 off WYB $25 General Mills Cheerios, Cinnamon Toast Crunch, Lucky Charms, Reese's Puffs, Chex, Cocoa Puffs, Trix, Cookies Crisp Golden Grahams, Kix, Fiber One, Wheaties, Raisin Nut Bran, Total, Basic 4, Oatmeal Crisp, Dunkaroos, Pokemon, Plentiful, Remix snack pouches, Nature Valley Granola pouches, Coupons.com mobile app
-$1/2 General Mills Cheerios, Cinnamon Toast Crunch, Lucky Charms, Reese's Puffs, Chex, Cocoa Puffs, Trix, Cookies Crisp Golden Grahams, Kix, Fiber One, Wheaties, Raisin Nut Bran, Total, Basic 4, Oatmeal Crisp, Dunkaroos, Pokemon, Plentiful, Remix snack pouches, Nature Valley Granola pouches, Coupons.com mobile app


(makes it $3.19 ea.)

Post Great Grains Cereal or Grape Nuts, Pebbles, Golden Crisp, Honey Comb, Shredded Wheat, Raisin Bran, Oreo O's. Honey Graham Oh's or Shake Ups!, 6-20.5 oz, at $5.85 ($2.92)
General Mills Chex Mix Snack or Bugles or Gardettos, 7-8.75 oz, at $3.57 ($1.78)
Chex Mix Bars, 6.78 oz, at $4.89 ($2.44)
General Mills Treat Bars, 6.8-8.48 oz, at $4.89 ($2.44)
-$5 off WYB $25 General Mills Cereal Bars, Nature Valley or Fiber One bars, Coupons.com mobile app
Fiber One 5.34-14.1 oz, at $8.69 ($4.34)
-.50/2 Fiber One or Protein One snacks, Coupons.com mobile app
-$5 off WYB $25 General Mills Cereal Bars, Nature Valley or Fiber One bars, Coupons.com mobile app
-.50/2 Fiber One item or Protein One snack item, Publix eCoupon
-.50/1 General Mills Summer Snacking bonus – redeem (2) unique marked offers from Nature Valley, Fiber One, Cereal Bars or Chex Mix, Larabar, Pillsbury, Totinos or Epic, Ibotta mobile app


(makes it $4.09 ea)

Heinz Tomato Ketchup, Easy Squeeze, 20 oz, at $2.79 ($1.39)
-$10 Publix Gift Card WYB $50 in Participating Kraft, Heinz, Nabisco, P&G, Frito-Lay, PepsiCo or Quaker Products rebate
Kodiak Cakes Instant Oatmeal Pack, 6 ct, at $6.29 ($3.14)
Kraft Macaroni & Cheese Dinner, 5.5-7.3 oz, at $2.19 ($1.09)
-$10 Publix Gift Card WYB $50 in Participating Kraft, Heinz, Nabisco, P&G, Frito-Lay, PepsiCo or Quaker Products rebate
-$3/3 Velveeta Shells & Cheese or Kraft Deluxe Macaroni & Cheese Dinner, single boxes, excl bundle packs, SS 06/12
-$1.50/2 Velveeta Shells & Cheese, or Kraft Deluxe Macaroni & Cheese Dinner, single boxes, excl bundle packs, SS 06/12


(use $3/3, makes it 24¢ ea.)

Truvia Sweetener 40-80 ct or Stevia Sweetener 9.8 oz or Organic Original Liquid Stevia, 2.7 oz, at $7.69 ($3.84)
McCormick Grill Mates Seasoning 2.5-3.4 oz or Montreal Steak Seasoning 6.37 oz, at $4.95 ($2.47)


(excluding Rubs or Marinades)

Nature Valley Bars, 4.68-17.8 oz, at $8.69 ($4.34)
-$5 off WYB $25 General Mills Cereal Bars, Nature Valley or Fiber One bars, Coupons.com mobile app
-.50/2 Nature Valley Granola Bars, Protein Bars, Biscuits, Cups, Wafers, Soft-Baked Squares, Soft-Baked Muffins or Crunchy Dipped Granola Squares, Publix eCoupon
-500 points WYB Nature Valley Granola Bars, Protein Bars, Biscuits, Cups, Wafers, Soft-Baked Squares, Soft-Baked Muffins or Crunchy Dipped Granola Squares, 4-ct+ multipack, limit 1, enter code N0REC before first receipt to get 2000 Bonus points, Fetch Rewards mobile app
-.50/2 Nature Valley bars 4 ct.+, Coupons.com mobile app


(makes it $4.09 ea)

Nature's Own Butterbread, 20 oz, at $3.83 ($1.91)
Nonni's Biscotti or Thinaddictives Almond Thins or Artisan Thin Cookies, 4.04-6.88 oz, at $3.79 ($1.89)
Old El Paso Taco Shells or Flour Tortillas or Tortilla Pockets, 8-18 ct, at $3.79 ($1.89)


(excluding Tortilla Bowls)

Reese's Peanut Butter Cups Minis, Milk Chocolate or Reese's Pieces, York Dark Chocolate Covered Peppermint Patties or Kit Kat Minis, 7.6-9.9 oz, at $4.29 ($2.14)
Orville Redenbacher's Gourmet Popping Corn, 6 ct, at $6.99 ($3.49)
Arm & Hammer In Wash Freshness Booster 18-24 oz or Fabric Soft, 100-200 ct, at $5.99 ($2.99)
Arm & Hammer Laundry Detergent 55.1-67.5 oz or 24 ct, at $6.99 ($3.49)
Carbona Color Grabber Sheets, 30 ct, at $4.39 ($2.19)
-.75/1 Carbona Color Grabber, 30 sheets, Ibotta mobile app


(makes it $1.44 ea.)

Rubbermaid Takealong Containers or Easy Find Lids, 1-16 ct, at $21.99 ($10.99)
Pedigree Dentastix Snack Food for Dogs, 5.08-5.8 oz, at $4.31 ($2.15)
Bosco Montepulciano d'Abruzzo Wine or Pinot Grigio Friuli, 750 ml, at $14.39 ($7.19)
Kona Beer or Spiked Island Seltzer 12 pk 12 oz, at $19.49 ($9.74)
Bai Antioxidant Beverage or Boost Plant Based Energy, 18 oz, at $2.55 ($1.27)
Fiji Natural Artesian Water 6 pk 500 ml, at $9.25 ($4.62)
Pepsi Products 6 pk 16.9 oz or 8 pk 12 oz, at $6.65 ($3.32)


(Excluding Aquafina)


-$5 off Pepsi-Cola WYB $20 Pepsi, Frito-Lay, Brisk, Bubly, Manzanita Sol, Mtn Dew, Mug, Pepsi, Rockstar, Sierra Mist, or Frito Lay items, Publix eCoupon
Pure Life Purified Water 24 pk 8 oz, at $5.35 ($2.67)
Soylent Ready to Drink Meal or Complete Energy or Protein Drink, 4 pk 11 oz, at $9.99 ($4.99)
Produce
Strawberries or Blackberries, 16 or 6 oz, $3.33
Bartlett Pears, 2 lb bag, $3.99


(makes it $1.99 per lb)

Mangos, $1 ea.
Organic Blueberries, 11 oz, $3.33
Red or Black Plusm, $1.99
Sweet Cherries, $3.99 lb
Beefsteak Tomatoes, $1.99 lb
Broccoli or Brussels Sprouts, $2.99
Greenwise Organic Baby Cut Carrots, 16 oz, $2
Iceburg Lettuce, $1.50 ea.
Zucchini or Yellow Squash Tray, 24 oz, $2.99
Meat
Ball Park Beef Franks or Angus Beef, 14-15 oz, $4
Boneless Chuck Roast, $5.99 lb
GreenField Lunch Kit, 2.9 oz, $2.50
-.75/1 Greenfield Natural Meat Co. Lunch Kits, select items, at Kroger, Publix, Walmart, Ibotta mobile app


(makes it $1.75)

Ground Chuck 3lb+, $3.49 lb
Johnsonville Sausage Links or Patties or Bratwurst, 12-14 oz, $4
Oscar Mayer Lunchables, 2.25-4.4 oz, B3G3 at $3.07
Porterhouse or T-Bone Steaks, $8.99 lb
Publix Boneless Skinless Chicken Thighs, $3.49 lb
Springer Mountain Boneless Thighs, $3.49 lb
Springer Mountain Farms Boneless Chicken Breast, $3.99 lb
Fridge or Frozen
Organic Valley Organic Milk, Reduced Fat 2% Milk Fat or Whole 64 oz, $3.99


(Excluding Chocolate, Lactose Free, GrassMilk or Ultra)


-BOGO Organic Valley Product (sign up) printable


(makes it $1.99 ea.)

Sargento Balanced Breaks Snacks or Sweet Balanced Breaks, 4.5 oz, $3.33
Cracker Barrel Cheese Slices or Snack Cubes, Cracker Cuts or Chunk Cheese, 6-8 oz, $3
Cracker Barrel Thick Shredded Cheese, 8 oz, $3
Kraft Cheese Singles, 10.7-16 oz, $3
-$10 Publix Gift Card WYB $50 in Participating Kraft, Heinz, Nabisco, P&G, Frito-Lay, PepsiCo or Quaker Products rebate
Kraft Shredded Cheese or Chunk Cheese, 6-8 oz, $3
Mush Ready to Eat Oats, 5 oz, $1.50
GreenWise Organic Whole Fruit, 10 oz, $3
Kellogg's Eggo Waffles 6-10 ct 10.75-12.3 oz or 10 sets or 4 Minis, 10.9 oz, $2.50
-$1/2 Kellogg's Eggo Waffles printable


(makes it $2 ea.)

Michael Angelo's Entree, 9-11 oz, $3.33
Tattooed Chef Bowl, 8.5-10. oz, $3.33
Grocery
Bertolli Organic Sauce, 24 oz, $3.99
Campbell's Soup 10.5-11.5 oz, $1.25


(Excluding Shrimp and Won Ton)

Mama Francesca Parmesan Cheese or Parmesan & Romano, 8 oz, $3
Success Boil in Bag Rice or Minute Instant Rice, 12-14 oz, $1.66
Pepperidge Farm Buns or Rolls, 12.25-15 oz, $3
Nabisco Ritz Crackers 11.5-13.7 oz or Ritz Bits, 8.8 oz, $3
-$10 Publix Gift Card WYB $50 in Participating Kraft, Heinz, Nabisco, P&G, Frito-Lay, PepsiCo or Quaker Products rebate
-.75/2 Nabisco Cookies or Crackers, any 3.5 oz +, SS 06/26
-$1/3 Nabisco cookies or crackers, any 3.5 oz+, SS 06/26


(use .75/2, makes iT $2.62)

Nabisco Chips Ahoy! Cookies, 7-13 oz, $3


(excluding Family Size)


-$10 Publix Gift Card WYB $50 in Participating Kraft, Heinz, Nabisco, P&G, Frito-Lay, PepsiCo or Quaker Products rebate
-.75/2 Nabisco Cookies or Crackers, any 3.5 oz +, SS 06/26
-$1/3 Nabisco cookies or crackers, any 3.5 oz+, SS 06/26


(use .75/2, makes it $2.62 ea.)

Frito-Lay Snacks Variety Pack, 18 ct, $9.99
-$10 Publix Gift Card WYB $50 in Participating Kraft, Heinz, Nabisco, P&G, Frito-Lay, PepsiCo or Quaker Products rebate
-$5 off Pepsi-Cola WYB $20 Pepsi, Frito-Lay, Brisk, Bubly, Manzanita Sol, Mtn Dew, Mug, Pepsi, Rockstar, Sierra Mist, or Frito Lay items, Publix eCoupon
-Free Frito-Lay Munchies 8 pk Cracker WYB (1) Frito Lay Multipk, 18-42 ct, Publix eCoupon
Cheetos Snacks 6.5-8.5 oz or Fritos Corn Chips or Snacks, 9.25-10 oz, B2G1 at $5.19


(excluding Baked and Simply)
Beverages
Red Bull Energy Drink, 12 oz, $2.33
Aquafina Pure Water 24 pk 16.9 oz, B2G1 at $6.65
Pure Leaf Tea 6 pk 16.9 oz, B2G1
BodyArmor SuperDrink, 28 oz, $1.50
-$1/2 BodyArmor Sports Drink (sign up) printable


(makes it $1 ea.)

Coca-Cola Products, 2L, B2G1
Coca-Cola Soft Drink Products 6 pk 16.9 oz, B2G1 at $6.35
Dunkin Coffee Ground or Whole Bean 10-12 oz or K-Cups 10 ct or Cold Brew, 8.46 oz, $7.49
Starbucks Ground Coffee, 18 oz, $12.99
Starbucks K-Cup Coffee, 32 ct, $24.99
Personal Care
Axe Products, 2.64-16 oz, $3 off WYB (2)
-$1 off AXE Deodorant Sticks, single 2.7 or 3 oz, Ibotta mobile app
-$2 off AXE Deodorant Body Spray, 5.1 oz, Ibotta mobile app
Dove Men+Care Products, 1.75-18 oz, $3 off WYB (2)
-$1 off Dove Men+Care Bar soap 4-pk+, excl trial, limit 2, Save 07/17
-$2.50 off Dove Men+Care Body Wash, excl trial, limit 2, Save 07/17
OGX Shampoo or Conditioner or Body Wash or Scrub & Wash 5-25.4 oz or Styling Products, 3.3-8 oz, $4 off WYB (2)
Colgate Mouthwash or Rinse 8.4-17.4 oz or 500 ml o r1L, 25% off
-.75/1 Colgate mouthwash, 200 mL+ printable
-$1 off Colgate mouthwash or mouth rinse, 400 mL+ printable (limit reached)
Colgate Optic White Toothpaste 3.4-4.2 oz or Sensitive 6 oz, $1 off
-$1 off Colgate Optic White Pro Series toothpaste printable
-$1 off Colgate Optic White Renewal Toothpaste printable
-.50/1 Colgate Total, Optic White or Max Fresh toothpaste printable
-$3 off Colgate Optic White Pro Series, Optic White Renewal, Gum Renewal, or Enamel Renewal Toothpaste, Coupons.com mobile app
-$3 off Colgate Optic White Pro Series, Optic White Renewal, Gum Renewal or Enamel Renewal Toothpaste, Publix eCoupon
-.50/1 Colgate Toothpaste 2.1 oz+, excl 2-in-1 Icy Blast, Whitening 4.6 oz & Bonus Packs, limit 2, SS 07/17
-$1/2 Colgate Toothpaste 2.1 oz+, excl 2-in-1 Icy Blast, Whitening 4.6 oz & Bonus Packs, limit 2, SS 07/17
-$1 off Colgate or Tom's of Maine toothpaste 2.1oz or larger; excludes Colgate® Cavity Protection, Baking Soda & Peroxide, Sparkling White®, Triple Action, Ultra & bonus packs mobile app
Colgate Toothpaste, 4 oz, $1.50
-.50/1 Colgate Toothpaste 2.1 oz+, excl 2-in-1 Icy Blast, Whitening 4.6 oz & Bonus Packs, limit 2, SS 07/17
-$1/2 Colgate Toothpaste 2.1 oz+, excl 2-in-1 Icy Blast, Whitening 4.6 oz & Bonus Packs, limit 2, SS 07/17
-$1 off Colgate or Tom's of Maine toothpaste 2.1oz or larger; excludes Colgate® Cavity Protection, Baking Soda & Peroxide, Sparkling White®, Triple Action, Ultra & bonus packs mobile app


(use .50/1 or $1/2, makes it $1)
Baby Care
Huggies Diapers 15-112 ct or Pull-Ups Training Pants 17-74 ct, $15 off WYB $50+
(Excluding Goodnites Underwear)
Huggies Snug & Dry Diapers, jumbo pk., $9.49
Pull-Ups Training Pants, jumbo pk., $9.99
Pull-Ups Training Pants, Box, $26.99
-$2 off Huggies Pull-Ups training pants, 7-ct+, SS 07/10
Huggies Little Swimmers 16-26 lb 12 ct or Medium 24-34 lbs 11 ct or Large 32lb+, 10 ct, $7.99
Publix Baby Wipes, 432 ct, $10.99
Pharmacy
Advil Pain Reliever or Advil PM or Dual Action, 72-100 ct, $6 off WYB 2
-$2 off Advil Product, 72 ct+ (sign up) printable
-$2 off Advil regular or PM item, 20 ct+, Publix eCoupon
-$2 off Advil regular or Advil PM, 36 ct+, Publix (EXP 7/26) eCoupon
Always Discreet Underwear 10-19 ct or Pads 28-66 ct, $2 off
-Free $15 VISA Card WYB $50 or $5 WYB $20 in Tide, Bounty, Charmin, Pampers, Herbal Essence, Safeguard, Always Discreet, Olay Skin, Old Spice, 9 Elements,Luvs and Head & Shoulders products; post-coupon and discounts, excl trial; online
-$5/2 Always Discreet Incontinence products, excl liners 24 & 26 ct, & trial, limit 2, PG 07/03
-$5/2 Always Discreet Incontinence items, excl 24 & 26 ct Discreet Liners & other Always items, & trial size, Publix eCoupon
Atkins Shakes or Iced Coffee 4 pk 11-16.9 oz or Snacks or Bars 5-15 ct or 5.29 oz, $6.50


(Excluding Keto Snacks)


-$2/2 Atkins Endulge, 5 pk, Publix eCoupon


(makes it $5.50)

Depend Underwear, 14-19 ct, $2 off
Poise Pads or Liners, 24-66 ct, $2 off
Prilosec OTC Acid Reducer or Prevacid, Nexium 24HR or Zegerid OTC, 42 ct, $5 off
-$2 off Prilosec OTC product, limit 1, PG 07/03
Household
All Laundry Detergent 141 oz, $10 off WYB (2)


All Laundry Detergent 141 oz $10.59 (after sale)


-$1.50 off All laundry detergent, excl trial, limit 1, Save 07/17
Persil ProClean Laundry Detergent 100-150 oz or Discs 38-40 ct, $10 off WYB (2)
Persil ProClean Laundry Detergent 100 oz, $10.99 (after sale)

-$3 off Persil ProClean large size disc detergent, 38-ct+ , limit 1, Save 07/10 (EXP 7/24)
-$2 off Persil ProClean Laundry Detergent, excl trial, limit 1, Save 07/10 (EXP 7/24)


(buy (2), use both coupons, makes it $8.49 ea.)

Clorox Wipes 75 ct, $4


(excluding Clorox Clinical Wipes)


-.45/1 Clorox Disinfecting Wipes, 35-ct+ (sign up) printable
-$1/2 Clorox disinfecting wipes, 35 ct.+ printable
-$1/2 Clorox disinfecting wipes, 35 ct.+ mobile app


(use $1/2, makes it $3.50 ea.)

Kaboom With OxiClean Bathroom Cleaner 19-32 oz or Kaboom Mold & Mildew Stain Remover with Bleach or OxiClean Disinfecting Spray, 30 oz, $3
Swiffer Sweeper Cloth Refills, Wet Mopping or Dry Sweeping 12-16 ct or Dry Heavy Duty Cloths 10 ct or Duster Dusting Kit or Heavy Duty Dusters, 3-5 ct, $5
Scotch-Brite Sponges or Cleaning Pads, 3 ct, $3


(Excluding Scour Pads and Soap Pads)


-$1/2 Scotch-Brite Scrub sponges, 3 or 6 or 9-pk, limit 1, SS 04/10


(makes it $2.50 ea.)

Downy Fabric Softener 81-129 oz or In Wash Scent Booster, 14.8 oz, $10.99
-$1 off Downy Liquid Fabric Conditioner 60-90ld, Infusions 48-72ld, Odor Protect 32-48oz, WrinkleGuard 25-40oz, Intense 25-40oz, Nature Blends 44-67oz, Bounce/Downy Sheets 90-160ct, Bounce/Downy WrinkleGuard 50-80ct, Bounce Pet Hair & Lint Guard 50-80ct, In-Wash Scent Boosters 5.5-8.6oz, Light, Unstopables, Fresh Protect, Odor Protect, Infusions, Bounce Spray 9.7oz or Spray 9.7oz printable
-$1 off Downy Infusions, excl trial, limit 1, PG 07/03
Duracell Alkaline Batteries, Coppertop or Optimum AA or AAA 8-24 pk, $3 off


(Excluding Hearing Aid)

Gain Laundry Detergent 115-154 oz, $15.99
-$3 off Gain Flings! 57 ct.+, Ultra Flings 21-ct+, Gain Liquid Laundry Detergent 138 oz+ or Liquid Fabric Softener 190 ld+, or Fireworks In-Wash Scent Boosters 20.1 oz+, excl Gain Sheets & trial printable


(makes it $12.99)

Hot SHot Ant, Roach & Spider Killer, Aerosol, 17.5 oz, 25% off
Kleenex Facial Tissue Bundle Pack, 3-4 ct, $5.99
-.50/1 Kleenex Facial Tissue Bundle Pack, 3 Box+, excl trial, SS 07/24
-$1 off Kleenex bundle pack, 3 ct.+, not available at Kroger, Publix mobile app


(use $1 off, makes it $4.99)

Seventh Generation Fabric Softener Sheets, 80 ct, $4
Suavitel Fabric Conditioner, 46 oz, $3.50
Tide Laundry Detergent, 115-154 oz, $15.99
-Free $15 VISA Card WYB $50 or $5 WYB $20 in Tide, Bounty, Charmin, Pampers, Herbal Essence, Safeguard, Always Discreet, Olay Skin, Old Spice, 9 Elements,Luvs and Head & Shoulders products; post-coupon and discounts, excl trial; online
-$3 off Tide liquid laundry detergent 115 oz+, excl purclean Laundry Detergent, PODS, Rescue, Studio, Simply Laundry Detergent, Simply PODS, & trial size printable
-$3 off Tide Laundry Detergent, 115 oz+, excl PODS, Rescue, PureClean, Studio By Tide, Simply, Detergent 10 oz, & trial, limit 1, PG 07/03


(makes it $12.99)

Cottonelle Toilet Paper, ComfortCare or CleanCare 12 Mega Rolls, $13.49
-$1 off Cottonelle toilet paper, 4 mega roll pk+, SS 07/24
-$1 off Cottonelle toilet paper, 4 mega rolls+, not available at Kroger, Publix mobile app


(use $1 off, makes it $12.49)

Viva Paper Towels 6 Big Rolls, $6.99
Ziploc Bags Storage or Freezer 14-24 ct or Sandwich, 66-90 ct, $3.50
Alcoholic Beverages
Budweiser 20 pk 16 oz, $21.99
-$3 off Budweiser products, 12-pk+, check residency requirements, Ibotta mobile app


(makes it $18.99)

Budweiser Miller, Coors or Yuengling Beer 24 pk 12 oz, $21.99
-$3 off Budweiser products, 12-pk+, check residency requirements, Ibotta mobile app


(makes it $18.99)

Cloud Watcher Cabernet Sauvignon Wine, 750 ml, $7.49
Michelob Ultra Beer 24 pk 12 oz, $15.99
-$3 off Michelob ULTRA Light Beer, 18-pk+, residents of AZ, CA, CO, GA, VA only, Ibotta mobile app


(makes it $12.99)
Publix LINKS
Latest Articles
Categories
Videos
← PREV NEXT →
Popular Posts