Welcome to Southern Savers,
where finding deals and steals is simple and rewarding!
See I told you, this would help!
Coupon Abbreviations
SC

= Store Coupon

MC

= Manufacturer Coupon

SS

= Smart Source

RMN

= Retail Me Not

PG

= Proctor and Gamble
Coupon Terms
WYB

= When You Buy

B1G1

= Buy One Get One Free

.75/1

= 75 cents off one item

.75/3

= 75 cents off three items

EXP

= Expiration Date
Going Nuts? I can help you understand coupon terms and abbreviations
Home > Publix Deals > Publix Weekly Ad: 8/23-8/29 or 8/24-8/30
This post may contain affiliate links. Read our disclosure here.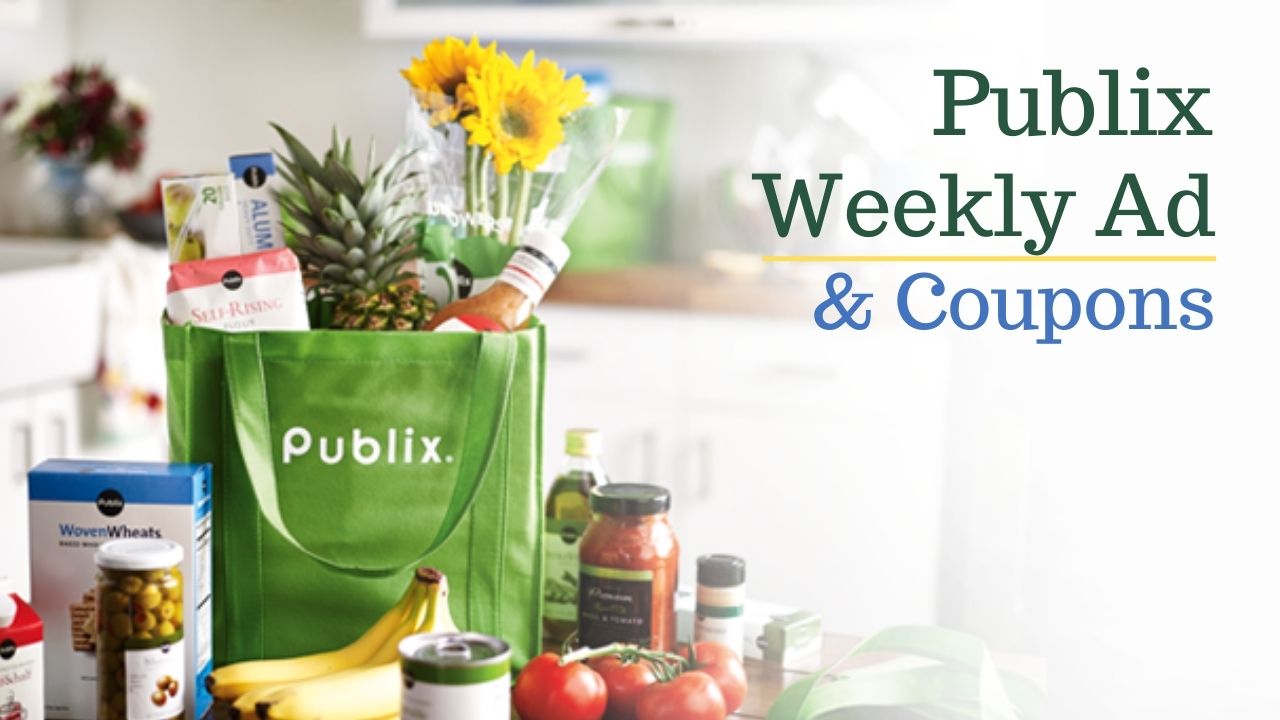 Here are the deals from the new Publix weekly ad that will start on 8/23 (or 8/24, depending on your area). Get Breakstone's sour cream for 57¢ and more.
Buy One Get Ones
Blackberries, 6 oz, at $3.99 ($1.99)
California Fresh Figs, 8 oz, at $4.99 ($2.49)
Organic Red Raspberries, 6 oz, at $5.99 ($2.99)
Pero Family Farms Mini Sweet Peppers, 8 oz, at $2.99 ($1.49)
Tasteful Selections Nibbles Potatoes, 16 oz, at $5.15 ($2.57)
Publix Peanut Butter Pretzels or Milk Chocolate Covered, 11.99-16 oz, at $7.19 ($3.59)


(sold in produce area)

Willy's Original Salsa, 16 oz, at $3.99 ($1.99)
Tabla Fresca Farmstand Salsa, 14-16 oz, at $4.99 ($2.49)
Amerlander Cheese, 7 oz, (price not listed)
Black Creek Cheddar Cheese, 7 oz, at $6.19 ($3.09)
Fiorucci Antipasti Mild or Spicy Salami & Aged Cheddar, 2 oz, at $4.09 ($2.04)
Taste of the South Dip, 12 oz, at $5.15 ($2.57)
King's Hawaiian Sliced Bread, 13.5 oz, at $5.19 ($2.59)


(sold in deli area)

Crunchmaster Crackers, 3.54-4 oz, at $4.15 ($2.07)
-$1 off Crunchmaster Product printable


(makes it $1.07)

Butterball 85% Lean Ground Turkey, 16 oz, at $5.89 ($2.94)
Prime Fresh Delicatessen Lunchmeats by Smithfield or Pepperoni, 7-8 oz, at $6.19 ($3.09)
-$1 off Smithfield Prime Fresh Delicatessen item, Publix eCoupon


(makes it $2.09)

Kayem Frankfurters, 12-16 oz, at $7.29 ($3.64)
Oscar Mayer Franks or Wieners, 12-16 oz, starting, at $3.99 ($1.99)
Sahlen's Hot Dogs, 12-16 oz, at $7.29 ($3.64)
Smokies Sausage Links, 12-16 oz, at $7.29 ($3.64)
Brookwood Farms Pulled Pork or Beef or Chicken with BBQ Sauce, 15-16 oz, at $8.99 ($4.49)
Publix Cooked Shrimp, Medium 41-50 per lb, 24 oz, at $19.49 ($9.74)
Publix Premium Patagonian Scallops, 8 oz, at $9.99 ($4.99)
Tyson Breaded Chicken or Country Fried Steak Fully Cooked, 20-32 oz, at $8.99 ($4.49)
-$3 off Tyson WYB $15 Hillshire, Jimmy Dean, State Fair, Tyson, Hillshire Farm and Galileo Salame items, Publix eCoupon
Califia Farms or Oatmilk or Cold Brew Coffee 48 oz or Almondmilk Creamer, 25.4 oz, at $5.99 ($2.99)
Once Upon a Farm Organic Fruit & Veggie Blend or Dairy Free Smoothie, 3.2-4 oz, at $3.59 ($1.79)
-.50/1 Once Upon a Farm Organic Pouches, single pouch, limit 5, Ibotta mobile app
-.50/3 Once Upon a Farm Organic Pouches, single pouch, limit 1, Ibotta mobile app


(makes it $1.29 ea)

Siggi's Skyr Yogurt, Drinkable Yogurt or Yogurt Alternative, 4-8 oz, (price not listed)
-$1/2 Siggi's Products printable
Perfect Bar Refrigerated Bar 4 pk 2.3-2.5 oz, at $10.89 ($5.44)
Borden Cheese Singles, 12 oz, at $5.15 ($2.57)
-$1/2 Borden Cheese items, Publix eCoupon


(makes it $2.07)

Breakstone's Sour Cream or Cottage Cheese, 16 oz, at $3.15 ($1.57)
-$1 off Breakstone's Cottage Cheese or Sour Cream, Publix (EXP 8/23) eCoupon


(makes it 57¢)

Country Crock Spread, 45 oz, at $8.25 ($4.12)
-$1.50 off Country Crock Product (sign up) printable
-$1 off Country Crock Original Spread product, limit 2, Save 08/06
-$2 off Country Crock Original Spread product, 45 oz+, limit 2, Save 08/06
-$1 off Country Crock Original Spread item, excl Plant items, Publix (EXP 8/25) eCoupon (limit reached)


(makes it $2.12)

Cracker Barrel Thick Shredded, Slices or Chunk Cheese, 7-8 oz, at $5.35 ($2.67)
-.50/1 Cracker Barrel Shredded Cheese, 8 oz, limit 5, at Publix, Lowes Foods, Walmart, Kroger, Ibotta mobile app


(makes it $2.17)

Tillamook Snack Portions Cheese, 7.5 oz, at $5.15 ($2.57)
Pillsbury Ready to Bake! Cookies, 16-16.5 oz, at $4.29 ($2.14)
-$1/2 Pillsbury Refrigerated Baked Goods, any, limit 1, Ibotta mobile app
-$5 off Pillsbury WYB $15 Refrigerated items, Publix eCoupon
-$1/2 Pillsbury Refrigerated Baked Goods items, Publix eCoupon


(use $1/2, makes it $1.64 ea.)

Bagel Bites Snacks, 7-14 oz, at $7.99 ($3.99)
-$1 off Bagel Bites, any, limit 5, Ibotta mobile app


(makes it $2.99)

Birds Eye Vegetables 6-25.9 oz starting at, at $2.19 ($1.09)
Morningstar Farms Veggie Entrees or Breakfast Sausage or Bacon Strips or Chik'n Products, 5.25-21 oz, at $8.79 ($4.39)
-$1 off MorningStar Farms Veggie Foods Products printable


(makes it $3.39)

Realgood Foods Co. Bowl or Breakfast Bowl or Sandwiches, Enchilada Grande or Egg Bites, 7-20 oz, starting, at $4.99 ($2.49)
Gorton's Fish Sticks or Fillets Value Pack, 14.6-24.5 oz, at $10.99 ($5.49)
Hot Pockets Stuffed Sandwiches, 8.5-9 oz, at $4.09 ($2.04)
Totino's Pizza Rolls, 50-130 ct 24.8-63.51 oz, starting, at $5.76 ($2.87)
-.50/1 Totino's Pizza Rolls, 50 ct, limit 5, Ibotta mobile app
-1500 points WYB (2) Totino's Pizza Rolls 50 ct+ or Party Pizza 4 ct+, limit 1, enter code N0REC before first receipt to get 2000 Bonus points, Fetch Rewards mobile app
-.75/1 Totino's Pizza Rolls, 50 ct+, Publix eCoupon


(use .75/1 and .50/1 ibotta, makes it $1.62 ea.)

Simek's Lasagna or Baked Ziti, 32 oz, at $9.99 ($4.99)
Edwards or Mrs. Smith's Pie, 23.9-37 oz, at $9.29 ($4.64)
Klondike Bar Ice Cream Bars or Sandwiches, 15-27 oz, at $5.89 ($2.94)
Nestle Drumstick Ice Cream Cones, Mickey Mouse Ice Cream Bars 6-20 ct or Oreo Cones, 8 ct, at $10.19 ($5.09)
Lindy's Homemade Italian Ice, 36 oz, at $4.59 ($2.29)
The Cheesecake Factory Ice Cream Bar, 4 pk 2.65 oz, at $6.49 ($3.24)
Whole Fruit Bars 16.5 oz or Frozen Juice Tubes, 18 oz, at $4.89 ($2.44)
-$1 off Whole Fruit fruit bars, frozen, Save 07/09


(makes it $1.44)

General Mills Cereal: Cheerios, Toast Crunch, Reese's Puffs, Cocoa Puffs, Lucky Charms, Cookie Crisp, Kix, Kit Kat or Trix, 8.9-12.4 oz, at $5.65 ($2.82)
-.50/1 General Mills Cheerios Cereal, 8.9 – 59.5 oz, limit 5, Ibotta mobile app
-$1/2 General Mills Cheerios, Cinnamon Toast Crunch, Lucky Charms, Reese's Puffs, Chex, Cocoa Puffs, Trix, Cookies Crisp Golden Grahams, Kix, Fiber One, Wheaties, Raisin Nut Bran, Total, Basic 4, Oatmeal Crisp, :ratio Cereal & Granola pouches, Nature Valley Granola pouches, Wonderwork Keto Friendly Cereal, Publix eCoupon


(Buy 2, use $1/2 and (2) .50/1 ibotta, makes it $1.82 ea)

General MIlls Treat Bars or Soft Baked Oat Bars 5.76-8.48 oz or Chex Mix Bars, 6.78 oz, at $4.49 ($2.24)
-.50/1 General Mills Cereal Treats, 6 ct+, limit 1, Ibotta mobile app


(makes it $1.92)

Log Cabin Syrup, 24 oz, at $5.39 ($2.69)
-$1 off Mrs. Butterworth's Log Cabin Syrup, 22-24 oz, Publix (EXP 8/25) eCoupon (limit reached)


(makes it $1.20)

Mrs. Buttersworth Syrup, 24 oz, at $4.40 ($2.20)
Bobo's Bites or Oat Bars, 6.5 oz, (price not listed)
Splenda No Calorie Sweetener 200 ct or Naturals 80-140 ct or 19 oz, Liquid 1.68 oz, Monk Fruit 16-19 oz or 80 ct or Magic Baker 16 oz, at $10.99 ($5.49)


(excluding Brown Sugar)


-$1 off Splenda Sweetener printable
-$1 off Splenda Sweetener Products printable
-$3 off Splenda Magic Baker Sweeteners printable
-$4 off Splenda Magic Baker, 16 oz, limit 2, Ibotta mobile app
-$2 off Splenda Liquid Sweetener, limit 3, Ibotta mobile app
(use $3 off and $4 off ibotta, makes it

FREE

)
Campbell's Chunky Soup, 15.25-18.8 oz, at $3.45 ($1.72)
Kraft Velveeta Shells & Cheese Dinner or Velveeta Rotini & Cheese or Deluxe Macaroni & Cheese, 9.29-14 oz, at $3.97 ($1.98)
-$10 Publix Gift Card WYB $50 in participating Kraft, Heinz, Nabisco, P&G or PepsiCo products at Publix, online rebate
-.25/1 Kraft Deluxe Macaroni & Cheese, limit 5, Ibotta mobile app
-.75/1 Kraft Deluxe Macaroni & Cheese, excl Microwaveable Cups and Frozen Mac & Cheese, limit 5, Ibotta mobile app


(makes it $1.23)

Cracker Barrel Macaroni & Cheese Dinner, 12-14 oz, at $5.15 ($2.57)
-.75/1 Cracker Barrel mac & cheese printable
-$10 Publix Gift Card WYB $50 in participating Kraft, Heinz, Nabisco, P&G or PepsiCo products at Publix, online rebate


(makes it $1.82)

Ragu Sauce, 14-66 oz, at $6.35 ($3.17)
-$1/2 Ragu Sauce, limit 2, Save 06/18


(makes it $2.67)

On the Border Tortilla Chips, 8-11.5 oz, at $3.99 ($1.99)
Chicken of the Sea Alabacore Tuna, Chunk White in Water, 4 pk 5 oz, at $6.15 ($3.07)
Contadina Roma Tomatoes, 28-29 oz, at $2.29 ($1.14)
Lindsay Spanish Olives, Manzanilla Pimiento Stuffed or Sliced with Pimiento, 5.75 oz, at $2.65 ($1.32)
Minute Rice Ready to Serve, 8.8 oz, at $3.29 ($1.64)
-.65/1 Minute Ready to Serve Rice Cups, 8.8 oz, Publix eCoupon


(makes it 99¢)

Ken's Steak House Dressing or Vinaigrette, 16 oz, at $4.75 ($2.37)
-.65/1 Ken's Steak House Dressings, 16 oz, limit 5, Ibotta mobile app
-.75/1 Ken's Steak House Simply Vinaigrette Dressing, 16 oz, limit 5, Ibotta mobile app


(makes it $1.62)

Kraft Mayonnaise or Miracle Whip Dressing, 19-22 oz, at $7.85 ($3.92)
-$10 Publix Gift Card WYB $50 in participating Kraft, Heinz, Nabisco, P&G or PepsiCo products at Publix, online rebate
Lay's Potato Chips or Lay's Kettle Cooked or Poppables Potato Snacks 4.75-8 oz, at $4.79 ($2.39)
Ferrero Rocher Bars, 3.1 oz, (price not listed)
Biscoff Sandwich Cookies, 5.29 oz, at $3.89 ($1.94)
Nabisco Chips Ahoy! Cookies 7-13 oz, at $4.02 ($2)


(Excluding Family Size)


-$10 Publix Gift Card WYB $50 in participating Kraft, Heinz, Nabisco, P&G or PepsiCo products at Publix, online rebate
Orville Redenbacher's Gourmet Popping Corn 6-12 ct 11.64-19.75 oz or 30 oz jar, at $7.09 ($3.54)
-$1 off Orville Redenbacher's Popping Corn 6-12 pk or Angie's Boomchickapop Popcorn 19.74 oz, Publix (EXP 8/25) eCoupon (limit reached)


(makes it $2.54)

Planters Peanuts 12-12.5 oz or 10 pk 1 oz, at $4.15 ($2.07)
Quaker Rice Crisps or Rice Thins, 5.5-7.04 oz, at $4.99 ($2.49)
Raisinets Chocolate Covered Raisins or Buncha Crunch or Butterfinger Bites, 8 oz, at $5.59 ($2.79)
Voortman Wafers or Cookies, 5.5-14.1 oz, at $4.15 ($2.07)
Zapp's Potato Chips, 8 oz, at $4.95 ($2.47)
Angie's Boom Chicka Pop Popcorn, 13.16-19.74 oz, at $7.09 ($3.54)
-$1 off Orville Redenbacher's Popping Corn 6-12 pk or Angie's Boomchickapop Popcorn 19.74 oz, Publix (EXP 8/25) eCoupon (limit reached)


(makes it $2.54)

Peter Pan Peanut Butter or Peanut & Honey Spread, 16.3 oz, at $4.99 ($2.49)
Thomas English Muffins, 12-13 oz, at $5.29 ($2.64)
Wonder Hot Dog Buns or Hamburger Buns, 13-21 oz, at $4.49 ($2.24)
Nature's Truth Supplements, 48-130 ct or 4 oz, entire line, (price not listed)
-$1 off Nature's Truth Essential Oil Products, any, limit 1, Ibotta mobile app
-$1 off Nature's Truth vitamin or supplement, Save 07/30
-$3/2 Nature's Truth vitamin or supplement, Save 07/30
-$2 off Nature's Truth Vitamin or Supplement, Publix eCoupon
-$1.50 off Nature's Truth vitamin or supplement printable
-$1 off Nature's Truth Essential Oil printable
Air WIck Freshmatic Refill Spray or Air Freshener, 5.89 oz, at $6.49 ($3.24)
All Detergent 88 oz or 39-49 ct, at $16.49 ($8.24)
-.75/1 All Free Clear Laundry Detergent, limit 5, Ibotta mobile app
-$1 off All Free Clear Liquid Laundry Detergent, 88 fl oz, limit 5, Ibotta mobile app


(use $1 off, makes it $7.24)

Bic Multi-Purpose Lighter or Long Reach Wand Multi-Purpose Lighter, 1 ct, at $5.89 ($2.94)
Ecologic Flying Insect Killer, 14 oz, at $10.29 ($5.14)
Fire & Flavor Hardwood Lump Charcoal, 20 lb, (price not listed)
General Electric Light Bulbs 3 year Soft White LED Only, 2-4 ct, at $7.99 ($3.99)
Hot Shot Ant, Roach & Spider Killer or Wasp & Hornet or Flying Insect Killer 14-17.5 oz or Ant or Roach Bait 4-12 ct, at $10.29 ($5.14)
Quilted Northern Bathroom Tissue 4 Mega Rolls, at $7.67 ($3.83)
-.50/1 Quilted Northern bath tissue (sign up) printable


(makes it $3.33)

Reynolds Wrap Aluminum Foil, Heavy Duty 18 inch 75 sq ft, at $8.63 ($4.31)
TimberWick Candle, 9.25 oz, at $10.99 ($5.49)
Friskies Party Mix Cat Treats, Original Crunch with Chicken & Flavors of Liver & Turkey Or Beachside Crunch with Whitefish, Shrimp, Crab & Tuna Flavors, 30 oz, at $13.99 ($6.99)
Purina Busy Bone Dog Treats, 21 oz, at $10.99 ($5.49)
Three Dog Bakery Treats for Dogs 13-26 oz starting at, at $4.99 ($2.49)
McBride Sisters Collection Sauvignon Blanc Wine, at $20.79 ($10.39)
Urban Barn Cabernet Sauvignon Wine, 750 ml, at $17.49 ($8.74)
Vizzy Hard Seltzer Variety Pack, 12 pk 12 oz , at $20.49
Core Hydration Nutrient Enhanced Water 6 pk 30.4 oz, at $12.29 ($6.14)
Donut Shop K-Cup Coffee or Green Mountain or McCafe, 10-12 ct, at $12.39 ($6.19)
Hint Water Infused or Premium Essence 16 oz, at $1.79 (89¢)
Spindrift Sparking Water & Real Squeezed Fruit, 8 pk, at $7.09 ($3.54)
Swiss Miss Hot Cocoa K-Cups, 10 ct, at $12.39 ($6.19)
TEN Alkaline Spring Water with Electrolytes, 1 gallon, at $4.15 ($2.07)
Produce
Organic Blueberries, 11 oz, $3.33
California Bartlett Pears, $1.69 lb
California Peaches or Nectarines, $2.49 lb
California Red or Black Plums, $2.29 lb
Mandarins, 3 lb, $5.99
Red or White Seedless Grapes, $1.99 lb
Broccoli, $2.99
Dandy Celery Sticks, 8 oz, $2.50
Fresh Attitude Salad, Spring Mix, Half & Half, Hearty Harvest, Baby Spinach or Arugula, 5 oz, $3
OrganicGirl Salad, 4-5 oz, $3.99
-$2 off OrganicGirl Product (sign up for email) printable


(makes it $1.99)

Publix Whole Carrots, 1 lb, 99¢
Publix Yellow Onions, 3 lb, $2.99
Zucchini or Yellow Squash, 24 oz, $2.99
Meat
GreenWise Boneless Skinless Chicken Breast, $5.99 lb
Publix Boneless Chicken Breast Tenderloins Skinless, $5.49 lb
Hatfield Pork Tenderloin or Pork Loin Filet, 18.4-22 oz, B2G1
Publix Lean Boneless Pork Loin Chops, $4.99 lb
Bottom Round Roast, $6.99 lb
Chuck Short Ribs, $9.99 lb
GreenWise 92% Lean Ground Beef Burgers, $8.49 lb
Kevin's Natural Foods Side Dishes, 16-20 oz, $5
Lunchables Uploaded, 13.92-15.91 oz, $3.50
-$3 off Kraft WYB $15 Macaroni & Cheese Dinner Box 5.5-7.25 oz, Jell-O Refrigerated Cups, Capri Sun or Kool-Aid 10 ct or Lunchables, Publix eCoupon
Publix Aprons Seasoned Meatballs, $7.99 lb
Publix Pork Boston Butt Roast Bone-In, $2.99 lb
Fridge or Frozen
Blue Bell Ice Cream Half Gallon or Cups, 36 oz, $6.49
Reddi Wip Dairy Whipped Topping, 6.5 oz, $3
DiGiorno Pizza, 17.5-31.5 oz, $6
Foster Farms Take Out Chicken, Crispy Wings, Classic Buffalo or Chipolte BBQ or Crispy Sandwich Fillet, 16-18 oz, B2G1
Lean Cuisine Entrees or Stouffer's, 5.25-12.75 oz, $3.33
Stouffer's Classics or Bowls or Lean Cuisine Balance Bowls, 9-20 oz, $4
Grocery
Bonne Maman Preserves or Blackberry Jelly, Orange Marmalade or Lemon Curd, 12.7-13 oz, $5


(excluding Intense and Hazelnut Spreads)

Bumble Bee Chuck Light Tuna in Water or Vegetable Oil, 4 pk 5 oz, $2.99
-.75/1 Bumble Bee Solid White Albacore Tuna Cans Multipack, 4 pk, limit 5, Ibotta mobile app


(makes it $2.24)

Bush's Best Baked Beans or Grillin, 21.5-28 oz, $2
College Inn Broth, Bold or Vegetable Stock, 32 oz, $2
Del Monte Fruit 4 pk 3.5-4.5 oz or 2 pk 7 oz, $2.50
Lay's Dip, 15 oz, $4.50
Mama Francesca Grated Cheese, 8 oz, $3
Mueller's Pasta 12-16 oz, $1.25


(Excluding Veggie, Noodles and Lasagna)


-.40/1 Mueller's Pasta items, Publix eCoupon
Nabisco Premium Saltine or Soup & Oyster Crackers, 8-17 oz, $3
-$10 Publix Gift Card WYB $50 in participating Kraft, Heinz, Nabisco, P&G or PepsiCo products at Publix, online rebate
On the Border Mexican Grill & Cantina Salsa, 16 oz, $3
Beverages
Coca-Cola Products, 12 pk 12 oz, B2G1
Coca-Cola Products 8 pk 12 oz, B2G1 at $9.09
Pepsi Products 12 pk 12 oz, B2G1 at $9.09
-$10 Publix Gift Card WYB $50 in participating Kraft, Heinz, Nabisco, P&G or PepsiCo products at Publix, online rebate
Pepsi Products 6 pk 7.5 oz, B2G1
-$10 Publix Gift Card WYB $50 in participating Kraft, Heinz, Nabisco, P&G or PepsiCo products at Publix, online rebate
7up Products 12 pk 12 oz, B2G1
BodyArmor Sports Drink, Lyte, Regular or SuperDrink, 16 oz, $1
-$1/2 BodyArmor Sports Drink (sign up) printable


(makes it 50¢)

Gatorade Zero Sports Drink or G2 or Regular, 28 oz, $1.25
Gatorade Zero Thirst Quencher or G Series or G2 Perform 02, 6 pk 12 oz, $4
Maxwell Hosue Ground Coffee, 24.5-30.6 oz, $7.99
Pure Leaf Tea, 6 pk , B2G1
-$2/2 Pure Leaf Tea, 6 pk 16.9 oz, Publix (EXP 8/25) eCoupon (limit reached)
Red Bull Energy Drink, 8.4 oz, B2G1
Starbucks K-Cup Coffee 10 ct or Whole Bean or Ground 10-12 oz or Instant, 3.17 oz, $7.99
-$1 off Starbucks Packaged Coffee, 10-12 oz bag, or 10 ct k-cups, (Publix Coupon), Autumn Save More Booklet or printable


(makes it $6.99)

Welch's 100% Grape Juice or Orange Pineapple Apple or Orange Pineapple Juice Drink 6 pk 10 oz, $4.50
-$1 off Welch's item, 6 pk, 10 oz, Publix eCoupon


(makes it $3.50)

Zephyrhills Natural Spring Water, 24 pk 16.9 oz, $4
Personal Care
Colgate Mouthwash 8.4-16.9 oz or 1L, 25% off
-.75/1 Colgate Mouthwash or Mouth Rinse, 200 mL+ printable
-$1 off Colgate 360 Manual Toothbrushes, Adult or Kids Battery Powered Toothbrushes or Mouthwash 500 ml+ printable
Crest 3D White Toothpaste 2.7 oz or Complete 4.6-5.4 oz or Pro-Health, 3.5-4.3 oz, $4
-$10 Publix Gift Card WYB $50 in participating Kraft, Heinz, Nabisco, P&G or PepsiCo products at Publix, online rebate
-$6/4 Crest Adult Toothpaste 2.7oz or more, Crest OR Oral B Mouthwash 473mL or larger, Scope Squeez 50mL, Oral-B Adult Manual Brush, Oral-B Glide Manual Floss, Expandable Floss OR Oral-B Glide Floss OR Interdental Picks, Interdental Brush, Fixodent Adhesive 1.4oz+, excl Cavity, Baking Soda, Tartar Protection, Kids variants. Oral-B Healthy/Daily Clean, Bright & Clean, Complete, Indicator 1Ct brushes, Essential or Satin Floss & Oral-B Fresh Mint Picks, & trial size, Publix (EXP 8/26) eCoupon
-$5/3 Crest Adult Toothpaste 2.7oz or more, Crest OR Oral B Mouthwash 473mL or larger, Scope Squeez 50mL, Oral-B Adult Manual Brush, Oral-B Glide Manual Floss, Expandable Floss OR Oral-B Glide Floss OR Interdental Picks, Interdental Brush, Fixodent Adhesive 1.4oz+, excl Cavity, Baking Soda, Tartar Protection, Kids variants. Oral-B Healthy/Daily Clean, Bright & Clean, Complete, Indicator 1Ct brushes, Essential or Satin Floss & Oral-B Fresh Mint Picks, & trial size, Publix (EXP 8/26) eCoupon
-$2 off Crest Toothpaste, 2.7 oz+, excl Cavity, Regular, Base Baking Soda, Tartar Control/Protection, F&W Pep Gleem, Gum Variants, Brilliance, 3DW Whitening Therapy, 3DW Professional, Aligner Care, Densify Variants, Kids, More Free pk, & trial size, Publix (EXP 8/26) eCoupon


(makes it $2)

Crest 3D White Rinse or Mouthwash, 946 ml or 1L, $1 off
-$10 Publix Gift Card WYB $50 in participating Kraft, Heinz, Nabisco, P&G or PepsiCo products at Publix, online rebate
-$6/4 Crest Adult Toothpaste 2.7oz or more, Crest OR Oral B Mouthwash 473mL or larger, Scope Squeez 50mL, Oral-B Adult Manual Brush, Oral-B Glide Manual Floss, Expandable Floss OR Oral-B Glide Floss OR Interdental Picks, Interdental Brush, Fixodent Adhesive 1.4oz+, excl Cavity, Baking Soda, Tartar Protection, Kids variants. Oral-B Healthy/Daily Clean, Bright & Clean, Complete, Indicator 1Ct brushes, Essential or Satin Floss & Oral-B Fresh Mint Picks, & trial size, Publix (EXP 8/26) eCoupon
-$5/3 Crest Adult Toothpaste 2.7oz or more, Crest OR Oral B Mouthwash 473mL or larger, Scope Squeez 50mL, Oral-B Adult Manual Brush, Oral-B Glide Manual Floss, Expandable Floss OR Oral-B Glide Floss OR Interdental Picks, Interdental Brush, Fixodent Adhesive 1.4oz+, excl Cavity, Baking Soda, Tartar Protection, Kids variants. Oral-B Healthy/Daily Clean, Bright & Clean, Complete, Indicator 1Ct brushes, Essential or Satin Floss & Oral-B Fresh Mint Picks, & trial size, Publix (EXP 8/26) eCoupon
-$3/2 Crest Adult Toothpaste 2.7oz+, Oral B Mouthwash 473mL+, Scope Squeez 50mL, Oral-B Adult Manual Brush, Oral-B Glide Manual Floss, Expandable Floss, Oral-B Glide Floss, Interdental Picks, Interdental Brush, Fixodent Adhesive 1.4oz+, excl Cavity, Baking Soda, Tartar Protection, Kids variants. Oral-B Healthy/Daily Clean, Bright & Clean, Complete, Indicator 1Ct brushes, Essential or Satin Floss & Oral-B Fresh pks, & trial size, Publix (EXP 8/26) eCoupon
-$1 off Crest Scope 473 mL, 16 oz+, Mouthwash, excl trial size, Publix (EXP 8/26) eCoupon
Clean & Clear Facial Products .75-8 oz or 50 ct, 30% off
-$2.50 off Clean & Clear product, excl masks, single use, trial size printable
-$2.50 off Clean & Clear item, excl masks, single use, & trial size, Publix eCoupon
Neutrogena Acne Products .75-9.1 oz or 60 ct, 30% off
-$5 Gift Card WYB $20, $10 WYB $30 or $25 WYB $75 in Aveeno, Band-Aid, Benadryl, Clean & Clear, Desitin, Johnson's, Listerine, Motrin, Neosporin, Neutrogena, OGX, Rogaine, Sudafed, Visine, Zarbees or Zyrtec, Online rebate
Tampax Tampons, 22-36 ct, $7.99
-$10 Publix Gift Card WYB $50 in participating Kraft, Heinz, Nabisco, P&G or PepsiCo products at Publix, online rebate
-$1 off Tampax Tampons, 14-54 ct, excl 52 ct Tampax Radiant & trial size, Publix (EXP 8/26) eCoupon
Always Infinity, Radiant, Ultra Thin or Maxi Pads, 18-46 ct, $7.99
-$10 Publix Gift Card WYB $50 in participating Kraft, Heinz, Nabisco, P&G or PepsiCo products at Publix, online rebate
-$1.50 off Always Infinity or Pure Cotton pads, 10-ct+, Ibotta mobile app
-$2 off Always Radiant Pads, 14-ct+, , Ibotta mobile app
-$1.50 off Always Ultra or Maxi pads, 14-ct+, limit 1, Ibotta mobile app
-$1 off Always Pads 10-52 ct, Liners 30 ct+ or ZZZs 3 ct+, excl Discreet & trial size, Publix (EXP 8/26) eCoupon


(use $2 off, makes it $5.99)

Tena Pads, Underwear, or Guards for Men, 14-45 ct, $2 off


Tena Intimates Pads, 14 ct., $4.39 (after sale)


-$1 off Tena Intimates Liners or Pads, Very Light Liners 50 ct, Ultra Thin Light Pads 30 ct, or Ultra Thin Light Pads 24 ct, limit 5, ., Ibotta mobile app
-$2.50 off Tena Intimates Very Light Liners or Intimates Ultra Thin Light Pads, limit 5, Ibotta mobile app
-$2 off Tena Pads or Men's Guards 14-45 ct, (Publix Coupon), Extra Savings Flyer (EXP 8/25) printable


(use store and $1 Ibotta, makes it $1.39)

Always Discreet Pads or Underwear, 15-66 ct, $2 off
-$2 off Always Discreet product printable
-$10 Publix Gift Card WYB $50 in participating Kraft, Heinz, Nabisco, P&G or PepsiCo products at Publix, online rebate
-$3 off Always Discreet Boutique or Discreet Incontinence Pad 21-ct+, or Discreet Underwear product, excl 24 & 26-ct Discreet liners, 30-ct pads & trial, limit 2, Save 07/30 (EXP 8/26)
-$5/2 Always DISCREET Incontinence Pads 26-66 ct, 108 ct, Classic Underwear 13-32 ct, Classic Liners 111-132 ct, Boutique Underwear 9-20 ct, Boutique Pads 20-48 ct, excl 24-48ct Always Discreet Liners, Boutique Liners, 30 ct & 60 ct Pads, 66 ct Extra Heavy Pad, Boutique Black Large 20 ct (BLR) & trial size, Publix (EXP 8/26) eCoupon
L. Organic Tampons 22-36 ct or Pads 36-42 ct, $7.99
Publix Hand Sanitizer, 2-32 oz, 25% off
$5 Publix Gift Card WYB $15 in Dove Personal Care
Dove Bar Soap 6 pk 3.75 oz, $7.99


(Excluding Dove Men+Care Bar Soap)


Dove Body Wash or Shower Foam or Body Polish, 10.5-20 oz, $6.99
Dove Hair Care Products or Dove Men+Care, 5-13.5 oz, $6.50
Dove Shampoo or Conditioner, 12o z, $3.50
Baby Care
Pampers Diapers 42-96 ct or Easy Ups Training Underwear, 46-74 ct, $27.99
-$10 Publix Gift Card WYB $50 in participating Kraft, Heinz, Nabisco, P&G or PepsiCo products at Publix, online rebate
-$3 off Pampers Pure Protection Diapers Super Pack, Publix (EXP 8/26) eCoupon
Earth's Best Organic Baby Food, 3.5-4.2 oz, B2G1
-$1/3 Earth's Best Organic Baby Food Jars or Pouches printable
Gerber Graduates Puffs, Wagon Wheels or Lil' Crunchies Snacks, 1.48 oz, $2.50
Pharmacy
Household
Chicago Metallic Bakeware, Non-stick, 40% off


cooling rack, cake, pizza, loaf, jelly roll, mini muffin or bake & roast pan or cookie sheet

Bounty Paper Towels 4 Double Rolls, $8.49
-.25/1 Bounty paper towel product, excl trial/travel size printable
-$10 Publix Gift Card WYB $50 in participating Kraft, Heinz, Nabisco, P&G or PepsiCo products at Publix, online rebate


(makes it $8.24)

Bounty Paper Towels 6 Mega Rolls, 8 Triple Rolls or 12 Double ROlls, $22.69
-.25/1 Bounty paper towel product, excl trial/travel size printable
-$10 Publix Gift Card WYB $50 in participating Kraft, Heinz, Nabisco, P&G or PepsiCo products at Publix, online rebate


(makes it $22.44)

Angel Soft Bathroom Tissue 12 Mega Rolls, $7.99
-$1.50 off Angel Soft Bath Tissue, 24 dbl or 12 mega rolls+ printable
-$1 off Angel Soft Toilet Paper, 6 rolls+, (Publix Coupon), Autumn Save More Booklet or printable


(use both, makes it $5.49)

Cascade Dishwasher Detergent 75 oz, 11, 14, 18 or 25 ct, $1 off
-$10 Publix Gift Card WYB $50 in participating Kraft, Heinz, Nabisco, P&G or PepsiCo products at Publix, online rebate
Dawn Powerwash Dish Spray, 16 oz, $1 off
Dawn Ultra Dishwashing Liquid, 24.3-70 oz, $1 off
Palmolive Dish Soap, 20 oz, $2.50
-.25/1 Palmolive Ultra Dish Liquid, 18 oz+, or SprayAway 16.9 oz printable


(makes it $2.25)

Clorox Bleach, 77-81 oz, $4.50
Oxiclean Bathroom Cleaner or Mold & Mildew Stain Remover, Shower Guard, Stain Remover or Disinfecting Spray, 6.2-32 oz, $3.50
-$1 off OxiClean Bathroom Cleaner or Foam-Tastic, any, limit 5, Ibotta mobile app


(makes it $2.50)

Downy or Gain In-Wash Scent Booster, 26.5 oz, $15.99
-$10 Publix Gift Card WYB $50 in participating Kraft, Heinz, Nabisco, P&G or PepsiCo products at Publix, online rebate
-$10 gift card WYB $30 in Tide, Downy or Bounce Laundry Care, must include (1) detergent and (1) fabric care item, online rebate
-$10 gift card WYB $30 in Gain Detergent and (1) Gain Fabric softener or dryer sheets, Online rebate
Lysol Cleaners or Foamer or Mildew Remover with Bleach 22-32 oz or 2-6 ct or 2 pk 24 oz, $5 off WYB (3)
-$1/2 Lysol items, excl trial size, Publix (EXP 8/23) eCoupon (limit reached)
Fabuloso Multi-Purpose Cleaner Lavender, 128 oz, $7.99
-$1.50 off Suavitel Fabric Conditionre 46-120 oz, or Fabuloso Multi-Purpose Cleaner 48-128 oz, (Publix Coupon), Extra Savings Flyer (EXP 8/25) printable


(makes it $6.49 ea.)

Pine-Sol Multi-Surface Cleaner, 40-48 oz, $3.50
-.50/1 Pine-Sol Cleaner, 40 oz + (sign up) printable


(makes it $3)

Hefty Tall Kitchen or Trash Bags Drawstring, 18-45 ct, $7.69
Kingsford Charcoal Briquets, Original or with Flavors 16 lb or Match Light, 12 lb, $8.99
Scotch Brite Sponges, 6-9 ct, 25% off
Eveready Readyflex LED Floating Lantern, 1 ct, $5.99
Duracell Batteries, Coppertop: AA, AAA, C, D, or 1.5-9 volt or Optimum AA or AAA or Hearing Aid 1-24 ct or Coin or Lithium, 2 ct, 25% off
Publix LINKS
Latest Articles
Categories
Videos
← PREV NEXT →
Popular Posts