Welcome to Southern Savers,
where finding deals and steals is simple and rewarding!
See I told you, this would help!
Coupon Abbreviations
SC

= Store Coupon

MC

= Manufacturer Coupon

SS

= Smart Source

RMN

= Retail Me Not

PG

= Proctor and Gamble
Coupon Terms
WYB

= When You Buy

B1G1

= Buy One Get One Free

.75/1

= 75 cents off one item

.75/3

= 75 cents off three items

EXP

= Expiration Date
Going Nuts? I can help you understand coupon terms and abbreviations
Home > Publix Deals > Publix Weekly Ad: 8/9-8/15 or 8/10-8/16
This post may contain affiliate links. Read our disclosure here.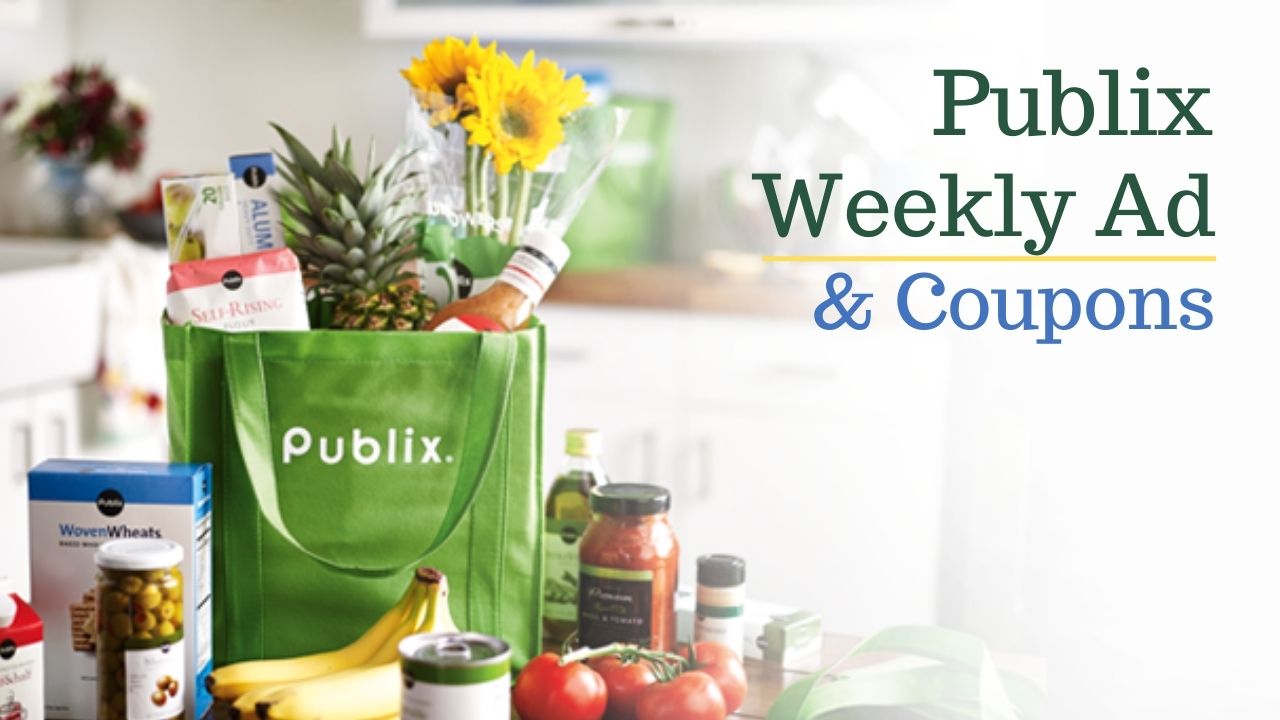 Head to your store starting 8/9 (or 8/10, depending on your area) to find these deals from the new Publix weekly ad! Get Palermo's pizza for $2.99 and more.
Buy One Get Ones
Envy Apples, 2 lb, at $6.19 ($3.09)
Publix Classic Dozen Roses, at $11.99 ($5.99)
Stonefire Naan 7.05-12.7 oz or Artisan Thin Pizza Crust 16.2 oz, at $4.99 ($2.49)
-$1 off Stonefire Product printable


(makes it $1.49)

Whisps Cheese Crisps, 2.12 oz, at $4.99 ($2.49)
Publix Bakery Blueberry Muffins, 4 ct, at $4.09 ($2.04)
Greenfield Bacon, 12-22 oz, at $11.29 ($5.64)
Hatfield Bacon, 12-22 oz, starting, at $8.99 ($4.49)
Hebrew National Beef Franks, 9.43-12 oz, at $7.99 ($3.99)
Holmes Polish Kielbasa or Sausage, Rope or Slices, 12 oz, at $6.19 ($3.09)
Hormel Black Label Bacon or Natural Choice, 12-22 oz, at $11.29 ($5.64)
Kayem Frankfurters, 9.43-12 oz, at $7.99 ($3.99)
Publix White Shrimp, Medium 41-50 per lb, 24 oz, at $14.99 ($7.49)
Sargento Balanced Break Snacks or Sweet Balanced Breaks, 4.5 oz, at $4.35 ($2.17)
-$1/2 Sargento Balanced Breaks item, Publix eCoupon
-600 points WYB Sargento Cheese Slices, String Cheese, Cheese Sticks, Balanced Breaks, limit 1, enter code N0REC before first receipt to get 2000 Bonus points, Fetch Rewards mobile app


(buy (2) use $1/2 and Fetch, makes it $1.37 ea.)

Belgioioso Fresh Mozzarella Cheese or Pearls, 8 oz, at $5.85 ($2.92)
Dannon Activia Yogurt 4 pk 4 oz or DanActive or Dallies 8 pk 3.1 oz, at $3.49 ($1.74)
Icelandic Provisions Skyr Yogurt 4.4-30 oz starting at, at $2 ($1)
Malk Organic Almondmilk, Unsweetened or Vanilla or Original Oatmilk, 28 oz, at $6.49 ($3.24)
Oikos Triple Zero Blended Greek Yogurt or Dannon Light + Fit or Two Good, 32 oz, at $6.19 ($3.09)
Oui by Yoplait French Style Yogurt 4 pk 5-5.3 oz, at $6.69 ($3.34)
-$1/4 Yoplait Oui French-style yogurt, Publix eCoupon
-$5 Publix Gift Card WYB $15 in Yoplait, Oui, Ratio, Liberte or Haagen Dazs yogurt products, Online rebate
Pillsbury Grands! Biscuits 10.2-12 oz or Crescent or Cinnamon ROlls with Icing 4-7.3 oz, at $3.39 ($1.69)
-$1/2 Pillsbury Refrigerated Baked Goods, any, limit 1, Ibotta mobile app
-$5 off Pillsbury WYB $15 Refrigerated items, Publix eCoupon
-750 points WYB Pillsbury refrigerated baking items, purchase $8, excl frozen baking items, enter code N0REC before first receipt to get 2000 Bonus points, Fetch Rewards mobile app
-$1/2 Pillsbury Refrigerated Baked Goods items, Publix eCoupon


(makes it $1.19 ea.)

Pillsbury Ready to Bake Cookies 16-16.5 oz, at $5.17 ($2.58)
-$1/2 Pillsbury Refrigerated Baked Goods, any, limit 1, Ibotta mobile app
-$5 off Pillsbury WYB $15 Refrigerated items, Publix eCoupon
-750 points WYB Pillsbury refrigerated baking items, purchase $8, excl frozen baking items, enter code N0REC before first receipt to get 2000 Bonus points, Fetch Rewards mobile app
-$1/2 Pillsbury Refrigerated Baked Goods items, Publix eCoupon


(makes it $2.08)

Ratio Keto Friendly Dairy Snack Vanilla or Mixed Berry, 4 pk 5-5.3 oz, at $7.49 ($3.74)
-$5 Publix Gift Card WYB $15 in Yoplait, Oui, Ratio, Liberte or Haagen Dazs yogurt products, Online rebate
-$1/3 :ratio Protein or Keto Friendly Dairy Products, select, limit 1, Ibotta mobile app
Blue Bunny Mini Swirls Dairy Frozen Dessert, 8 ct, at $7.19 ($3.59)
-.55/1 Blue Bunny ice cream and novelties (sign up) printable


(makes it $3.04)

Edwards Pie Slices, 5.2-6.7 oz, at $3.69 ($1.84)
Nick's Ice Cream, 16 oz, at $6.15 ($3.07)
-$1 off Nick's Light Ice Cream Pint or Novelty item, Publix (EXP 8/10) eCoupon (limit reached)


(makes it $2.07)

Talenti Sorbetto or Gelato, Gelato Layers or Bars, 10.8-16 oz, starting, at $6.09 ($3.04)
-$2/2 Ben & Jerry's Breyers, Klondike, Talenti, Magnum, Good Humor, Reese's or Heath Frozen Dessert items, Publix eCoupon


(makes it $2.04)

Yummy Dino Buddies Chicken Breast Nuggets, 18-21 oz, at $8.49 ($4.24)
Odom's Tennesse Pride Sausage Biscuits, Buttermilk or Sandwich, 29 oz, at $10.99 ($5.49)
Boston Market Homestyle Meals Entrees, 10.15-15 oz, at $4.35 ($2.17)


(Excluding Chicken Pot Pie)


-.75/1 Boston Market Frozen Entree printable


(makes it $1.42)

GoodPop Pops 9-14 oz or Ice Cream Sandwiches, 9 oz, at $5.79 ($2.89)
-$1 off GoodPop Frozen Treats, any, limit 5, Ibotta mobile app


(makes it $1.89)

Morningstar Farms Incogmeato Chicken & Waffles, 9.3 oz, or Pancake & Sausage on Stick, 9.7 oz, at $8.29 ($4.14)
-$1 off MorningStar Farms Veggie Foods Products printable


(makes it $3.14)

Palermo's Primo Thin Pizza, Ultra Thin Crust, 14.2-16.55 oz, at $7.99 ($3.99)
-$1 off Palermo Pizza (sign up) printable


(makes it $2.99)

RealGood Foods Co. Entrees or Bowls, 9 oz, at $5.99 ($2.99)
Sweet Earth Bowl, 7.5-9 oz, at $8.75 ($4.37)
Totino's Pizza Rolls 50 ct 24.8 oz, at $5.76 ($2.87)
-.50/1 Totino's Pizza Rolls, 50 ct, limit 5, Ibotta mobile app
-1500 points WYB (2) Totino's Pizza Rolls 50 ct+ or Party Pizza 4 ct+, limit 1, enter code N0REC before first receipt to get 2000 Bonus points, Fetch Rewards mobile app
-.75/1 Totino's Pizza Rolls, 50 ct+, Publix eCoupon


(use publix and ibotta, makes it $1.62)

Cascadian Farm Organic Granola, 11 oz, at $6.59 ($3.29)
-$2/2 Cascadian Farm Granola or Cereal items, Publix eCoupon


(makes it $2.29)

General Mills Cereal: Toast Crunch, Reese's Puffs, Cocoa Puffs, Lucky Charms, Cookie Crisp, Kix, Kit Kat, Cheerios or Trix, 8.9-12 oz, at $5.65 ($2.82)
-.50/1 General Mills Cheerios Cereal, 8.9 – 59.5 oz, limit 5, Ibotta mobile app
-.50/1 General Mills Kids Cereal, 9.9 – 28.5 oz, incl Trix, Kix, Cocoa Puffs and Golden Grahams, limit 5, Ibotta mobile app
-$1/2 General Mills Cheerios, Cinnamon Toast Crunch, Lucky Charms, Reese's Puffs, Chex, Cocoa Puffs, Trix, Cookies Crisp Golden Grahams, Kix, Fiber One, Wheaties, Raisin Nut Bran, Total, Basic 4, Oatmeal Crisp, :ratio Cereal & Granola pouches, Nature Valley Granola pouches, Wonderwork Keto Friendly Cereal, Publix (EXP 8/14) eCoupon


(use $1/2, makes it $1.32 ea.)

Post Cereal: Pebbles, Golden Crisp, Honey Comb, Honey Oh's or Oreo's, 11-14.75 oz, at $5.35 ($2.67)
Quaker Life Cereal 18 oz or Oatmeal Squares 14.5 oz, at $5.69 ($2.84)
-$10 Publix Gift Card WYB $50 in participating Kraft, Heinz, Nabisco, P&G or PepsiCo products at Publix, online rebate
-.75/1 Quaker Oatmeal Squares cereal, any, limit 5, Ibotta mobile app


(makes it $2.09)

Nature Valley Bars or Oatmeal Squares 6.2-8.94 oz starting at, at $4.89 ($2.44)
-.50/2 Nature Valley Granola Bars, Protein Bars, Biscuits, Cups, Wafers, Soft-Baked Squares, Soft-Baked Muffins or Crunchy Dipped Granola Squares, Publix (EXP 8/14) eCoupon
-500 points WYB Nature Valley Granola Bars or Snacks various items, purchase $5, 4 ct+, limit 1, enter code N0REC before first receipt to get 2000 Bonus points, Fetch Rewards mobile app
-.25/1 Nature Valley Crunchy Bars, excl dipped varieties, limit 5, Ibotta mobile app
-.25/1 Nature Valley Protein Bars, any, limit 5, Ibotta mobile app
-.25/1 Nature Valley Wafer Bars, incl 5 ct, 10 ct and 12 ct, limit 5, Ibotta mobile app
-$1/2 Nature Valley items, Publix eCoupon
Clif Kid Zbar, 6.35-7.62 oz, at $4.99 ($2.49)
Crystal Light Drink Mix 10-12 qt or 7-10 ct or 1.62 oz or Water Enhancer, 1.96 oz, at $4.19 ($2.09)
Annie's Fruit Snacks Organic, 10 ct, at $6.79 ($3.39)
-$1/2 Annie's Snack Products, limit 1, Ibotta mobile app
-$1/2 Annie's Snacks, Cookies, Crackers, Grahams, Snack Bars, Snack Mix, or Cheese Puffs, Publix (EXP 8/14) eCoupon


(use both, makes it $2.39 ea.)

Taco Bell Taco Dinner Kit 8.85-16.8 oz or Taco Shells 4.8 oz or Seasoning Mix 1 oz or Refried Beans, 16 oz, at $4.09 ($2.04)


Refried Beans, B1G1 at $1.89 (94¢)

Annie's Mac & Cheese, 2.8-11.3 oz or 12 pk 6 oz, starting, at $2.29 ($1.14)
-.75/2 Annie's Mac & Cheese item, Publix eCoupon


(makes it 77¢ ea)

Classico Pasta Sauce or Meat or Alfredo, 15-24 oz, at $4 ($2)
Mezzetta Family Co. Marinara Sauce or Tomato Basil or Artisan Ingredients, 24-25 oz, at $7.19 ($3.59)
Barilla Al Bronzo Pasta, 12-14.1 oz, at $2.59 ($1.29)
-.50/2 Barilla Pasta, select, 8 oz+, limit 1, Ibotta mobile app
-1250 points WYB (2) Barilla Al Bronzo Pasta, limit 1, enter code N0REC before first receipt to get 2000 Bonus points, Fetch Rewards (EXP 8/12) mobile app


(makes it $1.04)

Cheetos Mac'n Cheese, 2.11-2.32 oz, at $2.25 ($1.12)
-$10 Publix Gift Card WYB $50 in participating Kraft, Heinz, Nabisco, P&G or PepsiCo products at Publix, online rebate
Zatarain's Rice, 6-8 oz, at $2.15 ($1.07)
Pompeian Imported Extra Virgin Olive Oil, Smooth or Robust Organic, 32 oz, at $24.79 ($12.39)
McCormick Black Pepper 3 oz or Onion Powder 2.62 oz, Garlic Powder 3.12 oz or Grinders, .77-6.1 oz, at $6.45 ($3.22)
Adolph's Tenderizing Meat Marinade, 1 oz, at $3.69 ($1.84)
Dash Salt-Free Seasoning Blend or Grilling Blend, 2-2.6 oz, at $4.25 ($2.12)
Sticky Fingers Smokehouse Barbecue Sauce, 18 oz, at $4.09 ($2.04)
Truff Hot Sauce or Hotter or Pasta Sauce, Mayonnaise or Olive Oil, Black Truffle Infused, 6-17 oz, starting, at $12.99 ($6.49)
Tabasco Hot Sauce, 5-12 oz, starting, at $3.99 ($1.99)
Green Giant Vegetables 4 pk 14.5-15.25 oz, at $7.49 ($3.74)
Le Sueur Sweet Peas, 4 pk 15 oz, at $7.49 ($3.74)
Back to Nature Cashew, Almond & Pistachio Mix or Trail Mix, Cashews or Califiorina Almonds, 9-10 oz, at $7.89 ($3.94)
Cheez-it Baked Snack Crackers, Snack Mix, Grooves Chips, Snap'd or Puff'd, 5.75-12.4 oz, at $4.18 ($2.08)


(excluding Items marked Family Size)


-$2 off Cheez-It product or Pringles Caddy Packs 10 ct.+ printable
Frito-Lay Party Size Snacks, 9.75-17 oz, at $6.99 ($3.49)
Hershey's King Size Chocolate Bar, Reese's Peanut Butter Cups, Stick or Fast Break, Kit Kat, Almond Joy, Mounds, Health, Caramello, Payday or Zero, 2.6-3.5 oz, at $2.69 ($1.34)
Keebler Family Size Cookies 13.2-17.3 oz, at $6.15 ($3.07)


(Excluding packages not marked family size)

Peter Pan Peanut Butter, 40 oz, at $6.59 ($3.29)
Quaker Rice Crisps or Popped Rice or Sweet Oat Crisps, 3-3.52 oz, at $2.69 ($1.34)
Sara Lee Honey Wheat Bread, or Soft & Smooth White Bakery Bread with Whole Grains, 20 oz, at $3.99 ($1.99)
-$1 off Sara Lee Bread, 20 oz, excl Delightful & Artesano Breads, Publix eCoupon


-1200 points WYB Sara Lee bread, Little Bites, Thomas', or Entenmann's, purchase $8, limit 2, enter code N0REC before first receipt to get 2000 Bonus points, Fetch Rewards mobile app (limit reached)




(makes it 99¢)

Thomas Products 10.5-20 oz, at $5.79 ($2.89)


(excluding Thomas Keto Bagel Thins)




-1200 points WYB Sara Lee bread, Little Bites, Thomas', or Entenmann's, purchase $8, limit 2, enter code N0REC before first receipt to get 2000 Bonus points, Fetch Rewards mobile app (limit reached)

Visine Eye Drops 15ml or Blink 10-30 ml, starting, at $4.99 ($2.49)
-$1 off Visine Product, .5 oz printable
-$3 off Blink Contact or Blink-N-Clean Drops, limit 1, Save 07/16 (EXP 8/13)
-$3 off Blink Tears 0.5 or 1 oz, Blink Tears Preservative Free, Blink GelTears or Blink Triple Care, limit 1, Save 07/16 (EXP 8/13)
-$5 Gift Card WYB $20, $10 WYB $30 or $25 WYB $75 in Aveeno, Band-Aid, Benadryl, Clean & Clear, Desitin, Johnson's, Listerine, Motrin, Neosporin, Neutrogena, OGX, Rogaine, Sudafed, Visine, Zarbees or Zyrtec, Online rebate
-$5 off Blink Triple Care lubricating eye drops printable


(makes it $1.49)

Acuvue Revitalens or Complete Contact Solution, 10-12 oz, at $10.99 ($5.49)
-$5 Acuvue Revitalens printable
-$4 off Acuvue RevitaLens Contact Lens Solution, 10 oz, limit 1, Save 07/16 (EXP 8/13)


(makes it 49¢ )

Arm & Hammer Laundry Detergent 100.5-105 oz or 42 ct or In-Wash Scent Booster, 37.8 oz, at $12.29 ($6.14)
-$1 off Arm & Hammer detergent, excl 27.5-36.5 oz, SS 08/06
-$1 off Arm & Hammer In-Wash Scent Boosters 24 oz+ Clean Scensations, Odor Busters, and Light, 18 oz Clean & Simple, SS 08/06
-$1 off Arm & Hammer Laundry Power Paks, 24-ct+, SS 08/06
-$1 off Arm & Hammer in-wash scent booster printable
-$1 off Arm & Hammer liquid detergent, excl 27-36.5 oz printable
-$1 off Arm & Hammer Power Paks, 24 ct.+ printable


(use (2) $1 off, makes it $5.14 ea.)

Brawny Paper Towels Double Rolls Pick a Size or Full Sheet White, 6 Roll, at $15.19 ($7.59)
-$1.50 off Brawny Paper Towels, 3 to 8 rolls (sign up) printable
-$1 off Brawny Paper Towel item, 4 roll+, Publix eCoupon


(makes it $6.09)

CLR Mold & Mildew Stain Remover or Calcium Lime and Rust Remover or Cleaner 26-32 oz or Disposal Foaming Cleaner, 5 ct, at $5.79 ($2.89)
-$1 off CLR Garbage Disposal Cleaner, 5-ct, limit 5, at Ingles, Lowes Foods, Publix, Ibotta mobile app
-.75/1 CLR Calcium, Lime & Rust Remover, 28 fl oz, limit 5, Ibotta mobile app
-$1 off CLR Mold & Mildew Clear, 32 fl oz, limit 5, Ibotta mobile app


(makes it $1.89)

Candle-Lite Scented Candle, 18 oz, at $7.99 ($3.99)
Carbona In-Wash Color Grabber Sheets 30 ct or Washing Machine, 8.4 oz, at $5.09 ($2.54)
-.75/1 Carbona Washing Machine Cleaner with Activated Charcoal, 8.4 fl oz, limit 5, Ibotta mobile app
-.75/1 Carbona Washing Machine Cleaner, 8.4 oz, limit 5, at Publix, Lowes Foods, Ingles, Ibotta mobile app


(makes it $1.79)

Full Circle Tall Kitchen Bags 70 ct or Large Trash Bags 40 ct, at $6.19 ($3.09)
Philips LED Lightbulbs, 2-4 ct, at $7.99 ($3.99)
Pup-Peroni Dog Snacks, 22.5 oz, at $16.19 ($8.09)
Reveal Cat Food, 12 pk 2.47 oz, at $16.99 ($8.49)
King Stag Cabernet Sauvignon Wine, 750 ml, at $17.49 ($8.74)
Maison de Madeleine Brut Wine or Rose, 750 ml, at $18.79 ($9.39)
Guayaki Yerba Mate, 15.5 oz, at $3.09 ($1.54)
Juicy Juice 100% Apple Juice or 100% Apple Juice Blend, 64 oz, at $4.85 ($2.42)
Maxwell House Ground Coffee 10.5-11.5 oz or K-Cup, 12 ct, at $9.95 ($4.97)
Publix Premium Single Serve Coffee or Hot Cocoa 12 ct or Ground Coffee, 12 oz, at $10.29 ($5.14)
Publix Tea Bags, Original or Decaf Family Size, 24 ct, at $4.65 ($2.32)
Icelandic Glacial Natural Spring Water, 33.8 oz, at $2.89 ($1.44)
Alkaline 88 Purified Water Enhanced with Minerals and Electroylytes, 1 gallon, at $4.15 ($2.07)
Pepsi Products 6 pk 16.9 oz or 8 pk 12 oz, at $8.25 ($4.12)


(Excluding Aquafina)

Waterloo Sparkling Water, 12 pk 12 oz, at $6.49 ($3.24)
Produce
Blackberries, 6 oz, $3.33
Organic Blueberries, 11 oz, $2.50
Plumcots, $2.29 lb
Cherries, $2.99 lb
Organic Nectarines or Peaches, $2.99 lb
Sugar Kiss Melon, $3.49
Red or Black Plums, $2.29 lb
Mangos, $1
GreenWise Organic Seedless Grapes Red or White, $2.49 lb
Bagged Green Beans, 1 lb, $1.99
Butter Leaf Lettuce, 4.5 oz, $3
Cauliflower, $2.50
Garden Life Romaine Leaves or Green Leaf, 7 oz, $3.99
GreenWise Organic Spring mix, 16 oz, $6.49
Zucchini or Yellow Squash, 24 oz, $2.99
Publix Whole Carrots, 1lb , 99¢
Publix Yellow Onions, 3 lb, $2.99
Tomatoes on the Vine, $1.49 lb
Meat
Ground Chuck Publix Beef 3 lb +, $4.49 lb
Publix Pork Boston Butt Roast Bone-In, $2.99 lb
Bone-In Ribeye Steak, $12.99 lb
Eye Round Roast, $5.99 lb
GreenWise Lamb Round Bone Shoulder Chops, $6.69 lb
Perdue Ground Chicken, 16 oz, $4.50
Publix Chicken Drumsticks or Bone-In Thighs, 4 lb+, $1.79 lb
Publix Lean Boneless Pork Loin CHops, $5.49 lb
Publix Pork Shoulder Blade Steaks Bone-In, $3.49 lb
Sirloin Tip Roast, $5.99 lb
Fridge or Frozen
Kraft Mozzarella String Cheese 12 pk 12 oz or 10 oz, $3.50
-$1 off Kraft String Cheese, 9 oz+, limit 5, Ibotta mobile app


(makes it $2.50)

Publix Shredded Cheese or Chunk, 6-8 oz, $2.50
Tillamook Chunk Cheese or Snack Portions or Farmstyle Slices or Shredded, 7-8 oz, $4
–B1G1 Tillamook Cream Cheese Spread, (sign up) printable


(makes it $2)

Temp Tee Cream Cheese, 7.5-8 oz, $3.50
Happy Egg Co. Free Range Eggs, 12 ct, $3.99
Rana Pasta 10 oz or Sauce 7-15 oz, $4


(Excluding Lasagna Sheets and Gnocchi)

Truly Grass-Fed Natural Creamy Butter, Bricks or Spread, 8 oz, $4.99
Bertolli Skillet Meals, 22 oz, $7.99
Healthy Choice Bowls or Simply Steamers or Marie Callender's Dinners, 9-14 oz, $3.50
Juniors Cheesecake, 24 oz, $11.49
Just Bare Lightly Breaded Chicken Breast Bites, Strips or Spicy Fillets or Bites, 24 oz, B2G1
Michael Angelo's Family Size Entrees, 20-32 oz, $6.99
-$2 off Michael Angelo's Frozen Entree item, Publix (EXP 8/10) eCoupon (limit reached)
-$2 off Michael Angelo's frozen entree (EXP 8/13) printable (limit reached)
-$4.29/2 Michael Angelo's Frozen Entrees, single serve, limit 1, Ibotta mobile app


(makes it $4.99)

Publix Premium Ice Cream or Frozen Yogurt, 1/2 gallon, $4.50
Grocery
Frito-Lay Snacks Variety Pack 18 ct, $8.99
-$10 Publix Gift Card WYB $50 in participating Kraft, Heinz, Nabisco, P&G or PepsiCo products at Publix, online rebate
Tostitos or Lay's Dip, 15-15.75 oz, $4.50
-$2.50 off Tostitos Dip WYB (2) Tostitos Chips, Publix eCoupon
Tostitos Salsa or Dip, or Lay's French Onion Dip, 23 oz, $5
-$2.50 off Tostitos Dip WYB (2) Tostitos Chips, Publix eCoupon
Ruffles Potato Chips 5.5-8.5 oz, B2G1 at $5.99


(Excluding Baked and Simply)

Arnold Keto Bread 20 oz or Hamburger or Hot Dog Buns or Sandwich Thins, 12 oz, $5.99
Tate's Bake Shop Cookies, 5-7 oz, $5
-$1 off Tate's Bake Shop Cookies, 7 oz, excl Gluten Free, Key Lime Coconut, Vegan, Cookie Bark, or Limited Edition Gingersnap or Cinnamon Brown Sugar items, limit 3, Ibotta mobile app


(makes it $4)

Nabisco Newtons Cookies, 10 oz, $3.50
-$10 Publix Gift Card WYB $50 in participating Kraft, Heinz, Nabisco, P&G or PepsiCo products at Publix, online rebate
Ben's Original Ready Rice 8.5-8.8 oz or Flavored Grains, 6-6.2 oz, $2.50
Del Monte Fruit Cups 4 pk 3.5-4.5 oz or 2 pk 7 oz, $2.50
Nabisco Family Size Cookies or Crackers or Limited Edition or Gluten Free Oreos, 10-25.6 oz, $4


(excluding Nutter Butter)


-$10 Publix Gift Card WYB $50 in participating Kraft, Heinz, Nabisco, P&G or PepsiCo products at Publix, online rebate
Welch's Squeezable Jam or Jelly or Spread 17.1-20 oz or Concord Grape Jam or Jelly, 30 oz, $2.50
Beverages
Coca-Cola Soft Drinks, 6 pk 16.9 oz, B2G1 at $7.75
Coca-Cola Products 12 pk 12 oz or 8 pk 12 oz, B2G1


(Excluding Dasani)

Pepsi Products, 12 pk 12 oz, B2G1
-$1 off Pepsi Zero Sugar or Mtn Dew Zero Sugar, 12 pk, Publix eCoupon
Aquafina Pure Water 24 pk 16.9 oz, B2G1 at $6.71
-$10 Publix Gift Card WYB $50 in participating Kraft, Heinz, Nabisco, P&G or PepsiCo products at Publix, online rebate
Propel Water Beverage 6 pk 16.9 oz, B2G1
-$10 Publix Gift Card WYB $50 in participating Kraft, Heinz, Nabisco, P&G or PepsiCo products at Publix, online rebate
Bodyarmor Sports Drink, Lyte, Regular or Super Drink 16 oz or Electrolyte Sportwater, 1L, $1.25
-$1/2 BodyArmor Sports Drink (sign up) printable


(makes it 50¢)

Dunkin K-Cups Coffee, Espresso Capsules 10 ct or Ground or Whole Bean 10-12 oz or Cold Brew, 8.46 oz, $6.99
Lipton Tea 12 pk 16.9 oz, B2G1 at $7.67
-$10 Publix Gift Card WYB $50 in participating Kraft, Heinz, Nabisco, P&G or PepsiCo products at Publix, online rebate
-$1 off Lipton Iced Tea item, 12 pk or 64 oz, Publix eCoupon
-$1 off Lipton iced tea, 12 pk or 64 oz printable
Powerade Energy Drink Zero or Regular, 8 pk 20 oz, $5.50
-$1 off Powerade or Powerade Zero, 8-pk 12 oz, limit 2, SS 07/16 (EXP 8/12)
-$1 off Powerade item or Zero item, 8 pk or 20 oz, Publix (EXP 8/10) eCoupon (limit reached)


(makes it $4.50)

Red Bull Energy Drink, 4 pk 8.4 oz, B2G1
Starbucks Frappuccino Chilled Coffee Drink or Doubleshot Energy or Nitro Cold Brew, 9.6-15 oz, B2G1
-$10 Publix Gift Card WYB $50 in participating Kraft, Heinz, Nabisco, P&G or PepsiCo products at Publix, online rebate
-$1/2 Starbucks Singles, Publix eCoupon
-$1/2 Starbucks Singles 13.7 oz Frappuccino, 15 oz Doubleshot Energy or Tripleshot Energy, 9.6 oz Nitro Cold Brew, Publix (EXP 8/11) eCoupon
Personal Care
Baby Care
Household
Bounty Paper Towels Double Rolls, 6 ct, $15.29
-.25/1 Bounty paper towel product, excl trial/travel size printable
-$5 off Procter & Gamble WYB $25 Always, Aussie, Bounty, Bounce, Cascade, Charmin, Crest, Dawn, Febreze, Gain, Downy, Gillette, Head & Shoulders, Herbal Essences, Mr. Clean, Olay, Old Spice, Pampers, Pantene, Secret, Tampax, Tide or Venus items, excl Tide-To-Go, Downy Wrinkle Releasers & trial size, Publix (EXP 8/11) eCoupon


(buy (2), makes it $12.79 ea.)

Quilted Northern Bathroom Tissue 6 Mega Rolls, $6
-.50/1 Quilted Northern bath tissue (sign up) printable
-$1 off Quilted Northern Bath Tissue, 6 Mega Roll+, Save 07/16
-$1 off Quilted Northern Bath Tissue, 6 Mega roll+, Publix eCoupon


(makes it $5)

Sparkle Paper Towels with Thrist Pockets, 6 roll, $6.49
-$1.50 off Sparkle Paper Towels, 6 rolls + printable


(makes it $4.99)

Charmin Bathroom Tissue Super Mega Rolls 8 Roll or Mega Rolls, 12 ct, $15.29
-.50/1 Charmin toilet paper, excl trial/travel size printable
-$5 off Procter & Gamble WYB $25 Always, Aussie, Bounty, Bounce, Cascade, Charmin, Crest, Dawn, Febreze, Gain, Downy, Gillette, Head & Shoulders, Herbal Essences, Mr. Clean, Olay, Old Spice, Pampers, Pantene, Secret, Tampax, Tide or Venus items, excl Tide-To-Go, Downy Wrinkle Releasers & trial size, Publix (EXP 8/11) eCoupon


(buy (2), makes it $12.79 ea.)

Persil ProClean Laundry Detergent 100-150 oz or 38-40 ct, $3 off
(prices after sale)
Persil Detergent, 100 oz, $12.99
Persil Discs, 40 ct., $11.99
-$2 off Persil Laundry Detergent, incl Liquid, 100-150 oz, and Discs, 38- 62 ct, limit 5, Ibotta mobile app
-$3 off Persil Large ProClean Laundry Detergent 100-150 oz or 38-62 ct, limit 1, Save 08/06
-$2 off Persil ProClean Laundry Detergent 40-150 oz or 15-62 ct, limit 1, Save 08/06


(use $3 off and Ibotta, makes it $6.99 to $7.99)

OxiClean 5 lb or Color Boost, 26 ct or 66 oz, $2 off
Downy Fabric Softener 81-129 oz, Scent Booster 14.8 oz or Fabric Softener Sheets, 200 ct, $10.99
-$5 off Procter & Gamble WYB $25 Always, Aussie, Bounty, Bounce, Cascade, Charmin, Crest, Dawn, Febreze, Gain, Downy, Gillette, Head & Shoulders, Herbal Essences, Mr. Clean, Olay, Old Spice, Pampers, Pantene, Secret, Tampax, Tide or Venus items, excl Tide-To-Go, Downy Wrinkle Releasers & trial size, Publix (EXP 8/11) eCoupon
Febreze Fabric Refresher 27 oz or Oil Warmer, Car Vent Clips or Small Spaces 2 ct or Air Refresher 2 pk 8.8 oz or Plug In Scented Oil, 1 ct, $5.49
-$2.30 off Febreze Car, excl trial, limit 2, Save 07/30 (EXP 8/12)
-$2.30 off Febreze Small Spaces, excl Unstopables, Heavy Duty, Ocean, Ember, Mountain, Wood & Kitchen Scents, & trial, limit 2, Save 07/30 (EXP 8/12)
-$5 off Procter & Gamble WYB $25 Always, Aussie, Bounty, Bounce, Cascade, Charmin, Crest, Dawn, Febreze, Gain, Downy, Gillette, Head & Shoulders, Herbal Essences, Mr. Clean, Olay, Old Spice, Pampers, Pantene, Secret, Tampax, Tide or Venus items, excl Tide-To-Go, Downy Wrinkle Releasers & trial size, Publix (EXP 8/11) eCoupon


(makes it $3.19)

Tide or Tide PODS Laundry Detergent 146 oz or 45, 57 or 76 ct, $19.99
-$2 off Tide PODS Laundry Detergent 23 ct, 26 ct, 31 ct, 32 ct, 35 ct, 42 ct or Tide Hygienic Clean Power PODS Laundry Detergent 25 ct printable
-$3 off Tide Pods 32-81 ct., Power Pods 25-48 ct., excl liquid, powder printable
-$3 off Tide laundry detergent 92 oz+, powder 47 loads+, excl Pods printable
-$4 off Tide laundry detergent 115-154 oz, excl PODS, Simply and Simply PODS, & trial, limit 2, Save 07/30
-$4 off Tide PODS 43-112 ct or Power Pods 32-63 ct, excl Liquid/Powder Laundry Detergent, Simply and Simply PODS, & trial, limit 2, Save 07/30
-$5 off Procter & Gamble WYB $25 Always, Aussie, Bounty, Bounce, Cascade, Charmin, Crest, Dawn, Febreze, Gain, Downy, Gillette, Head & Shoulders, Herbal Essences, Mr. Clean, Olay, Old Spice, Pampers, Pantene, Secret, Tampax, Tide or Venus items, excl Tide-To-Go, Downy Wrinkle Releasers & trial size, Publix (EXP 8/11) eCoupon


(makes it $15.99)

Ajax Dish Soap Orange, 90 oz, $1 off
Libman Wonder Mop or Heavy Duty Wonder, Tornado, Nitty Gritty Roller Plus, Freedom SPray or Gator or Precision Angle Broom with Dustpan, 1 ct, 25% off
Mr. Clean Clean Freak Deep Cleaning Mist, 16 oz, $6.49
-$5 off Procter & Gamble WYB $25 Always, Aussie, Bounty, Bounce, Cascade, Charmin, Crest, Dawn, Febreze, Gain, Downy, Gillette, Head & Shoulders, Herbal Essences, Mr. Clean, Olay, Old Spice, Pampers, Pantene, Secret, Tampax, Tide or Venus items, excl Tide-To-Go, Downy Wrinkle Releasers & trial size, Publix (EXP 8/11) eCoupon
Mr. Clean Magic Eraser, 4 ct, $6.49
-$5 off Procter & Gamble WYB $25 Always, Aussie, Bounty, Bounce, Cascade, Charmin, Crest, Dawn, Febreze, Gain, Downy, Gillette, Head & Shoulders, Herbal Essences, Mr. Clean, Olay, Old Spice, Pampers, Pantene, Secret, Tampax, Tide or Venus items, excl Tide-To-Go, Downy Wrinkle Releasers & trial size, Publix (EXP 8/11) eCoupon
Scrub Daddy Sponges, Scrubber or Scouring Pads or Eraser, 1-3 ct, $4
Soft Scrub Cleanser, 36 oz, $4.49
-.75/1 Soft Scrub Abrasive Cleaner (sign up) printable
-$1 off Soft Scrub Abrasives, limit 1, Save 08/06


(makes it $3.49)
Pet Care
Greenies Dental Treats, 12 oz, $14.99
-$2.75 off Greenies canine treats, Pill Pockets, or digestive probiotic supplement printable (limit reached)


(makes it $12.24)
Publix LINKS
Latest Articles
Categories
Videos
← PREV NEXT →
Popular Posts