This post may contain affiliate links. Read our disclosure here.
Do you have a stack of Christmas cards that you don't know what to do with? Or, maybe you have a ton of Christmas cards from years passed. Instead of tossing them or letting them pile up in the Christmas decorations box, get creative and put them to good use!
Whether you want to save them and remember the actual people on the cards or you want to make something totally new, there are lots of fun and easy ways to recycle Christmas cards.
How to Recycle Christmas Cards
SAVE THEM
Get rings from the local office supply store or craft store or use ribbon to bind your cards into a book. Hole punch each card in two places—we did our holes exactly 2.5 inches apart. Now you've turned them into their own little scrapbook! I did this for the baby cards that were sent for each girl when they were born and some of the sweet cards we got when my husband and I were married.  You don't have to save all of them, but now the special ones are all together and easy to flip through.
You can also go the low clutter method and scan the cards into the computer.  Put all the scanned images into a file together so you can find them in the future.
REUSE THEM
There are several easy ways to recycle Christmas cards by reusing them without changing the overall appearance that much.
Turn the cards into postcards or recipe cards. As long as the inside cover of the card is still blank, you can cut the front of the card off and give it a new life!
Turn them into placemats.  This can also be a great way to help your kids learn to pray for others: Each night, have them pray for someone on their placemat. Here are detailed instructions to get started.
Cut out images to make gift tags for future presents.
Use the card fronts as pretty scrapbook embellishments, or make bookmarks from them. (
REPURPOSE THEM
There are dozens of ways you can use Christmas cards to make completely different items, but I stuck to looking for ones that are relatively easy and that your kids might even be able to help you with. You could save the cards and work on some of these next year along with some of my other ideas for frugal Christmas crafts.
These 3-D Christmas Card ornaments will add a homemade touch to your tree next year!
This is a different take on Christmas card ornaments that even kids can help make.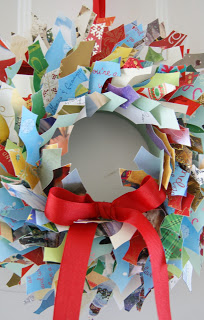 This Christmas card wreath is a little more time-intensive, but once it's finished it would be a beautiful addition to your indoor Christmas decorations.
I think this Christmas card Advent calendar is my favorite idea for how to recycle Christmas cards. You could even use this in conjunction with a Christmas book Advent calendar!
I love these Christmas card topiaries because they don't even look homemade! You could even use similarly colored cards to make different patterns.
This Christmas card garland is another fun craft you could do next fall in advance of the holiday season. Use it to decorate an entryway or even use it on your Christmas tree!
DONATE THEM
You can give your cards a new life and help out others.  Tons of groups around the country use greeting cards in craft projects. Find a local group or business in your area to send your Christmas cards, or check out these places where you can send old Christmas cards.
Do you have something you love to do with cards rather than throwing them away? Let us know in the comments!