This post may contain affiliate links. Read our disclosure here.
"Having a baby costs so much money!"
How many times have you heard this statement? Some may answer that a newborn baby needs very little aside from loving parents. But some of the simplest necessities cost the most: diapers, clothing, a car seat, and food. Welcome to week two as we share some ideas for saving money on baby basics. (Week one was diapers).
Saving on Baby: How to Save on Baby Food
Until I had a baby, I had no idea how much time mothers spend feeding their children. In fact I'd really like to see a calculation of average time spent feeding in the first year of life. It is amazing that without some planning a family could spend the same amount on an infant as they many spend for two or three people! However, there are ways to save in each stage.
Newborns
Breastfeed as long as possible
Breast milk is perfectly formulated to meet all of baby's calorie needs. It has just the right amount of vitamins and nutrients. It contains antibodies to keep baby from illness. It is always the right temperature and requires no preparation. And best of all it is absolutely free! With the exception of a few accessories (which are merely helpful, not actually necessary) you won't spend a dime to feed your baby. Pediatricians recommend breastfeeding for at least six months, but those who continue until baby's first birthday may never need to purchase a bottle of formula. See here for more information about the health benefits of continued breastfeeding.
Find ways to save on formula
While there is no denying that breast is best in terms of cost and nutrition, some women are unable to do so for one reason or another. Also, some babies give up nursing before they are able to drink regular milk at one year and so mom must resort to formula for a few months. Formula can cost up to $40 per week or anywhere from $1000 to $2300 over a year. Many moms feel that they have to pay top dollar in order to provide baby with the best nutrition, but this isn't always the case. Here are a few ideas for cutting the cost without giving up quality.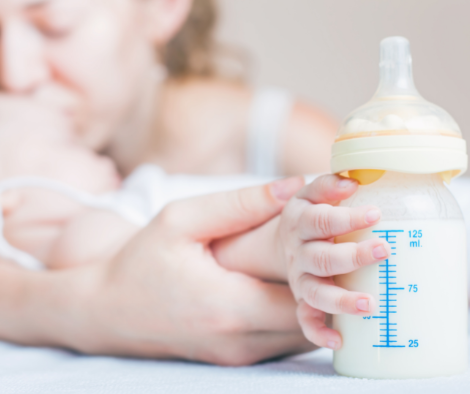 Use coupons and formula checks: The best source for coupons is the manufacturers. You can sign up for rewards programs, newsletters, samples, and checks for various amounts (these can be used like coupons toward a purchase). Use these in combination with store sales and coupons at grocery and drug stores to get the best price.
Example: Gerber Good Start reg. priced at $18.79 ($1.48/oz) at Target
-$5 manufacturer's check
Total= $13.79 ($1.08/oz)

Buy in bulk – Like most other products, the bigger packages are cheaper per ounce. If you are a member of a wholesale club, you will be able to find the lowest price per ounce at regular price. You can also buy multi-packs, saving you even more money. The best thing about the above mentioned manufacturer's checks is that while they can be used like coupons, there is no restriction on the size container you can buy. Also, they can be used even at stores that do not take regular coupons.
Example: Enfamil regular price is $49.98 ($1.21/oz) at Sam's Club
-$5 manufacturer's check
Total= $44.98 ($1.08/oz)

Buy house brand: All manufacturers are under the same strict FDA regulations. Unless your baby is struggling nutritionally or has difficulty digesting certain formulas, your baby should receive adequate nutrition even with a house brand. Please consult with your pediatrician if you have concerns.
Example: Member's Mark (Sam's house brand) is regularly priced at $22.98 ($0.48/oz); Target's Up&Up brand is regularly priced at $19.99 (57¢/oz)

Ask for samples: As mentioned before manufacturers offer samples packages to expectant mamas through their websites, but you can often get these from you OB/GYN as well. Be sure to ask when you go in for your check up.
Transitioning to Solids

Those pretty, multi-colored jars of food don't seem all that expensive. But when you start thinking about how much you are paying per serving, it really adds up! One simple way to save money is to wait! While most pediatricians will still give you the go ahead at 4-6 months, but most experts are now saying that baby will be just fine with breastmilk until six months. It can actually be better for baby's digestion and exposure to possible allergens.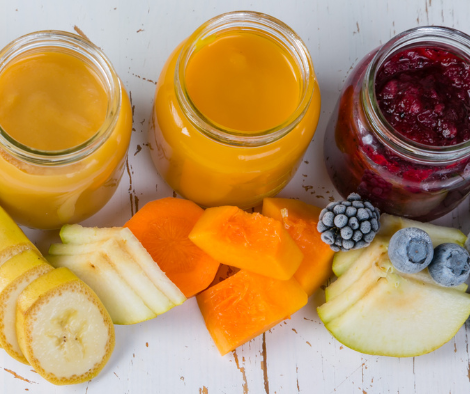 Make your own
This is really not as scary as it sounds. It also does not require any special equipment. All you need is a decent blender/food processor or immersion blender  and some ice cube trays. There are some extra tools that can make the task easier (a food mill, a steamer, a crockpot, etc.), but they aren't really necessary. There are several foods that don't require cooking or processing at all like banana, avocado, mango, and pears.
Cooking your own baby food is very nutritious and often provides a greater variety of flavors for your baby. Often you can just use foods that you are already purchasing for the rest of your family. Simply steam fruits and vegetables until tender. Cool, blend, and freeze into cubes (ice cube trays work great). Defrost them in the microwave when it is time to feed baby. Mix and match them, or add breast milk, formula, or baby cereal.
After a few kids I stopped preparing baby food in bulk and started grabbing a coffee cup and immersion blender.  Whatever we were eating for dinner got blended up in the coffee cup (add a little bit of water or milk if needed) and that's what the baby ate.  Super simple!
For more information:

Compare the cost of jar food to homemade
Stage one baby food recipes
Annabel Karmel's Recipes for babies 6-9 months (I also recommend her book First Meals )
Use coupons at the grocery store
This shouldn't be rocket science for you since you already do this when you shop for the rest of your family. If you are new to Southern Savers, take a look at our Getting Started Guides. Again, don't forget to sign up with manufacturers for their newsletters as they often come with valuable coupons for their product. Printable coupons can often be found on manufacturer's websites. Parenting magazines are also a great source of baby food coupons, and you can often sign up to receive these for free if you are an expectant mom.
Combine strategies

There are times when making your own baby food can be difficult. I will warn you that sometimes texture can be an issue, especially when it comes to peas and green beans. Most recipes recommend the use of a food mill for veggies with a tough hull which would add to your overall costs. I made most of my own food, but purchased these two veggies in the store when they went on sale. I found this particularly helpful as I started to transition to more textured foods. For example, I took some left over pasta, ran it through the food processor, and then mixed it with some tomato and carrot from Earth's Best.
It can also be difficult to travel with those frozen cubes of fruit and veggies. Grab a few jars on sale to use when you are eating out or going on vacation.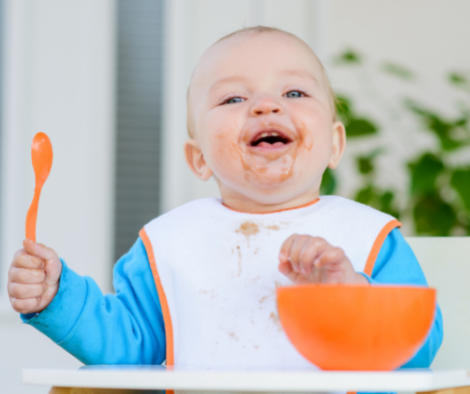 Transitioning to Table Food

As your baby gets older he will eat less of the soupy cereal, fruits, and veggies, and start experimenting with feeding himself. He will also start consuming more food at more regular times and even join the family. My advice here is simple: give your kid the good stuff. While you may not always feed your baby or toddler exactly the same meal you have, you can gradually transition them real food. Avoid buying special "baby" or "toddler" foods as you get very little for your money (unless of course you can get it free with a coupon). Also, they often contain a lot of fillers and are highly processed (not a good way to start your baby on the path to nutrition).
If you cook healthy food for your family it should be very easy to begin sharing with your baby or toddler. Continue to give baby lots of fruit and veggies, make your own teething biscuits, make homemade broth for soups, and share some of your dinner with your little one. As you adapt recipes for baby watch out for salt and sugar. Too much isn't good for baby (or for you), so make sure to take out his portion before you add these ingredients. Many parents give their children a lot of juice thinking that it is healthy because it comes from fruit, but juice can be an unnecessary cost to your baby's health and your wallet! Juice is a sure way to give your baby a sugar high. Water down juice for your toddler or save it for special occasions. Better to save your money (and baby's health) and go with water or milk.
More information on table food:
Stage 2 baby foods
Wholesome Finger Foods
Wholesome Toddler Foods
More recipe ideas from Annabel Karmel
See more on buying frugal for baby:
Saving on Baby: How to Save on Baby Gear and Clothes
Buying Frugal For Baby: Diapers