This post may contain affiliate links. Read our disclosure here.
Summer is almost over, and if you have students in your home who are starting or continuing college courses, you may be balking at the price of textbooks. While there's no way to fully take away the cost, always remember research is one of your best bets for making sure you're paying the lowest price possible! I'm going to share my best tips for saving on textbooks and where to go to look for the best deals.
Throughout this post, I'm going to use the example of a current book used in many Intro to Psychology courses. I'll compare the cost of buying it from the school bookstore versus all the other options! When searching for a book on any site, using the ISBN is your best bet to make sure you're seeing the book you're looking for.
Here's the book: Psychology in Modules by David Myers (13th edition), ISBN: 978-1319132095.
Saving on Textbooks for College
Buying or Renting Textbooks

Chegg is a website where you can sell, buy, and rent textbooks, among other things. At Chegg, you can rent the psychology textbook for $42.99 with free shipping when you return it. You can also buy a used copy of the book for $204.49.
Amazon is a good place to start with your textbook search as it will show you many different options all in one place. If there is an ebook or Kindle version of the book, it will list it. It may sell the textbook on its own, or it may be partnering with another site to rent the book. Amazon also has an option for buying a loose-leaf version of the textbook, which is lower priced at both the used and new price points.
You can rent the psychology textbook for $43.43, buy a used copy for $179.95, or buy new for $220.31.
Abebooks allows people to sell their textbooks, which allows for a competitive market! A paperback used copy of the psychology textbook was listed for around $125. Abebooks also links to older editions of the textbook, if that's an option.
eCampus is another option, although none of their prices were any better than anywhere else. They allow you to rent, buy, and sell books through their system and also have a "marketplace' list where they share third-party buying options. Other places to explore are Half Price Books and eBay.
Textbook Comparison Sites
There are some sites that pull from across the Internet to compare prices for you. Some are more comprehensive than the others, so check them all out and see which one you prefer.
At Valore Books,  the lowest prices are that you could rent the book for $42.58, buy used for $125, or buy new for $221.45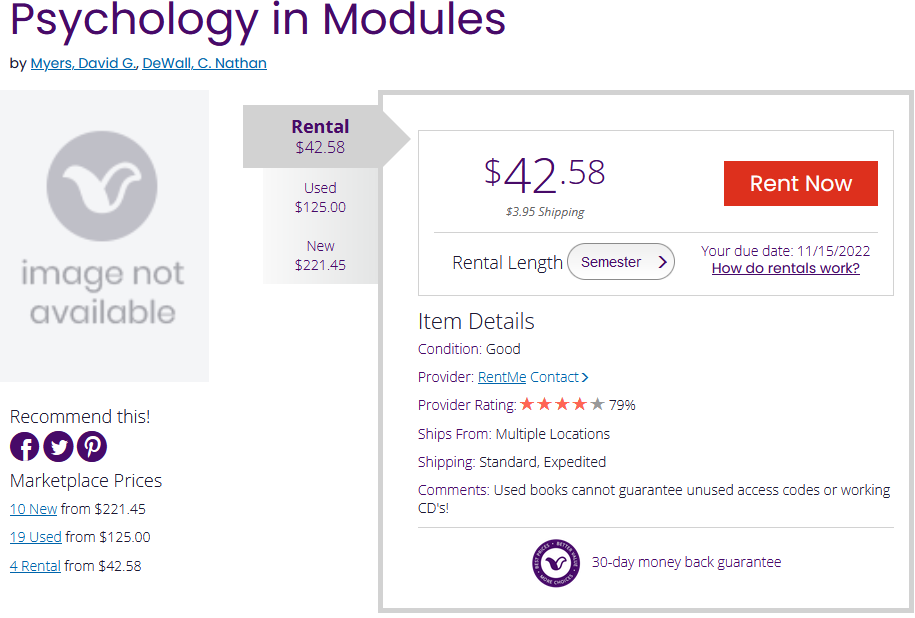 Student2Student connects you to other students at your college or university who may want to sell or buy the book. This is a great option if it's something that many people at your campus use! I couldn't find the psychology book there, but it might work for the course you're looking for.
Book Finder is another comparison site that searches a bunch of different places where you could find this book. The cheapest new option was $205.54, while the cheapest used option was $121. This site also lists the best buyback offers it could find.
Google is also a great place to compare prices. Just type in the ISBN number, then click on the "shopping" tab. When you select the book you're looking for, it will then allow you to compare prices. You just need to make sure you use your due diligence. It said the book was available used for $15, but when I clicked through to that particular site, it wasn't the right edition.
Campus Books is a price comparison site. This worked really well and quickly gave me lots of different options to rent, get an ebook, buy used, and buy new. It listed the best prices for each option: renting was $40.19 through Knetbooks, the e-book was $68.63 on BooksRun, and Amazon had the best used price at $121.67 and new price at $224.30. I liked how it allowed me to filter the results by the format.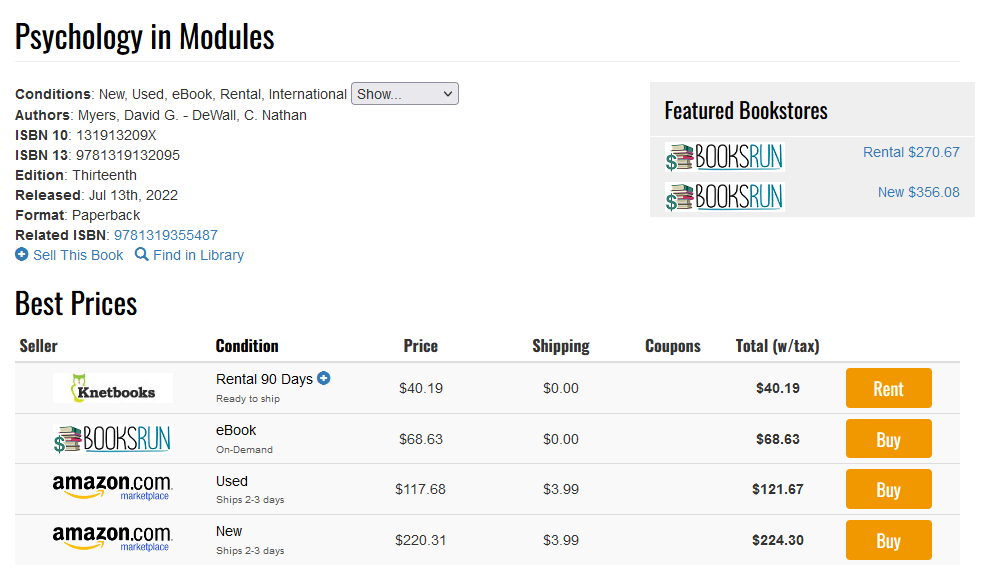 Selling Textbooks
I recommend seeing how much you could get back for your textbook before you decide between buying and renting. In some cases, if you can't get very much back for your book, renting one will be the best option. But if the buyback price is high, then buying a cheaper used copy and reselling it may be your best bet.
At the website Cash4books, they offered me $87.68 to buy back the psychology textbook in decent condition. Go Textbooks is another book buyback site.
BooksRun allows you to buy, sell, and rent textbooks. However, their prices were much higher than anyone else. However, I did type it in to see how much I could sell a copy for and got $89, so this could be a good option for buying them back.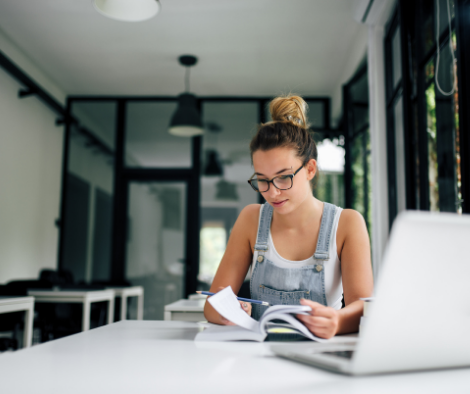 Other Tips for Saving on Textbooks

Make sure you actually need the book. If you know anyone who took the class before, you may be able to check with them about how much the textbook was actually used. Sometimes professors list books because they are required to, but they don't actually teach from them.
Split the cost of the book with a classmate. If you know someone else who is going to be in the class, see if they'll split the cost of the book with you!
Ask about using older editions. In many cases, a newer edition just changes the cover and doesn't add much. Ask the professor how much it matters that you buy the newest edition. Every time a new edition comes out, the prices of older editions decrease.

Check with your college bookstore. Readers have pointed out before that sometimes your own college bookstore will offer special rental deals or other incentives to shop there. While you're often better off looking online, make sure you do your due diligence and check to see if there are any good deals.
Do you have any additional tips for saving on textbooks? Let us know in the comments!