This post may contain affiliate links. Read our disclosure here.
Most of us have probably been using Amazon for years, and chances are you've discovered some hacks and tips to help you save money there. But when you really start digging, there are dozens of ways that you can save even more money on the popular online shopping site. From warehouse deals to customer service tips, here are 28 secrets to save at Amazon.
28 Secrets to Save at Amazon
Use Subscribe & Save
You can choose this option to receive regular, automatic shipments of certain products and in return, get free shipping and a 5%-15% discount. You can cancel this at anytime, so you won't get penalized if you decide the service isn't for you. Check out our Amazon Subscribe and Save: Tips, Tricks, and Hacks for more info on how Subscribe & Save works.
Sign up for Amazon Prime
For a yearly $119 membership, you can get free 2-day Shipping, Kindle library freebies, stream music, access for select free movies and TV shows, unlimited cloud picture storage and more. It ends up being $128.52 a year with tax if you pay for the year, compared to $12.99/month ($14/month with tax). What I do is set aside about $10/month so that when it's time to renew, I already have it all saved up!
While Amazon Prime seems pricey don't forget that Netflix just went up to $14.99 a month so you are paying less than Netflix and getting way more benefits!
Use the Amazon Family discount
If you are a Prime member, you can shop through Amazon Family and save 20% on diapers and baby food with a subscription of at least 5 items. There is also a 15% off baby-registry completion code, a one-time 10% discount, plus other available coupons. A tip for this is that there are often discounts on your first subscription of a certain brand of diaper, so cancel after your first month and then choose a different deal for the following month.
Check for Gold Box/Lightning Deals
You can choose "Today's Deals" on the main Amazon site to see discounts for the day on several items. Lightning deals are a limited number of deeply discounted items that are available for a certain amount of time.
Sign up for Amazon Student
This is a fun way for college students to save. You will need a .edu email address to get the savings, but it basically allows you the same benefits as Prime for a lower cost. The cost is $6.49/month ($7 with tax), comes out to $84/year. Or you can pay for the whole year at once for $59 ($64 with tax).
Shop Amazon Warehouse deals

These warehouse deals allow you to shop for open box, near-date, refurbished and returned items offered at discounted prices. The items won't be in pristine condition, but you can find some nice savings if you're okay with the condition. The deals are mostly for tech and gadget items.
Clip coupons
Certain personal care or household coupons will sometimes have extra coupons to clip. You will see these coupons on the items that have them available and see the price reflected at checkout, making for some nice discounts. These coupons can be especially nice when paired with S&S discounts.  You can see all of their current coupons here, plus check out our always updated list of Amazon Coupon Deals.
Shop Prime Pantry
While not every Prime Pantry item is a deal, many have special coupons just for prime pantry orders.  You'll also find regular promotions like buy 5 items and get $10 off instantly.  Guess what?!  You can even stack the promos with the coupons!  While it takes a few minutes to browse, it's a good habit to get into checking the promos every few weeks.  This is a great place to stock up on paper goods as well as pantry staples.  If you need a few more items four your Prime Pantry box, always look through the prime pantry clearance section.
Open two different browsers to compare prices

Rumor has it that prices are sometimes better for those who aren't Prime members on items because Amazon isn't having to account for the free shipping. If you're making a bigger purchase, open two different browsers (such as Chrome and Firefox) and compare prices—on one browser logged in to your account, and on the other not logged in.
Don't buy the first items that come up in search
Just because an item comes up first when you search for it doesn't mean it's the best item. Be willing to scroll onto the next few pages and see what other items are being offered. Sometimes you can find the same or similar item for a lower price.  The first items that appear and usually all paid promotions and the retailer has paid more to have their items at the top of the screen, that doesn't equal a good deal for you most of the time!
Call customer service if something goes wrong
Always be willing to call or chat customer service if something goes wrong! Their customer service is really amazing. This summer I called about an issue with a package and somehow in the process they accidentally canceled my Amazon Prime membership. When I called to figure  out what happened, they ended up giving me all the months since I had last renewed it (about 5 months) as a refund! There are also others who have said that if shipping takes longer than the advertised 2 days and you call customer service, they will often give you a month of Prime free or sometimes a gift card toward a future purchase.
Keep add-on items in your cart until you can reach $25
If you're not a Prime member, then you know that some smaller, lower-priced items are "add-on" items that can only be purchased if your total is greater than $25. As you find items like this that you want, add them to your cart until all your add-on items reach $25. This will keep you from buying something you don't really need just to hit that target number.
Shop Amazon Outlet
Amazon Outlet carries overstocked and clearance items from Amazon across all categories. This is the place to look for Christmas stuff for next year!
Sign up for an Amazon Registry
If you're getting married soon, make an Amazon wedding registry to get a 20% off completion discount for items that weren't purchased. There are also other benefits offered!  For everyone else in the next stage… sign up for an Amazon Baby Registry and get a free Welcome box with samples and goodies plus you'll also get a 20% off completion discount!
Track prices with outside tools
CamelCamelCamel, Tracktor and Honey are all websites/tools that let you keep track of price history on Amazon, compare prices with other sites, and sign up for Amazon price drop alerts. I'm not a huge fan of Honey, but not a day goes by that I don't pull up the "camels" as we affectionately call them.
Trade in used items for gift cards
Depending on the item, you can get some decent money back by trading things in. Check out our post on How to Sell Used Stuff Online that contains some specific Amazon info.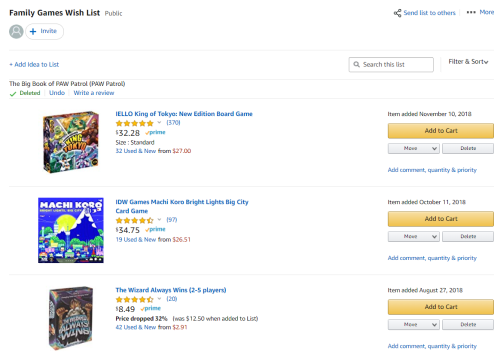 Make Amazon wish lists
While this may not seem like an obvious way to save money, Amazon Wishlists are a big way I save. It lets me save items that I want without purchasing them right away. For bigger ticket items, sometimes I look back a few months later and realize that I don't really need it that badly. It is also great for keeping track of gift ideas for the kids, even if I don't end up buying them on Amazon.
Tip: You can share wishlists with family members, this is the perfect way to help grandparents know what they want for Christmas and maybe for you to drop not so subtle hints to the husband what you want!
Choose the free no-rush shipping option
This is sometimes an option for Amazon Prime members when checking out and choosing shipping options. Instead of free two-day shipping, you can choose free no-rush shipping. I recently used this when I ordered some Christmas presents in August during a deal on Amazon toys. It definitely didn't matter that it was going to be an extra week until it came, so I got a $1 credit toward digital purchases (which we will use up for family movie nights!).
Shop through Rakuten (Ebates)
Formerly Ebates, Rakuten gives you cash back for shopping through various sites, including Amazon. This one is a no-brainer, especially if you're shopping for big ticket items.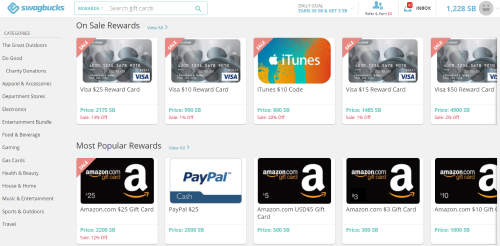 Earn gift cards through Swagbucks
Swagbucks is a search engine that gives you "swagbucks" that can be redeemed for points. Usually you can redeem 500 points for a $5 Amazon gift card. I use it for all my searches, even though it's a bit clunkier than Google, because I can usually earn at least one $5 gift card a month. That gives me $60 each year to use for Christmas presents!
Save items for later
This isn't a guaranteed way to save, but word on the street is if you save an item for later, sometimes it will force the Amazon algorithm to eventually put the item at a discount to encourage you to buy it. It's definitely worth trying if it's an item you don't need right now!
Use Amazon credit cards
I know that not every frugal person prefers credit cards, but if you're like us and pay it off in full each month in order to earn rewards, an Amazon credit card may be a good choice.  We earn 5% back on every Amazon purchase and can apply that credit at checkout with the click of button.   You also can earn on non-Amazon purchases depending on what card you get.
Shop through AmazonSmile
AmazonSmile won't really save you money, but it will help a charity of your choice save money! You need to go to AmazonSmile and choose a charity and then as long as you shop through the AmazonSmile portal, a percentage of your purchase will go to that charity.
Take advantage of Prime Wardrobe
If you're a Prime member, Prime Wardrobe lets you pick 2-8 clothing items and ships them to you for free. You have a week to try them on and see if they work, and then you can return anything you don't want for free (even if it's every single item!). This is basically the Amazon version of Stitch Fix, only you have to pick out the items yourself. Even though the items aren't necessarily on sale, I love the idea of trying things on at home, which saves you money on gas and/or impulse purchases while out somewhere else. Plus, buying a few pricer, more quality articles of clothing will always save you money in the long run.
Take advantage of special Amazon offerings
Amazon is often offering deals like Kindle Unlimited for 3 months free or deals on Audible audiobooks. We keep you up to date on these deals here at Southern Savers!
Find free or highly discounted ebooks, music, and Android apps and games
Here are the best ways to search for these free items: free Kindle ebooks, free Android apps and games, and free music.
Are there any secrets we missed? Let us know in the comments!