This post may contain affiliate links. Read our disclosure here.
Have you ever seen those packs of cookie dough in the store with festive pictures in the middle of them? You can totally make these kinds of cookies at home!
This task may seem a tad daunting at first, but it really is easy to do and you can switch up the images for any holiday.
Here are the basic steps:
-Make sugar cookie dough and use food coloring to color a 1/3 section.
-Use a cookie cutter to cut shapes out of the colored section of dough.
-Stack all of the cut out shapes horizontally and cover with long pieces of the uncolored cookie dough.
-Gently roll the entire log of dough until smooth.
-Refrigerate, slice, and bake.
You can find the entire recipe below, but these pictures should help, too.
Slice & Bake St. Patrick's Day Cookies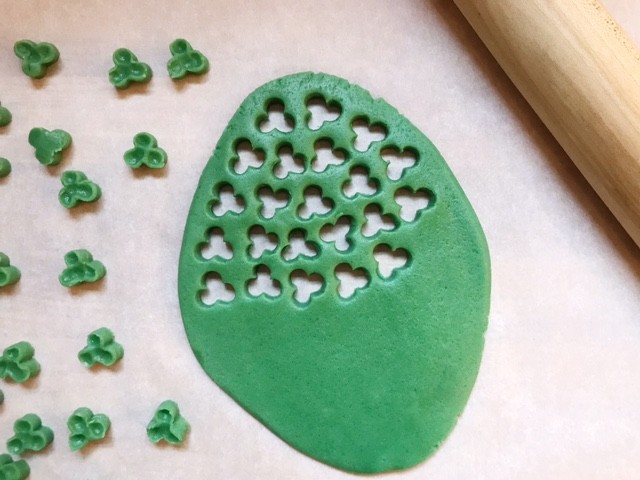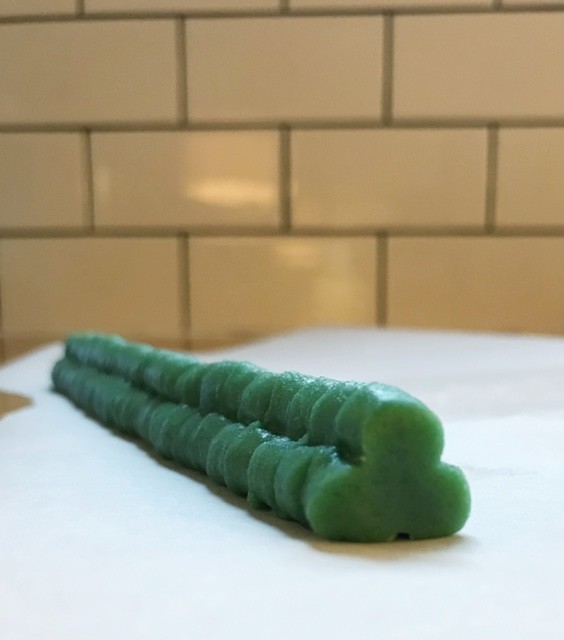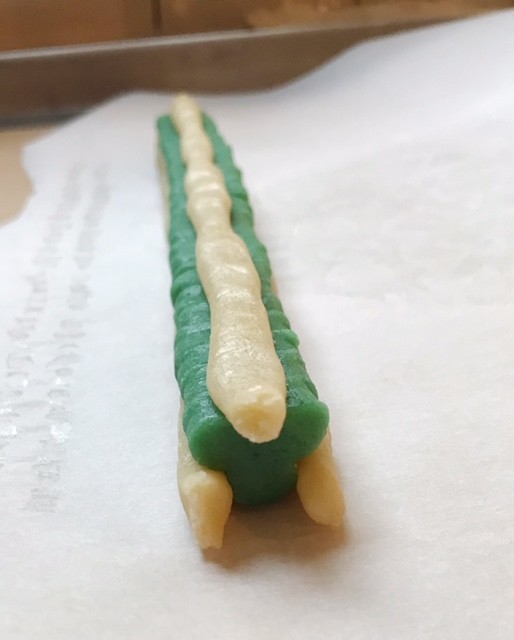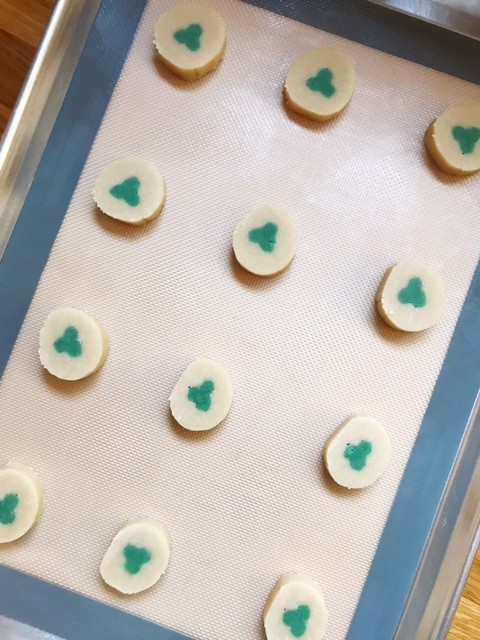 Slice & Bake St. Patrick's Day Cookies Recipe
Ingredients
3 cups all purpose flour
2 tsp baking powder
1/2 tsp salt
1 cup unsalted butter (2 sticks)
1 cup sugar
1 egg
1 tsp vanilla extract
green food coloring
Directions
In a medium-sized bowl, mix together the flour, baking powder, and salt and set aside. Allow the butter to sit out for a few minutes (it should still be cool to the touch).
In a mixer with the paddle attachment, add the butter and sugar. Mix on low until combined. Add the egg and vanilla and mix until combined. Slowly add the flour mixture until combined.
Separate 1/3 of the dough out and color it green by adding a couple of drops of food coloring (I used gloves and mixed it around in my hands).
Roll out the green dough to about 1/2" thickness and use a cookie cutter (I used a small clover) to cut out shapes.
Stack the shapes horizontally together, being careful to keep their shape, until you have a long log of your shape. You can gently press them together as you go. If it starts to get difficult to work with, you can chill in the fridge for a few minutes.
With the plain-colored dough, start to make long snake-like pieces. On a clean surface, roll the dough with the palm of your hand and lay your pieces to the side. You'll add these pieces all around your colored shapes to create your cookie dough log.
Add a "snake" piece of dough to the outside of the shape log and gently press. Keep adding "snakes" all around until it resembles a circle and is about 2-3" across.
Gently roll the whole log to smooth out the sides. Try not to stretch it, but just keep carefully rolling until smooth.
Refrigerate for an hour or until chilled.
Preheat the oven to 350 degrees. Slice the dough log into 1/2" pieces and add to a cookie sheet with parchment or a baking mat, leaving about 1" of space around each cookie.
Bake at 8-10 minutes or until the bottom is only slightly browned and the top no longer looks wet.
Created by SouthernSavers.com
See more recipe ideas!