This post may contain affiliate links. Read our disclosure here.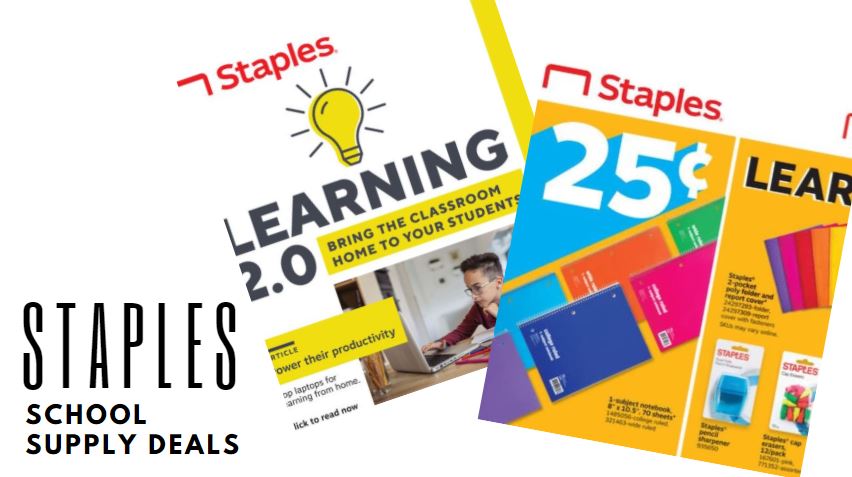 Here are the deals you'll see in the Staples ad that starts on 8/30! Grab a bunch of school supply deals, plus get FREE hand sanitizer when you spend $30.
Tip: Most of these are also online and they are offering free shipping on any order.  Shop online and have everything sent straight to you.
Electronics
Netgear Smart Wi-Fi Router, $89.99
Lenovo IdeaPad 3 Laptop with Intel Core i3 Processor, $399.99
15.6″ FHD Screen
8GB RAM
256GB SSD Storage
HP Laptop with Intel Core i3 Processor, $399.99
15.6″ Screen
8GB RAM
128 GB SSD Storage
Texas Instruments Ti-84 Plus CE Color Graphing Calculator, $119.99
HP Pavailion Laptop with Intel Core i7 Processor, $599.99
15.6″ HD Screen
8GB +16GB Intel Optane
1TB Hard Drive
HP Pavilion Laptop with Intel Core i5 Processor, $429.99
14″ HD Screen
8GB RAM
1TB Hard Drive
Philips USB 2.0 Flash Drive, 16GB, $4.99
School Supplies
Staples #2 Pencils, 12 pk, 50¢
Paper Mate Flair Retro Accent, 6 pk, $5.99
Staples Translucent Pencil Box, $1
Tru REd Retractable Gel pens, 5 pk, $4.99
Primary Composition Book, $2
Graph Filler Paper 80 ct, $1.75
Expo Dry Erase Markers, 8 pk, $6.49
Corrugate Display Board, $9.29
Staples 11″ x 14″ Dry Erase Calendar, $14.63
Kids and Teens Light Blocking Glasses, $9.99
1 Subject Notebook, 25¢
Staples 2 pocket Folder and Report Cover, 50¢
Staples Pencil Sharpener, 50¢
Staples Cap Erasers, 12 pk, 50¢
Crayola Crayons, 24 pk, 50¢
Composition Notebook, 50¢
Tru Red Ballpoint Gripped Pens, 12 pk, 97¢
Staples Gripped Mechanical Pencils, 12 pk, $1.49
Sharpie Permanent Markers 4-5 pk, B1G1
50% off Select backpacks, lunch bags, waterbottles and mask

FREE

Mellow Hand Sanitizer 8 oz WYB $30+


In Store Only

Bic Crystal Ballpoint Pens, 24 pk, $3.99
-$1.50/2 Bic Stationery items (sign up) printable


(makes it $3.24 ea.)

Bic Mechanical Pencils, 24 pk, $3.99
-$1.50/2 Bic Stationery items (sign up) printable


(makes it $3.24 ea.)

Filler Paper 120 pages, 75¢
Staples 4 pocket Paper Folders, 97¢
Staples 1 inch Binder, $1.47
Staples 1.5 inch Binder $3.67
Staples 2 inch Binders $4.29
Sharpie Highlighters pocket & chisel, 5 pk, $2.49
Paper Mate InkJoy Gel Pens, 22 pk, $19.99
25% off L.L. Bean products
Elmer's Giant Glue Sticks, 3 k, $2.99
AstroBrights, $7.99