This post may contain affiliate links. Read our disclosure here.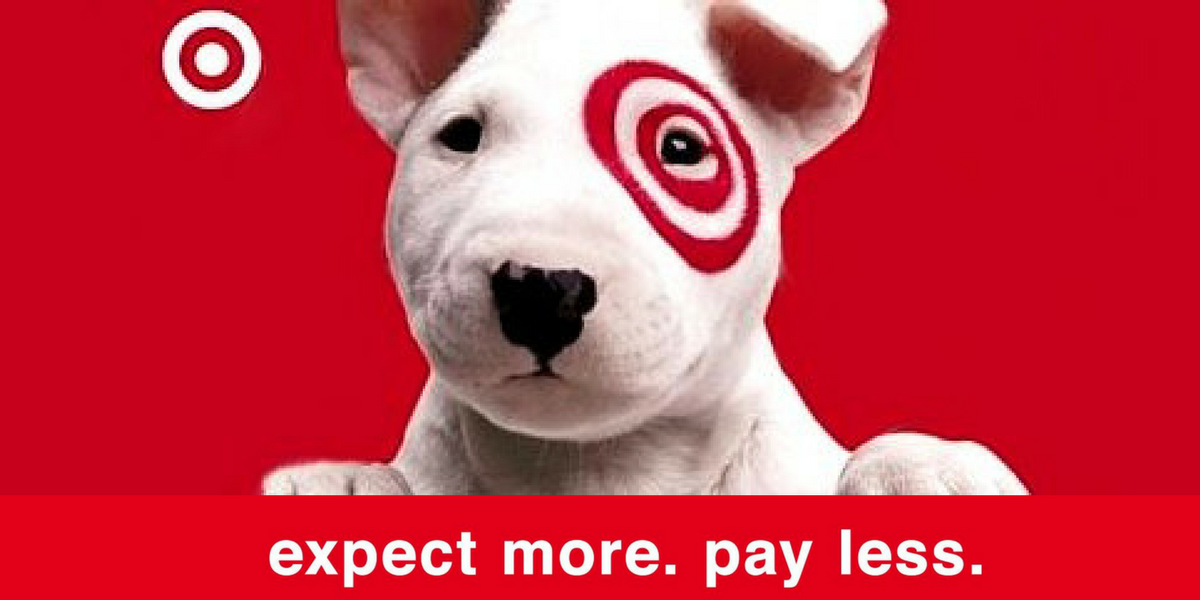 Get ready for all the deals at Target starting Sunday 5/27. Here are all the deals in the ad along with any coupons that are available. There are several in-ad coupons to save on toys, games, baby and more.
Apparel
Select Cat & Jack Body Suit or Bottoms, $4 & $6
Select Just One You Sleep'n Play, $6
Cloud Island, Just One You, & Gerber Multipacks, $8
Gilligan & O'Malley Bras and Bralettes, $12
Xhilaration Bras and Bralettes, $8
Gilligan & O'Malley or Xhilaration Single Pair Panties, $3.42 ea. WYB (7)
Toys
Star Wars Link Millenium Falcon Playset, $89.99
Star Wars Imperial Tie Fighter, $69.99
Star Wars Moloch's Landspeeder, $39.99
Star Wars Force Link Action Figures, 3.75″, $7.99 ea.
Gift Card Deals
$5 Target Gift Card WYB Any (4) Personal Care Products Listed
Suave, TRESemme, Dove, and Axe Hair Care, $2.99-$6.99
-$5/3 TRESemme products, excl trial size, RMN 05/13 (EXP 5/27)
-$1 off TRESemme Shampoo Or Conditioner, Pro Collection 22 oz, excl trial size, Target Cartwheel (EXP 5/27) eCoupon
-$1.75 off Axe Hair Care, excl trial size, Target Cartwheel eCoupon
Q-Tips Cotton Swabs, 750 ct., $4.79


(Buy (4), makes it $3.54 ea. after Gift Card)


Simple Facial Wipes, 25 ct., $4.79
-Free Simple cleansing wipes 25-ct, up to $7.99, WYB (1) Simple cleanser or moisturizer, excl trial size, RMN 05/13 (EXP 5/27)


(Buy (4), makes it $3.54 ea. after Gift Card)


Dove or Dove Men+Care Body Wash or Soap, $5.99
-$1.50 off Dove Beauty Bar, 4-pk+, excl Men+Care and trial size, limit 2, Ibotta App mobile coupon


(Buy (4), use $1.50 off, makes it $4.37 ea. after Gift Card)


Degree UltraClear Dry Spray Antiperspirant and Deodorant, 3.8 oz, $4.99


(Buy (4), makes it $3.74 ea. after Gift Card)


Vaseline Intensive Care Advanced Repair or Cocoa Radiant Lotion, 20.3 oz, $5.79
-$2 off Vaseline lotion, 10 oz+, RMN 05/20


(Buy (4), use (4) $2 off, makes it $2.54 ea. after Gift Card)
$10 Target Gift Card WYB Any (3) Household Items Listed
Cottonelle Mega-Roll Bath Tissue, 6-8 pk., $9.99
-.55/1 Cottonelle Toilet Paper printable
-.55/1 Cottonelle Toilet Paper printable
-.50/1 Cottonelle Toilet Paper, 6-ct+ pack, Ibotta App mobile coupon
-.75/1 Cottonelle toilet paper, 6 ct.+ printable
-.75/1 Cottonelle toilet paper, 6+ rolls, SS 05/20
-.50/1 Cottonelle Toilet Paper, 6-ct+, Ibotta App mobile coupon
-.75/1 Cottonelle Toilet Paper, 6-pk+, Target Cartwheel (EXP 6/2) eCoupon


(Buy (3), use (3) .75/1, makes it $5.91 ea. after Gift Card)


Scott 1000 Sheet Bath Tissue, 24 pk., $15.59
-.50/1 Scott 1000 Bath Tissue, 8 rolls+ printable
-$1 off Scott bath tissue, 6-roll+, limit 1, cannot use this offer with any other print or in-app coupon or rebate, Checkout 51 mobile coupon
-.75/1 Scott bath tissue, 6+ rolls, SS 05/20


(Buy (3), use $1 off & (2) .75/1, makes it $11.42 ea. after Gift Card)


Bounty Paper Towels, 8 pk., $9.79
-.25/1 Bounty paper towels printable
-$1 off Bounty Basic or Essentials Paper Towel, 6-ct+, Target Cartwheel (EXP 6/2) eCoupon
-$1 off Bounty Paper Towel, 4-roll+, excl Basic & Essentials items, Target Cartwheel (EXP 6/2) eCoupon


(Buy (3), use $1 off & (2) .25/1, makes it $5.88 ea. after Gift Card)


Cascade ActionPacs, 33-60 ct., $9.99
-.25/1 Cascade Dishwasher Detergent, ActionPacs, Gel or Powder dishwasher detergent, or Rinse Aid or Dishwasher Cleaner, excl trial size, Target Cartwheel (EXP 6/2) eCoupon
-$1 off Cascade ActionPacs dishwasher detergent, 30 ct.+, excl trial/travel sizes printable
-$1 off Cascade dishwasher detergent AND Cascade rinse aid, excl trial/travel size printable


(Buy (3), use (3) $1 off, makes it $5.66 ea. after Gift Card)


All Laundry Liquid Detergent, 141 oz, $9.99
-$2 off All liquid detergent, 94.5 oz+, excl single dose and fabric softener, RMN 05/20
-$1 off All product, excl trial size, RMN 05/20 (EXP 6/2)
-$1 off All laundry detergent printable (limit reached)


-$1 off all laundry product, excl trial size, SavingStar (EXP 6/2) eCoupon (limit reached)




(Buy (3), use (3) $2 off, makes it $4.66 ea. after Gift Card)


Downy Softener, 129 oz, $9.99
-$2 off Downy Liquid Fabric Conditioner 48 load+, or Bounce or Downy Sheets 70-ct+, or In Wash Scent Boosters incl Downy Unstopables, Fresh Protect, Infusions, Bounce Bursts, Dreft Blissfuls or Gain Fireworks 6.5 oz+, excl Downy Libre Enjuague and trial size, PG 04/29 (EXP 6/2)


(Buy (3), use (3) $2 off, makes it $4.66 ea. after Gift Card)


Unstopables Scent Boost Beads, 14.8-19.5 oz, $9.99
-$2 off Downy Liquid Fabric Conditioner 48 load+, or Bounce or Downy Sheets 70-ct+, or In Wash Scent Boosters incl Downy Unstopables, Fresh Protect, Infusions, Bounce Bursts, Dreft Blissfuls or Gain Fireworks 6.5 oz+, excl Downy Libre Enjuague and trial size, PG 04/29 (EXP 6/2)


(Buy (2), use (3) $2 off, makes it $4.66 ea. after Gift Card)


Swiffer Sweeper Starter Kit, $11.99
-$2 off Swiffer Starter Kit, excl 1ct & 2ct Duster 360, Sweep & Vac, Sweep & Trap, Steam Boost and trial size, Target Cartwheel (EXP 6/2) eCoupon


(Buy (3), use $2 off, makes it $7.99 ea. after Gift Card)


Gain Flings, 42 ct., $11.99


(Buy (3), makes it $8.66 ea. after Gift Card)


Tide Pods, 32-42 ct., $11.99
-$2 off Tide PODS, excl liquid/powdr laundry detergent, Simply, Simply PODS, PODS 5-ct and trial size, PG 04/29 (EXP 6/2)


(Buy (3), use (3) $2 off, makes it $6.66 ea. after Gift Card)


Tide Liquid Detergent, 92-100 oz, $11.99
-$2 off Tide detergent, excl PODS, Rescue, Simply, Simply PODS, detergent 10 oz and trial size, PG 04/29 (EXP 6/2)


(Buy (3), use (3) $2 off, makes it $6.66 ea. after Gift Card)


All Powercore Pacs, 50 ct., $9.99
-$1 off All product, excl trial size, RMN 05/20 (EXP 6/2)


-$1 off all laundry product, excl trial size, SavingStar (EXP 6/2) eCoupon (limit reached)




(Buy (3), use (3) $1 off, makes it $5.66 ea. after Gift Card)


Bounce Dryer Sheets, 240 ct., $9.99
-$2 off Downy Liquid Fabric Conditioner 48 load+, or Bounce or Downy Sheets 70-ct+, or In Wash Scent Boosters incl Downy Unstopables, Fresh Protect, Infusions, Bounce Bursts, Dreft Blissfuls or Gain Fireworks 6.5 oz+, excl Downy Libre Enjuague and trial size, PG 04/29 (EXP 6/2)


(Buy (3), use (3) $2 off, makes it $4.66 ea. after Gift Card)

$5 Target Gift Card WYB Any (2) Schick Razors or Cartridges Listed
Schick Hydro Silk Sensitive Care Cartridges, 4 ct., $16.49
-$3 off Schick Hydro or Quattro Titanium razor or refill, excl disposables and Women's razor or refill, SS 05/13


(Buy (2), use (2) $3 off, makes it $8.49 ea. after Gift Card)


Schick Hydro Silk TrimStyle Razor, 1 ct., $13.99
-$3 off Schick Hydro or Quattro Titanium razor or refill, excl disposables and Women's razor or refill, SS 05/13


(Buy (2), use (2) $3 off, makes it $8.49 ea. after Gift Card)

$5 Target Gift Card WYB Any (3) Feminine Care Products
-.75/1 Always Radiant pantiliners, 48 ct.+ printable
-$1 off Playtex Gentle Glide tampon, excl 4 and 8-ct, SS 04/15 (EXP 5/27)
-$2 off Playtex Sport tampon, 14-ct+, SS 04/15 (EXP 5/27)
-.75/1 Always Pads, size 3 only, Ibotta App mobile coupon
-.50/1 Always Liners 30-ct+, or Wipes 20-ct+, excl Discreet items, Target Cartwheel (EXP 6/2) eCoupon
-.50/1 Always Pads 11-ct+, excl Radiant, Infinity and Discreet, Target Cartwheel (EXP 6/2) eCoupon
-$1 off Tampax Pearl or Radiant Tampons, 16 ct+ (limit 2), Ibotta App mobile coupon
Buy (1) Get (1) 20% Off All Google Play Gift Cards
$200 Target Gift Card w/ Qualified Activation on Verizon Google Pixel 2 XL
20% Off Atom Tickets Gift Card
Electronics and Entertainment
Nest Learning Thermostat, $199
Google Wi-Fi 3 Pack, $269
Clearance Up to 70% Off Select Headphones and Earbuds
Free Google Home Mini Home WYB Any Nest Thermostat , $149
GoPro HERO5 Black, $249.99
Fujifilm Instax Mini 9, $59.99
Amazon Echo Dot, $39.99
Outdoors
STOK Drum Charcoal Grill, $100
Threshold Folding Sling Chair, $20
Room Essentials Backpack Chair, $25
Miracle-Gro Premium Potting Mix, 1 cu. ft. , $5
Roundup Weed & Grass Killer, 36.8 oz, $22
Project 62 Pipestone Gas Fire Column, 22″, $79
Threshold Rocksprings Square Gas Fire Pit, 30″, $159
Threshold Solar Patio Umbrella, 9′, $100
Select Threshold Pathway or Spotlights Shown, $4 & $8
Sterilite Wheeled Tote, 45 gallon, $14.99
Char-Broil Portable Gas Grill, $23
Char-Broil Performance 550 Gas Grill, $269
Room Essentials Jelly Chair, $12
Barbados Tiki Torch, $3
Select OFF! Repellents, $5
Project 62 Two Harbors Round Gas Tabletop Fire Pit, 10″, $48
Select String Lights, $10-$20
Select Project 62, Smith & Hawken, or Threshold Lanterns, $14-$28
Miscellaneous
As Seen on TV Power AirFryer XL, 2.4 qt., $79.99
20% Off Pyrex Simply Store Storage Set, 18 pc.
Crock-Pot Slow Cooker, 7 qt., $24.99
Produce
Avocados, 89¢ ea.
Blueberries, 1 pint, $2.50
Ready Pac Chopped Salad, $2.99
Fridge or Frozen
M&M's and Skittles Red, White, & Blue Candy, 10.7 or 14 oz, $2.79
-.75/1 Skittles or Starburst Sweet Heat item, 7.2-14oz, RMN 04/15
-$1 off M&M's chocolate candies, 8 oz+, RMN 04/22
-$1 off M&M's Packs, 8 oz+, RMN 05/20
-5% off Skittles America Mix, 14 oz variety, Target Cartwheel (EXP 6/2) eCoupon
Sweet Earth Frozen Dinners, 9 oz, $3.50
Healthy Choice Power Bowl, 9-9.5 oz, $3.50
Grown in Idaho Frozen Potatoes, 28 oz, $2.50
Gold Peak Tea, 52 oz, $2
10% Off Market Pantry Frozen Novelties
Totinos Pizza Rolls, 40 ct., $3
Starbucks Iced Coffee, 32-48 oz, $4.49
Simply Lemonade, 52 oz, $2
Archer Farms Frozen Pizza, 14.8-19 oz, $4.50
-5% off Archer Farms Frozen Pizza, pizza & flatbread, Target Cartwheel (EXP 6/2) eCoupon


(Makes it $4.27)

Sabra Hummus, 10 oz, $2.79
-$1 off Sabra Hummus, 10 oz+ printable


(Makes it $1.79)
Grocery
All Soda Brands Cans & Bottles, 12 or 8 pk., $2.25
-.75/1 Pepsi-Cola Bottles, 8-pk 12 oz plastic bottles, Pepsi or Mountain Dew or Mist TWST varieties, Ibotta App mobile coupon
Ball Park Hamburger or Hot Dog Buns, 8 ct., $1.79
Heinz Ketchup, 38 oz, $2.50
Dasani Water, 24 pk., $3.99
Starbucks Ground or Whole Bean Coffee, 11-12 oz, $5.99 ea. WYB (3)
Frito-Lay Party Size Chips, 13-20 oz, $4
Tostitos Dips and Salsas, 23-24 oz, $4
Archer Farms Coffee Pods, 16 or 18 ct., $7.99
-5% off Archer Farms Coffee, bags, pods & additives, Target Cartwheel (EXP 6/2) eCoupon


(Makes it $7.59)

Ritz Crackers, 7.5-16 oz, $2.50 WYB (2)
-$1/2 Nabisco Ritz Crackers, on same receipt, limit 5, cannot use this offer with any other print or in-app coupon or rebate, Checkout 51 mobile coupon


(Buy (2), use $1/2, makes it $2 ea.)

Chips Ahoy! Cookies, 7-13 oz, $2.50
Nature's Path Granola Love Crunch, 11.5 oz, $3.29
Bakery Sweet Treats, $3.25 ea.
Doritos Chips, 9.25-11.5 oz, $2
Vitaminwater Water, 6 pk., $3.99
Buy (1) Get (1) 25% Off All Archer Farms Nuts, Trail Mix, and Multipacks
-5% off Archer Farms Nuts & Trail Mix, excl trial size, Target Cartwheel (EXP 6/2) eCoupon
Frito-Lays Popcorn and Multipacks, $4
-$1.50 off Frito-Lay Classic Mix Variety Pack 20-ct+, AND Fla-Vor-Ice purchase any size or variety, on same receipt, Ibotta App mobile coupon


(Makes it $2.50 )

Clif and Think Thin Bars, 6 or 5 ct., $5.50
Hershey's Chocolate Bars, 6 pk., $3.50
-$2 off Honey-Maid Grahams 14.4 oz+, AND (1) Kraft Jet-Puffed Marshmallows 8 oz+, AND (1) Hershey's milk chocolate 6-pk, SS 05/13
-$1/2 Hershey's Milk Chocolate Bars, 6-pk, on same receipt, 6-ct 9.3 oz pack, claim up to 5X, cannot use this offer with any other print or in-app coupon or rebate, Checkout 51 mobile coupon
-$1 off More S'mores bonus when you redeem the marked Honey Maid Graham Crackers, Hershey's Milk Chocolate bars and the Jet-Puffed Marshmallow offers, limit 1, Checkout 51 mobile coupon


(Buy (2), $1/2 makes it $3 ea.)

Gatorade, 32 oz, 88¢ ea.
Bubly Sparkling Water, 8 pk., $3.33
-.50/1 bubly sparkling water, 20 oz bottle, Ibotta App mobile coupon
-$1/2 bubly sparkling water, 8-pk 12 oz cans, Ibotta App mobile coupon
-$1.25/2 bubly sparkling water, 8-pk 12 oz cans, Ibotta App mobile coupon
-20% off bubly Sparkling Water, all varieties, Target Cartwheel (EXP 5/28) eCoupon


(Use Cartwheel & .50/1, makes it $2.16)
Personal Care
15% Off All Crest White Strips
Free Target-Exclusive Oh Joy! First-Aid Bag WYB (3) Band-Aid or Neosporin Select First-Aid Bag
-$1 off Neosporin product printable
-$1 off Neosporin First Aid item, excl trial size printable
-$1 off Neosporin ointment printable
-.50/1 Band-Aid adhesive bandage item excl. trial/travel size, Your Health & Wellness Team booklet (Kroger)
-$1 off Band-Aid Adhesive Bandages item, excl trial size printable
-.50/1 Band-Aid Adhesive Bandages or First Aid items, excl first aid kits, first aid to go kits & excl trail size printable
-$1 off Neosporin first aid item, SS 04/29 (EXP 6/2)
-$1 off Neosporin First Aid item, excl trial size, Target Cartwheel eCoupon
Baby Care
Simmons Kids Slumbertime Monterey 4-in-1 Convertible Crib, $250
10% Off All Nursing Bras
Baby Trend Expedition RG Jogger, $95.99
10% Off All Medela Breast Milk Storage Bags and Nursing Pads
Medela Advanced Breast Pump and On-the-Go Tote, $199.99
Infantino Go GaGa Deluxe Twist & Fold Gym, $39.99
Household
Room Essentials Clear Storage, $4.49
Buy (1) Get (1) 20% Off All Lysol, Clorox, Method, and Mrs. Meyers Cleaning Products
-.50/1 Clorox Bleach, 55 oz + printable
-.50/1 Clorox Clean-Up + Bleach printable
-.50/1 Lysol bathroom cleaner item, SS 04/22
-.50/1 Lysol daily cleanser trigger, SS 04/22
-.50/1 Lysol daily cleanser wipes 35-ct+, SS 04/22
-.50/1 Lysol disinfectant spray or disinfectant Max Cover Mist 12.5 oz+, SS 04/22
-$1/2 Lysol toilet bowl cleaner 24 oz+, SS 04/22
-.50/1 Lysol toilet bowl itb product, SS 04/22
-$1 off Clorox Bathroom bonus when you redeem (2) marked Clorox offers, limit 1, Checkout 51 mobile coupon
-$1 off Lysol disinfectant spray or disinfectant Max Cover Mist 12.5 oz+, SS 04/22
-$1/2 Lysol toilet bowl itb product, SS 04/22
-$1/2 Lysol bathroom cleaner item, SS 04/22
-$1 off Lysol daily cleanser trigger, SS 04/22
-$1 off Lysol daily cleanser wipes 35-ct+, SS 04/22
-.25/1 Clorox manual toilet bowl cleaner or bathroom spray, SS 05/06
-$1.50 off Clorox 2 or Clorox 2 Free and Clear, excl pen, Target Cartwheel eCoupon
-$1 off Clorox ColorLoad Non-Chlorine Bleach, 60 oz+ printable
-.50/1 Clorox Liquid Bleach, 55 oz+ printable
In Ad Coupons
$5 Target Gift Card w/ Meat or Seafood Purchase of $20 or More
$20 Target Gift Card w/ Baby Department Purchase of $100 or More
$10 Off Toys and Games Purchase of $50 or More
$25 Off Toys and Games Purchase of $100 or More
$5 Target Gift Card w/ Disposable Tableware, Food Storage, and Trash Bag Purchase of $20 or More