This post may contain affiliate links. Read our disclosure here.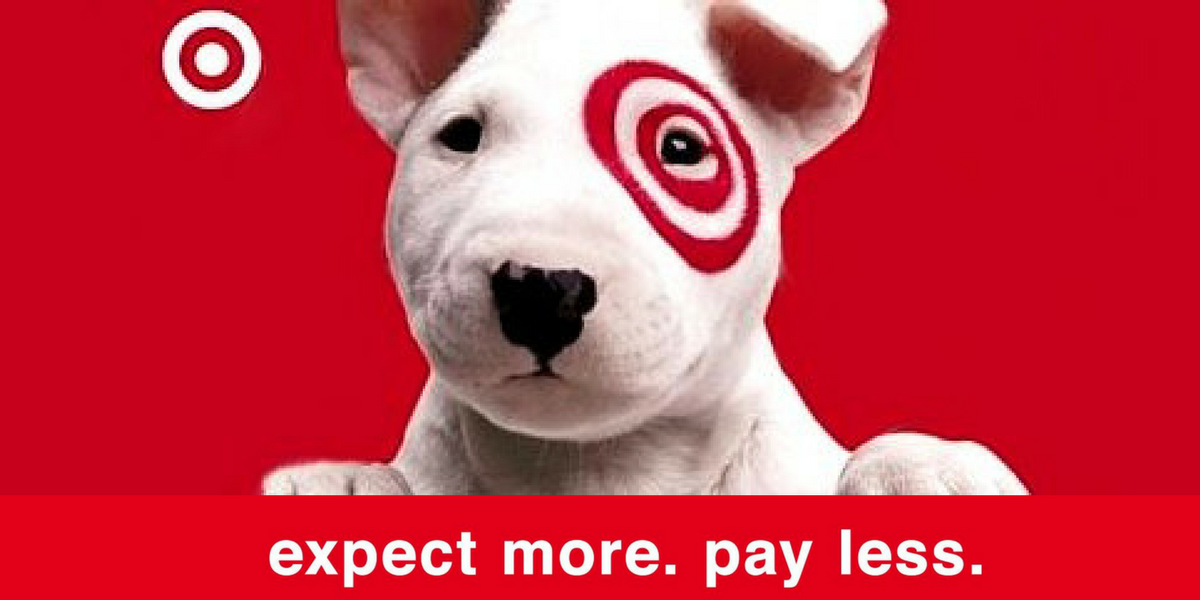 Get ready for all the new deals in the Target Ad starting 6/17. They are marking down swim and outdoor toys this week, plus have a great in-ad coupon on personal care!
I also expect quite a few unadvertised gift card deals this week too… so check back for those once the sale starts.
In Ad Coupons
$5 Target Gift Card w/ Beauty & Personal Care Purchase of $20 or More
Apparel
Buy (1) Get (1) 50% Off All Swim For the Family
Buy (1) Get (1) 50% Off All All Women's Dresses, Rompers, and Jumpsuits
10% Off All Speedo Water Shoes for the Family
Mossimo Supply Co. Mesh Beach Tote, $7
Outdoors
BigMouth Inc. Pretty in Pink Flamingo Lil' Pool Float, $13
Beach Towels, $8
Speedo Scuba Junior Goggles, $9
Intex Swim Center Family Lounge Pool, $35
BigMouth Inc. Giant Pink Flamingo Pool Float, $17
Bunch O Balloons Fill & Tie Water Balloons, 280 ct., $20
RipTide Adventure Falls Water Slide, $399
Speedo Jr. Winward Mask, $12
Max Liquidator Eliminator or Mini Hydro Force Shooter, 2 pk., $9
20% Off All Hybrid and Mountain Bikes
Electronics and Entertainment
Energizer Max or Ultimate Lithium AA or AAA Batteries, 20 pk. or 12 pk., $13.99
20% Off Select Movie Hits
Gift Card Deals
$10 Target Gift Card WYB Any (2) Formulas Listed & More
Enfamil NeuroPro Gentlease Formula, 30.4 oz, $39.99


(Buy (2), makes it $34.99 ea. after Gift Card)


Enfamil NeuroPro Infant Formula, 31.4 oz, $39.99


(Buy (2), makes it $34.99 ea. after Gift Card)

$5 Target Gift Card WYB Any (2) Household Items Listed
up & up Trash Bags, $8.99
-5% off up & up Trash, Lawn & Leaf Bags, all varieties, Target Cartwheel eCoupon


(Buy (2), use Cartwheel, makes it $6.04 ea. after Gift Card)


Bounce Dryer Sheets, 240 ct., $9.99
-$1 off Downy Liquid Fabric Conditioner 48 load+, Bounce or Downy Sheets 70-ct+, or in-wash scent boosters 6.5 oz+ incl Downy Unstopables or Fresh Protect or Infusions, or Bounce Bursts, Dreft Blissfuls or Gain Fireworks, excl Downy Libre, enjuague and trial size, PG 06/03


(Buy (2), use (2) $1 off, makes it $6.49 ea. after Gift Card)


Downy Softener, 129 oz, $9.99
-$1 off Downy Liquid Fabric Conditioner 48 load+, Bounce or Downy Sheets 70-ct+, or in-wash scent boosters 6.5 oz+ incl Downy Unstopables or Fresh Protect or Infusions, or Bounce Bursts, Dreft Blissfuls or Gain Fireworks, excl Downy Libre, enjuague and trial size, PG 06/03


(Buy (2), use (2) $1 off, makes it $6.49 ea. after Gift Card)


Bounty Huge or Mega Roll Paper Towels, $5.89
-.25/1 Bounty product, excl trial size, PG 06/03


(Buy (2), use (2) .25/1, makes it $3.14 ea. after Gift Card)


Viva Giant Roll Paper Towels, 8 pk., $9.79
-.50/1 Viva Vantage or Paper Towels, 6 pk+ printable


(Buy (2), use (2) .50/1, makes it $6.79 ea. after Gift Card)


Gain Flings, 42 ct., $11.99


(Buy (2), makes it $9.49 ea. after Gift Card)


Gain Liquid Detertent, 120 oz, $11.99


(Buy (2), makes it $9.49 ea. after Gift Card)


Downy Unstopables Scent Booster Beads, 14.8-19.5 oz, $9.99
-$1 off Downy Liquid Fabric Conditioner 48 load+, Bounce or Downy Sheets 70-ct+, or in-wash scent boosters 6.5 oz+ incl Downy Unstopables or Fresh Protect or Infusions, or Bounce Bursts, Dreft Blissfuls or Gain Fireworks, excl Downy Libre, enjuague and trial size, PG 06/03


(Buy (2), use (2) $1 off, makes it $6.49 ea. after Gift Card)


Tide Pods, 32 or 42 ct., $11.99
-$2 off Tide Pods, excl Simply PODS, Pods 9-ct, Rescue, Simply, Detergent 10 oz and trial size, PG 06/03
-$2 off Tide Pods printable


(Buy (2), use (2) $2 off, makes it $7.49 ea. after Gift Card)


Tide Liquid Detergent, 100 oz, $11.99
-$2 off Tide Detergent, excl Tide Pods 9-ct, Tide Rescue, Tide Simply, Tide Detergent 10 oz, and trial size, PG 06/03
-$2 off Tide Detergent printable


(Buy (2), use (2) $2 off, makes it $7.49 ea. after Gift Card)


Cascade ActionPacs, 33-60 ct., $9.99
-$1 off Cascade ActionPacs dishwasher detergent, 30 ct.+, excl trial/travel sizes printable
-$1 off Cascade ActionPacs, 30 ct.+ printable


(Buy (2), use (2) $1 off, makes it $6.49 ea. after Gift Card)


Charmin Bath Tissue, 12 pk., $16.99
-.25/1 Charmin Ultra Soft or Strong printable
-.25/1 Charmin Ultra Soft or Strong bath tissue printable
-.25/1 Charmin Essentials Soft or Strong bath tissue printable
-$1 off Charmin Essentials Toilet Paper, excl single rolls, Target Cartwheel eCoupon
-$1 off Charmin Toilet Paper, 4-roll+, excl Essentials, Target Cartwheel eCoupon


(Buy (2), use (1) $1 off & (1) .25/1, makes it $13.87 ea. after Gift Card)


Cottonelle Mega Roll Bath Tissue, 9 pk., $9.79
-.55/1 Cottonelle Toilet Paper printable
-.50/1 Cottonelle Toilet Paper, 6-ct+ pack, Ibotta App mobile coupon
-.50/1 Cottonelle Toilet Paper, 6-ct+, Ibotta App mobile coupon
-.50/1 Cottonelle toilet paper rolls, 6-ct+, SS 06/10
-.50/1 Cottonelle toilet paper, 6 ct.+ printable
-.50/1 Cottonelle Toilet Paper, 6-pk+, Target Cartwheel eCoupon


(Buy (2), use (2) .55/1, makes it $6.74 ea. after Gift Card)

$5 Target Gift Card WYB Any (2) Kleenex, Scott, or Tide Items Listed
Kleenex Facial Tissue, 3-4 pk., $5.99
-.50/3 Kleenex Facial Tissue 3 boxes or bundle pack printable
-.50/3 Kleenex Facial Tissue Bundle Pack printable


(Buy (2), makes it $3.49 ea. after Gift Card)


Tide Laundry Detergent, 92 oz, $11.99
-$2 off Tide or Dreft Liquid Laundry Detergent, Tide, 69 oz+, Dreft Newborn or Active Baby, 50 oz+, Dreft Purtouch, 40 oz+ printable
-$2 off Tide Detergent, excl Tide Pods 9-ct, Tide Rescue, Tide Simply, Tide Detergent 10 oz, and trial size, PG 06/03
-$2 off Tide Detergent printable


(Buy (2), use (2) $2 off, makes it $7.49 ea. after Gift Card)


Scott 1000 Sheet Bath Tissue, 15 pk., $11.59
-$1 off Scott bath tissue, 6-roll+, limit 1, cannot use this offer with any other print or in-app coupon or rebate, Checkout 51 mobile coupon
-.50/1 Scott bath tissue rolls, 6-ct+, SS 06/10
-.50/1 Scott bath tissue, 6 ct.+ printable


(Buy (2), use $1 off mobile & .50/1, makes it $8.34 ea. after Gift Card)

$10 Target Gift Card WYB Any (2) Diapers Listed
Huggies Little Movers Super Pack Diapers, $24.29
-$1.50 off Huggies diapers, excl 9 ct- printable


(Buy (2), use (2) $1.50 off, makes it $17.79 ea. after Gift Card)


Pampers Swaddlers Super Pack, $24.29
-$1 off Pampers Swaddlers diapers printable
-$2/2 Pampers diapers printable
-$1 off Pampers Swaddlers Diapers printable
-$2 off Pampers Baby Diapers – bagged Swaddlers, Cruisers or Baby Dry, excl trial size, Target Cartwheel eCoupon
-$3 off Pampers Baby Diapers – boxed Swaddlers, Cruisers or Baby Dry, excl trial size, Target Cartwheel eCoupon


(Buy (2), use (1) $3 off & (1) $1 off, makes it $17.29 ea. after Gift Card)

$5 Target Gift Card WYB Any (2) Wipes Listed
Pampers Sensitive Wipes, 504 ct., $15.99
-.50/1 Pampers wipes printable


(Buy (2), use (2) .50/1, makes it $12.99 ea. after Gift Card)


Huggies Natural Care Wipes, 616 ct., $14.59
-$1/2 Huggies Wipes printable


(Buy (2), use $1/2, makes it $11.59 ea. after Gift Card)

$5 Target Gift Card WYB Any (2) Iams, Sheba, or Fresh Step Products Listed
Iams Proactive Health Dry Cat Food, 7 lb, $12.99


(Buy (2), makes it $10.49 ea. after Gift Card)


Iams Proactive Health Dry Dog Food, 9.3-15 lb, $17.99


(Buy (2), makes it $15.49 ea. after Gift Card)


Sheba Perfect Portions Wet Cat Food, 36 ct., $12.99


(Buy (2), makes it $10.49 ea. after Gift Card)


Fresh Step Clean Paws Cat Litter, 22.5 lb, $12.49


(Buy (2), makes it $9.99 ea. after Gift Card)

$10 Target Gift Card WYB Any (3) Swiffer Products
-$1 off Swiffer Refill or Solution or Dust & Shine, excl trial size, Target Cartwheel eCoupon
-$2 off Swiffer Starter Kit, excl 1 and 2-ct Duster 360, Steamboost, Sweep+Vac or Sweep+Trap Starter Kit and trial size, Target Cartwheel eCoupon
-$5 off Swiffer Steamboost, Sweep+Vac or Sweep+Trap starter kit, excl trial size, Target Cartwheel eCoupon
Decor
Threshold Fabric Storage Bin, 13″, $8.99
Threshold Decorative Storage Basket, $17.99
Threshold Organizer, 6 Cube, $49.99
Produce
Blueberries, 1 pint, $2.50
Organic Red or Green Seedless Grapes, 1.5 lb, $3.99
Ready Pac Chopped Salads, $2.99
Meat
Buy (1) Get (1) 25% Off All Market Pantry Pork Chops
Market Pantry Bacon, 12 or 16 oz, $3.99
Market Pantry Lunchmeat, 7-9 oz, $2.59
Fridge or Frozen
Popsicle Ice Pops and Bars, 9-20 ct., $3.50
-$1 off Popsicle Fruit Pops, 12 ct box, Ibotta App mobile coupon


(Makes it $2.50)

Buy (5) Get (1) Free Chobani Flip Yogurt, 5.3 oz
-$1/2 Chobani Flip Snacks printable
Simply Balanced Organic Milk, 64 oz, $3
Starbucks Cold Brew, 32-48 oz, $4.49
Ben & Jerry's Ice Cream, $3
10% Off All Chobani Yogurt
Edy's Ice Cream, 48 oz, $3
Grocery
Cap'n Crunch Cereal, 18.7 oz, $2.50
Quaker Oatmeal Squares, 14.5 oz, $2.50
Kellogg's Cereal, 10.2-18.7 oz, $2.50
-$1 off Kellogg's cereal, 8.7 oz + (850 points) printable
-$2/4 Kellogg's cereals printable
-.50/1 Kellogg's Chocolate Frosted Flakes cereal printable
-.50/1 Kellogg's Donut Shop cereal printable
-$1/2 Kellogg's Kids cereals – Froot Loops, Apple Jacks, Corn Pops, Honey Smacks, Frosted Mini Wheats Little Bites, Krave or Frosted Flakes printable
-$1/2 Kellogg's Raisin Bran cereals printable
-.50/1 Kellogg's Rice Krispies Cereal printable
-$1/2 Kellogg's Special K cereals printable
-.50/1 Kellogg's Super Mario Cereal printable
-$1/3 Kellogg's Cereals, any flavor, 8.7 oz+, RMN 06/03
-$1 off Kellogg's unlock offer for Special K cereal or Eggos, or for Keebler cookies, 5.75 oz+, claim 1X, cannot use this offer with any other print or in-app coupon or rebate, Checkout 51 mobile coupon
-$1/3 Kellogg's cereals printable


($1 off makes it $1.50)

Gatorade Sports Drink, 32 oz, 88¢
Honest Kids Pouches or Boxes, 8 or 10 pk., $3
Dasani Sparkling Water, 8 pk., $3
Drops Water Enhancer, 1.9 oz, $3
Johnsonville Smoked Sausage, $3
Amy's Single Serve Frozen Entrees, 8-10.3 oz, $3.79
Archer Farms Nut and Trail Mix Multipacks, $6
-5% off Archer Farms Nuts & Trail Mix, excl trial size, Target Cartwheel eCoupon


(Makes it $5.70)

Archer Farms Coffee Pods, 16 or 18 ct., $7.99 WYB (2)
-5% off Archer Farms Coffee, bags, pods & additives, Target Cartwheel eCoupon


(Buy (2), makes it $7.59 ea.)

Coca-Cola Cans and Bottles, 12 or 8 pk., $3.33
Life Cereal, 18 oz, $2.50
Hebrew National Hotdogs, $3
Dove Promises, $3.50
-$1 off Dove Promises Silky Smooth chocolate 7.94-9.5 oz, Fruit & Nut 5.5 oz+, or Chocolate Covered Dusted Nuts 5.5 oz+, RMN 05/06 (EXP 6/17)


(Makes it $2.50)

Annie's Macaroni & Cheese, 5.25-6 oz, 99¢
Simply Balanced Tortilla Chips, $2.50
-5% off Simply Balanced Tortilla Chips, Target Cartwheel eCoupon


(Makes it $2.37)

Cheetos Chips, 7-8.5 oz, $3
Ruffles Chips, 8.5-9 oz, $3
Select Luna or thinkThin Bars, 6 ct., $5.49
-.75/1 thinkThin bar printable
-.75/1 thinkThin bar printable


(Makes thinkThin $4.74)

Archer Farms Ground or Whole Bean Coffee, 10-12 oz, $4.99 wby (2)
-5% off Archer Farms Coffee, bags, pods & additives, Target Cartwheel eCoupon


(Buy (2), use Cartwheel, makes it $4.74 ea.)

Frito-Lay Tostitos Chips, Dips, and Salsas, $3
Personal Care
Crest Kids' Toothpaste feat. Disney Pixar's Incredibles 2, 4.2 oz, $1.99
-$1 off Crest toothpaste, liquid gel, or kids toothpaste 3 oz+, excl Cavity, Baking Soda, Tartar Control/Protection, Gleem, and trial, RMN 06/17


(Makes it .99)

Buy (1) Get (1) 30% Off Select Align, Culturelle, and Renew Life Probiotics
-$3 off Renew Life probiotic, 30-ct+, SS 05/13
-$6 off Renew Life Adult 50+ Probiotics, claim up to 2X, cannot use with any other print or in-app coupon or rebate, Checkout 51 mobile coupon
-$6 off Renew Life Everyday Probiotics, claim up to 2X, cannot use with any other print or in-app coupon or rebate, Checkout 51 mobile coupon
-$6 off Renew Life Extra Care Probiotics, claim up to 2X, cannot use with any other print or in-app coupon or rebate, Checkout 51 mobile coupon
-$6 off Renew Life Women's Care Probiotics, claim up to 2X, cannot use with any other print or in-app coupon or rebate, Checkout 51 mobile coupon
-$3 off Renew Life Kids Probiotics, claim up to 2X, cannot use this offer with any other print or in-app coupon or rebate, Checkout 51 mobile coupon
-$3 off Renew Life Adult 50+ Probiotics, SavingStar eCoupon
-$3 off Renew Life Everyday Probiotic, SavingStar eCoupon
-$3 off Renew Life Extra Care Probiotic, SavingStar eCoupon
-$3 off Renew Life Kids Probiotic, SavingStar eCoupon
-$3 off Renew Life Women's Care probiootic, SavingStar eCoupon
Select Dr. Scholl's Products, $4.50
-$3 off Dr. Scholl's Athletic Series insole, $8.95+ printable
-$3 off Dr. Scholl's Comfort & Energy Insole, $8.95+ printable
-$1 off Dr. Scholl's Duragel Corn Remover, Callus Remover or Bunion Cushions printable
-$2 off Dr. Scholl's Freeze Away or Clear Away wart remover printable
-$2 off Dr. Scholl's Stylish Step insoles or inserts, $7.95+ printable
-$3 off Dr. Scholl's Comfort & Energy insole ($8.95+) printable
-$3 off Dr. Scholl's Athletic Series insole ($8.95+) printable
-$2 off Dr. Scholl's Stylish Step insole or inserts ($7.95+) printable
-$1 off Dr. Scholl's DURAGEL Corn Remover, Callus Remover or Bunion Cushions printable
-$2 off Dr. Scholl's Freeze Away or Clear Away wart remover printable
-$1 of Afrin, Coppertone, MiraLax, Dr. Scholl's insoles, Claritin, Coricidin, 16 ct., MiraFiber, Lotrimin, Tinactin, Zegerid, 14 ct., limit 4 per day, tearpad in-store
-$3 off Dr. Scholl's Pain Relief insoles ($8.95) printable
-$3 off Dr. Scholl's Pain Relief Insole printable
Baby Care
50% Off All Cloud Island Diaper Bags and Accessories
Buy (1) Get (1) 50% Off All Tommee Tippee Bottles and Bottle Nipples
Household
Sterilite Laundry Basket, 2 Bushel, $8.99
Sterilite Swing Top Wastebasket, $9.49
Buy (1) Get (1) 20% Off All Scotch-Brite, Mrs. Meyer's, and Palmolive Dishwashing Products
-.25/1 Palmolive dish liquid, 20 oz+, SS 06/17
Sterilite Ultra Clear Storage Bin, 29 Gallon, $15.49
Pet Care
15% Off All PetArmor Flea & Tick Products for Dogs and Cats
-$3 off PetArmor Plus for Cats, 3-ct, at Target, Ibotta App mobile coupon
-$4 off PetArmor Plus for Cats, 6-ct, at Target, Ibotta App mobile coupon
-$3 off PetArmor Plus for Dogs, 3-ct, at Target, Ibotta App mobile coupon
-$4 off PetArmor Plus for Dogs, 6-ct, at Target, Ibotta App mobile coupon