This post may contain affiliate links. Read our disclosure here.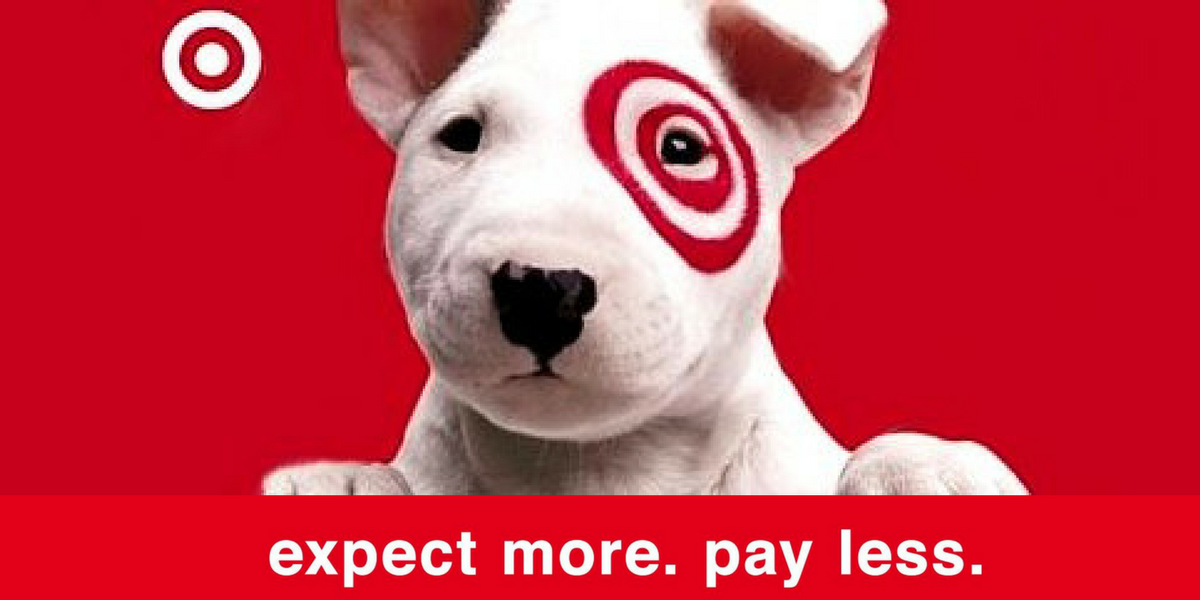 Here are all the deals in the new Target ad starting 11/25. There are a number of one-day deals, but the big one to not miss is $25 off any $75 purchase in the Holiday Decor WonderShop! That will be Sunday only in all stores and online.
Check back for a list of unadvertised deals to also grab!
Wondershop
Philips LED Lights, 25, 50, or 60 ct., $8
Philips Incandescent Lights, 100 ct., $4
Philips Dewdrop Lights, 30 ct., $5
Sunday Nov. 25 Only Save $25 when you spend $75 in the Wondershop
Philips Snowflake Projector, $15
Sunday Nov. 25 Only 40% Off Wondershop & Philips Artificial Trees
Wondershop Tree Toppers, $35
Cyber Monday
Extra 15% Off Top Gifts & More @ Target.com
$15 Off a Future Same Day Delivery Purchase w/ $100 Purchase on Same Day Delivery This Week Only
Sunday and Monday Only Buy (1) Get (1) 60% Off All Apparel & Accessories for Women, Men, & Kids


Only @ Target.com

Tuesday Only 30% Off Target-Exclusive Home Brands


Only @ Target.com

Tuesday-Saturday 30% Off Indoor Area Rugs, Barstools, & Media Stands


Only @ Target.com

Wednesday Only $10 Target Gift Card w/ $40 Purchase on Any Personal Care or Beauty Products


Only @ Target.com
Electronics and Entertainment
Element Smart UHD TV, 50″, $249.99


Only @ Target.com

Elf, Home Alone, Nightmare Before Christmas, The Grinch, The Polar Express, A Charlie Brown Christmas, Mickey's Christmas Carol, and Frosty the Snowman Holiday Movies, $9
VIZIO Smart HDR UHD TV, 60″, $549.99
Sunday and Monday Only VIZIO Smart HDR UHD TV, 70″, $749.99
20% Off JLab Wireless Earbuds and Headphones
VIZO 2.1 Soundbar System, 36″, $134.99
VIZIO Smart LED TV, 24″, $99.99
Fitbit Alta HR, $99.95
HP OfficeJet 3830 Printer, Scanner, and Copier, $39.99
Bose SoundLink Revolve Bluetooth Speaker, $179.99
Bose QuietComfort 35 Wireless Headphones, $299.99
HP Touchscreen Chromebook, 14″, $179.99
Toys
Buy (1) Get (1) 50% Off Select Baby Toys
Swagtron Metro Hoverboard, $150


Only @ Target.com

LEGO UniKitty UniKingdom Fairground Fun, $27.99


Only @ Target.com

15% Off All KidKraft Dollhouses and Kitchens


Only @ Target.com

20% Off Select LEGO & Duplo Sets
20% Off Select Specialty Preschool Toys
15% Off All Driven Vehicles
Disney Pixar Cars Super Track Mack Playset, $84.99
Magna-Tiles Clear Colors Set, 74 pc., $79.99
Our Generation Beach Theme Bundle, $119.99
Pikmi Pops Medium Pop, $9.99
Shopkins Small Mart 8, $9.99
Disney Doorables Multipack, $9.99
Party Popteenies Mega Party Surprise, $19.99
Barbie Glamor Jet, $79.99
15% Off All Lori Dolls and Accessories
Disney Princess Castle, $119.99
Rapunzel My Size Doll, $49.99
Disney Rapunzel Maximus My Size Horse, $79.99
Little Tikes Kingdom Builders, $9.99
Little Tikes STEM Jr. Tornado Tower, $19.99
Little Tikes TotSports Basketball Set, $25
Buy (2) Get (1) Free All Paw Patrol Toys
15% Off Kinetic Sand, Twinkle Clay, Glam Goo, or Orbeez Activity Kits
20% Off Only at Target Megaland, The Brady Bunch, The Oregon Trail, dude, Amazed, Chess and Checkers, Blank Slate, Kingdomino, Trust Me I'm Psychic, Say Anything, Home Alone Game, and More Games
50% Off NERF N-Strike Mega Mastadon Blaster
Spy Gear iNite Night Vision Camera, $29.99
Hot Wheels Super Ultimate Garage, $149.99
Hatchimals CollEGGtibles, $19.99
Hatchimals Hatchibabies Monkiwi, $44.99
PJ Masks Mini Vehicles, $21.99
PJ Masks Deluxe Figure Set, 16 pc., $26.99
FurReal Ricky the Trick-Loving Pup, $89.99
Razor Turbo Jetts Heel Wheels, $95.99
Micro Kickboard Mini Scooter, $50
Radio Flyer 4-in-1 Trike, $74
Razor Spark Ultra Kick Scooter, $47.99
Razor Power A2 Electric Scooter, $159.99
SnowCandy Inflatable Snow Bunker, $20
Flexible Flyer Flying Saucer, $5
MorfBoard Scooter & Skateboard Combo Set, $89.99
Sharper Image HD Streaming Drone, 14.4″, $59.99
Miscellaneous
Philips Analog Air Fryer, 4 qt., $99.99
Keurig K200 Single Serve Coffee Maker, $79.99
Dyson V8 Absolute Cord-Free Stick Vacuum, $349.99
iRobot Roomba 960 Wi-Fi Connected Robotic Vacuum, $449.99
Ecovacs DEEBOT 900 Smart Navigation Robotic Vacuum Cleaner, $299.99
Keurig K-Elite Single-Serve Coffee Maker, $129.99
Nespresso Inissia Titan Bundle by Breville, $99.99
Ninja Coffee Brewer, $69.99
Contigo Couture Thermalock Stainless Steel Waterbottle, 20 oz, $17.99
Contigo Autoseal West Loop Stainless Steel Travel Mug, 16 oz, $17.99
Mr. Coffee Switch Coffee Maker, $9.99
Select Instant Pot on Sale
Anova Sous Vide Wi-Fi Precision Cooker, $99
Ninja Smart Screen Blender DUO, $119.99
Frigidaire Ice Maker, $109.99
Crock-Pot Express Crock Pressure Cooker, $49.99
KitchenAid Ultra Power Plus Stand Mixer, $249.99
Ball Canning Mason Jars, 12 ct. 16 oz, $6.99
Nordic Ware Cookie Sheets, 2 pk., $16.99
Refinery Wooden Party Game Set, $19.99
Refinery Wooden Bottle Holder, $9.99
Sterilite Holiday Utility Storage Totes, $7
Select by Calphalon Cookware Set, 8 pc., $89.99
Decor
Select Threshold Holiday Decor on Sale, $8-$25
Select Opalhouse Holiday Decor, $13-$22
Threshold & Opalhouse Holiday Toss Pillows, $15-$25
Opalhouse Holiday Doormats, $12
Gift Card Deals
$5 Target Gift Card WYB Any (2) Diapers and Training Pants Listed
Pampers Super Pack Diapers, $24.99
-$1 off Pampers Cruisers diapers printable
-$1 off Pampers Cruisers Diapers printable
-$1 off Pampers Easy Ups printable
-$2/2 Pampers diapers (sign up) printable
-$2/2 Pampers Swaddlers diapers (sign up) printable
-$3 off Pampers diapers or Easy Ups, (1) box or (2) bags, excl trial size, limit (2) like coupons, PG 11/25
-$3 off Pampers Easy Ups or UnderJams, (1) box or (2) bags, excl trial size, limit (2) like coupons, PG 11/25


(Buy (2), use (2) $3 off, makes it $19.49 ea. after Gift Card)


Huggies Super Pack Diapers, $24.99
-$2 off Huggies Cool & Learn training pants printable
-$2 off Huggies Little Movers diapers, excl 9 ct- printable
-$1 off Huggies diapers printable
-$1 off Huggies diapers printable
-20% off Huggies Snug & Dry Diapers, super packs, Target Cartwheel eCoupon
-15% off Huggies Little Movers Diapers, super packs, Target Cartwheel eCoupon
-15% off Huggies Little Snugglers Diapers, super packs, Target Cartwheel eCoupon


(Buy (2), use 20% Off Cartwheel and (2) $1 off, makes it $18.99 ea. after Gift Card)


Seventh Generation Super Pack Diapers
-$2 off Seventh Generation Overnights, Target Cartwheel (EXP 12/1) eCoupon
-$2 off Seventh Generation Training Pants, Target Cartwheel (EXP 12/1) eCoupon
$5 Target Gift Card WYB Any (2) Infant or Toddler Formulas
Similac Pro-Sensitive HMO Non-GMO Infant Formula, 29.8 oz, $36.99


(Buy (2), makes it $34.99 ea. after Gift Card)


Enfamil NeuroPro Infant non-GMO Formula, 31.4 oz, $39.99


(Buy (2), makes it $37.99 ea. after Gift Card)


Gerber, Earth's Best and Select Other Formulas Included
$5 Target Gift Card WYB Any (2) Mucinex, DayQuil, NyQuil, or Theraflu Products
-$1 off Theraflu cold and flu medicine printable
-$2 off Mucinex 12 hour, limit (2) like coupons, SS 10/21
-$2 off Mucinex product, limit (2) like coupons, SS 10/21
-$2 off Theraflu PowerPods, Powders 12-ct, Syrups Twinpack, or Caplets 40-ct, Target Cartwheel eCoupon
-$2 off Mucinex Fast Max, limit (2) like coupons, SS 11/18
-$2 off Mucinex product, limit (2) like coupons, SS 11/18
-$2 off Theraflu PowerPods , RMN 11/18
-$1 off Mucinex DM tablets printable
-$1 off Vicks product, excl 8-ct Dayquil & Nyquil, VapoRub, VapoInhaler, VapoCool Drops, Zzzquil, Pure Zzzs, Sinex, and trial size, limit (2) like coupons, PG 11/25
$5 Target Gift Card WYB Both HBO's Sharp Objects & Sharp Objects Movie and Book
$5 Target Gift Card WYB Any The Elf on the Shelf Boxed Set AND Any Claus Couture Apparel
$30 Target Gift Card WYB Cricket Wave Phone AND Cricket Airtime Card $40 or Higher
$10 Target Gift Card WYB Verizon ZTE Blade Vantage Prepaid Phone, $49.99


(Makes it $39.99 after Gift Card)

$15 Target Gift Card WYB Verizon Kyocera Cadence No-Contract Phone, $59.99


(Makes it $44.99 after Gift Card)

Save 5% on Airtime Cards when you use REDcard
REDCard Coupons
15% Off Barbie and Hot Wheels Toys
Buy (1) Get (1) 50% Off All No. 7 Cosmetics and Skin Care
20% Off Archer Farms Meat & Deli Items
-5% off Archer Farms Deli Meat & Cheese, at SuperTarget, Target Cartwheel eCoupon
Apparel
20% Off Outerwear & Cold-Weather Accessories for the Family
20% Off Flannel Shirts for Men and Women
20% Off Fleece Apparel & Thermal Underwear for the Family
Meat
Oscar Mayer Deli Fresh Lunchmeat, 7-9 oz, $3
Fridge or Frozen
Archer Farms Refrigerated Soup, 16 oz, $3.99
Oscar Mayer Lunchables, 2.2-4.4 oz, $1
Califa Coffee Creamer, 25.4 oz, $3.99
Chobani Cups or Flips Yogurt, 5.3 oz, 88¢ ea. WYB (8)
-$1/5 Chobani single serve yogurt, SS 10/28 (EXP 11/25)
-$1/5 Chobani single serve yogurts, SS 11/11
Kraft Brick or Shredded Cheese, 6-8 oz, $2.50
Market Pantry Butter Sticks, 1 lb, $2.50
-5% off Market Pantry Butter, sticks & tubs, Target Cartwheel eCoupon


(Makes it $2.37)
Grocery
Candy Canes, 5.28-11.4 oz, $2.50
Gingerbread Kits, 26.6-38.8 oz, $9
Select Holiday Food Gifts, 8.9-32.2 oz, $9
Wondershop Pretzels and Popcorn, $5
M&M's Holiday Chocolate, 8-11.5 oz, $3
Lindt and Ghiradelli Holiday Chocolates, 4.3-6.38 oz, $4
Dove Holiday Promises, 5.31-8.87, $3.50
Andes and Queen Anne Boxed Chocolates, 4.67-6.6 oz, $2
Personal Care
Oral-B Pro 1000 Power Toothbrush, $34.99
-$5 off Oral-B Vitality, or Pro Series 500, 1000, 2500, 3000, 5000, 6000, 7000, or 8000 rechargeable electric toothbrush, excl trial size, limit (2) like coupons, RMN 11/18 (EXP 12/1)


(Makes it $29.99)

Braun 8-in-1 Rechargable Grooming Kit, $34.99
Buy (1) Get (1) Free Nexxus Hair Care Products
Buy (1) Get (1) 25% Off Jergens Skin Care Products
Buy (1) Get (1) 25% Off Method Products
Buy (1) Get (1) 25% Off Schmidt's or Tom's of Main Personal Care
-$1.45 off Tom's of Maine Toothpaste, excluding children's, limit 5, Ibotta App mobile coupon
Buy (1) Get (1) 25% Off BIC or Schick Razors and Cartridges
Buy (1) Get (1) 25% Off NYX Professional Makeup and Neutrogena and Revlon Cosmetic Products
Buy (1) Get (1) 25% Off Aveeno and Neutrogena Skin Care Products
-$3.50 off Aveeno facial moisturizers, creams, serums printable
-$3 off Aveeno body lotion, body wash or anti-itch item, excl masks and trial size, SS 11/18
-$5/2 Aveeno body lotion, body wash or anti-itch items, excl masks and trial size, SS 11/18
-$2 off Neutrogena product, excl acne, suncare, 7ct makeup remover cleansing towelettes, facial masks and pods, bar soap, trial size, and clearance, limit (1) like coupon, SS 11/18
-$2 off Aveeno body lotion, body wash or anti-itch item, excl masks and trial size, SS 11/18
-$3 off Aveeno Facial items: Moisturizers, Serums and Positively Radiant MaxGlow Collection, excl trial size, Ibotta App mobile app
-$1 off Neutrogena and Aveeno bonus – redeem any (3) unique marked Neutrogena and Aveeno offers, Ibotta App mobile app
Buy (1) Get (1) 25% Off Bliss Skin Care Products
Baby Care
Graco DuetConnect LX 2-in-1 Baby Swing and Portable Bouncer, $99.99


Only @ Target.com

25% Off Select Delta Children Lancaster and Baby Relax Edgemont Baby Furniture
Motorola Portable Video Baby Monitor, 5″, $89.99
Owlet Smart Sock 2 Baby Monitor, $239.99
Household
Bissell SpinWave Powered Hard Floor Mop, $79.99
Bissell Adapt Ion Pet 2-in-1 Cordless Vacuum, $79.99
Hoover PowerDrive Pet Upright Vacuum, $99.99
Shark Duo Clean Lift-Away Speed Vacuum, $159.99
BLACK+DECKER Wet/Dry Lithium Hand Vacuum, $24.99
Dyson Ball Animal 2 Upright Vacuum, $299.99
Dyson V7 Animal Cordless Stick Vacuum, $249.99
Shark ION Cleaning System, $399.99