This post may contain affiliate links. Read our disclosure here.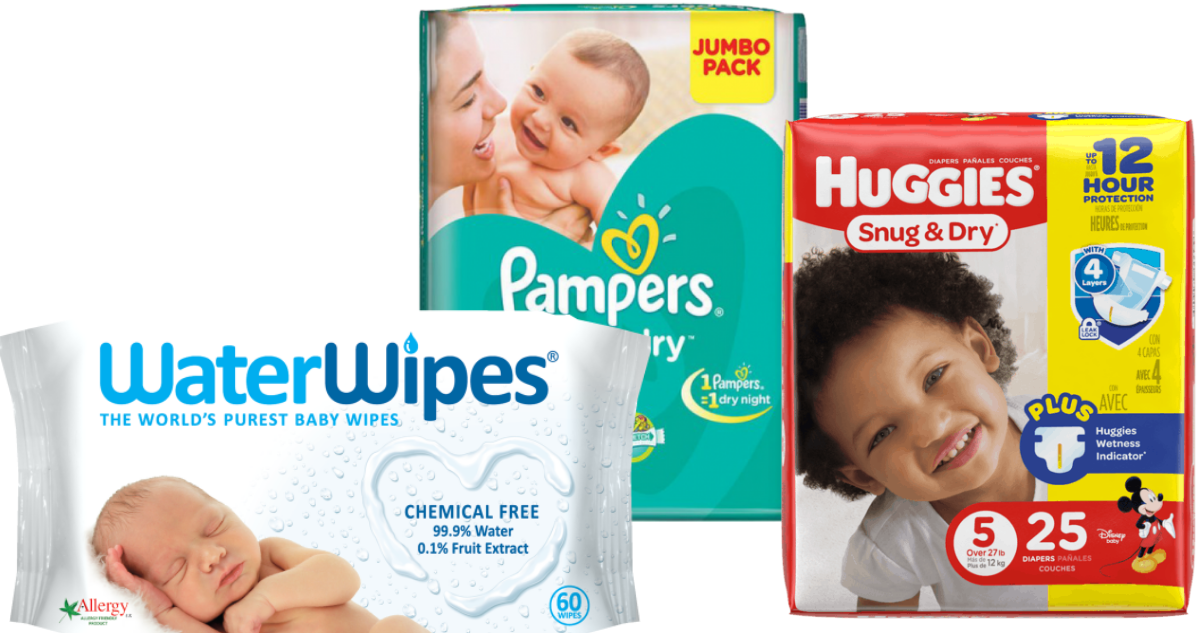 Pair a new WaterWipes printable coupon with an Ibotta offer to get 99¢ wipes at Target this week!
This would be the perfect filler item to use with the coupon for $15 Gift Card on any $75 Baby Care purchase! It's good on any diapers, wipes, toiletries, formula and food.
Target Deal
WaterWipes Sensitive Baby Wipes, 28 ct., $2.49 (reg. price)
-.50/1 WaterWipes Sensitive Baby Wipes, limit 2, at Target, Walmart, Ibotta App mobile coupon
-$1 off WaterWipes Baby Wipes, any printable


(use both, makes it 99¢)
Diaper Deal Ideas:
Buy:
(3) Pampers Pure Diapers, box, $24.99
(1) WaterWipes Baby Wipes 28 ct., $2.49
Use:
-Free Target $15 Giftcard with select baby dept purchase $75+, Target in-ad or app coupon
(2) -$5 off Pampers Pure diapers, (2) bags or (1) box, excl trial size, limit (2) like coupons, PG 08/26 (exp 9/8)
-$3 off Pampers Pure Diapers, excl trial size, Target Cartwheel eCoupon
-$1 off WaterWipes Baby Wipes, any printable
Total Due: $63.46
Get Back: $15 Target Gift Card
Submit For:
-.50/1 WaterWipes Sensitive Baby Wipes, limit 2, at Target, Walmart, Ibotta App mobile coupon
Makes it $47.96 for everything or $15.98 a case
Buy:
(7) Pampers Diapers or Easy Ups Training Pants, jumbo pk., $8.99
(1) Huggies Diapers, jumbo pk., $8.99
(2) WaterWipes Baby Wipes, 28 ct., $2.49
Use:
-Free Target $15 Giftcard with select baby dept purchase $75+, Target in-ad or app coupon
(2) -$3 off Pampers diapers or easy ups training underwear, excl trial size, limit (2) like coupons, PG 08/26 (exp 9/8)
(2) -$4 off Pampers easy ups training underwear or underjams absorbent night wear, (2) bags or (1) box, excl trial size, limit (2) like coupons, PG 08/26 (exp 9/8)
-$3 off Pampers Easy Ups Underwear or UnderJams Absorbent Night Wear, bagged, excl trial size, Target Cartwheel eCoupon
-$2 off Huggies Little Movers diapers, excl 9 ct- printable
(2) -$1 off WaterWipes Baby Wipes, any printable
Total Due: $55.90
Get Back: $15 Target Gift Card
Submit For:
(2) -.50/1 WaterWipes Sensitive Baby Wipes, limit 2, at Target, Walmart, Ibotta App mobile coupon
Makes it $39.90 for everything or $4.98 per pack + free wipes
More baby care coupons:


Coupons powered by Coupons.com