This post may contain affiliate links. Read our disclosure here.
Texas is a huge expansion of land filled with cool places to visit and interesting people. I have composed a list of the top 25 FREE things to do in Austin, Texas to help you tackle the great state one fun thing at a time. Feel free to comment below with your own fun free things to do in the city that I missed!
Top 25 FREE Things To Do in Austin
The first stop on the list is a free concert put on every weekend at the Hartman Concert Park in front of the Long Center City Terrace. The Austin Ensemble puts on shows ranging from classical to jazz just check the dates out on the site and pick your favorite!
The Capitol building is an amazing place to visit filled with the rich history of Texas and unique architecture. The tours are free but if you have a group of 10 or more call ahead to make a reservation.
This is a great place to view some of Austin's best graffiti artists. It is walls and walls covered in art and always changing so it's a fresh experience. An added plus is that it also gives you a great view of downtown.
4. Kids Shows at the Strange Brew Lounge Side
The Strange Brew Lounge Side puts on lots of great shows, some free and some not, but most Saturdays at 10 am they put on free kid shows! Bring the youngins out and enjoy a fun, educational time.
5. FREE Pools!
Austin can be a very, very hot place to visit especially during the summer. Check out the link for a list of 27 free pools! That's a lot of pools to beat the heat with.
Bull Creek is a beautiful place to get away from the city. The stand out feature of Bull Creek is a 3.5 mile trail that is great to hike. If you and the family feel up to it try and tackle it!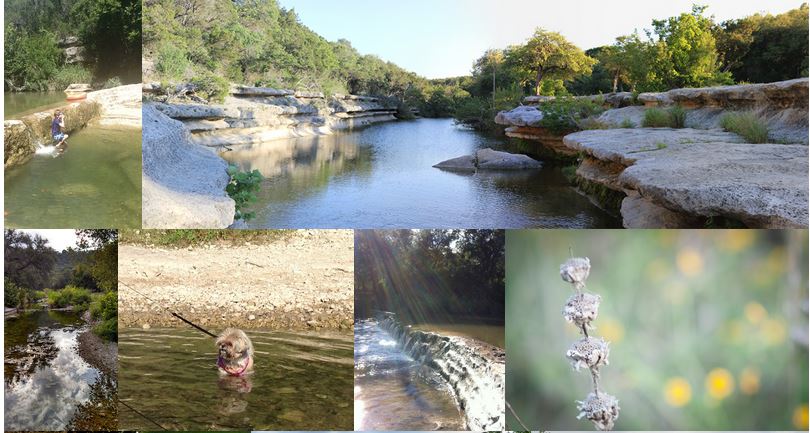 7. 6th Street
Enjoy some of Austin's night life and go walk around 6th street! It is full of culture and is usually putting on cool events just check the website out.
Enjoy a beautiful evening in Austin under the stars watching a movie. This is a great way to get out doors and meet a lot of new people.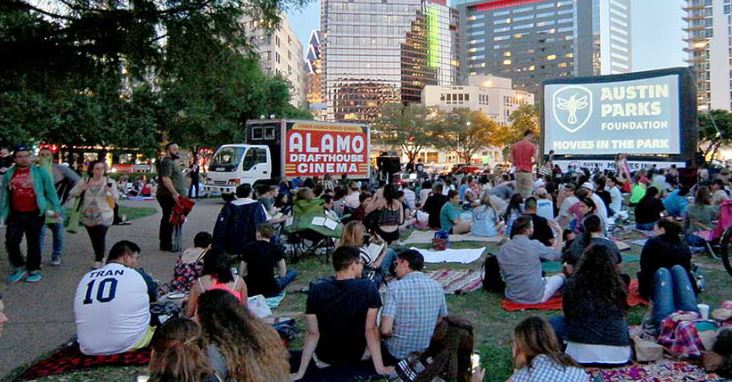 Dancing is great exercise, fun, and a way to release pent up stress. Free Swing Dance lessons are being taught at the Swan Dive every Friday in June! Learn some moves then show them off at the show that is right after the lesson. Get there for the lesson and the show is free as well.
10. Explore the University of Texas
The University of Texas is a great college and full of cool buildings to see. Make sure to check out the University of Texas Tower and the Littlefield Fountain.
Thanks to 93.3 KGSR, a radio station in Austin, Blues on the Green is a massive concert in Zilker Park with shows running through the summer. Check out the schedule and listen to some great live music!
12. Roy G. Guerrero Colorado River Park
Another cool park on hits the list and this one has great places to explore and take in nature. The river adds to the park as well with a fun little pebble beach to get your feet wet.
KGSR is at it again and this time offering 24 straight weeks of live, free music! Come out and have a blast listening to great music and eating lots of tasty food if you feel like buying some! Located at Shady Grove on Barton Springs Road.
This park is not like the others on the list. Mountain View offers lots of shade and relaxing feel to it. No intense trails or hikes just fun times outside. The park also includes 7 BBQ pits for cookouts.
The Austin Public Library is a great place to bring the kids. They are always putting on fun events and readings. Checking out other cities libraries is always a fun trip.
16. Lady Bird Lake
A beautiful 10 mile stretch in downtown Austin is the Lady Bird Lake trail and is surrounded by a great lake. This is great place to hang out and enjoy the view.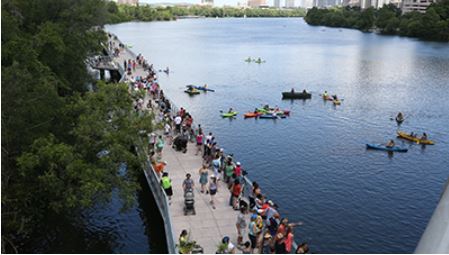 17. Farmer's Market
I love checking out other state's Farmer's Markets and seeing all the produce they have to offer. This is a great place to walk around and learn about farming in Texas!
South Congress Avenue (also known as the SoCo District) is a really cool part of Austin. It is bustling with cool shops, galleries, and much more. A great place to hang out!
19. Bridge Bats
This is truly one of the most unique stops on the list. Every night (especially during the Summer) hundreds of thousands of bats flock to the Congress Avenue Bridge to hang out and search for food.
20. Red Bull Isle
If you are traveling with a dog than this is the perfect place for you! This leash free park is beautiful and is also leash free for dogs. Your dog can run around, meet new dogs, and even take a dip in the water!
21. Free Yoga
If you are in Austin on September 1st then you are in luck! September 1st is Free Yoga Day in Austin all around the city at participating studios. It's a great way to relax or even try it for your first time. Free Yoga Day started in 1999 and has been spreading across the United States ever since.
The Pecan Street Festival is a free 2 day festival in downtown Austin that takes place September 27-28. This year there will be more than 60 of Austin musicians preforming on three stages and tons of artisans selling there unique crafts.
Austin offers free tours of the historic parts of the city. This is really educational and fun for the whole family.
24. Food Trucks
Austin has amazing food and the food trucks are no exception. While these are not free just seeing all the food trucks at a park or all around the city is awesome. They have cool designs and are very original. Check out the map for food court trailer parks! (and if you do get hungry the food is very inexpensive!)
25. Bullock Texas State History Museum
Every first Sunday of the month the Bullock Texas State History Museum offers FREE admission! With 3 floors filled with fun, educational things to do your children won't get bored quickly. It's a great program and a fun last stop!
See more free city guides.