This post may contain affiliate links. Read our disclosure here.
Dubbed the "Windy City," Chicago is full of adventure.  If you are headed there soon, it doesn't have to break the bank.  Check out my list of the top 25 free things to do in Chicago so you and your family can get the most value out of your trip! Hopefully with this list you can travel and not have money hold you back from having fun. Comment below with your own ideas!
Top 25 Free Things to Do in Chicago
The National Museum of Mexican Art
This museum is free to the public and celebrates the rich Latino culture that is in Chicago. It is a good place to teach children all about Latino arts and see some really interesting pieces of art.
Clarence F. Buckingham Memorial Fountain
This fountain is not like any ordinary fountain. It is one of the largest in the world and has 3 powerful pumps the largest of which pumps 7,000 gallons of water a minute with 250 horsepower! The fountain puts shows on daily that display its power.
Chicago Summer Dance
Need to learn a few dance moves before you take on Freaky Friday? Well Summer Dance has got your back. Located in Grant Park, every Friday through Sunday, Summer Dance will teach you how to dance and then let you join in on the free live music! It's a different style each week so check it out.
Skoki Northside Sculpture Park
Our first stop on the list is an adventure into a park filled with interesting sculptures, over 60 in all! It would be a fun filled afternoon trying to find them all.
Theater on the Lake
This series in Chicago's Park System expresses love for the theater. Showing off the talent of many Chicago acting troupes, Theater in the Parks is a great place to catch fun shows for free. A Midsummer Nights Dream is a classic that is performed all summer along with lots of other plays.
Museum of Contemporary Photography
Founded in 1976 by Columbia College of Chicago, this museum is home to lovely contemporary pieces of photography. They are visually pleasing to the eye and the best part is that it is free for all ages, though you do need to reserve a timed ticket in advance.
Chicago Cultural Center
The Chicago Cultural Center puts on free visual art exhibits and performances all summer long! Check the website, find an event you and the family find interesting, and enjoy the free show.
This park features a walking tour, outdoor exhibitions, and sometimes live performances.
Smart Museum of Art
The Smart Museum of Art, founded in 1974, is The University of Chicago's own museum. They constantly have new exhibits coming in and going so be sure to check the site out for ones that interest you best! (Note: The museum was closed for renovations in Summer 2022 but was due to reopen in late September 2022.)
Maggie Daley Park
This 20 acre park is immediately east of Millennium Park.  It has its own mini lighthouse, life-size ship, a skating ribbon and an enchanted garden with upside-down trees.
Lake Michigan
Chicago sits right on the shores of one of the Great Lakes, Lake Michigan. Head here to enjoy swimming and walking along the shore without the saltiness of ocean water. There are usually fun activities and it's right next to downtown.
Chicago Greeter
Chicago Greeter pairs you with people who love Chicago and are willing to give you FREE tours. Get a 2-4 hour guided tour with an experienced guide and get to see the city like you have never seen it before.
Movies in the Park
Thanks to Chicago's Park District they are putting on 250 movies at night throughout the summer in all of Chicago's parks. Grab a blanket and enjoy a nice summer night with the family.
Family Fun in the Park
Chicago's Park District is back at it. This time offering over 330 family fun events. From family yoga lessons to midnight circuses at the parks, just look at the schedule on the site!
Chicago Lakefront Path
This Lakefront Path has been given amazing reviews and is one of Chicago's prettiest trails. It is a fun place to walk, bike, and even run. The view of the water is amazing too. Be sure to check it out!
The Navy Pier
The Navy Pier is a lakefront playground with a ton of fun attractions. Some of them you have to pay for but there are free attractions as well. Just walking around is a fun time in itself with over 50 acres of parks, promenades and gardens.
Jane Addams Hull-House Museum
Visit Chicago's first social settlement with goals of sharing art. They opened in 1889 and are now a museum. Also you can see Jane Addams' home, Jane Addams was the first woman to win the Nobel Peace Prize. Admission is free but a suggested donation of $5 is accepted.
The DuSable
The DuSable is Chicago's premier museum African American history and heritage. The museum offers FREE admission every Wednesday. This is a great place to take the kids and learn about African American culture.
Lincoln Park Zoo
This zoo is 100% free and open 365 days a year! Zoos are amazing places to bring your kids to educate them all about the animal kingdom. Come see exotic birds, an African lion, black bears, leopards, and tons more!
The National Puerto Rican Museum
This museum celebrates Puerto Rican art and culture and is located in Humboldt Park. Admission is always free!
This is the oldest house in Chicago. Admission is free, with tours offered on certain days.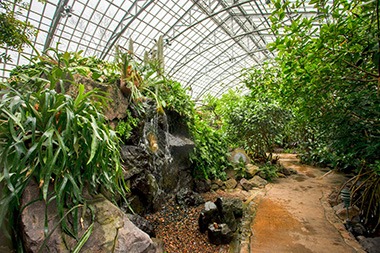 This conservatory features both indoor and outdoor gardens and exhibits, including a children's garden! Reservations are free, but strongly recommended.
Visit one of Chicago's Public Libraries
While any of them are certain to be enjoyable, the Harold Washington Library Center is the mothership of the Chicago library system and worth a visit. See if you can spot all the owls on the architecture!
With rotating exhibitions in support of Chicago artists, admission to this museum is always free!
Featuring exhibits by and honoring US military veterans, admission is free, although donations are encouraged.