This post may contain affiliate links. Read our disclosure here.
Visiting the City that Never Sleeps can certainly cost a pretty penny, but there are lots of things you can do that don't cost a dime! Here is a list of 25 FREE things to do in New York City that will leave you feeling frugally fulfilled after your vacation is over.
Top 25 Free Things to Do in New York City
Central Park spans 843 acres and is beautifully designed. It's more than just an escape from the city; it's like a separate world. Watch numerous performers, visit the Imagine mosaic dedicated to John Lennon, see architecture, picnic in one of the many green spaces, or visit areas seen in movies (like Home Alone II, Enchanted, or When Harry Met Sally).
Located in Williamsburg, Brooklyn, this brewery brews craft beer and distributes in 25 states and 20 countries. Take a free tour on Sundays!
Built as part of reconstruction of the Ground Zero area after 9/11, this is open to the public as a transportation hub, but you can also just go inside and marvel at the beautiful design.
During the summer there are options for free tickets for events. Check the schedule before you go!
Even if there were no books in this building, it would still be something of wonder to stroll through. The building itself is gorgeous (and huge) and holds over 51 million items. See lots of ongoing exhibits and collections and make sure to stop by the Reading Room, an absolutely beautiful space (that stretches the length of two city blocks) with 52-foot tall ceilings, bronze lamps, and captivating murals.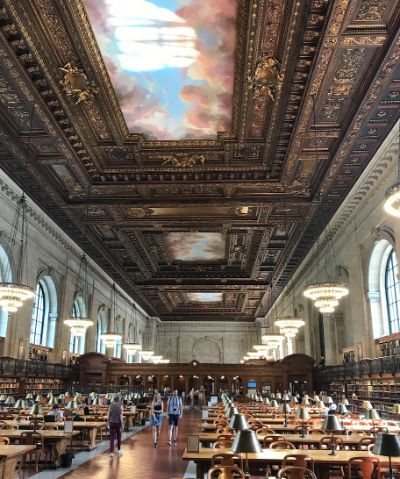 Have a hankering to see some art? Head to Chelsea where art galleries flow freely between 10th and 11th avenues. They are free and some galleries will even host events like wine and cheese tastings.
While you're in Chelsea, visit Chelsea Market, a huge space known for housing some of the best food vendors in the city. Of course, buying food wouldn't be free, but the whole market is worth seeing, plus you can catch events like art exhibits, flea markets, and more.
Famed 5th Avenue hosts stores to some of the most luxurious brands on the planet and, while not all of us can buy those items, it can be really fun to look at them. Plus, lots of the stores put tons of effort into the window displays, making them exquisitely charming or eccentric (make sure to check out the windows of Saks Fifth Avenue and Lord & Taylor).
There's something magical about parks nestled in NYC and Bryant Park is no exception. See beautiful flowers and gardens and have lunch on the green or at one of the park's quintessential green cafe tables. See a free concert or catch a film screening in the evenings.
One of the oldest suspension bridges in the United States, this bridge connects the boroughs of Brooklyn and Manhattan by spanning the East River. Take a stroll across the bridge to see each side from a different perspective. Plus, the bridge itself is a National Historic Landmark and really neat to look at.
The Friends Apartment Building
If you are a fan of the show Friends, head to the corner of Grove and Bedford streets in Greenwich Village to see the the building that was used for exterior shots of the characters' apartment building.
The High Line is a neat public park and a unique way to see the city. It's built on an old rail line and it's elevated above the streets on the West Side. The park features a green space, restaurants, and more.
If you're wanting to catch a glimpse of the Statue of Liberty, but don't want to pay a fee, check out the Staten Island Ferry. It's designed to take commuters to and from Staten Island and Manhattan, but it's completely free and you'll be able to get a good photograph of Lady Liberty. Once you get to Staten Island, you can hop right back on to get back to Manhattan.
Design a fun poster and head to Rockefeller Plaza for your chance to be seen on the Today Show. This daily morning show lets guests be part of the experience and you'll be able to see your favorite anchors and maybe catch a concert. Arrive early (before 6 AM) to get a good spot.
Rockefeller Center Free Audio Tour
Get a taste of the culture of NYC with this amazing free audio tour that will take you around some of the highlights of the city.
You can enter the Bronx Zoo on Wednesdays without an admission fee as long as you have a reservation (though there is a suggested donation). See a dinosaur safari, the children's zoo, or Komodo dragons.
Roosevelt Island & Sky Tramway
Enjoy a fun ride on the Roosevelt Island Tramway just using a Metro Card.  Once over on the island you can hop on a bus (also just using your Metro Pass) and get a fast tour of the entire island.  There are beautiful parks, like FDR Four Freedoms Park, and fun places to eat.  This entire island was once completely closed to anyone that didn't live there, so enjoy a glimpse back in time.  On your bus tour keep an eye out for Renwick Ruins an old smallpox hospital.
Head to Arthur's Tavern in the Village to catch some live jazz starting at 7 PM with no cover charge. Plus, if you go on a Monday, you can hear the same jazz band that's been playing there for 40 years.
If you're riding the subway during your trip, chances are that you'll have a transfer in Grand Central, but if not, you've gotta head there anyway. The building is massive and absolutely beautiful. There are shops and restaurants to explore, but you can stroll through just to see the mural on the ceiling, the huge windows, and the breathtaking architecture.
Times Square at all times of the day is bustling with people, lit with bright lights, and there's always something to see. Visit the over-the-tops stores, see historic theaters, and visit the Times Square Museum (where you can learn some really neat history of the area).
If everyone in your group is 18 years or older, you can take advantage of free kayaking in the Hudson River on select weekends! The trips are run by experienced volunteers and you'll get a brief run-down before heading out. This would be such a neat way to get a new perspective on the city.
The Fashion Institute of Technology hosts a free museum with a permanent collection of garments and accessories from the 18th century to the present. There are new exhibits every six months and also a whole section dedicated to student and faculty work.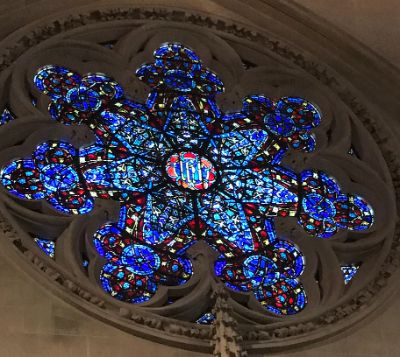 This historic cathedral that began construction in 1858 is located in midtown Manhattan and boasts beautiful stained glass, organs with a total of 9,838 pipes, and a massive vaulted ceiling.
Even if you don't plan to buy anything, take a quick visit to Tiffany & Co. to see some of the most beautiful displays of diamonds, china, and crystal. Make sure you see the 128 karat Tiffany Diamond on display on the main floor before you leave.
The Museum of the Moving Image
Free on Thursdays from 2-6 pm, this museum focuses on the early days of film.
See frugal travel for more free city guides!