This post may contain affiliate links. Read our disclosure here.
Nothing ruins a fun Christmas like a huge credit card bill, but you can be merry without going broke by starting to save now. It's only mid September, there is still plenty of time to put aside extra money! Here are 12 ways to save $300 before Christmas.
If you look through these ideas and still feel like funds are too limited, remember what is truly important. Embrace fun (and frugal) traditions. Christmas shouldn't be all about the gifts anyway.
12 Ways to Save $300 Before Christmas
Make and stick to a monthly budget

This is as a basic as it gets but is honestly the best place to start. If you don't have a budget, it's time to make one. You can go here for some great tips.
Once you have a budget, you have to follow it. It can be eye-opening to see how much money you are really wasting!
Make Savings Automatic
Believe in yourself and go ahead and set an automatic amount to move each month from your checking account to your savings account.  Many times not seeing that the money is available is enough to help us spend less!  You can set this up as an "internatl transfer" in your banking app or even have your employer set it up to put a piece of each paycheck straight into savings.
Extra tip: I highly recommend savings accounts online that aren't attached to your regular bank.  This is giving you an extra step to be able to spend the money and helps you to actually save more.  Plus, most online savings accounts are paying much higher interest rates than your local bank (around 4.5% right now)!!
Clip those coupons
Most coupons are only worth 50¢-$1, but when you pair it with sales, it adds up quickly! The less you spend on the things you have to buy (like toilet paper and cereal) the more you have to spend on fun things like Christmas presents. If you are just getting started couponing, you can go here for my free online workshop.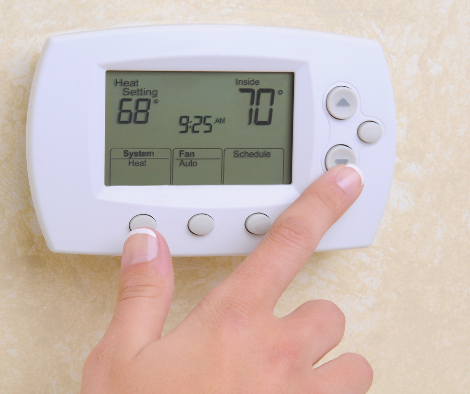 Lower your electric bills

The official energy efficient temperatures are 78 degrees in the summer and 68 degrees in the winter. You can use fans or extra clothes (depending on the season) to keep things comfortable, but the closer you stay to these temps, the lower your bill will be. You can also unplug electronics when you aren't using them, turn off lights, and avoid using your oven.
The fall is a great time to "rough it"and attempt to use less air conditioning.  Give it a try to see how long you can last before turning on the heat too!
Regardless of what temperature you keep the house at, you can use these tips to help your house be more energy efficient.
Get rid of your clutter
Thanks to the internet, you can sell pretty much anything. Check your local Facebook buy/sale/trade pages. You can research the going rate for things and list your own stuff. It's usually quick and easy, but use your good judgement. If anyone wants to pay any way other than cash, move on to the next person. Don't even respond to them. Meet at a police station or other public place and it anything seems off or fishy, move on to the next person.
Sell at consignment sales
Consignment sale season is happening right now! Check into consignment sales in your area to see if there are any that haven't had their fall sell yet. You can sign up as a consigner and get rid of all of the stuff your children have outgrown. You typically price the items yourself and decide if they go half price. Keep in mind that the sale typically takes 44% (or more).
The best part of consigning is that you get to shop before the public. This means you get your pick of all the best deals, which is a great way to shop for Christmas gifts.
Use less water
If you have city water, using less water can add up to some fun savings. We all want to do less laundry, so hopefully we can all get on board with this. If the clothes aren't actually dirty, don't wash them. This can be harder with the kiddos, but think before you wash. You can also take shorter showers and put your shower on a low flow setting.
Cancel cable and other streaming services

I really hope almost no one is using cable still. If you are, switch to Sling TV, Hulu, Netflix, or Amazon Prime —there are so many other options now, and some include sports.
That said, if you're subscribed to 10 different streaming services, you might be paying as much as you would for cable. There is almost never a downside to canceling one of these and resubscribing if a show you really want to watch shows up on the service.
Find extra income
Sometimes at the end of the day, there just isn't enough coming in to save. Thankfully there usually is extra work this time of year. This can be hard when you have limited time and limited child care options, but here are great work from home ideas.
Do without the extras
I love to ask myself, "What if I don't buy this?" Many times you'll realize you don't actually need that item at all. This applies to everything from the Target dollar section (my personal weakness) to a new big screen TV. Even if it's the best deal ever, you are still spending too much if you don't need it or don't have the money.
Eat at home
Even with restaurant deals and coupons, eating out is more expensive than making a meal at home 9 times out of 10. Keep your meals simple and limit how much meat you eat and you'll save even more. Think rice and beans, frozen pizza instead of delivery, and lots of pasta.
If you already eat out more than once a week, aim to cut back to a set dollar amount per week.  This can be a very quick way to find extra money!!
Ask for help
If funds are still too limited, check into local charities and Angeltree programs. There is almost always help available for those who need it. Don't be afraid to ask!
Stay off social media
Nothing can ruin your joy like discontentment. Your Christmas celebration is enough. The presents you buy are enough. Your tree and decorations are enough. It doesn't matter if everything matches. It doesn't matter if your children each only get 1 gift. Find the joy in your own celebration and you'll be okay.
See more ways to save on Christmas.