This post may contain affiliate links. Read our disclosure here.
With Easter a few days away, you probably have a ham in the freezer or on your shopping list this week.  It's the go-to meat for spring holidays, but also one that can leave you with a ton of leftovers.  In an effort to not waste precious food  let's have a game plan to creatively and deliciously use leftover ham!
Go ahead and grab any ingredients you need for these meals now so you are set to use up every bit of your Easter Ham!
5 Ways to Use Leftover Ham
The Obvious – Ham Sandwiches
Step this up by making them Honey Baked Ham style.  Grab some clearance croissants from the bakery section, and make sure you have honey, Swiss cheese, lettuce, and tomato on hand.  The magical ingredient is the honey, put a little bit of mustard on one side of the croissant and honey on the other.  Then build the sandwich as you normally would.  People will come back for seconds!
Ham & Bean Soup
This is a go-to in my house every time we make ham.  I already have the ham in a crockpot, so leave it in there, even the ham bone, and add in dried beans (either mix a few different ones together or get a bean soup mix bag).  Fill the crockpot with water.  Season with dried onions, garlic, salt, pepper, and any other seasonings you love.  Cook for 6-7 hours on medium-low.  Remove the ham bone and serve!  This will make enough to eat on now and freeze for another meal.
Ham & Potato Casserole
Go as easy or fancy as you want here.  The gist is potatoes au gratin plus ham and then bake it together.  Easy would be beloved Betty Crocker boxed potatoes, or fancy is making your own.  We have done both and I have to confess they are both great…  (don't take away my apron please).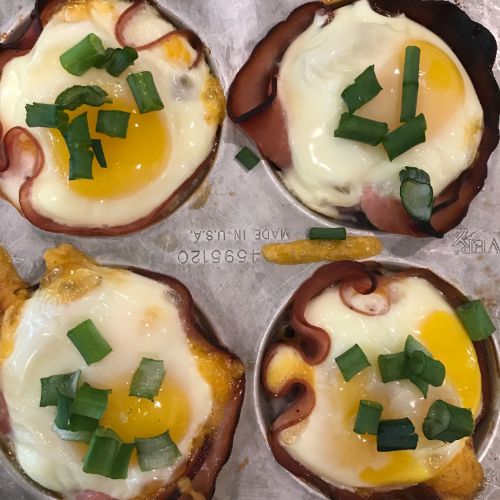 Ham, Egg & Cheese Cups (perfect for Keto)
Breakfast is always tricky for me on the Keto diet.  This is a perfect solution that is so delicious they won't last as long as you hope! These can be frozen and reheated or kept in the refrigerator.  Dress them up by adding green onions or tomatoes to the top.
You'll need 1 dozen eggs, thinly sliced leftover ham, and a bag of shredded cheese.
Spray or grease a 12 count muffin tin.
Put thinly sliced ham in the bottom of each tin making a muffin liner out of it.
Sprinkle a bit shredded cheese into each cup.
Crack one egg into each muffin cup.  You can also scramble the eggs first if you prefer.
Bake at 400 degrees for 12-15 minutes for runny eggs or 20-25 minutes for firm.
Season with salt and pepper to taste.
Ham & Cheese Tortellini
Pair your leftovers with our free or super cheap tortellini we've been getting lately for a meal everyone will love.   It also only takes about 10-15 minutes to get it on the table!
You'll need:
1 diced onion,
1 bag of frozen peas,
1 bag of tortellini,
1 cup shredded mozzarella and
1 cup shredded parmesan cheese
1 cup heavy cream
1 can chicken broth
Chop leftover ham into small pieces.
Cook ham and onion in a large skillet (with sides) for 3 minutes until ham is a tad crispy.
Add tortellini, frozen peas, and chicken broth.  Simmer for 5-6 minutes until tortellini is cooked.
Add in mozzarella and parmesan cheeses and heavy cream.  Stir until mixed and melted.