This post may contain affiliate links. Read our disclosure here.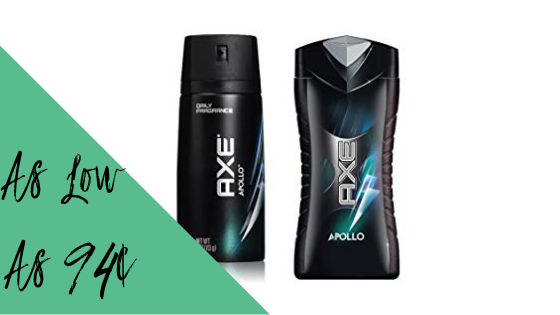 Use new Target Cartwheel offers, manufacturer coupons and a gift card deal to get Axe shower gel and body spray for cheap!
You can buy them individually or use the deal idea below to get a $5 Target gift card on your personal care purchase. Note that the Cartwheel coupons are reduced by the Target gift card.
Axe Deals at Target
**Deal Idea:**
Buy:
(3) Axe Body Sprays, $4.29
(2) Axe Shower Gels, $3.99
Use:
$5 Target Gift Card w/ Beauty & Personal Care Purchase of $20 or More, in-ad coupon
-20% off Axe Body Wash, 16 oz varieties, Target Cartwheel eCoupon
-20% off Axe Deodorant & Body Spray, all varieties, Target Cartwheel eCoupon
(2) -$3/2 Axe deodorant, spray or body wash products, excl trial sizes, twin pk. printable
(1) -$2 off Axe body spray product, excl twin packs, excl trial size, limit (2) like coupons, RMN 03/17
Total Due: $9.68
Get Back: $5 Target Gift Card
Makes it $4.68 or 94¢ ea.
Axe Shower Gel, $3.99 (reg. price)
-$1 off Axe body wash, excl trial size, RMN 03/17
-$3/2 Axe deodorant, body spray, body wash or hair care items, RMN 03/17
-$3/2 Axe deodorant, spray or body wash products,  printable
-20% off AXE Body Wash, 16 oz varieties, Target Cartwheel eCoupon


(buy (2), use Cartwheel and $3/2, makes it $1.69 ea.)

Axe Body Spray, $4.29 (reg. price)
-$2 off Axe body spray product, RMN 03/17
-$3/2 Axe deodorant, body spray, body wash or hair care items, RMN 03/17
-$3/2 Axe deodorant, spray or body wash products, printable
-20% off AXE Deodorant & Body Spray, all varieties, Target Cartwheel eCoupon


(use Cartwheel and $2 off, makes it $1.43)