This post may contain affiliate links. Read our disclosure here.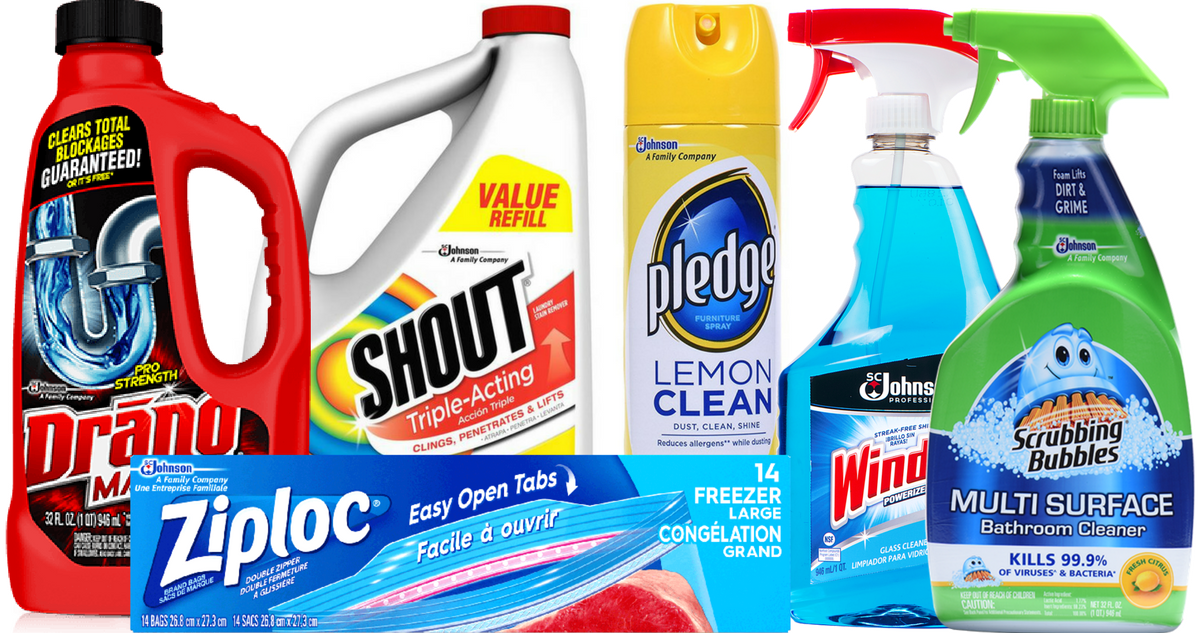 The SC Johnson Rebate is back for 2019!!  Buy 4 participating SC Johnson items and you'll get a FREE $5 Visa Gift Card!
How to get this offer…
Purchase four (4) qualifying SC Johnson products before 12/6/19 in a single transaction.
Participating Items are: Ziploc, Glade, Windex, Scrubbing Bubbles, Fantastik, Pledge, Drano and Shout
(excluding trial and travel sizes, Glade Solids or Air Freshener Sprays, or Scrubbing Bubbles Toilet Bowl Cleaner).
After your receipt is validated you'll get an email with your $5 Visa gift card.
Current Coupons to Use with Rebate:
Coupons powered by Coupons.com
Upcoming Deals
Publix (starts Wednesday)- Ziploc Bags, Storage or Freezer, 14-24 ct., or Sandwich or Snack 66-90 ct or Containers, 1-4 ct, $3
-$1/2 Ziploc products, excl accessory bags printable
-$5 Visa Gift Card wyb (4) Windex, Pledge, Ziploc, Glade, Scrubbing Bubbles, Shout, Drano, or Fantastik in the same transaction, Online rebate


(buy (4), use (2) coupons, makes it $1.25 ea. after rebate)

Publix (starts Wednesday) – Windex Cleaner 19.7 or 23 oz or Wipes, 28 ct, $3
-.50/1 Windex product printable
-.50/1 Windex product printable
-.50/2 Scrubbing Bubbles Pledge Furniture or Windex items, Publix eCoupon
-$1/2 Windex products, limit 2, SS 11/03
-$5 Visa Gift Card wyb (4) Windex, Pledge, Ziploc, Glade, Scrubbing Bubbles, Shout, Drano, or Fantastik in the same transaction, Online rebate


(buy (4), use (4) .50/1, makes it $1.25 ea. after rebate)

Walgreens (starts 11/3) – Select Windex, Scrubbing Bubbles Bathroom or Fantastik Spray, 2 for $6
-.50/1 Windex product printable
-.50/1 fantastik product printable
-.50/2 Scrubbing Bubbles Pledge Furniture or Windex items, Walgreens eCoupon
-.50/1 Scrubbing Bubbles toilet bowl cleaner product printable
-$1/2 Scrubbing Bubbles bath cleaning products printable
-$1.25/2 Fantastik All-Purpose Cleaner products, limit 2, SS 11/03
-$1.50/2 Scrubbing Bubbles Bathroom Cleaner items, limit 2, SS 11/03
-.50/1 Scrubbing Bubbles toilet bowl cleaner, limit 2, SS 11/03
-$1/2 Windex products, limit 2, SS 11/03
-$5 Visa Gift Card wyb (4) Windex, Pledge, Ziploc, Glade, Scrubbing Bubbles, Shout, Drano, or Fantastik in the same transaction, Online rebate


(buy (4), use (2) $1.50/2, makes it $1 ea.)