This post may contain affiliate links. Read our disclosure here.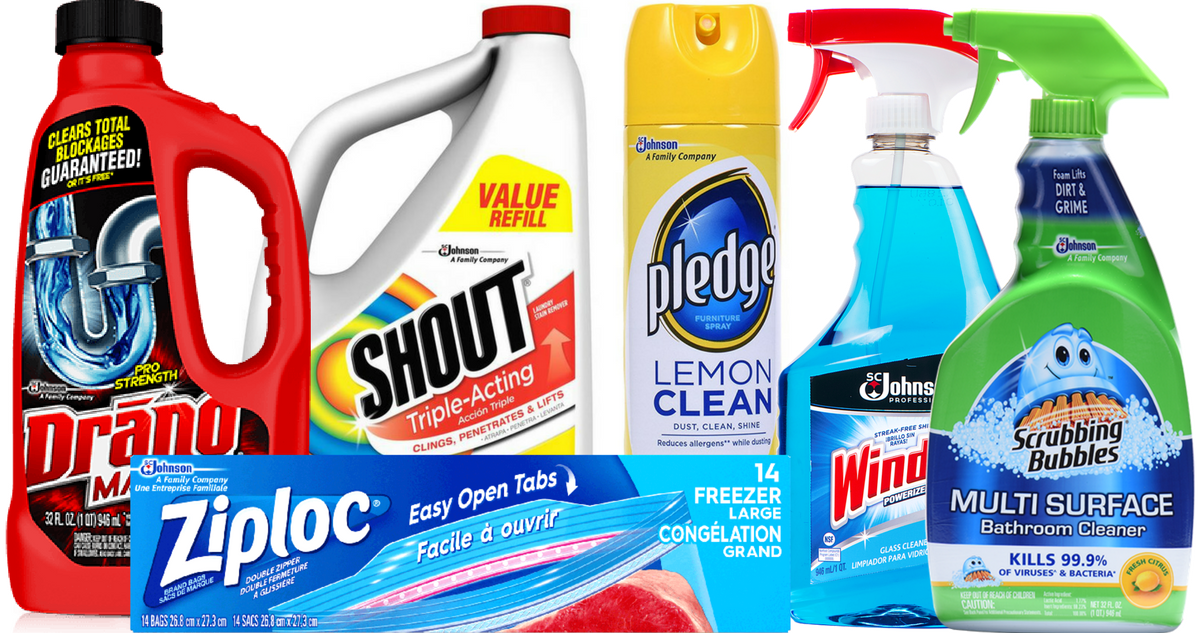 Right now there is a great offer when you purchase select SC Johnson products. Just buy 4 participating items and you'll get a FREE $5 MasterCard!
How to get this offer…
Submit receipts to prove purchase of 4 SC Johnson products between 10/1/17-11/30/17
Note: they can be from different stores, and if you don't have a receipt yet you can ask for a reminder.
Items participating are Ziploc, Glade, Windex, Scrubbing Bubbles, Fantastik, Pledge, Drano and Shout.
You will receive your $5 MasterCard in the mail, allow 4-6 weeks
Here are some deal ideas for you to save on these items as you buy them.

Rite Aid – 500 PP wyb $15 worth Cleaning Products – Windex Spray Cleaner or Wipes, 23 oz or 28 ct., $2.99
-.50/1 Windex product, excl trial/travel size (exp 10/16) printable (limit reached)
-$1.50/2 Windex products, excl trial/travel size (exp 10/16) printable (limit reached)
-.50/1 Windex products, excl trial size, limit 1, cannot use this offer with any other print or in-app coupon, Checkout 51 mobile coupon


(use .50/1, makes it $2.49)

Food City – Shout or Windex Products, 22-26 oz, $2.99
-.50/1 Windex foaming glass cleaner, excl trial/travel size (exp 10/16) printable (limit reached)
-.50/1 Windex product, excl trial/travel size (exp 10/16) printable (limit reached)
-$1.50/2 Windex products, excl trial/travel size (exp 10/16) printable (limit reached)
-.50/1 Windex products, excl trial size, limit 1, cannot use this offer with any other print or in-app coupon, Checkout 51 mobile coupon


(use $1.50/2, makes it $2.24)

Publix – Windex Multi-Surface Refill, 67.6 oz, $2.99


(reg. price: $5.99)


-.50/1 Windex products, excl trial size, limit 1, cannot use this offer with any other print or in-app coupon, Checkout 51 mobile coupon


(makes it $2.49)

Bi-Lo – Windex 23-26 oz, or Clorox Cleaners, 30-32 oz, $2.99
Rite Aid – 500 PP wyb $15 worth Cleaning Products – Scrubbing Bubbles or Fantastik Cleaners, 32 oz, $2.99
-$1.50/2 Scrubbing Bubbles bathroom cleaning items printable (limit reached)
-$1.50/2 Scrubbing Bubbles bathroom cleaning products, SS 09/24
-.50/1 Scrubbing Bubbles bath item, excl trial size, limit 1, cannot use this offer with any other print or in-app coupon, Checkout 51 mobile coupon


(use $1.50/2, makes it $2.24 ea.)

Rite Aid – 500 PP wyb $15 worth Cleaning Products – Shout Stain Remover, 22 oz, $2.99
Walgreens – $1.50 RR wyb (2) Ziploc Bags or Containers, 2 for $5.50
-$1/2 Ziploc products printable printable
-$1/2 Ziploc products, on same receipt, limit 1, cannot use this offer with any other print or in-app coupon, Checkout 51 mobile coupon


(buy (2), use $1/2, makes it $1.50 ea.)

Food Lion – Ziploc Freezer or Storage Bags, 14-24 ct, $3
-$1/2 Ziploc products printable printable
-$1/2 Ziploc products, on same receipt, limit 1, cannot use this offer with any other print or in-app coupon, Checkout 51 mobile coupon


(makes it $2.50)

Family Dollar – Glade Car Air Fresheners, 3 pack, $2
-$2/3 Glade products, excl PlugIns warmers, room spray 8 oz, and solid air fresheners, SS 09/10
-$1/2 Glade products, excl plugins warmers, 8 oz room spray and solids, SS 09/24
-$2/3 Glade products, excl plugins warmers, 8 oz room spray and solids, SS 09/24


(use $2/3, makes it $1.33 ea.)

Walgreens – Glade Automatic Spray Kit, Candle, Plug-Ins Refills or Sense & Spray Refill, 6.2 oz, 9.2 oz or 3 pack, $7.49
-$1 off Glade Atmosphere collection item, limit 1, cannot use this offer with any other print or in-app coupon, Checkout 51 mobile coupon
-$1.50 off Glade Automatic Spray Holder or Starter Kit, limit 1, cannot use this offer with any other print or in-app coupon, Checkout 51 mobile coupon
-$1.50 off Glade Large Jar Candles, 9.2 oz, limit 1, cannot use this offer with any other print or in-app coupon, Checkout 51 mobile coupon
-$1 off Glade PlugIns scented oil twin or triple pk, excl Atmosphere Collection items, limit 1, cannot use this offer with any other print or in-app coupon, Checkout 51 mobile coupon
-$1 off Glade Atmosphere collection, SS 09/10
-$2/3 Glade products, excl PlugIns warmers, room spray 8 oz, and solid air fresheners, SS 09/10
-$1 off Glade Atmosphere collection item, SS 09/24
-$1/2 Glade products, excl plugins warmers, 8 oz room spray and solids, SS 09/24
-$2/3 Glade products, excl plugins warmers, 8 oz room spray and solids, SS 09/24
-$1 off Glade Atmosphere Collection item, SavingStar eCoupon
-$1.50 off Glade automatic spray holder or starter kit, SavingStar eCoupon
-$1.50 off Glade large jar candles, 9.2 oz, SavingStar eCoupon
-$1 off Glade Atmosphere Collection Product printable


(use $1 off mfr and $1 off eCoupon, makes it $5.49)

Food Lion – Glade Candles or Wax Melts, 2.3-3.8 oz, $3
-$1/2 Glade Jar Candles, on same receipt, 3.4 oz, limit 1, cannot use this offer with any other print or in-app coupon, Checkout 51 mobile coupon
-$1/2 Glade jar candles, 3.4 oz, SavingStar eCoupon
-$1/2 Glade 3.4oz Candles printable


(use $1/2 coupon and SavingStar, makes it $2)

Kroger – Glade Wax Melts or Candles, $2.99


(good through 1/16/18)


-$1/2 Glade Jar Candles, on same receipt, 3.4 oz, limit 1, cannot use this offer with any other print or in-app coupon, Checkout 51 mobile coupon
-$1/2 Glade Wax Melts refills, on same receipt, limit 1, cannot use this offer with any other print or in-app coupon, Checkout 51 mobile coupon
-$2/3 Glade products, excl PlugIns warmers, room spray 8 oz, and solid air fresheners, SS 09/10
-$2/3 Glade products, excl PlugIns scented oil warmer, 8 oz room spray & solid air freshener (exp 10/16) printable (limit reached)
-$1/2 Glade products, excl PlugIns scented oil warmer, 8 oz room spray & solid air freshener (exp 10/16) printable (limit reached)
-$1/2 Glade products, excl plugins warmers, 8 oz room spray and solids, SS 09/24
-$2/3 Glade products, excl plugins warmers, 8 oz room spray and solids, SS 09/24
-$1/2 Glade jar candles, 3.4 oz, SavingStar eCoupon
-$1/2 Glade Wax Melts refills, SavingStar eCoupon
-$1/2 Glade Small Jar Candles, 3.4 oz, Kroger (exp 10/16) eCoupon (limit reached)
-$1/2 Glade Wax Melts Refills, Kroger (exp 10/16) eCoupon (limit reached)
-$1/2 Glade 3.4oz Candles printable
-$2/3 Glade Products, excl Scented Oil Warmer, 8 oz Spray or Solid Air Freshener, Kroger eCoupon
-$1/2 Glade Products, excl Scented Oil Warmer, 8 oz Spray or Solid Air Freshener, Kroger eCoupon (limit reached)


(use $1/2 mfr and SavingStar, makes it $1.99 ea.)

Walmart – Glade Atmosphere Collection Scented Oil Refills, 2 ct, $4.88
-$1 off Glade Atmosphere collection item, limit 1, cannot use this offer with any other print or in-app coupon, Checkout 51 mobile coupon
-$1 off Glade Atmosphere collection, SS 09/10 (exp 10/22)
-$1 off Glade Atmosphere collection item, SS 09/24
-$1 off Glade Atmosphere Collection item, SavingStar eCoupon
-$1 off Glade Atmosphere Collection Product printable


(use $1 off mfr, makes it $2.88 after SavingStar)

Walmart – Glade Plugins Car Refills, $2.98
-$1/2 Glade PlugIns car refills, on same receipt, limit 1, cannot use this offer with any other print or in-app coupon, Checkout 51 mobile coupon
-$1/2 Glade PlugIns car refills, SS 09/10 (exp 10/22)
-$1/2 Glade PlugIns car refills, SavingStar eCoupon


(buy 2, use mfr & SavingStar, makes them $1.98 ea.)

Walmart – Glade Plugins Car Starter Kit, $4.88
-$1.50 off Glade PlugIns car starter kit, limit 1, cannot use this off with any other print or in-app coupon, Checkout 51 mobile coupon
-$1.50 off Glade PlugIns car starter kit, SS 09/10 (exp 10/22)
-$1.50 off Glade plugins car starter, SS 09/24
-$1.50 off Glade PlugIns car starter kit, SavingStar eCoupon
-$1.50 off Glade PlugIns car starter kit printable


(use mfr & SavingStar, makes it $1.88)

Walmart – Glade Jar Candles, 3.4 oz, $2.98
-$1/2 Glade Jar Candles, on same receipt, 3.4 oz, limit 1, cannot use this offer with any other print or in-app coupon, Checkout 51 mobile coupon
-$2/3 Glade products, excl PlugIns warmers, room spray 8 oz, and solid air fresheners, SS 09/10 (exp 10/22)
-$1/2 Glade jar candles, 3.4 oz, SavingStar eCoupon
-$1/2 Glade 3.4oz Candles printable


(buy (2), use $1/2, makes $1.98 ea. after SavingStar)

Food City – Pledge Furniture Polish or Wipes, 9.7 oz or 24 ct, $3.99
-.50/1 Pledge furniture item (exp 10/16) printable (limit reached)


(makes it $3.49)

Target – Pledge FloorCare Squirt & Mop Cleaner, 27 oz, $4.49 (reg. price)
-$2 off Pledge floor cleaner (exp 10/16) printable (limit reached)


(makes it $2.49)