This post may contain affiliate links. Read our disclosure here.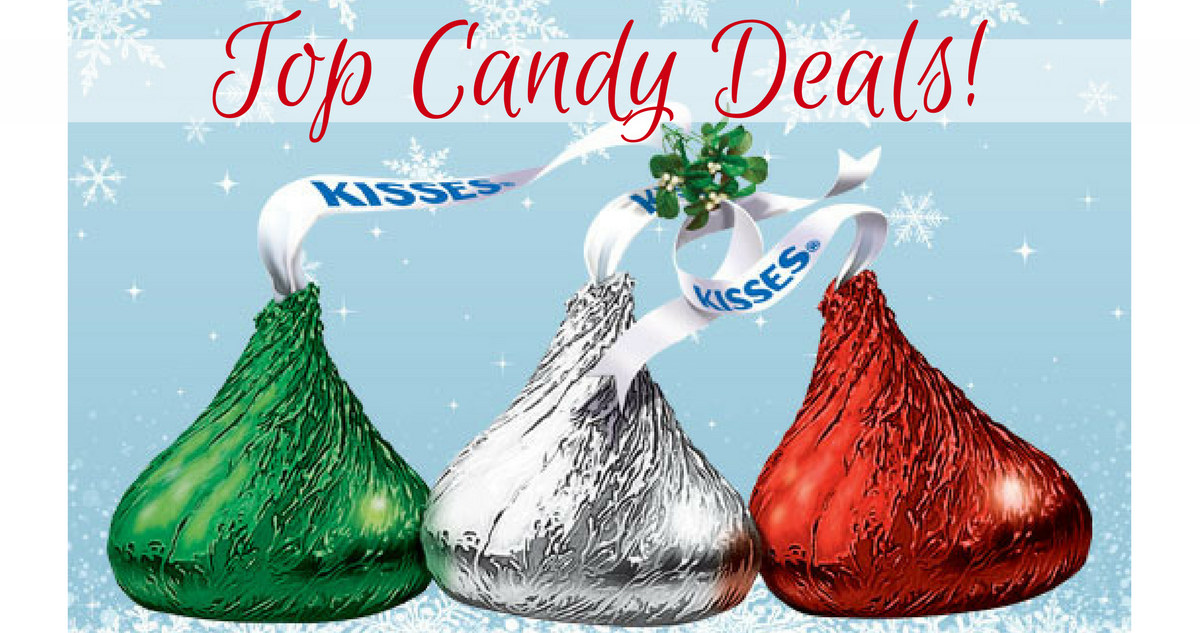 Christmas is in 8 days!! So, right now you can get some great candy deals! Here is a list of what you can get at various stores and candy coupons too.
These deals are perfect for gathering candy to stuff into stockings.

Candy Coupons
Insert Coupons:
-$1 off Merci chocolates box, limit (1) like coupon, SS 12/09
-$1/2 Mars chocolate holiday bags, 3 oz+, RMN 12/09 (exp 12/25)

Printables:
-$1 off Wholesome candy printable
-B1G1 ZolliPops or Zaffi Taffy Clean Teeth Candy, 3-5.2 oz (sign up) printable
-$1 off Ocho Candy 3.5 oz. Pouch printable
-Free Maltesers Candy, 2.83 oz wyb (1) M&M's Chocolate Candies Theater Box, 3-3.1 oz, (up to $1.37 value) printable
-$1/2 M&M's chocolate bars, 3.8-4 oz printable
-.75/1 Endangered Species chocolate bar, 3 oz printable
-B1G1 ZolliPops or Zaffi Taffy Clean Teeth Candy, 3-5.2 oz (sign up) printable
Top Candy Deals
Kroger – Snickers or M&M's Candy, 1.08-1.92 oz, 50¢
Walgreens – Hershey's or Cadbury Holiday Candy, 7.8-8.5 oz, 2 for $5
-$1/2 Hershey's or Cadbury Holiday Candy, 5-11 oz, December Walgreens booklet or eCoupon


(buy (2), use $1/2 eCoupon, makes it $2 ea.)

Rite Aid – Hershey's, Mars or M&M's Holiday Candy Bags, 7-11.5 oz, 2 for $6
-$1/2 Mars chocolate holiday bags, 3 oz+, RMN 12/09


(makes it $2.50 ea.)

Rite Aid – Select Holiday Novelty Candy or Cookies, 2 for $2
Rite Aid – Hershey's Holiday Candy Bags, 18.5 oz, $5.99
Rite Aid – Bob's Candy Canes, 12 ct., 2 for $3
Rite Aid – Candy Filled Storybooks, 2 for $5
Rite Aid – Premium Candy Canes, 12 ct., 2 for $4
Rite Aid – Select Non-Chocolate Candy Bags, 7-16 oz, 2 for $5


(pictured – Skittles, Starburst, Twizzlers)

Harris Teeter – Hershey's Christmas Chocolate Candy, 9-11 oz, $3.50
Lidl – Starlite Mints Peppermint Candy, 10 oz, 79¢ with myLidl app
Walgreens – Hershey's or Cadbury Candy Bar, 3.5-4.5 oz, 3 for $5


(buy (3), makes it $1.67 ea.)

Walgreens – Merci, Almond Roca or Cella's Holiday Chocolate or Candy, 2 for $8
-$1 off Merci chocolates box, limit (1) like coupon, SS 12/09


(buy (2), use $1 off, makes it $3.50 ea.)

Ingles – Ghirardelli Bag Candy or Baking Chips, 4.12-23 oz, $3
Publix – Wholesome Organic DelishFish Candy, 6 oz, $3
-$1 off Wholesome product printable (limit reached)


(makes it $2)

Target – Novelty Candy, .93-6.5 oz, $1.67
Target – Large Holiday Chocolate and Candy, 6-16 oz, $10
Target – M&M's Candy, 8-11.4 oz, $3
Target – Candy Canes, 5.28-11.4 oz, $2.50
Kroger – Red Vines Candy, 5 oz, $1 (reg. price)
-.50/1 Red Vines candy, 4 oz+, claim up to 2X, cannot use this offer with any other coupon, Checkout 51 mobile app


-.50/1 Red Vines candy, 4 oz+, SavingStar (exp 12/13) mobile app (limit reached)




(makes it 50¢)

Walmart – ZolliPops or Zaffi Taffy Clean Teeth Candy, 3-5.2 oz, $3.22
-B1G1 ZolliPops or Zaffi Taffy Clean Teeth Candy, 3-5.2 oz (sign up) printable


(makes it $1.61 ea.)

Target – Hershey's Value Size Candy Bags, 18-24 oz, $6.19


(makes it $4.70)

CVS – $3 ECB wyb (2) Hershey's Original, Holiday Kisses or Miniatures, 7-15 oz, 2 for $6, limit 1


(makes it $1.50 ea.)

CVS – Hershey's Singles , 1.4-2 oz, 99¢


-.75¢ Instant Coupon printing at CVS Coupon Printer, starting Sunday




(makes it 24¢)

Publix – Snickers, Twix, or Mars Minis Mix Chocolates, 8.4-10.5 oz, B1G1 at $3.79 ($1.89)
-.50/1 Mars Chocolate Mini's, 8 oz+, select varieties, limit 5, Ibotta App mobile app
-$1/2 Mars chocolate holiday bags, 3 oz+, RMN 12/09


(use $1/2 and (2) Ibotta, makes it 89¢ ea.)

Publix – Snickers, Twix, or Mars Mini Mix Chocolates, 8.4-10.5 oz, B1G1 at $3.79 ($1.89)
-$1/2 Mars chocolate holiday bags, 3 oz+, RMN 12/09


(makes it $1.39)

Sprouts Farmers Market – OCHO Organic Filled Mini Chocolates, 3.5-3.88 oz, $3.49
-.50/1 OCHO Organic Candy Bars, BerryCart mobile app
-$1 off Ocho Candy 3.5 oz. Pouch printable


(use $1 off, makes it $2.49)

Sprouts Farmers Market – Lily's Double Chocolate Crunch Bars, 1 oz, 4 for $5


(buy (4), makes it $1.25 ea.)

Sprouts Farmers Market – Theo Organic Fair Trade Chocolate Bars, 3 oz, 2 for $5


(buy (2), makes it $2.50 ea.)

Sprouts Farmers Market – Green & Black's Organic Chocolate Bars, 3.5 oz, $3.49
Sprouts Farmers Market – Alter Eco Organic Chocolate Bars, 2.65-2.82 oz, 2 for $6
-$1 off Alter Eco Chocolate Bar, 2.82 oz, Sprouts eCoupon


(buy (2), use $1 off eCoupon, makes it $2.50 ea.)

Publix – Godiva Premium Chocolate Gift Boxes, Lindt, or Ghirardelli, 2.1-16.6 oz, 25% off
-$1 off Lindt Gourmet Truffles gift box, 7.30 oz, Publix eCoupon
-$1 off Lindt Classic Assortment gift box, 6.2 oz, Publix eCoupon
-$1 off Ferrero Rocher or Ferrero Collection, 6.8-10.6 oz, SS 11/11
-$1 off Ferrero Rocher or Ferrero Collection, 6.8-10.6 oz printable
-$1.25 off Godiva bag or gift box, 4.7 oz+, excl bars and 1.2 oz bags, RMN 11/18
-$1 off Lindt Lindor Truffles, 5.1 oz+ printable
Publix – Russell Stover Chocolates, 8.25-12 oz, B1G1 at $9.99 ($4.99)
Publix – Whitman's Sampler Chocolates, 7-12 oz, B1G1 at $10.99 ($5.49)
Publix – Ferrero Rocher Fine Hazelnut Chocolates or Confetteria Rafaello, 4.6-5.3 oz, B1G1 at $5.49 ($2.74)
Publix – Lindt or Ghirardelli Chocolate Bars, 3.17-4.4 oz, B2G1 at $2.79
Winn-Dixie – Russell Stover or Whitman's Sampler Chocolates, 7-12 oz, B1G1 at $10.99 ($5.49)
Lowe's Foods – M&Ms Holiday Chocolate Candies, selected, 11.4 oz, $2.99
Kroger – Russell Stover Assorted Chocolates, 8.25-12 oz, (price not listed)
Walgreens – Lindt, Godiva or DeMet's Chocolate, 4.9-6.4 oz, 2 for $7
-$1 off Lindt Lindor Truffles Bag, 5.1 oz+, Walgreens eCoupon
-$1/2 DeMet's Turtles, 5 or 6.4 oz, December Walgreens booklet or eCoupon
-$1 off DeMet's Turtles Holiday Gift Box or Tin, 5.8-9.3 oz, December Walgreens booklet or eCoupon
-$1 off Godiva Masterpieces 4.9 or 5.1 oz or Truffle Bag 4.25 oz, December Walgreens booklet or eCoupon
-$1 off Lindt Lindor Truffles, 5.1 oz+ printable


(buy (2), use $1 off, makes it $3 ea.)

Walgreens – Russell Stover Chocolate, 8-12 oz, $3.99
Walgreens – M&M's Chocolate Candies, 8-11.4 oz, 2 for $6


(buy (2), makes it $3 ea.)

Rite Aid – Russell Stover Boxed Chocolates, 8.25-12 oz, B1G1
Rite Aid – Whitman's Sampler Boxed Chocolates, 10-12 oz, B1G1
Rite Aid – Ferrero Rocher or Raffaello Chocolate, 12 ct. or 5.3 oz, 2 for $7
-$1 off Ferrero Rocher or Ferrero Collection, 6.8-10.6 oz, SS 11/11
-$1 off Ferrero Rocher or Ferrero Collection, 6.8-10.6 oz printable


(use (2) $1 off, makes it $2.50 ea.)

Rite Aid – Russell Stover or Dove Boxed Chocolates, 23.4-26 oz, $9.99
Rite Aid – Elmer Boxed Chocolates, 12 oz, $3.99
Bi-Lo – Russell Stover or Whitman's Sampler Chocolates, 7-12 oz, B1G1 at $10.99 ($5.49)
Harris Teeter – Russell Stover or Whitman's Chocolate Gift Box, 11-12 oz, B1G1 at $10.99 ($5.49)
Walgreens – Ferrero Chocolate, 4.6-5.3 oz, 2 for $7


(buy (2), makes it $3.50 ea.)

Walgreens – Lindt, Ghirardelli or Godiva Chocolate Bar, 2.9-4.4 oz, 2 for $5


(buy (2), makes it $2.50 ea.)

Harris Teeter – Ritter Sport Chocolates, 3.5 oz, B1G1 at $3.49 ($1.74)
Sprouts Farmers Market – Chocolove Chocolate Bars, 3.1-3.2 oz, 2 for $4


(buy (2), makes it $2 ea.)

Earth Fare – Alter Eco Chocolate Truffles, 4.2 oz, $6.99
Lowe's Foods – Sugarpova Chocolate bar, B1G1 at $2.99 ($1.49)


(good thru 12/25)

Lowe's Foods – Sugarpova Milk Chocolate Truffles, 3.9 oz, B1G1 at $4.99 ($2.49)


(good thru 12/25)

Target – Bagged Holiday Chocolate, 9-11.5 oz, $3.33
-$1/2 Mars chocolate holiday bags, 3 oz+, RMN 12/09
Target – Ghiradelli and Lindt Premium Chocolate, 4.3-6.38 oz, $4
-$1 off Lindt Lindor Truffles, 5.1 oz+ printable


(makes it $3)

Target – Premium Boxed and Bagged Chocolate, 5.64-15.2 oz, $9
-$1 off Lindt Lindor Truffles, 5.1 oz+ printable


(makes it $8)

Target – Dove Chocolates, 5.31-8.87 oz, $3.50
Kroger – Theo Chocolate Bar, 3 oz, $2


(good through 1/7/19)

Kroger – Chocolove or Endangered Species Chocolate Bar, 3-3.2 oz, $2


buy (2) Organic or Fair Trade Chocolate, get $2 off your next purchase (good through 12/25)


-.75/1 Endangered Species chocolate bar, 3 oz printable
-$1/2 Endangered Species chocolate bar, 3 oz printable
-$1/2 Endangered Species Chocolate Bars 3 oz, use up to 5x in a single transaction, Kroger eCoupon


(use (2) .75/1 mfr, makes it 25¢ ea.)

Kroger – Green & Black's Chocolate Bar, 3.5 oz, $2.79


buy (2) Organic or Fair Trade Chocolate, get $2 off your next purchase (good through 12/25)


-$1 off Green & Black's Organic Chocolate Candy Bar, 3.5 oz, Kroger (exp 12/16) eCoupon


(buy (2), use $1 off, makes it $1.29 ea.)

Kroger – TCHO Chocolate Bar, 2.5 oz, $2.50


buy (2) Organic or Fair Trade Chocolate, get $2 off your next purchase (good through 12/25)




(makes it $1.50 ea.)

Kroger – M&M's Chocolate Bar, 3.8-4 oz, $1.50


(good through 12/18)


-$1/2 M&M's chocolate bars, 3.8-4 oz printable


(makes it $1 ea.)

Kroger – Lindt Lindor Chocolate, 8.9 oz, $5.99


(good through 12/31)


-$1 off Lindt Lindor Truffles, 5.1 oz+ printable


(makes it $4.99)

Dollar General – Ghirardelli Stand Up Bag, 4.57oz, Lindor Chocolates, 5.1 oz, or Turtles Gift Boxes , 6.4 oz, $3.50
-$1 off Lindt Lindor Truffles, 5.1 oz+ printable (limit reached)
-$1 off Lindt Lindor Truffles, 5.1 oz+, Dollar General eCoupon


(makes it $2.50)

Target – M&M's Chocolate Candies Theater Box, 3-3.1 oz, $1 (reg. price)


Maltesers Theater Box Candy, 2.83 oz, $1.39 (reg. price)


-Free Maltesers Candy, 2.83 oz wyb (1) M&M's Chocolate Candies Theater Box, 3-3.1 oz, (up to $1.37 value) printable


(buy both, makes it 51¢ ea.)