This post may contain affiliate links. Read our disclosure here.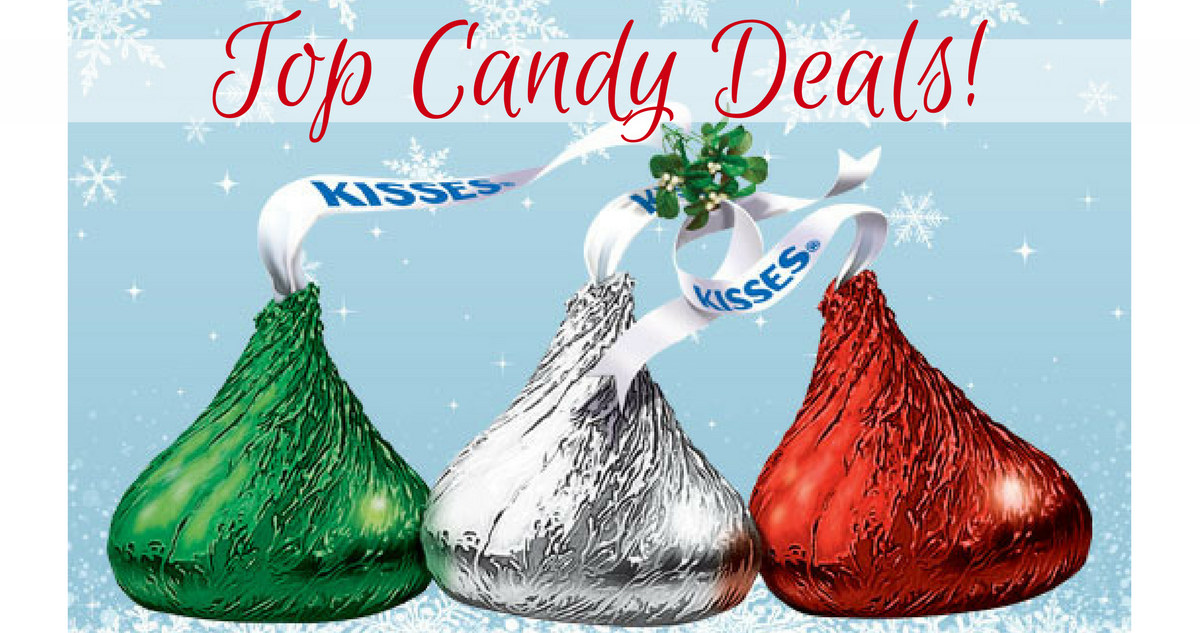 Christmas is in 4 days!! But you can still get some great candy deals! Here is a list of what you can get at various stores and candy coupons too.
These deals are perfect for gathering candy to stuff into stockings.

Candy Coupons
Insert Coupons:
-$1/2 LifeSavers or LifeSavers gummies, Starburst or Skittles holiday storybooks, RP 12/03 (exp 12/25)
-.50/2 Skittles or Juicy Fruit, Doublemint, Spearmint, Starburst or Hubba Bubba holiday items, RP 12/03 (exp 12/25)
-$1/2 Mars holiday items – M&M's, Dove Chocolate, Minis Mix variety bags, Celebrations, Maltesers, Snickers, Twix, Milky Way, or 3 Musketeers, 3.5 oz+, RP 12/03 (exp 12/25)
-$1/2 Mars holiday items, 3.5 oz+, RP 11/19 (exp 12/25)
-$1/2 Mars holiday products – M&M's, Dove Chocolate, Minis Mix variety bags, Celebrations, Maltesers, Snickers, Twix, Milky Way, or 3 Musketeers, 3.5 oz+, RP 12/10 (exp 12/25)
-$1/2 Hershey's Kisses, Nuggets or Miniatures, or Reese's, York, Kit Kat or Rolo Candies, 7.8 oz+, SS 12/03 (exp 12/25)
-$1 off Hershey's Pot of Gold boxed chocolates, 8.7 o+, SS 12/03 (exp 12/25)
-$1/2 Toblerone Swiss Chocolate items, 3.5 oz+, SS 11/05
-$2/2 Merci chocolates, boxes, SS 12/10

Printables:
-.70/1 Airheads Xtremes Sourfuls candy, 6 oz printable
-$1 off Wholesome! brand candy printable
-.75/1 Good Day Chocolate printable
-$1.50 off Ring Pop Party Pack, 20 ct. printable
-$1 off Alter Eco Organic chocolate printable
-$1 off Alter Eco Organic chocolate truffles printable
-$1 off Godiva Masterpieces individually wrapped chocolates or chocolate bar printable
-$1/2 Divine Chocolate Bars, 3.5 oz printable
-Free Hershey's Gold bar, 1.4 oz, yp to $1.49 WYB (1) Hershey's bar, 1.4 oz+ printable
Top Candy Deals
Rite Aid – Dove, Hershey's or Mars Miniatures, 7.94-12 oz, $3.50 ea. wyb (2)
-$1/2 Mars holiday items, 3.5 oz+, RP 11/19
-$1/2 Mars holiday items – M&M's, Dove Chocolate, Minis Mix variety bags, Celebrations, Maltesers, Snickers, Twix, Milky Way, or 3 Musketeers, 3.5 oz+, RP 12/03
-$1/2 Hershey's Kisses, Nuggets, Miniature, Reese's, York, Kit Kat and Rolo candies (exp 12/19) printable (limit reached)
-$1/2 Hershey's Kisses, Nuggets or Miniatures, or Reese's, York, Kit Kat or Rolo Candies, 7.8 oz+, SS 12/03
-$1/2 Mars holiday products – M&M's, Dove Chocolate, Minis Mix variety bags, Celebrations, Maltesers, Snickers, Twix, Milky Way, or 3 Musketeers, 3.5 oz+, RP 12/10
-$1 off Mars Medium Fun Size Bag, Rite Aid Load2Card (exp 12/17) eCoupon


(makes it $3 ea.)

Walgreens – Hershey's or Cadbury Holiday Candy, 5-11 oz, 2 for $6
-$1/2 Hershey's Kisses, Nuggets or Miniatures, or Reese's, York, Kit Kat or Rolo Candies, 7.8 oz+, SS 12/03


(buy (2), use $1/2, makes it $2.50 ea.)

CVS – Hershey's Candy Singles, 1.4-2 oz, 99¢


(-74¢ off Hershey's Candy Singles (store coupon), printing at CVS Coupon Center)




(makes it 25¢)

CVS – $3 ECB wyb (2) Hershey's Holiday Kisses or Miniatures 7.2-10 oz or Kisses Deluxe Pouch 15 ct., $3, limit 1
-$1/2 Hershey's Kisses, Nuggets or Miniatures, or Reese's, York, Kit Kat or Rolo Candies, 7.8 oz+, SS 12/03


(makes it $1 each)

CVS – $2 ECB wyb (2) Hershey Cookie Layer Crunch 6.3 oz, Brookside Pouches 5-7 oz, Hershey's pouches 6.3-10.5 oz, DeMet's Turtles 5 oz, $3, limit 1
-B1G1 Hershey's Cookie Layer Crunch Pouch, 6.3 oz, up to $3.99 printable


(makes it 50¢ ea.)

Rite Aid – Hershey's Holiday Miniatures or M&M's Candy, 5.31-11.5 oz, $3 ea. wyb (2)
-$1/2 Mars holiday items – M&M's, Dove Chocolate, Minis Mix variety bags, Celebrations, Maltesers, Snickers, Twix, Milky Way, or 3 Musketeers, 3.5 oz+, RP 12/03
-$1/2 Hershey's Kisses, Nuggets, Miniature, Reese's, York, Kit Kat and Rolo candies (exp 12/19) printable (limit reached)
-$1/2 Hershey's Kisses, Nuggets or Miniatures, or Reese's, York, Kit Kat or Rolo Candies, 7.8 oz+, SS 12/03
-$1/2 Mars holiday products – M&M's, Dove Chocolate, Minis Mix variety bags, Celebrations, Maltesers, Snickers, Twix, Milky Way, or 3 Musketeers, 3.5 oz+, RP 12/10


(makes it $2.50 ea.)

Rite Aid – Hershey's Holiday Candy Bags, 18.5 oz, $5.99
-$1/2 Hershey's Kisses, Nuggets or Miniatures, or Reese's, York, Kit Kat or Rolo Candies, 7.8 oz+, SS 12/03


(makes it $5.49 ea.)

Rite Aid – Dove, Hershey's or Mars Miniatures, 7.94-12 oz, $3.50 ea. wyb (2)
-$1/2 Mars holiday items, 3.5 oz+, RP 11/19
-$1/2 Mars holiday items – M&M's, Dove Chocolate, Minis Mix variety bags, Celebrations, Maltesers, Snickers, Twix, Milky Way, or 3 Musketeers, 3.5 oz+, RP 12/03
-$1/2 Hershey's Kisses, Nuggets, Miniature, Reese's, York, Kit Kat and Rolo candies (exp 12/19) printable (limit reached)
-$1/2 Hershey's Kisses, Nuggets or Miniatures, or Reese's, York, Kit Kat or Rolo Candies, 7.8 oz+, SS 12/03
-$1/2 Mars holiday products – M&M's, Dove Chocolate, Minis Mix variety bags, Celebrations, Maltesers, Snickers, Twix, Milky Way, or 3 Musketeers, 3.5 oz+, RP 12/10
-$1 off Mars Medium Fun Size Bag, Rite Aid Load2Card (exp 12/17) eCoupon


(makes it $3 ea.)

Rite Aid – Cadbury or Hershey's XL Candy Bars, 3.5-4.5 oz, $1.77
Walgreens – Russell Stover Holiday Single Serve Candy, 0.875-1.25 oz, 39¢ w/ in-ad coupon, limit 6
CVS – $2 ECB wyb (2) M&M's Holiday or Original Candy, 8-12.6 oz, $3, limit 1
-$1/2 Mars holiday items – M&M's, Dove Chocolate, Minis Mix variety bags, Celebrations, Maltesers, Snickers, Twix, Milky Way, or 3 Musketeers, 3.5 oz+, RP 12/03
-$1/2 Mars holiday products – M&M's, Dove Chocolate, Minis Mix variety bags, Celebrations, Maltesers, Snickers, Twix, Milky Way, or 3 Musketeers, 3.5 oz+, RP 12/10


(makes it $1.50 ea.)

Rite Aid – Bob's Candy Canes, 12 ct., $1.50 ea. wyb (2)
Rite Aid – Specialty Candy Canes, 12 ct., $2 ea. wyb (2)
Rite Aid – Club Size Candy Bags, $9.99
-$1/2 Mars holiday items, 3.5 oz+, RP 11/19
-$1/2 Mars holiday items – M&M's, Dove Chocolate, Minis Mix variety bags, Celebrations, Maltesers, Snickers, Twix, Milky Way, or 3 Musketeers, 3.5 oz+, RP 12/03
-$1/2 Hershey's Kisses, Nuggets, Miniature, Reese's, York, Kit Kat and Rolo candies (exp 12/19) printable (limit reached)
-$1/2 Hershey's Kisses, Nuggets or Miniatures, or Reese's, York, Kit Kat or Rolo Candies, 7.8 oz+, SS 12/03
-$1/2 Mars holiday products – M&M's, Dove Chocolate, Minis Mix variety bags, Celebrations, Maltesers, Snickers, Twix, Milky Way, or 3 Musketeers, 3.5 oz+, RP 12/10


(makes it $9.49 ea.)

Rite Aid – Select Peg Candy, 4-5 oz, $1 ea. wyb (2)


(pictured – Welch's Fruit Snacks, Haribo Gold-Bears)


-$1/2 Welch's Fruit Snacks (Facebook) printable
-$1/2 Welch's Fruit Snacks, Fruit 'n Yogurt Snacks or Fruit Rolls (exp 12/18) printable (limit reached)


(makes it 50¢ ea.)

CVS – Whitman's or Russel Stover Candy, 7-12 oz, B1G1
Target – Holiday Novelty Candy and Food Gifts on Sale
Walgreens – Russell Stover Chocolate, 10-12 oz, $3.99
Walgreens – M&M's Chocolate Candies, 8-11.4 oz, 2 for $5
-$1/2 Mars holiday items – M&M's, Dove Chocolate, Minis Mix variety bags, Celebrations, Maltesers, Snickers, Twix, Milky Way, or 3 Musketeers, 3.5 oz+, RP 12/03
-$1/2 Mars holiday products – M&M's, Dove Chocolate, Minis Mix variety bags, Celebrations, Maltesers, Snickers, Twix, Milky Way, or 3 Musketeers, 3.5 oz+, RP 12/10


(buy (2), use $1/2, makes it $2 ea.)

Rite Aid – Russell Stover, Whitman's or Elmer's Boxed Chocolates, 7-12 oz, B1G1
Rite Aid – Ferrero Rocher Chocolates, 12 ct., B1G1
-$1 off Ferrero Rocher or Ferrero Collection, 6.8-10.6 oz, SS 11/12
-$1 off Ferrero Rocher 7.9 or 10.6 oz, or Ferrero Collection 6.8 or 9.1 oz, limit 1, cannot use this offer with any other print or in-app coupon or rebate, Checkout 51 mobile coupon
-$1.50 off Ferrero Rocher or Ferrero Collection, 6.8-10.6 oz, SS 11/12
Rite Aid – Russell Stover Large Chocolate Bags, 16.1-20.6 oz, $5.99
Publix – Mars Candies, 10-11.5 oz, B1G1 at $4.29 ($2.14)


Snickers, Twix, Mars Minis Mix Chocolates, Milky Way, or 3 Musketeers

Family Dollar – Mars Celebration Bottle, 10.9 oz, $5
-$1/2 Mars holiday items, 3.5 oz+, RP 11/19 (exp 12/25)
-$1/2 Mars holiday items – M&M's, Dove Chocolate, Minis Mix variety bags, Celebrations, Maltesers, Snickers, Twix, Milky Way, or 3 Musketeers, 3.5 oz+, RP 12/03 (exp 12/25)
-$1/2 Mars Holiday M&M's, Dove, Celebrations, Maltesers, Snickers, Twix, Milky Way, 3 Musketeers, 3.5 oz+, Family Dollar Smart (exp 12/25) eCoupon
-$1/2 Mars holiday products – M&M's, Dove Chocolate, Minis Mix variety bags, Celebrations, Maltesers, Snickers, Twix, Milky Way, or 3 Musketeers, 3.5 oz+, RP 12/10 (exp 12/25)


(makes it $4.50 ea.)

Kroger – Mars Ugly Sweater M&M's, 5.5 oz, $2


(good through 12/31)


-$1/2 Mars holiday items, 3.5 oz+, RP 11/19 (exp 12/25)
-$1/2 Mars, M&M's, Dove, Twix, Celebrations, Maltesers, Snickers, Milky Way or 3 Musketeers Holiday Candy, 3.5 oz+, Kroger (exp 12/24) eCoupon (limit reached)
-$1/2 Mars holiday items – M&M's, Dove Chocolate, Minis Mix variety bags, Celebrations, Maltesers, Snickers, Twix, Milky Way, or 3 Musketeers, 3.5 oz+, RP 12/03 (exp 12/25)
-$1/2 Mars holiday products – M&M's, Dove Chocolate, Minis Mix variety bags, Celebrations, Maltesers, Snickers, Twix, Milky Way, or 3 Musketeers, 3.5 oz+, RP 12/10 (exp 12/25)


(makes it $1.50 ea.)

Ingles – Hershey's Candy, 10-11 oz, $3.50
-$1/2 Hershey's Kisses, Nuggets, Miniature, Reese's, York, Kit Kat and Rolo candies (exp 12/19) printable (limit reached)
-$1/2 Hershey's Kisses, Nuggets or Miniatures, or Reese's, York, Kit Kat or Rolo Candies, 7.8 oz+, SS 12/03


(makes it $3 ea.)

Ingles – Hershey's Standard Candy Bar, 1.2-1.85 oz, B1G1 at 98¢ (49¢)
-Free Hershey's Gold bar, 1.4 oz, yp to $1.49 WYB (1) Hershey's bar, 1.4 oz+ printable
Bi-Lo – Hershey's, Kit Kat, Reese's, PayDay, AlmondJoy, Mounds, Rolo, Heath or York Patties, 1.4-2 oz, $1
Bi-Lo – Theater Box Candy, 3.1-6 oz, or Hershey's Candy Cane Bar, .5-4.4 oz, $1
Winn-Dixie – Theater Box Candy, 3.1-6 oz, or Hershey's Candy Cane Bar, .5-4.4 oz, $1
Winn-Dixie – Hershey's, Kit Kat, Reese's, PayDay, AlmondJoy, Mounds, Rolo, Heath or York Patties, 1.4-2 oz, $1
Harvey's – Hershey's Hugs, Kisses or Rolos, 10.5-12 oz, $3.33
-$1/2 Hershey's Kisses, Nuggets or Miniatures, or Reese's, York, Kit Kat or Rolo Candies, 7.8 oz+, SS 12/03 (exp 12/25)


(makes it $2.73 ea.)

Lowe's Foods – Hershey Cookie Layer Crunch Carmel Pouch, 6.3 oz, $3.49


(good thru 1/14)


-B1G1 Hershey's Cookie Layer Crunch Pouch, 6.3 oz, up to $3.99 printable (limit reached)
-$3.50/2 Hershey's Cookie Layer Crunch Pouches, 6.3 oz, Lowes Foods eCoupon


(makes it $1.74 ea.)

Kroger – Hershey's Pot of Gold Chocolates, $5


(good through 12/31)


-$1 off Hershey's Pot of Gold boxed chocolates, 8.7 o+, SS 12/03 (exp 12/25)


(makes it $4)

Bi-Lo – Hershey Cookie Layer Crunch, $3.99 (reg. price)
-B1G1 Hershey's Cookie Layer Crunch Pouch, 6.3 oz, up to $3.99 printable (limit reached)


(makes it $1.99 ea.)

Kroger – LifeSavers, Skittles or Starburst Storybook, 6.51-7 oz, $2.50
-$1/2 LifeSavers or LifeSavers gummies, Starburst or Skittles holiday storybooks, RP 12/03 (exp 12/25)


(makes it $2 ea.)

Kroger – Snickers or M&M's Singles, 50¢
Lowe's Foods – M&M's Chocolate Candies, selected, 10.2-11.4 oz, $3.49
-$1/2 Mars Holiday M&M's, Dove, Celebrations, Maltesers, Snickers, Twix, Milky Way, 3 Musketeers, 3.5 oz+, Lowes Foods (exp 12/25) eCoupon
-$1/2 Mars holiday items – M&M's, Dove Chocolate, Minis Mix variety bags, Celebrations, Maltesers, Snickers, Twix, Milky Way, or 3 Musketeers, 3.5 oz+, RP 12/03 (exp 12/25)
-$1/2 Mars holiday products – M&M's, Dove Chocolate, Minis Mix variety bags, Celebrations, Maltesers, Snickers, Twix, Milky Way, or 3 Musketeers, 3.5 oz+, RP 12/10 (exp 12/25)


(makes them $2.99 each)

Harvey's – M&M's Candies, 9.9-11.4 oz, $3.33
-$1/2 Mars holiday items – M&M's, Dove Chocolate, Minis Mix variety bags, Celebrations, Maltesers, Snickers, Twix, Milky Way, or 3 Musketeers, 3.5 oz+, RP 12/03 (exp 12/25)
-$1/2 Mars holiday products – M&M's, Dove Chocolate, Minis Mix variety bags, Celebrations, Maltesers, Snickers, Twix, Milky Way, or 3 Musketeers, 3.5 oz+, RP 12/10 (exp 12/25)


(makes it $2.73 ea.)

Kroger – M&M's Peppermint Candy, 8 oz, $3


(good through 1/1)


-$1/2 Mars, M&M's, Dove, Twix, Celebrations, Maltesers, Snickers, Milky Way or 3 Musketeers Holiday Candy, 3.5 oz+, Kroger (exp 12/24) eCoupon (limit reached)
-$1/2 Mars holiday items – M&M's, Dove Chocolate, Minis Mix variety bags, Celebrations, Maltesers, Snickers, Twix, Milky Way, or 3 Musketeers, 3.5 oz+, RP 12/03 (exp 12/25)
-$1/2 Mars holiday products – M&M's, Dove Chocolate, Minis Mix variety bags, Celebrations, Maltesers, Snickers, Twix, Milky Way, or 3 Musketeers, 3.5 oz+, RP 12/10 (exp 12/25)


(makes it $2.50 ea.)

Publix – Nestle or Wonka Candy, 6-12 oz, B1G1 at $3.49 ($1.74)
Publix – Godiva Premium Chocolate Gift Boxes, Lindt, or Ghirardelli, 2.1-16.6 oz, 30% off
Publix – Russell Stover Chocolates, 8.25-12 oz, B1G1 at $9.99 ($4.99)
Publix – Whitman's Sampler Chocolates, 7-12 oz, B1G1 at $10.99 ($5.49)
Bi-Lo – Russell Stover or Whitman's Sampler Chocolates, 7-12 oz, B1G1 at $10.99 ($5.49)
Harris Teeter – Green & Black's Chocolate Bar, 3.5 oz, $2.50
Winn-Dixie – Russell Stover or Whitman's Sampler Chocolates, 7-12 oz, B1G1 at $10.99 ($5.49)
Lidl – Milk Chocolate Covered Raisins, 13.8 oz, $1.99
Lidl – Dark Chocolate Covered Espresso Beans, 11.8 oz, $1.84
Earth Fare – Enstrom Chocolate Almond Toffee, 3 oz, $2.99
Kroger – Theo Organic Chocolate, 3 oz, $2


(good through 1/9/18)

Kroger – Milka Oreo Chocolate Candy Bar, 1.44 oz, 79¢
-.40/1 Oreo Candy Bars, 1.44 oz, Ibotta mobile coupon


(makes it 39¢)

Kroger – Dove Chocolates or Twix Minis, $3.50


(good through 12/25)


-$1/2 Mars, M&M's, Dove, Twix, Celebrations, Maltesers, Snickers, Milky Way or 3 Musketeers Holiday Candy, 3.5 oz+, Kroger (exp 12/24) eCoupon (limit reached)
-$1/2 Mars holiday items – M&M's, Dove Chocolate, Minis Mix variety bags, Celebrations, Maltesers, Snickers, Twix, Milky Way, or 3 Musketeers, 3.5 oz+, RP 12/03 (exp 12/25)
-$1/2 Mars holiday products – M&M's, Dove Chocolate, Minis Mix variety bags, Celebrations, Maltesers, Snickers, Twix, Milky Way, or 3 Musketeers, 3.5 oz+, RP 12/10 (exp 12/25)


(makes it $3 ea.)

Bi-Lo – Theater Box Candy, 3.1-6 oz, or Hershey's Candy Cane Bar, .5-4.4 oz, $1
Winn-Dixie – Theater Box Candy, 3.1-6 oz, or Hershey's Candy Cane Bar, .5-4.4 oz, $1
Deals Starting Sunday
Walgreens – Hershey's Chocolate Bar,1.55 oz or Gold Bar, 1.4 oz, 79¢
-Free Hershey's Gold bar, 1.4 oz, yp to $1.49 WYB (1) Hershey's bar, 1.4 oz+ printable


(buy one of each, makes it 39¢ ea.)

Rite Aid – Hershey's or Reese's Holiday Candy, 18.5 oz, $5.99
-$1/2 Hershey's Kisses, Nuggets or Miniatures, or Reese's, York, Kit Kat or Rolo Candies, 7.8 oz+, SS 12/03 (exp 12/25)


(makes it $5.49 ea.)

Rite Aid – M&M's Resealable Stand-Up Pouches, 8-10.7 oz, $3 ea. wyb (2)
-$1/2 Mars holiday items – M&M's, Dove Chocolate, Minis Mix variety bags, Celebrations, Maltesers, Snickers, Twix, Milky Way, or 3 Musketeers, 3.5 oz+, RP 12/03 (exp 12/25)
-$1/2 Mars holiday products – M&M's, Dove Chocolate, Minis Mix variety bags, Celebrations, Maltesers, Snickers, Twix, Milky Way, or 3 Musketeers, 3.5 oz+, RP 12/10 (exp 12/25)


(makes it $2.50 ea.)

Walgreens – Whitman's or Russell Stover Chocolate, 7-12 oz, 50% off
Walgreens – Whitman's Sampler Chocolate Gift Box, 24 oz, $9.99 w/ in-ad coupon, limit 3
Rite Aid – Russell Stover or Whitman's Chocolates, 50% off
Rite Aid – Toffifay Chocolate, 12 ct., $2.50 ea. wyb (2)
Rite Aid – Elmer's Boxed Chocolates, 12 oz, $3.99
Rite Aid – Specialty Candy Canes, 12 ct., $2 ea. wyb (2)