This post may contain affiliate links. Read our disclosure here.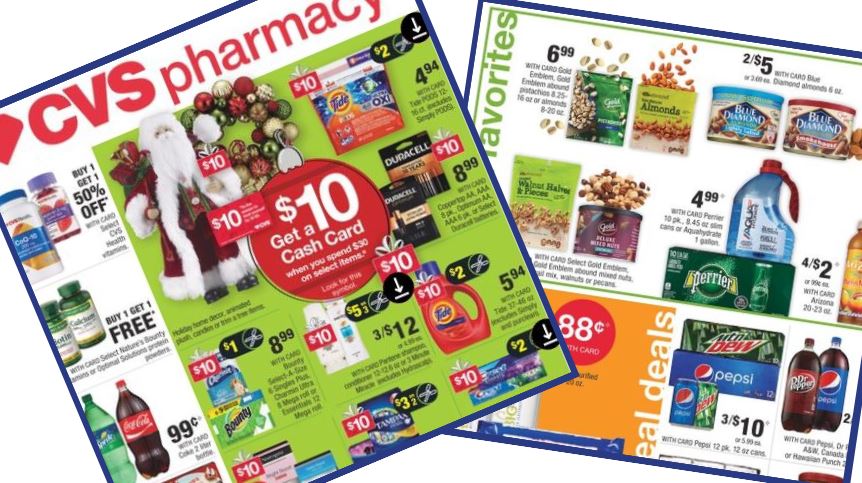 Here are the deals from the new CVS ad that starts Sunday, 11/24! Get deals like Eucerin for 79¢, DiGiorno pizza for $2.83, and more.
I've also included the Black Friday ad below. There are some great deals, like a FREE 23andMe starter kit and more! It's valid from 11/28-11/30.
Holiday Cash Card
$10 CVS Cash Card WYB $30 in Participating Items
Pantene Shampoo, Conditioner, or 3 minute miracle, 12-12.6 oz, 3 for $12
-$15/$50 Proctor & Gamble products from Pantene, Herbal Essences, Head & Shoulders, Aussie, Ivory, Safeguard, Olay, Secret, Always and Always Discreet, Old Spice, Crest, Oral-B, Pampers, Gillette, Venus, Tampax; excl trial, SavingStar mobile app
-$4 off Hair Care Purchase of $18+, printing at CVS Coupon Center (EXP 11/29)
-$15 gift card WYB $50 in P&G Beauty Products (brands include Pantene, Herbal Essences, Head & Shoulders, Ivory, Aussie, Safeguard, Olay, Secret, Always Discreet, Old Spice, Venus, Gillette, Oral-B, Crest, Pampers, Tampax and Always) rebate
-$1 off Pantene product incl Gold Series Collection, excl single count Intense Rescue Shot, One Step Nourishing Mask and trial, limit 2, PG 11/24
-$5/3 Pantene products incl Gold Series Collection, excl single count Intense Rescue Shot, One Step Nourishing Mask and trial, limit 2, PG 11/24
Neutrogena Facial Care
-$10 Visa Gift Card WYB $30 in participating Neutrogena Products, Online (EXP 11/30) rebate
-$2 off Neutrogena Bright Boost item, CVS (EXP 11/24) eCoupon
Always or Tampax products, 11-20 ct., 2 for $8
-$15/$50 Proctor & Gamble products from Pantene, Herbal Essences, Head & Shoulders, Aussie, Ivory, Safeguard, Olay, Secret, Always and Always Discreet, Old Spice, Crest, Oral-B, Pampers, Gillette, Venus, Tampax; excl trial, SavingStar mobile app
-$15 gift card WYB $50 in P&G Beauty Products (brands include Pantene, Herbal Essences, Head & Shoulders, Ivory, Aussie, Safeguard, Olay, Secret, Always Discreet, Old Spice, Venus, Gillette, Oral-B, Crest, Pampers, Tampax and Always) rebate
-$3/2 Always Radiant, Infinity, or PURE Pads, 10-ct+, excl Discreet, limit 2, PG 11/24
-$3/2 Tampax Pearl, Radiant, or Pure Tampons, 14-ct+, limit 2, PG 11/24


(makes it $2.50 ea.)

Crest Pro-Health, 3.5-5.1 oz, 3D White, 3-3.5 oz, or Complete, 4-6.2 oz, Toothpaste, $2.99
-$15/$50 Proctor & Gamble products from Pantene, Herbal Essences, Head & Shoulders, Aussie, Ivory, Safeguard, Olay, Secret, Always and Always Discreet, Old Spice, Crest, Oral-B, Pampers, Gillette, Venus, Tampax; excl trial, SavingStar mobile app
-$15 gift card WYB $50 in P&G Beauty Products (brands include Pantene, Herbal Essences, Head & Shoulders, Ivory, Aussie, Safeguard, Olay, Secret, Always Discreet, Old Spice, Venus, Gillette, Oral-B, Crest, Pampers, Tampax and Always) rebate
-$2 off Crest Toothpaste 3 oz+, excl Cavity, Regular, Baking Soda, Tartar Control/Protection, F&W Pep Gleem, kids, limit 2, PG 11/24


(makes it 99¢)

Herbal Essences Bio Renew Hair Care, 12.8-13.5 oz, 2 for $12
-$15/$50 Proctor & Gamble products from Pantene, Herbal Essences, Head & Shoulders, Aussie, Ivory, Safeguard, Olay, Secret, Always and Always Discreet, Old Spice, Crest, Oral-B, Pampers, Gillette, Venus, Tampax; excl trial, SavingStar mobile app
-$4 off Hair Care Purchase of $18+, printing at CVS Coupon Center (EXP 11/29)
-$15 gift card WYB $50 in P&G Beauty Products (brands include Pantene, Herbal Essences, Head & Shoulders, Ivory, Aussie, Safeguard, Olay, Secret, Always Discreet, Old Spice, Venus, Gillette, Oral-B, Crest, Pampers, Tampax and Always) rebate
-$5/2 Herbal Essence Bio:Renew Shampoo, conditioner or Styling products, excl masks, 100 mL shampoo & conditioner, color, body wash and trial, limit 2, PG 11/24
Head & Shoulders Hair Care, 12.8-13.5 oz, 2 for $12
-$15/$50 Proctor & Gamble products from Pantene, Herbal Essences, Head & Shoulders, Aussie, Ivory, Safeguard, Olay, Secret, Always and Always Discreet, Old Spice, Crest, Oral-B, Pampers, Gillette, Venus, Tampax; excl trial, SavingStar mobile app
-$4 off Hair Care Purchase of $18+, printing at CVS Coupon Center (EXP 11/29)
-$15 gift card WYB $50 in P&G Beauty Products (brands include Pantene, Herbal Essences, Head & Shoulders, Ivory, Aussie, Safeguard, Olay, Secret, Always Discreet, Old Spice, Venus, Gillette, Oral-B, Crest, Pampers, Tampax and Always) rebate
-$1 off Head & Shoulders product, 10 oz+, or Royal Oils, excl trial, limit 2, PG 11/24
-$5/2 Head & Shoulders products 10 oz+, or Royal Oils, excl trial, limit 2, PG 11/24


(makes it $3.50 ea.)

Pampers or Easy Ups, jumbo pk, $9.99
-$15/$50 Proctor & Gamble products from Pantene, Herbal Essences, Head & Shoulders, Aussie, Ivory, Safeguard, Olay, Secret, Always and Always Discreet, Old Spice, Crest, Oral-B, Pampers, Gillette, Venus, Tampax; excl trial, SavingStar mobile app
-$15 gift card WYB $50 in P&G Beauty Products (brands include Pantene, Herbal Essences, Head & Shoulders, Ivory, Aussie, Safeguard, Olay, Secret, Always Discreet, Old Spice, Venus, Gillette, Oral-B, Crest, Pampers, Tampax and Always) rebate
-$3 off Baby Care Diapers or Wipes purchase of $12+, printing at CVS Coupon Center (EXP 11/29)
-$1.50 off Pampers Diapers or Easy Ups Training Underwear, excl trial, limit 2, PG 11/24
-$2 off Pampers Easy Ups Training Underwear or Underjams absorbent nightwear, excl trial, limit 2, PG 11/24


(makes it $7.99)

Tide Pods, 12-16 ct., $4.94
-$2 off Tide Pods 31 ct. or less, excl Tide liquid/powder detergent, Simply, Tide Pods 9 ct. or less, Tide Pods 26 ct., trial/travel size printable


(makes it $2.94)

Duracell Optimum 6 pk., or Coppertop 8 pk., $8.99
-$2/2 Duracell Optimum AA/AAA 8-pk, OR Coppertop AA/AAA 8-pk, C/D 4-pk, 9V 2-pk +, limit 2, SS 11/03 (EXP 11/30)
-$1 off Duracell Optimum Batteries, 4 or 6-ct, at CVS, Ibotta mobile app


(makes it $6.99 ea.)

Charmin Ultra 8 mega or Essentials, 12 roll, $8.99
-$1 off Charmin Toilet Paper Product, 4 Mega-Roll+, incl Mega Plus & Super Mega, excl single rolls, limit 2, PG 11/24
-$2 off Charmin toilet paper rolls purchase of $10+, printing at CVS Coupon Center (EXP 11/29)
Bounty Paper Towels, 6 select-a-size rolls, $8.99
-$1 off Bounty Paper Towel Product, 4-ct+ or 2 Huge Roll, limit 2, PG 11/24
Tide Detergent, 37-46 oz, $5.94
-$2 off Tide laundry detergent 75 oz or less, Purclean 50 oz or less, Tide Antibacterial spray, excl Tide Pods, Rescue, Simply, Tide detergent 10 oz, trial/travel size printable
-$2 off Tide Detergent, Purclean or Antibacterial Spray, excl PODS, Rescue, Simply and Simply PODS, detergent 10 oz, Studio by Tide and trial, limit 1, PG 11/24


(makes it $3.94)

Band-Aid, Neosporin, Beandryl, or Aveeno Anti-Itch Products
-$1 off Neosporin ointment printable
-$15 Visa Gift Card WYB $30 in Bengay, Neosporin, Tylenol, Motrin, Sudafed, Zyrtec, Benadryl, Lactaid, Pepcid, Imodium, Visine, Online rebate
-.75/1 Band-Aid Adhesive Bandages, limit 1, SS 11/10
-$1 off Neosporin first aid item, limit 1, SS 11/03
**Deal Idea #1**
Buy:
(6) Pantene Hair Care, 12-12.6 oz, 3 for $12
(2) Always or Tampax Products, 16-20 ct., 2 for $8
Use:
(2) -$5/3 Pantene products incl Gold Series Collection, limit 2, PG 11/24
-$4 off Hair Care Purchase of $18+, printing at CVS Coupon Center
-$3/2 Always or Tampax Products, limit 2, PG 11/24
Total Due: $15
Get Back: $10 CVS Cash Card
Makes it $5 for everything or 62¢ each!
**Deal Idea #2**
Buy:
(2) Crest Pro-Health Toothpaste, 3.5-5.1 oz, $2.99
(2) Pampers Easy Ups, jumbo pk., $9.99
(1) Tide Pods, 12-16 ct., $4.94
Subtotal: $30.90
Use:
(2) -$2 off Crest Toothpaste 3 oz+, limit 2, PG 11/24
(2) -$2 off Pampers Easy Ups Training Underwear, limit 2, PG 11/24
-$3 off Baby Care Diapers or Wipes purchase of $12+, printing at CVS Coupon Center
-$2 off Tide Pods 31 ct. or less, printable
Total Due: $17.90
Get Back: $10 CVS Cash Card
Makes it $7.90 for everything or $1.58 each!
**Deal Idea #3**
Buy:
(2) Charmin Ultra, 8 mega rolls, $8.99
(1) Bounty Paper Towels, 6 rolls, $8.99
(1) Crest Pro-Health Toothpaste, 3.5-5.1 oz, $2.99
Use:
(2) -$1 off Charmin Toilet Paper Product, 4 Mega-Roll+, limit 2, PG 11/24
-$2 off Charmin toilet paper rolls purchase of $10+, printing at CVS Coupon Center
-$1 off Bounty Paper Towel Product, 4-ct+ or 2 Huge Roll, limit 2, PG 11/24
-$2 off Crest Toothpaste 3 oz+, limit 2, PG 11/24
Total Due: $22.96
Get Back: $10 CVS Cash Card
Makes it $12.96 for everything or $4.32 per pack + free toothpaste
ExtraCare Household
$15 ECB WYB $50 in Cabela's, Chili's, Bass Pro, Spotify, Build-A-Bear, Spa & Wellness, American Eagle or Cinemark Gift Cards, , limit 1
$5 ECB WYB $20 in Household Products, limit 1
Kleenex Tissue or Wet Wipes, 2 for $3
-.50/3 Kleenex Facial Tissue 3 boxes or bundle pack (sign up) printable
-.50/1 Kleenex Wet Wipes (sign up) printable
-.50/1 Kleenex wet wipes, 20 ct+ printable
-$3/$18 Kleenex products purchases, multiple receipts ok, SavingStar mobile app
-.50/2 Kleenex Facial Tissue 30-ct+, or any bundle pack or Kleenex Wet Wipes 20-ct+, SS 11/10
-.50/2 Kleenex facial tissues, excl trial/travel sizes printable


(makes it $1 ea.)


Lysol Wipes, Cleaner, or Spray, B1G1
-.75/2 Lysol Disinfectant Wipes, 35-ct+ printable
-.50/1 Lysol Disinfectant Spray, limit 2, SS 11/10
-.50/1 Lysol Disinfecting Wipes, limit 2, SS 11/10
-.50/1 Lysol toilet bowl cleaner printable
-.50/1 Lysol disinfecting wipes printable
-.50/1 Lysol disinfectant spray printable
All Detergent, 30-50 oz, or Snuggle, 32 oz, B1G1
Scott Paper Towels, 6 rolls, $5.49
-.55/1 Scott towels, 6 rolls+, sign in printable
-.50/1 Scott Towels, 6 rolls+ printable


(makes it $4.94)


Ziploc Storage Bags, B1G1 50% off
-$1/2 Ziploc Products, any printable
-$1/2 Ziploc products, excl accessory bags printable
-$1/2 Ziploc products, limit 2, SS 11/03
-$1/2 Ziploc items, excl Accessory Bags, CVS eCoupon
-$5 Visa Gift Card WYB (4) Windex, Pledge, Ziploc, Glade, Scrubbing Bubbles, Shout, Drano, or Fantastik in the same transaction, Online rebate
Windex or Scrubbing Bubbles, any, B1G1 50% off
-.50/1 Windex product printable
-.50/2 Scrubbing Bubbles Pledge Furniture or Windex items, CVS eCoupon
-$1/2 Windex products, limit 2, SS 11/03
-$5 Visa Gift Card WYB (4) Windex, Pledge, Ziploc, Glade, Scrubbing Bubbles, Shout, Drano, or Fantastik in the same transaction, Online rebate
-$1/2 Windex Products, limit 2, SS 11/10
$1 ECB WYB (2) Haagen-Dazs 14 oz, or Bars, 3 ct., 2 for $7, limit 1
$2 ECB WYB (2) Chips Ahoy, Newtons 7-13 oz, or Saltine Crackers, 11-16 oz, 2 for $6, limit 1
$1 ECB WYB (2) Hershey's Holiday Kisses or Miniatures Candy, 7-8.5 oz, 2 ofr $6, limit 1
-$1 off Reese's or Kit Kat or Hershey Kisses purchase of $4+, printing at CVS Coupon Center (EXP 11/29)


(makes it $2 ea.)

$1 ECB WYB (2) Dove Holiday Promises Candy, 7.94-8.87 oz, 2 for $7, limit 1
$1 ECB WYB (4) Puffs Facial Tissues, 48 ct., 4 for $5, limit 1


(makes it $1 ea.)

$5 ECB WYB $15 in Total Home Household Paper Products, , limit 1
$3 ECB WYB Disney Frozen Advent Calendar, , limit 1
$2 ECB WYB (2) Scott Bath Tissue, 9-18 rolls, or Viva Paper Towels, 6 rolls, $7.99, limit 1
-.50/1 Viva Paper Towels printable
-.50/1 Scott ComfortPlus bath tissue, 6 rolls+ printable
-.50/1 Scott 1000 Bath Tissue, 6 rolls+ printable
-.75/1 Scott ComfortPlus bath tissue, 6 rolls + (sign in) printable
-.75/1 Viva paper towels, 6 pack+, SS 11/17


(use (2) .75/1, makes it $6.24 ea.)
ExtraCare Beauty
$4 ECB WYB GSQ by Glamsquad Nail Files, 3 pk, $4.99, limit 1


(makes it 99¢)

$7 ECB WYB $10 in MUA Cosmetics, , limit 1
$6 ECB WYB $12 in L.A. Girl Cosmetics, , limit 1
$4 ECB WYB $12 in Almay Cosmetics, , limit 6
Almay Intense i-Color Eye Shadow, $7.29
Almay One Coat Thickening Mascara, $8.29
Almay Clear Complexion Concealer, $9.49
Almay Nearly Naked Loose Powder, $12.99
Almay Liquid Lip Balm $9.99
-$5 off Almay Cosmetics purchase of $25+, printing at CVS Coupon Center (EXP 11/29)
–B1G1 L'Oreal or Revlon or Almay foundation, printing at CVS Coupon Center (EXP 11/29)
$10 ECB WYB (2) Designer Fragrances with a regular retail of $19.99+, , limit 1
$5 ECB WYB $10 in GSQ by Glamsquad Hair Care, Appliances, Accessories, Cosmetics, or Beauty Tools, , limit 1
$4 ECB WYB $10 in Physicians Formula Cosmetics, , limit 1
(excludes gift sets)
Physicians Formula Plump Potion $11.29
Physicians Formula Shimmer Strips Eyeliners, 3 ct., $12.49
Physicians Formula Formula Wear Mineral Blush $12.99
Physicians Formula Circle RX Concealer $8.99
$7 ECB WYB $10 in Wet n Wild Cosmetics, , limit 3
(excludes gift sets)
Wet & Wild Plump Mascara $3.99
Wet & Wild Megalast Nail Color $1.99
Wet & Wild Mega Volume Mascara $2.99
$4 ECB WYB (2) Maybelline Cosmetics, , limit 1
(excludes Volum' Express Mascara)
Maybelline Matte Lipstick $8.29
Maybelline Twin Brow & Eye Pencils $4.99
Maybelline Great Lash Mascara, $6.99
-$2 off Maybelline Mascara, excl mini and trial, limit 1, RMN 11/17
-$2 off Maybelline New York Color Sensational lip product printable
-$1 off Maybelline New York mascara product, excl mini and trial sizes printable


-$1 off Maybelline mascara, excl mini and trial, at CVs, Food Lion, Harris Teeter, Lowes Foods, Rite Aid, SavingStar mobile app (limit reached)


-$2 off Maybelline Color Sensational lip item, CVS eCoupon
$6 ECB WYB Glamergnecy Kits, prices starting at, $9.99, limit 1
$5 ECB WYB $25 in L'Oreal Facial Care, , limit 1
L'Oreal Revitalift Wet Cleansing Towelettes, 30 ct., $7.49
L'Oreal Revitalift Bright Reveal, 1 oz, $20.49
L'Oreal Revitalift Anti-Wrinkle Day Cream, 1.7 oz, $19.79
$4 ECB WYB $12 in Revlon Cosmetics, , limit 6
Revlon Colorstay Foundation $14.99
Revlon Colorstay Pressed Powder or Concealer, $12.49
Revlon Colorstay Eyeliner, $8.79
Revlon All-In-One Mascara $9.19
Revlon Illuminance Creme Eye Shadow $8.29
Revlon Colorburst Lip Gloss $8.99
–B1G1 L'Oreal or Revlon or Almay foundation, printing at CVS Coupon Center (EXP 11/29)
-$6 off Revlon cosmetics purchase of $20+, printing at CVS Coupon Center (EXP 11/29)
$5 ECB WYB (2) L'Oreal Cosmetics, , limit 1
L'Oreal Infallible Powder $12.99
L'Oreal Liquid Concealer $9.99
L'oreal Infallible Eye Shadow $8.79
L'Oreal Voluminous Mascara $8.49
-$2 off L'Oreal Cosmetic Face Product, excl trial, limit 1, RMN 11/17
-$2 off L'Oreal Eyeliner, Eye Shadow or Eyebrow item, excl color rich monos, limit 1, RMN 11/17
-$4 off L'Oreal Cosmetic Face item, excl trial size, CVS (EXP 11/30) eCoupon
–B1G1 L'Oreal or Revlon or Almay foundation, printing at CVS Coupon Center (EXP 11/29)
$5 ECB WYB $15 in CoverGirl Cosmetics, , limit 1
CoverGirl Clean Foundation $7.99
CoverGirl Lip Perfection $8.29
CoverGirl Pressed Powder, $7.69
CoverGirl Brow & Eyeliner, 2 pack, $5.29
-$1 off Covergirl Foundation or Powder, excl Cheekers, Accessories & trial size, CVS eCoupon
-$1 off Covergirl Mascara, excl Accessories & trial size, CVS eCoupon
-$2 off Covergirl foundation or powder, excl Cheekers, accessories and trial, SS 11/03 (EXP 11/30)
-$1 off Covergirl lip product, excl accessories and trial, SS 11/03 (EXP 11/30)
-$2 off Covergirl mascara, excl accessories and trial, SS 11/03 (EXP 11/30)
-$1 off CoverGirl mascara, excl accessories, trial/travel sizes printable (limit reached)
-$1 off Covergirl Lip item, excl accessories & trial size, CVS eCoupon
-$3 off Covergirl cosmetics purchase of $15+, printing at CVS Coupon Center (EXP 11/29)


(buy (2) at $7.99, use (2) $2 off and store, makes it $1.99 ea.)
ExtraCare Personal Care
$3 ECB WYB (2) Irish Spring Body Wash, 15-18 oz, or Bar Soap, 6 pk, 2 for $8, limit 4


(makes it $2.50 ea.)

$10 ECB WYB $20 in Eucerin or Aquaphor, , limit 1
Eucerin Daily Hydration Lotion, 16.9 oz, $10.79
Eucerin Advanced Repair Creme, 16 oz, $16.79
Eucerin Advanced Repair Hand Creme, 2.7 oz, $6.79
Aquaphor Advanced Therapy Body Spray, 3.7 oz, $12.49
-$3.50 off Eucerin body 8 oz+, or Baby or Face product printable
-$3.50 off Eucerin Advanced Repair Cream, 16 oz printable
-$3.50 off Hand and Body Lotion purchase of $15+, printing at CVS Coupon Center (EXP 11/29)
-$1 off Eucerin Body Lotion, 2-6.8 oz, excl trial and baby items, SS 11/24
-$3 off Eucerin Body Product 8 oz+, excl face items, SS 11/24
-$5/2 Eucerin Body Product 8 oz+, or baby product, excl trial and face items, SS 11/24


(buy (2) at $10.79, use (2) $3.50 off and store, makes it 79¢ ea.)

$4 ECB WYB (2) Suave Professionals Hair Care, 2 for $6, limit 1
-$1 off Suave Professionals Shampoo or Conditioner, excl twin packs and 2 oz trial, limit 2, RMN 11/10 (EXP 11/24)
-$3/2 Suave Professionals Shampoo or Conditioner, excl twin packs and 2 oz trial, limit 2, RMN 11/10 (EXP 11/24)
-$3/2 Suave Professionals hair care items, excl twin packs & 2 oz trial size, CVS eCoupon
-$2 off Suave shampoo, conditioner, or styling purchase $8+, printing at CVS Coupon Center (EXP 11/29)
(use $3/2, makes it

FREE

+ profit — Sunday only!)
$4 ECB WYB (2) L'Oreal Preference or Excellence Hair Color, , limit 1
L'Oreal Excellence Hair Color $9.49
L'Oreal Preference Hair Color, $10.29
-$2 off L'Oreal Superior Preference or Excellence Hair Color, limit 1, RMN 11/17
-$5/2 L'Oreal Superior Preference or Excellence Hair Color items, limit 1, RMN 11/17
-$2 off L'Oreal Superior Preference or Excellence haircolor item, CVS eCoupon


(use $5/2, makes it $4.99 ea.)

$8 ECB WYB (2) Schick Razor or Refills, , limit 1
(excludes disposables)
Schick Hydro 5 Razor, 1 ct., $11.29
Schick Quattro For Women Razor $10.99
Schick Hydro Silk Razor $12.99
$5 ECB WYB Braun Beard Trimmer or Silk-epil 3, , limit 1
$8 ECB WYB Braun Series 3 or S3 Shavers, , limit 1
$2 ECB WYB (2) U by Kotex Tampons, Pads or Liners, 18 ct., B1G1 50% off, limit 1
U by Kotex Tampons, 18 ct., $5.99
U by Kotex CleanWear Pads, 16-18 ct., $6.99
-$1 off U by Kotex product (sign up) printable
-$1 off U by Kotex Pads or Liners, excl liners 14-22 ct or trial, SS 10/13 (EXP 11/24)
-$1 off U by Kotex tampons, excl trial, SS 10/13 (EXP 11/24)


(buy (2) at $5.99, use (2) $1 off, makes it $2.49 ea.)

$2 ECB WYB Colgate Toothbrush, 1 ct., or Total or Optic White Mouthwash, 16-16.9 oz, $3.99, limit 2
-$1 off Colgate Total SF, Optic White, Enamel Health, Essentials or Sensitive toothpaste printable (limit reached)
-$1 off Colgate TotalSF, Optic White, Enamel Health, Essentials or Sensitive Toothpaste, 3 oz+, CVS (EXP 11/30) eCoupon
-$5 off Colgate Toothpaste, Toothbrush or Mouthwash, purchase of $25+, printing at CVS Coupon Center (EXP 11/29)


(makes it 99¢ ea.)

$4 ECB WYB (2) Crest 3D White Whitening Therapy, Gum Detoxify 4.1 oz or Oral-B GumCare power toothbrush, $6.99, limit 2
-$15/$50 Proctor & Gamble products from Pantene, Herbal Essences, Head & Shoulders, Aussie, Ivory, Safeguard, Olay, Secret, Always and Always Discreet, Old Spice, Crest, Oral-B, Pampers, Gillette, Venus, Tampax; excl trial, SavingStar mobile app
-$15 gift card WYB $50 in P&G Beauty Products (brands include Pantene, Herbal Essences, Head & Shoulders, Ivory, Aussie, Safeguard, Olay, Secret, Always Discreet, Old Spice, Venus, Gillette, Oral-B, Crest, Pampers, Tampax and Always) rebate
-$2 off Crest Toothpaste 3 oz+, excl Cavity, Regular, Baking Soda, Tartar Control/Protection, F&W Pep Gleem, kids, limit 2, PG 11/24


(makes it $2.99 ea.)

$10 ECB WYB Crest 3D Whitestrips, 14 ct., $39.99, limit 2
-$15/$50 Proctor & Gamble products from Pantene, Herbal Essences, Head & Shoulders, Aussie, Ivory, Safeguard, Olay, Secret, Always and Always Discreet, Old Spice, Crest, Oral-B, Pampers, Gillette, Venus, Tampax; excl trial, SavingStar mobile app
-$15 gift card WYB $50 in P&G Beauty Products (brands include Pantene, Herbal Essences, Head & Shoulders, Ivory, Aussie, Safeguard, Olay, Secret, Always Discreet, Old Spice, Venus, Gillette, Oral-B, Crest, Pampers, Tampax and Always) rebate
-$5 off Crest 3D White Whitestrips Kit, excl Noticeably White, Classic White, or Original Whitening, Gentle Whitening or Express Whitening kit, and trial, limit 2, PG 11/24


(makes it $24.99)

$2 ECB WYB Crest 3D White, 16-16.9 oz, Pro-Health Rinse, 16.9-33.8 oz or Scope 1 L, $4.99, limit 2
-$15/$50 Proctor & Gamble products from Pantene, Herbal Essences, Head & Shoulders, Aussie, Ivory, Safeguard, Olay, Secret, Always and Always Discreet, Old Spice, Crest, Oral-B, Pampers, Gillette, Venus, Tampax; excl trial, SavingStar mobile app
-$15 gift card WYB $50 in P&G Beauty Products (brands include Pantene, Herbal Essences, Head & Shoulders, Ivory, Aussie, Safeguard, Olay, Secret, Always Discreet, Old Spice, Venus, Gillette, Oral-B, Crest, Pampers, Tampax and Always) rebate
-$1 off Crest Mouthwash 473 mL or 16 oz+, limit 2, PG 11/24
-$1 off Mouthwash purchase of $5+, printing at CVS Coupon Center (EXP 11/29)


(makes it $1.99)

$3 ECB WYB Oral-B Toothbrush, 2-4 pk., or Battery Toothbrush, 1 ct., , limit 2


Oral-B Indicator Toothbrush, 2 pk., $5.19


-$15/$50 Proctor & Gamble products from Pantene, Herbal Essences, Head & Shoulders, Aussie, Ivory, Safeguard, Olay, Secret, Always and Always Discreet, Old Spice, Crest, Oral-B, Pampers, Gillette, Venus, Tampax; excl trial, SavingStar mobile app
-$15 gift card WYB $50 in P&G Beauty Products (brands include Pantene, Herbal Essences, Head & Shoulders, Ivory, Aussie, Safeguard, Olay, Secret, Always Discreet, Old Spice, Venus, Gillette, Oral-B, Crest, Pampers, Tampax and Always) rebate
-$2 off Oral-B Adult battery toothbrush, excl trial, limit 2, RMN 11/17 (EXP 11/30)
-$1 off Oral-B Adult manual toothbrush, excl kids, Healthy Clean, Cavity Defense and trial, limit 2, PG 11/24


(makes it $1.19 ea.)

$10 ECB WYB $25 in Gillette or Venus Razors or Refills, , limit 1
(excludes 3, 5, and disposables)
Gillette Venus Razor, 1 ct., $9.99
Gillette Venus Breeze Razor, $12.49
Gillette Fusion Manual Razor $9.49
-$15/$50 Proctor & Gamble products from Pantene, Herbal Essences, Head & Shoulders, Aussie, Ivory, Safeguard, Olay, Secret, Always and Always Discreet, Old Spice, Crest, Oral-B, Pampers, Gillette, Venus, Tampax; excl trial, SavingStar mobile app
-$15 gift card WYB $50 in P&G Beauty Products (brands include Pantene, Herbal Essences, Head & Shoulders, Ivory, Aussie, Safeguard, Olay, Secret, Always Discreet, Old Spice, Venus, Gillette, Oral-B, Crest, Pampers, Tampax and Always) rebate
-$2 off Gillette Razor, excl disposables, Venus Products and trial, limit 2, PG 11/24
-$2 off Venus Razor, excl disposables, limit 2, PG 11/24


(buy (2) at $12.49, use (2) $2 off, makes it $5.49 ea.)

$8 ECB WYB (2) CVS Health Adult Underwear, 28-36 ct., , limit 1
$5 ECB WYB $20 in Depend or Poise products, 2 for $24, limit 1
-$2 off Poise pads printable
-$2 off Depend items printable
-$2 off Poise Liner printable
-$2 off Depend Products, 8-ct+, SS 10/27 (EXP 11/30)
-$3 off Depend Real Fit, Silhouette or Night Defense, 8-ct+, SS 10/27 (EXP 11/30)
-$2 off Poise Products – pads, liners, or Impressa Bladder Supports, excl 14-26 ct liners or 10-ct pads, SS 10/27 (EXP 11/30)


(use (2) $3 ea., makes it $6.50 ea.)
ExtraCare Pharmacy
$10 ECB WYB (2) CVS Health Stop Smoking Aids, , limit 1


(excludes 10-20 ct. gum or lozenges)

$2 ECB WYB (2) Nature Made Vitamins, B1G1 50% off, limit 1
-$2/2 Nature Made Vitamins & Supplements, excl Gummy varieties, on same receipt, at CVS, Ibotta mobile app
-$4 off Nature Made Prenatal Gummies, 60-ct, at CVS, Walgreens, Ibotta mobile app
-$4 off Vitamin purchase of $18+, printing at CVS Coupon Center (EXP 11/29)
-$1 off Nature Made supplement, CVS eCoupon
-$2.50 off Nature Made Fish Oil, single bottle or 2-pk tablets, liquid softgels or chewables, excl Gummies and trial, Ibotta mobile app
-$2 off Nature Made Gummies, single bottle, excl Prenatal and trial, Ibotta mobile app
-$1.50 off Nature Made Magnesium, single bottle or 2-pk tablets, liquid softgels or chewables; excl Gummies and trial, Ibotta mobile app
-$2 off Nature Made Melatonin, Ibotta mobile app
-$2 off Nature Made Multivitamin, single bottle tablets, liquid softgels or chewables, excl Gummies and trial, Ibotta mobile app
-$1.75 off Nature Made Vitamin B12, single bottle tablets, liquid softgels or chewables, excl Gummies and trial, Ibotta mobile app
-$1.75 off Nature Made Vitamin C, single bottle or 2-pk tablets, liquid softgels or chewables, excl Gummies and trial, Ibotta mobile app
-$2 off Nature Made Vitamin D, single bottle or 2-pk tablets, liquid softgels or chewables, excl Gummies and trial, Ibotta mobile app
$10 ECB WYB (2) Align Probiotics, 14-60 ct., or any Metamucil, , limit 1
Metamucil Fiber, 48.2 oz, $17.99
Metamucil Fiber, 100 ct., $15.99
Align Probiotic Supplement, 42 ct., $40.79
-$2 off Align Probiotic supplement product, excl trial/travel size printable
-$2 off Align Probiotic Supplement, excl trial, limit 2, PG 11/24
$10 ECB WYB $40 in Alka-Seltzer, Phillips, TruBiotics or any Miralax, , limit 1
MiraLAX Laxative Powder, 36.9 oz, $27.99
Alka-Seltzer Original, 36 ct., $7.39
-$1 off Miralax product, 20-ct+ printable
-$1 off Alka-Seltzer item printable
-$1 off Alka-Seltzer Plus product printable
-$5 off Miralax product, 20-ct+, SS 11/17 (EXP 11/24)
-$5 off Phillips Colon Health Product, SS 11/17 (EXP 11/24)
-$5 off Trubiotics Product, SS 11/17 (EXP 11/24)
-$2 off Alka-Seltzer Plus PowerMax Gels printable
-$2 off Alka-Seltzer Plus PowerMax Gels, CVS eCoupon
-$2 off Alka-Seltzer Plus Power Max Gels, SS 11/24
-$1 off Alka-Seltzer Plus product, excl Cold Sparkling Original Effervescent 4-ct, SS 11/24
$5 ECB WYB Nexium 24 HR, 42 ct., $28.99, limit 1
-$3 off Nexium 24HR tablets, 28 or 42-ct printable
-$2 off Nexium 24HR product, RMN 11/10
-$5 off Nexium 24HR product, 28 or 42-ct, RMN 11/10 (EXP 11/24)
-$3 off Nexium 24HR product, 28 ct. or 42 ct. printable
-$3 off Nexium 24HR product, 28 or 42-ct, SavingStar (EXP 11/24) mobile app
-$3 off Nexium 24HR item, 28ct+, CVS eCoupon


(makes it $18.99)

$5 ECB WYB (2) Ensure Nutritional Drinks, , limit 1
(excludes Enlive 4 pk.)
Ensure High Protein Shake, 6 pk., $10.49
Ensure Nutrition Shake, 6 pk., $8.99
-$3 off Ensure Product printable
-$5/2 Ensure Multipacks, limit 2, SS 10/27


(use $5/2, makes it $3.99 ea.)

$5 ECB WYB $20 in CVS Health External Pain Relief, , limit 1


(excludes heating pads)

$8 ECB WYB $25 in Bayer Aspirin, any, , limit 1
Bayer Safety Coated Aspirin, 100 ct., $7.99
Bayer Aspirin, 325 mg, 200 ct., $14.49
-$1 off Bayer Aspirin, 50-ct+ printable
-$2 off Bayer Aspirin, 200-ct+, SS 11/10 (EXP 11/24)


(buy (2) at $1.49, use (2) $2 off, makes it $8.49 ea.)

$5 ECB WYB $25 in Select Heating Pads, , limit 1
$5 ECB WYB (2) External Pain Relief, , limit 1


Salonpas pictured

$3 ECB WYB Lumify Eye Drops, 2.5-7.5 mL, , limit 1
Lumify, 2.5 mL, $15.49
Lumify, 7.5 mL, $26.49
-$2 off Bausch+Lomb Lumify redness reliever eye drops, 2.5 mL+ (sign up) printable
-$2 off Bausch+Lomb Lumify product, 2.5 mL, limit 2, SS 10/20
-$4 off Bausch+Lomb Lumify product, 7.5 mL, limit 2, SS 10/20


(use $2 off, makes it $10.49)

$20 ECB WYB Select Sharper Image Massagers, , limit 1
ExtraCare Baby Care
$10 ECB WYB $40 in Enfamil 20-24 oz, or Similac, 22.5-24 oz, , limit 1
Grocery
Coca-Cola Products, 2 L, 99¢
Starbucks Coffee, 11-12 oz, or K-Cups, 10 ct., $6.99
-$1 off Starbucks Coffee, RMN 10/27


(makes it $5.99)

Russel Stover or Whitman's Chocolates, 7-12 oz, B1G1
-$1/2 Russell Stover Box, 4 oz+, limit 1, SS 11/17
M&M's Candies, 7.7-11.4 oz, B1G1
Hershey's or Mars Singles Candy, 79¢
Blue Diamond Almonds, 6 oz, 2 for $5
-$1.50/2 Blue Diamond Almonds 5 or 6 oz, incl Gourmet and Almonds & Fruit, limit 1, SS 10/06
-.50/1 Blue Diamond Almonds, 6-25 oz can, limit 5, Ibotta mobile app
-$1.50/2 Blue Diamond Almonds, 6 oz cans, limit 1, SS 11/24


(buy (2), makes it $1.25 ea. after Ibotta)

DiGiorno Pizza, 12 in, 2 for $9
-$5/3 Digiorno Pizzas, 10.6 oz+, CVS eCoupon


(buy (3), makes it $2.83 ea.)
Personal Care
Colgate Optic White, 4.2 oz, 2-in-1, 4.6 oz, Max, 6 oz, or Total, 3.4 or 4.8 oz, $3.50


-$3 off Colgate Toothpaste, CVS Coupon, printing at Coupon Center (starting Sunday)


-$1 off Colgate Total SF, Optic White, Enamel Health, Essentials or Sensitive toothpaste printable (limit reached)
-$1 off Colgate TotalSF, Optic White, Enamel Health, Essentials or Sensitive Toothpaste, 3 oz+, CVS (EXP 11/30) eCoupon
(makes it

FREE

+ profit)
OPI or Orly nail polish or treatment, B1G1
Pharmacy
Nature's Bounty Vitamins or Optimal Solutions, B1G1
-$5 off Nature's Bounty Beauty Vitamin or Supplement, limit 1, RMN 10/06 (EXP 11/30)
-$5 off Nature's Bounty Fish Oil or Co-Q10 Supplement, limit 1, RMN 10/06 (EXP 11/30)
-$2 off Nature's Bounty Optimal Solutions Vitamin or Supplement, limit 1, RMN 10/06 (EXP 11/30)
-$1 off Nature's Bounty vitamin or supplement, limit 1, RMN 10/06 (EXP 11/30)
Black Friday Ad
Extra Care Deals – Pharmacy
$29.99 ECB WYB 23andMe Genetic DNA Starter Kit, $29.99, limit 1
(makes it

FREE

)
$4.99 ECB WYB CVS Health Acetaminophen Caplets, 24 ct, $4.99, limit 1


(makes it 99¢)

99¢ ECB WYB (1) CVS Health Pantliners, 20 ct, 99¢, limit 1
(makes it

FREE

)
99¢ ECB WYB (1) CVS Health Ultra-Soft Cleansing or Baby Wipes 20 ct, 99¢, limit 1
(makes it

FREE

)
$1.99 ECB WYB Beauty 360 or Blade 2 Blade Disposables Razor 3 ct, $1.99, limit 1
(makes it

FREE

)
$2 ECB WYB Speed Stick Or Lady Speed Stick Singles, $2.49, limit 1
-.50/1 Speed Stick Deodorant printable
(makes it

FREE

)
$2 ECB WYB Schick Disposables (excludes Xtreme 8 ct and Hydro 3 ct and FAB 3 ct), $6.99, limit 1
-$4 off Schick or Skintimate disposable razor pack, excl Xtreme3 1-ct, Xtreme2 and Skintimate twin blades 2 and 6 ct, and Schick Classic 3-ct, limit 2, SS 11/24


(makes it 99¢)
Extra Care Deals – Beauty
$4.99 ECB WYB Wet n Wild Eye, Lip and Nail Gift Set , 4.99, , limit 3
(makes it

FREE

)
$10 ECB WYB (2) NYX Professional Makeup Lip Color or Gloss, 2 for $11.50, limit 1


(makes it 75¢ ea.)

$5 ECB WYB $19.99 or $16 ECB WYB $59.99 Finishing Touch Flawless Hair Remover, , limit 1
$5 ECB WYB Vera Wang Nautica, Elizabeth Taylor, Curve, Mariah Carey Fragrance, $19.99, limit 1


(makes it $14.99)

$8 ECB WYB Wet n Wild Glam Color GIft Set, $9.99, limit 3


(makes it $1.99)

$5 ECB WYB Professional Tweezer Set, $14.99, limit 1


(makes it $9.99)

$10 ECB WYB Physicians Formula Lip Kit, $14.99, limit 1


(makes it $4.99)
Extra Care Deals – Household
$25 ECB WYB Applebee's Gift Card , $75, limit 1


(makes it $50)

$20 ECB WYB Xbox Game Pass Ultimate 3 Month, , limit 1
$5 ECB WYB Conair Hair Appliances (select), $9.98


(makes it $4.98)

$1 ECB WYB Charmin Ultra 4 Mega Roll, Essentials 6 Mega Roll, Bounty Select A Size 2 Double Roll or Essentials, 6 Big Roll, $4.99, limit 1
-$1 off Bounty Paper Towel Product, 4-ct+ or 2 Huge Roll, limit 2, PG 11/24
-$1 off Charmin Toilet Paper Product, 4 Mega-Roll+, incl Mega Plus & Super Mega, excl single rolls, limit 2, PG 11/24


(makes it $2.99)

$1 ECB WYB (3) Renuzit Gel Air Freshener Cones, 7 oz, 3 for $3, limit 1
-B4G2 Renuzit Adjustables Air Freshener Cones, up to $2.20, limit 1, RMN 11/03
Extra Care Deals – Grocery
99¢ ECB WYB (1) Wrigley's Gum singles or Altoids Smalls, 50 ct, 99¢, limit 1
(makes it

FREE

)
$6 ECB WYB (2) Gevalia McCafe K-Cups 12 ct or Coffee Bag 10-12 oz, 2 for $12, limit 1
-$1 off McCafe coffee product, SS 10/13
-$1 off Gevalia Cafe at Home, any, limit 5, cannot use with other coupons, Checkout 51 mobile app


(Buy 2, use (2) $1 off, makes it $2 ea.)

$1 ECB WYB (2) Doritos 9.75-11.5 oz or Lay's Chips 9.5-10.5 oz, 2 for $4, limit 1


(excludes Baked)

$2 ECB WYB (2) Oreo 10.1-15.35 oz, Thin Bites 6-6.4 oz, Belvita Breakfast Biscuit 7.04-8.8 oz or Select Nabisco Crackers, 2 for $6, limit 1
-$1 off Oreo Chocolate Candy, WYB Nabisco Oreo cookies printable
-$1/2 BelVita breakfast biscuits, 8.8 oz+, on same receipt, limit 5, cannot use with other coupons, Checkout 51 mobile app
-$1/2 belVita breakfast biscuits, 8.8 oz+, on same receipt, SavingStar mobile app
$1 ECB WYB Cheerios 8.9 izm Cookie Crisp 11.25 oz, Cocoa Puffs 11.8 oz, Cinnamon Toast Crunch , 12 oz, $1.99, limit 1
-$1/2 General Mills Cheerios, Cinnamon Toast Crunch, Lucky Charms, Reese's Puffs, Chex, Cocoa Puffs, Trix, Cookie Crisp, Golden Grahams, Kix, Fiber One, Wheaties, Raisin Nut Bran, Total, Basic 4, Oatmeal Crisp, CVS eCoupon
-$13 Fandango Movie Ticket WYB (3) Specially Marked General Mills Honey Nut Cheerios, Cinnamon Toast Crunch, Go-Gurt, or Yoplait Fridge Pack, Online rebate
-$1/3 General Mills Cereal boxes any flavor – Cheerios, Cinnamon Toast Crunch, Lucky Charms, Reese's Puffs, Chex, Cocoa Puffs, Trix, Cookie Crisp, Golden Grahams, Kix, Fiber One, Wheaties, Raisin Nut Bran, Total, Basic 4, Oatmeal Crisp, or Nature Valley Granola pouches, SS 10/27
-$1/3 General Mills Cheerios, Cinnamon Toast Crunch, Lucky Charms, Reese's Puffs, Chex, Cocoa Puffs, Trix, Cookie Crisp, Golden Grahams, Kix, Fiber One, Wheaties, Raisin Nut Bran, Total, Basic 4, Oatmeal Crisp Cereal, Nature Valley Granola (pouches) printable
-$1/2 General Mills Cinnamon Toast Crunch, Lucky Charms, Reese's Puffs, Cocoa Puffs, Trix, Cookie Crisp, Golden Grahams, Kix or Cinnamon Toast Crunch Churros Cereal boxes, SS 11/24
Grocery
Holiday M&Ms or M&Ms, 7.7-11.4 oz, B1G1
Personal Care
Colgate Optic White 4.2 oz, Max 6 oz or Total 3.4-4.5 oz, $3.50, limit 1


-$3 Instant Coupon Printing at Coupon Printer


-$1 off Colgate TotalSF, Optic White, Enamel Health, Essentials or Sensitive Toothpaste, 3 oz+, CVS (EXP 11/30) eCoupon
-.50/1 Colgate toothpaste, 3 oz+, SS 11/24
(makes it

FREE

)
Household
Toys B1G1
Hallmark Licensed Ornaments
Holiday Brand Boxed Cards B1G1
As Seen on TV Items
Merry Brite Light Sets 70-200 ct B1G1
American Home by Yankee Candle 19 oz, B1G1
Ferrero 12 ct with regular retail of $5.79-$6.19, B1G1
CVS Batteries, B1G1
Palmolive 20-25 oz, $2.49


-$1 Instant Coupon printing at Coupon Printer


-.25/1 Palmolive Ultra Dish Soap, 16 oz + printable


(makes it $1.24)