This post may contain affiliate links. Read our disclosure here.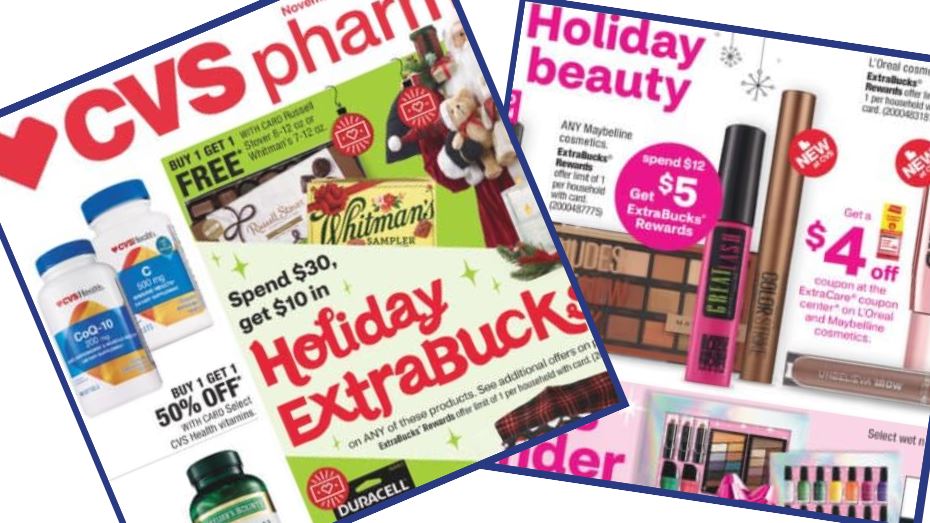 Here are the deals from the CVS ad that starts this Sunday, 11/22 (note that there are ECB deals that run from Sunday to Wednesday and then Thursday to Saturday).
Get FREE Colgate Optic White toothpaste, Charmin for $3.07, and more.
Sunday to Wednesday Only
$1 ECB WYB (3) Campbell's Condensed Soup, 10.5-11.5 oz, 3 for $3, limit 1
-.50/4 Campbell's Condensed Soup, SS 11/08


(buy (3), makes it 66¢ ea.)

$2 ECB WYB (1) Gillette Mach3 or Venus Razor, $5.99, limit 1
-$5 off Gillette Men's Razors, Refill Blades or Shaving Cream purchase of $20, printing at CVS Coupon Center (EXP 11/27)
-$2 off Gillette razor, excl disposables, Venus items & trial, limit 2, PG 11/22
-$2 off Venus Razor, excl disposables, limit 2, PG 11/22


(use $2 off, makes it $1.99 after ECB)

$3 ECB WYB (2) Suave select Hair Care, 2 for $6, limit 1
-$4 off Hair Care Products purchase of $20, printing at CVS Coupon Center (EXP 11/27)


(makes it $1.50 ea.)

$10 ECB WYB (1) Oral-B Pro 1000 Crossaction Rechargeable Toothbrush, $39.99, limit 2


-$5 off CVS eCoupon coming Sunday


-$2 off Oral-B Adult or kids Battery Toothbrush, excl trial, limit 2, PG 11/22
-$5 off Oral-B Adult or Kids Rechargeable Electric Toothbrush, Excl Kids battery powered toothbrushes and trial, limit 2, PG 11/22


(use $5 off, makes it $24.99)

$5 ECB WYB (3) Bounce Sheets, 120 ct., Downy, 41-51 oz, or Unstopables, 8.6 oz, $5.94, limit 1
-$1 off Downy Liquid Fabric Conditioner 60 ld, Infusions Liquid 48 ld, Odor Protect 32 oz, WrinkleGuard 25 oz, Nature Blends 44 oz, Bounce or Downy Sheets 90-120 ct or WrinkleGuard Sheets 50-60 ct, Bounce Pet Hair & Lint Guard 50-60 ct, Downy Unstopables, Fresh Protect, Odor Protect, Infusions or Dreft Blissfuls In-Wash Scent Booster 5.7 oz OR Bounce Rapid Touch-Up Spray or Downy Wrinkle Releaser Spray 9.7 oz printable
-$1 off Downy Liquid Fabric Conditioner 60 load incl Infusions 48 load or Odor Protect 32 oz or Nature Blends 44 oz, or Bounce or Downy sheets 90-120 ct, In-Wash Scent Boosters 5.7 oz incl Unstopables, Fresh Protect, Odor Protect, Infusions and Dreft Blissfuls; excl Libre Enjuague, Gain Fireworks and trial, limit 1, PG 11/22


(use (2) $1 off, makes it $3.60 ea.)

CoverGirl Eye Performance Point Plus or Professional Mascara, 2 for $10
-$2 off CoverGirl eye product, excl 1-kit shadows, accessories & trial, SS 11/01
-$3 off CoverGirl Cosmetics purchase of $15, printing at CVS Coupon Center (EXP 11/27)


(makes it $3 ea.)

CVS Health Acetaminophen, Ibuprofen or Aspirin, 500 ct., $5
Thursday to Saturday – ECB Deals
99¢ ECB WYB (1) CVS Health Ultra-Soft Cleansing Wipes, 20 ct., 99¢, limit 1
(makes it

FREE

)
$4.49 ECB WYB (1) CVS Health Acetaminophen Caplets, 24 ct., $4.49, limit 1
(makes it

FREE

)
$1.49 ECB WYB (1) Beauty 360 or Blade 2 Blade Disposable Razors, 3 ct., $1.99, limit 1


(makes it 50¢)

70¢ ECB WYB (1) General Mills select Cereal, 8.9-13.8 oz, $1.69, limit 1
-$1/2 General Mills any flavor Cheerios boxed cereals, SS 10/25
-$1/2 General Mills any flavor Chex, Fiber One, Multi Grain Cheerios, Wheaties, Basic 4, Raisin Nut Bran, Oatmeal Crisp, or Total cereal, or Nature Valley Granola Pouches in the cereal aisle, SS 10/25
-$1/2 General Mills Cheerios, Cinnamon Toast Crunch, Lucky Charms, Reese's Puffs, Chex, Cocoa Puffs, Trix, Cookie Crisp, Golden Grahams, Kix, Fiber One, Wheaties, Raisin Nut Bran, Total, Basic 4, Oatmeal Crisp Cereals or Nature Valley Granola pouches printable
-$1/2 General Mills Cheerios, Cinnamon Toast Crunch, Lucky Charms, Reese's Puffs, Chex, Cocoa Puffs, Trix, Cookie Crisp, Golden Grahams, Kix, Fiber One, Wheaties, Raisin Nut Bran, Total, Basic 4, or Oatmeal Crisp cereals, or Nature Valley Granola pouches, CVS eCoupon


(buy (2), use $1/2, makes it 84¢ ea.)

$10 ECB WYB (2) NYX Professional Makeup Lip Color or Gloss, 2 for $12.98, limit 1


(makes it $1.49 ea.)

$25 ECB WYB $75 Applebee's Gift Card, , limit 1
$2 ECB WYB (2) Nabisco Oreo 10.1-15.35 oz, Oreo Thins Bites 6 oz, Chips Ahoy! 7-13 oz, Belvita 7.04-8.8 oz, select Nabisco Crackers, 2 for $7, limit 1


(makes it $2.50 ea.)

$1 ECB WYB (1) Dunkin Donuts Coffee 11-12 oz or K-Cups, 10 ct., $4.99, limit 1


(makes it $3.99)

$5 ECB WYB (1) Conair Hair Appliances (select), $9.99, limit 1


(makes it $4.99)

$1 ECB WYB (1) Schick Disposable Razors, $5.99, limit 1
(excludes Xtreme 8ct., Hydro and FAB 3 ct.)
-$4 off Schick Disposable Razors, CVS eCoupon (coming soon)


(makes it 99¢)

$2 ECB WYB (1) Kiss imPress Nails, $6.99, limit 1


(makes it $4.99)

$5 ECB WYB (1) Fragrances with regular retail of $24.99+, , limit 1
$5 ECB WYB $15 Charmin Ultra 4 Mega Roll, Bounty Select A Size 2 Double Roll or Essentials 6 Big Roll, $4.99, limit 1
-.25/1 Bounty paper towels, excl trial, limit 2, PG 11/22
-.25/1 Charmin toilet paper, excl single rolls, limit 2, PG 11/22


(buy (3), use (3) .25/1, makes it $3.07 ea.)
Extra Care Deals – Pharmacy
$1 ECB WYB (3) Alka-Seltzer Cool Mint Gum, 1 pk, 3 for $1, limit 1
(makes it

FREE

)
$10 ECB WYB $30 Heating Pads, Select, , limit 1
$5 ECB WYB $20 CVS Health External Pain Relief (excluding heating pads), , limit 1
-$5 off Pain Relief or Sleep Aid purchase of $25, printing at CVS Coupon Center (EXP 11/27)
-$4 off Pain Relief purchase of $15, printing at CVS Coupon Center (EXP 11/27)
-$1 off Pain Relief purchase of $5, printing at CVS Coupon Center (EXP 11/27)
$5 ECB WYB (2) External Pain Relief, , limit 1


pictured: Salonpas, Joint Flex


-$2 off JointFlex Pain Relief Cream, RMN 11/08
-$5 off Pain Relief or Sleep Aid purchase of $25, printing at CVS Coupon Center (EXP 11/27)
-$4 off Pain Relief purchase of $15, printing at CVS Coupon Center (EXP 11/27)
-$1 off Pain Relief purchase of $5, printing at CVS Coupon Center (EXP 11/27)
$5 ECB WYB (2) Advil 80-100 ct., Dual Action 72 ct., PM 40 ct. or select Children's Advil, , limit 1


Advil Pain Relief Tablets, 100 ct., $9.99


-$1.50 off Advil Children's suspension printable
-$3 off Advil Film Coated item, 80-ct+, (sign up) printable
-$1 off Advil or Advil Migraine, 20-ct+ (register) printable
-$1 off Advil Children's junior strength tablets printable
-$1 off Advil or Advil PM, 18-ct+, RMN 11/01
-$2 off Advil product, 72-ct+, RMN 11/01
-$4 off Pain Relief purchase of $15, printing at CVS Coupon Center (EXP 11/27)


(buy (2) Advil 100 ct., use (2) $2 off and $4 off store coupon, makes it $3.49 ea. after ECB)

$6 ECB WYB (1) Clear Care 12 oz or Opti-Free Puremoist 10 oz twin packs, $16.99, limit 1
-$6 off Clear Care or Clear Care Plus solution, twin pack, RMN 11/01
-$6 off Opti-Free Puremoist, Replenish or Express solution, twin pack, RMN 11/01
-$6 off Opti-Free or Clear Care Solution , twin pack, CVS eCoupon


(use $6 off, makes it $4.99 after ECB)

$8 ECB WYB (2) CVS Health Adult Underwear, 28-36 ct., , limit 1
$2 ECB WYB (2) U by Kotex Products, B1G1 at 50% off, limit 1
U by Kotex, 18 ct., $5.99
U by Kotex CleanWear Pads, 16-18 ct., $6.99
-.50/1 Kotex U items, excl 16-24 ct printable
-.50/1 U by Kotex product (sign up) printable
-.50/1 U by Kotex product (sign up) printable
-.50/1 Kotex U items printable
-$3/2 U by Kotex pads or liners, excl trial size, and liners 14-22 ct, SS 11/08
-$3/2 U by Kotex tampons, excl trial, SS 11/08
-$2 off CVS Health Tampons, Pads, and Liners, printing at CVS Coupon Center (EXP 11/27)


(buy (2), use $3/2 and $2 off store, makes it 99¢ ea. after ECB)

$10 ECB WYB (2) CVS Health Stop Smoking Aids, , limit 1


(excludes gum, lozenges 10-20 ct.)

$5 ECB WYB (1) Nexium 24HR 42 ct., $28.99, limit 1
-$3 off Nexium 24HR tablets, 28 or 42-ct printable
-$5 off Nexium 24HR, 28-ct+, RMN 11/22


(use $5 off, makes it $18.99 after ECB)

$10 ECB WYB (1) CVS Health 400 Series Blood Pressure Monitors or Portable Pulse Oximeter, , limit 1
$15 ECB WYB (1) Omron 7 Series Blood Pressure Monitor, , limit 1
$5 ECB WYB $20 Rolaids Advanced 60 ct., Dulcolax 12 oz, 16 ct., 25 ct. or 100 ct., , limit 1
Dulcolax 25 ct., $11.99
Rolaids Advanced 60 ct., $6.99
-$1 off Rolaids product printable
-$5/2 Dulcolax products, 25 ct. + printable
-$2 off Dulcolax product, 25-ct+ printable
-$3 off Dulcolax product, excl 10-ct or less stimulant & stool softener, limit 2, SS 11/01
-$2 off Rolaids bottle, or Advanced Softchews 28-ct, limit 2, SS 11/01


(buy (2) Rolaids, use (2) $2 off, makes it $4.99 ea.)

$10 ECB WYB (1) Friska Dietary Supplements Capsules, 30 ct., $29.99, limit 1
-$8 off Friska product, RMN 10/18


(use $8 off, makes it $11.99 after ECB)

$5 ECB WYB (2) Prevagen Products, , limit 1
$10 ECB WYB (2) Prilosec select, any Align or Metamucil Products, , limit 1
Align Probiotic Supplement, 42 ct., $40.79
Align Probiotic, 14 ct., $19.99
Metamucil Fiber, 48.2 oz, $17.99
Metamucil Fiber, 100 ct., $15.99
-$1 off Metamucil product, excl trial/travel size printable
-$1 off Metamucil Gummies, excl trial/travel size printable


(buy (2) Metamucil 100 ct., use (2) $1 off, makes it $9.99 ea. after ECB)
Extra Care Deals – Beauty Care
$4 ECB WYB (1) L.A. Colors or Wet n Wild Gift Sets, $4.99, limit 3


(makes it 99¢ after ECB)

$8 ECB WYB (1) Wet n Wild Gift Set, $9, limit 3


(makes it $1 after ECB)

$4 ECB WYB (1) GSQ by Glamsquad Nail Files, 3 pk, $4.99, limit 1


(makes it 99¢ after ECB)

$10 ECB WYB $20 NYX Professional Makeup (excludes Lip), , limit 1
$6 ECB WYB (2) Neutrogena Cosmetics, , limit 1
Neutrogena Brown Pen, $9.99
Neutrogena Healthy Lengths Mascara, $10.99
Neutrogena Blush, $13.79
Neutrogena Healthy Skin Enhancer with Sunscreen, $14.49
Neutrogena Skin Clearing Mineral Foundation, $15.79
-$3 off CVS eCoupon coming Sunday
-$10 Visa Gift Card WYB $25 in Neutrogena Products in one transaction, Online rebate


(buy (2) Brown Pens, use $3 off coupon coming Sunday, makes it $5.49 ea. after ECB)

$4 ECB WYB $12 Kiss Eyelashes (select), , limit 1
$4 ECB WYB $15 Almay Cosmetics, , limit 6
Almay One Coat Thickening Mascara, $9.29
Almay Liquid Lip Balm, $9.99
Almay Smart Shade Foundation, $14.99
-$5 off Almay Cosmetics purchase of $20, printing at CVS Coupon Center (EXP 11/27)


(buy (2) Mascara, makes it $7.29 ea. after ECB)

$4 ECB WYB $12 L'Oreal Cosmetics, , limit 1
L'Oreal Colour Riche Lip Color, $8.99
L'Oreal Infallible Powder, $12.99
L'Oreal Voluminous Mascara, $8.49
-$4 off CVS store coupon coming Sunday
-$2 off L'Oreal Age Perfect Cosmetic product, excl trial, limit 1, RMN 11/15
-$2 off L'Oreal Cosmetic Face product, excl makeup remover and trial, limit 1, RMN 11/15
-$2.50 off L'Oreal Mascara, limit 1, RMN 11/15
-$2 off L'Oreal Paris cosmetic face product, excl makeup remover, trial/travel size printable
-$10 off L'Oreal Cosmetics purchase of $30, printing at CVS Coupon Center (EXP 11/27)
-$2 off L'Oreal Cosmetic Face product , excl makeup remover & trial, CVS eCoupon


(buy Powder, use $2 off and $4 off store, makes it $2.99 after ECB)

$15 ECB WYB (1) Designer Fragrances with a regular retail of $19.99+, , limit 1
$4 ECB WYB $12 Revlon Cosmetics, , limit 1
Revlon Illuminance Creme Eyeshadow, $7.99
Revlon Lash Potion Mascara, $8.99
Revlon Candid Foundation, $10.99
-$5 off Revlon Cosmetics purchase of $20, excl Beauty Tools, printing at CVS Coupon Center (EXP 11/27)
-$3 off Revlon Skin Care or other Beauty Tool, printing at CVS Coupon Center (EXP 11/27)


(buy (2) Eyeshadow, makes it $5.99 ea. after ECB)

$5 ECB WYB $12 Maybelline Cosmetics, , limit 1
Maybelline SuperStay Lipstick $9.49
Maybelline Fit Me Foundation, $8.59
Maybelline Lash Sensational Mascara, $9.99
Maybelline Eyeliner, $8.79

-$2 off Maybelline Mascara, excl trial, limit 1, RMN 11/15
-$4 off Maybelline Cosmetics, CVS Coupon, printing at CVS Coupon Center


(buy (2) Mascara, use (2) $2 off and $4 off store, makes it $3.49 ea. after ECB)

$6 ECB WYB (2) CoverGirl Cosmetics, , limit 1
(excludes Lash Blast Duo and Performance Point Plus Professional Mascara)
CoverGirl Eye Shadow Kit, 3 colors, $6.29
CoverGirl Brow Pencils, $6.29
CoverGirl Powder, $8.69
-$2 off CoverGirl eye product, excl 1-kit shadows, accessories & trial, SS 11/01
-$2 off CoverGirl face product, excl Cheekers, accessories & trial, SS 11/01
-$1 off CoverGirl lip product, excl Continuous Color Lipstick, accessories & trial, SS 11/01
-$3 off CoverGirl Cosmetics purchase of $15, printing at CVS Coupon Center (EXP 11/27)


(buy (2) Brow Pencils, use (2) $2 off, makes it $1.29 ea. after ECB)

$5 ECB WYB $10 Essence Cosmetics, , limit 1


(excludes eyeshadow palettes)

$10 ECB WYB $15 Joah Cosmetics, , limit 1


only in select stores and also on CVS.com
Extra Care Deals – Personal Care
$5 ECB WYB (2) Old Spice, Olay or Ivory Soaps, limit 1
Old Spice Body Wash, 21 oz, B1G1 50%


Old Spice Body Wash 21 oz, $7.49


-$1/2 Old Spice deodorant, body wash or bar soap, excl High Endurance and trial, limit 2, PG 11/22


(buy (2), use $1/2, makes it $2.61 ea.)


Olay Body Wash, B1G1 50% off


Olay Body Wash, 22 oz, $9.29


-$1 off Olay Bar 4-ct+, Body Wash, Rinse Off Body Conditioner, or Hand and Body Lotion, excl trial, limit 2, PG 11/22
Ivory Bar Soap, 10 ct., B1G1 50% off


Ivory Bar Soap, 10 ct., $7.29




(makes it $2.96 ea.)


Olay Core Body Wash or Bars, 2 for $12
-$1 off Olay Bar 4-ct+, Body Wash, Rinse Off Body Conditioner, or Hand and Body Lotion, excl trial, limit 2, PG 11/22


(use (2) coupons, makes it $2.50 ea.)

$10 ECB WYB (4) Secret, Gillette or Old Spice Deodorants, limit 1
Secret or Ivory Deodorant, 2.4-2.6 oz or Freshies, .5 oz, 2 for $10


(buy (4), makes it $2.50 ea.)


Old Spice or Gillette Deodorant, Secret Clinical or Old Spice or Secret Body Spray, B1G1 50% off
Old Spice Swagger Deodorant, $7.59
Secret Clinical Deodorant, 1.6 oz, $9.79
-$4/2 Secret Clinical Deodorant, printing at CVS Coupon Center (EXP 11/27)
-$1/2 Old Spice deodorant, body wash or bar soap, excl High Endurance and trial, limit 2, PG 11/22
$5 ECB WYB (2) Garnier Facial Care, , limit 1
(excludes tissue masks)
Garnier Skinactive Cleansing Towelettes, 25 ct., $6.79
Garnier Skinactive Moisture Rescue Gel Cream, 1.7 oz, $9.49
Garnier Skinactive Micellar Cleansing Water, $9.79
-$5 off Garnier Skin Care purchase of $20, printing at CVS Coupon Center (EXP 11/27)
-$3 off Garnier Green Labs Serum Cream, or SkinActive Moisturizer, excl trial and masks, limit 1, RMN 11/15
-$2 off Garnier SkinActive Micellar Water or Cleanser product, excl 100 or 200 mL Micellar Water, masks and trial, limit 1, RMN 11/15
-$2 off Garnier Green Labs Cleansers, printing at CVS Coupon Center (EXP 11/27)


(buy Micellar and Gel, use $2 and $3 off, makes it $4.64 ea.)

$20 ECB WYB $50 Vichy Products, any, , limit 1
$10 ECB WYB $20 Aquaphor or Eucerin Products, , limit 1
Eucerin Skin Calming Cream, 8 oz, $9.59
Eucerin Daily Hydration Lotion, 16.9 oz, $11.49
Aquaphor Advanced Therapy Body Spray, 3.7 oz, $12.99
Aquaphor Healing Ointment, 7 oz, $14.49
-$3.50 off Eucerin body 8 oz+, or Baby or Face product printable
-$3.50 off Eucerin Advanced Repair Cream, 16 oz printable
-$2 off Aquaphor Body product 1.75 oz+, or Baby product, excl trial, SS 11/01
-$1 off Aquaphor lip product, SS 11/01
-$2 off Aquaphor Ointment Body Spray, excl trial, SS 11/01
-$1 off Eucerin body lotion 2-6.8 oz, excl trial and baby, SS 11/01
-$2 off Eucerin body product 8 oz+, or baby product, excl trial and face products, SS 11/01
-$3 off Eucerin Original Healing Soothing Repair Cream, Advanced Repair Cream, or Roughness Relief Cream, 16 oz, SS 11/01
-$2 off Eucerin body product or baby product, excl trial/travel size printable
-$2 off Aquaphor Healing Ointment product or Baby product, excl trial/travel size printable
-$2 off Aquaphor Healing Ointment Product or Baby Product, excl trial, CVS eCoupon
-$2.50 off Aquaphor Baby Care products, excl gift sets and trial, Ibotta mobile app
-$1.55 off Aquaphor Healing Ointment, 1.75 oz+, excl lip care, gift sets & trial, Ibotta mobile app
-$2.50 off Aquaphor Healing Ointment, 3.5 or 14 oz jar, excl gift sets, Ibotta mobile app
-$2.50 off Aquaphor Ointment Body Spray, 3.7 or 6.2 oz, excl gift sets, Ibotta mobile app
-$3.50 off Hand & Body Lotion purchase of $15, printing at CVS Coupon Center (EXP 11/27)
-$4 off Hand & Body Lotion purchase of $20, printing at CVS Coupon Center (EXP 11/27)


(buy (2) Aquaphor Ointment Body Spray, use $4 store, (2) $2 off and (2) $2.50 off Ibotta, makes it $1.49 ea. after ECB)

$3 ECB WYB (2) Irish Spring Body Wash 15-18 oz or Bar Soap, 6 pk, 2 for $8, limit 3


(buy (2), makes it $2.50 ea. after ECB)

$5 ECB WYB (2) Nivea Body Wash, , limit 1


Nivea Body Wash, 16.9 oz, $5.99


-$1 off Nivea Body Wash product printable
-$1 off Nivea Men Body Wash printable
-$3/2 Nivea Body Wash products printable
-$1 off Nivea or Nivea Men Body Wash, excl trial, SS 11/15
-$3/2 Nivea or Nivea Men Body Wash, excl trial, SS 11/15


(buy (2), use $3/2, makes it $1.99 ea. after ECB)

$5 ECB WYB (2) Gold Bond Products, , limit 1
Gold Bond Ultimate Healing or Radiance Renewal, 13-14 oz, $10.99
Gold Bond Ultimate Hand Cream, 3 oz, $5.79
-$1 off Gold Bond Lotion or Cream printable
-$1.50 off Gold Bond Ultimate product, excl trial/travel size printable
-$1.50 off Gold Bond Ultimate product, excl trial, CVS eCoupon
-$3 off Gold Bond Gold Bond Ultimate Age Defense product, excl Trial and Hand Cream, CVS eCoupon
-$3.50 off Hand & Body Lotion purchase of $15, printing at CVS Coupon Center (EXP 11/27)


(buy (2) at $5.79, use (2) $1.50 off, makes it $1.79 ea. after ECB)

$8 ECB WYB (1) Braun Trimmer Series 3 or S3 Shaver, , limit 1
-$5 off Shave products purchase of $20, printing at CVS Coupon Center (EXP 11/27)
$5 ECB WYB (1) Braun Beard Trimmer or Silk-epil 3, , limit 1
-$5 off Shave products purchase of $20, printing at CVS Coupon Center (EXP 11/27)
$10 ECB WYB $20 Shea Moisture Hair Care or any Love Beauty & Planet Hair Care, , limit 1
SheaMoisture Shampoo, 8 oz, $11.99
Love Beauty & Planet Shampoo, 13.5 oz $9.29
-$4 off Hair Care Products purchase of $20, printing at CVS Coupon Center (EXP 11/27)
-$4/2 Love Beauty & Planet hair products, excl trial/travel size printable
-$2.50 off Love Beauty & Planet hair product , excl trial/travel size printable


(buy (3) Love Beauty, use store, $4/2 and $2.50 off, makes it $2.45 ea. after ECB)

$4 ECB WYB (2) L'Oreal Preference, Excellence or Select other brands Hair Color, , limit 1
L'Oreal Excellence Hair Color, $9.49
L'Oreal Preference Hair Color, $10.29
-$2 off L'Oreal Root Precision or Magic Root Cover Up, limit 1, RMN 11/15
-$2 off L'Oreal Superior Preference, Excellence or Feria hair color, limit 1, RMN 11/15
-$5/2 L'Oreal Superior Preference, Excellence or Feria hair color, limit 1, RMN 11/15
-$2 off L'Oreal Paris Superior Preference, Excellence, Feria, Root Precision or Magic Root Cover Up hair color products printable
-$2 off L'Oreal Superior Preference, Excellence, Feria, Root Precision or Magic Root Cover Up products, CVS eCoupon


(buy (2) Excellence, use $5/2, makes it $4.99 ea. after ECB)

$5 ECB WYB (2) Garnier Nutrisse or Olia Hair Color, , limit 1
Garnier Nutrisse Hair Color, $8.99

-$4/2 Garnier Nutrisse Color Reviver or Express Retouch haircolor items, limit 1, RMN 11/15


(buy (2) Nutrisse, use $4/2, makes it $4.49 ea. after ECB)

$2 ECB WYB (3) Gillette or Venus Disposable Razors or Shave Prep, B1G1 at 50% off, limit 1
Gillette Disposable Razors, $7.99
Venus Disposable Razors, 3 ct., $10.49
-$5 off Gillette Men's Razors, Refill Blades or Shaving Cream purchase of $20, printing at CVS Coupon Center (EXP 11/27)
-$4 off Venus Razors, Refill Blades or Shaving Creams purchase of $20, printing at CVS Coupon Center (EXP 11/27)


(buy (3) Gillette, use $5 off store, makes it $4.32 ea. after ECB)

$5 ECB WYB (1) Gillette or Venus Razor, , limit 1
(excludes Gillette 3, 5 and disposables)
Gillette Fusion5 ProGlide Razor, $12.49
Venus Razor, $11.49
Venus ComfortGlide Spa Razor, $10.49
-$5 off Gillette Men's Razors, Refill Blades or Shaving Cream purchase of $20, printing at CVS Coupon Center (EXP 11/27)
-$2 off Gillette razor, excl disposables, Venus items & trial, limit 2, PG 11/22
-$2 off Venus Razor, excl disposables, limit 2, PG 11/22
-$4 off Venus Razors, Refill Blades or Shaving Creams purchase of $20, printing at CVS Coupon Center (EXP 11/27)


(buy Venus ComfortGlide, use $2 off, makes it $3.49 after ECB)

$10 ECB WYB (2) Schick Razors or Refills (excludes disposables), , limit 1
Schick Hydro 5 Razor, $11.49
Schick Hydro Silk Razor, $12.99
-$4 off Schick Hydro Silk 5 Refill Cartridges, printing at CVS Coupon Center (EXP 11/27)
-$5 off Schick Men's Hydro Refills, printing at CVS Coupon Center (EXP 11/27)


(buy (2) Hydro 5, makes it $6.49 after ECB)

$5 ECB WYB (2) Colgate Manual Toothbrush, 1 ct., $3.99, limit 2
-.50/1 Colgate Kids manual or battery powered toothbrush printable
-.75/1 Colgate 360 or Floss-Tip manual toothbrush, excl Plus, Triple Action, Extra Clean or Classic Clean printable
-.50/1 Colgate adult or kids manual toothbrush, excl Plus, Extra Clean or Classic Clean, SS 11/22


(buy (2), use (2) .75/1, makes it 74¢ ea. after ECB)

$2 ECB WYB (1) Crest 3D White 16-16.9 oz, Pro-Health Rinse 16-33.8 oz or Scope 1L, $4.99, limit 2


(excludes Complete and Advanced 1 liter)


-$1 off Crest or Oral-B mouthwash, 473 mL/16 oz +, limit 2, PG 11/22


(use $1 off, makes it $1.99)

$4 ECB WYB (2) Crest Gum Detoxify, Brilliance Toothpaste 4.1 oz or Oral-B Battery Toothbrush 1 ct., $6.99, limit 2
-$2 off Crest Toothpaste 3 oz+, excl Cavity, Regular, Baking Soda, Tartar Control/Protection, F&W Pep Gleem, Kids and trial, limit 2, PG 11/22
-$2 off Oral-B Adult Manual Toothbrush 1-ct, or Multipacks 2-ct+, excl Healthy Clean, Cavity Defense, Indicator, and trial, limit 2, PG 11/22


(buy (2), use (2) $2 off, makes it $2.99 ea. after ECB)

$3 ECB WYB (1) Crest Toothpaste or Oral-B Toothbrush Multipacks, , limit 2
Crest Complete, twin pack, $7.29

-$2 off Crest Toothpaste 3 oz+, excl Cavity, Regular, Baking Soda, Tartar Control/Protection, F&W Pep Gleem, Kids and trial, limit 2, PG 11/22
-$2 off Oral-B Adult Manual Toothbrush 1-ct, or Multipacks 2-ct+, excl Healthy Clean, Cavity Defense, Indicator, and trial, limit 2, PG 11/22


(makes it $2.29)

$3 ECB WYB (2) Muscle Milk or Evolve Protein Shakes 4 pk or Powder 30.9 oz, 25% off, limit 1
$10 ECB WYB (1) Gillette Blade Refills, 6-15 ct., , limit 1
Gillette Mach3 Refill, 8 ct., $22.99
-$4 off CVS eCoupon coming Sunday
-$5 off Gillette Men's Razors, Refill Blades or Shaving Cream purchase of $20, printing at CVS Coupon Center (EXP 11/27)
-$15 Visa Gift Card with $50 purchase incl Tide, Gain, Bounce, Downy, Gillette Shave, Venus, Gillette or Old Spice APDO & Body Wash, Olay Skin, Always, Tampax, Always Discreet, Oral-B, Crest and Head & Shoulders online
-$4 off Gillette blade refill, 4-ct+, limit 2, RMN 11/08


(use $4 off and $5 off store coupon, makes it $3.99 after ECB)

$5 ECB WYB (1) Finishing Touch Flawless Hair Remover or MicroTouch Max Trimmer, $20.99, limit 1
$2 ECB WYB (1) Colgate Total Mouthwash 500 ml or Optic White Mouthwash 16 oz, $3.99, limit 2
-.75/1 Colgate mouthwash or mouth rinse, 400 mL+ printable
-$1 off Colgate mouthwash or mouth rinse, 400 mL+, SS 11/22


(use $1 off, makes it 99¢ ea. after ECB)
Extra Care Deals – Household
$15 ECB wby $50 Build-A-Bear, Bass Pro, Children's Place, American Eagle, Cabela's or Riot Gift Cards, , limit 1
$10 ECB WYB $30 In Participating Products, limit 1
Tide 37-46 oz (excludes Simply and PureClean), $5.94
-$2 off Tide Liquid Laundry Detergent 75 oz or smaller, Studio by Tide 40 oz, Purclean 50 oz or smaller, antibacterial spray, Tide to Go Instant Stain Remover Wipes 10 ct., Stain Remover Pen 3 ct. printable
-$2 off Tide or Hygienic Clean Heavy Duty, or Studio by Tide, or Purclean laundry detergent, or Antibacterial Spray or To Go Instant Stain Remover Wipes 10-ct, or To Go Instant Stain Remover Pen 3-ct, excl PODS, Rescue, Simply and Simply PODS, detergent 10 oz and trial, limit 1, PG 11/22


(use $2 off, makes it $3.94)


Tide PODS 12-16 ct. (excludes Simply), $4.94
-$2 off Tide PODS 10-ct+, or Hygienic Clean Power PODS, excl Simply PODS and trial, limit 1, PG 11/22


(use $2 off, makes it $2.94)


All 36 oz, Mighty Pacs 19 ct., Snuggle 32 oz or Dryer Sheets 70-80 ct, B1G1
-$1 off all Laundry Product printable
-$1.50 off All blue laundry detergent, excl trial/travel size printable (limit reached)
Bounty Select A Size 6 Single Plus or Charmin Ultra 8 Mega roll, $9.99
-.25/1 Bounty paper towels, excl trial, limit 2, PG 11/22
-.25/1 Charmin toilet paper, excl single rolls, limit 2, PG 11/22


(use .25/1, makes it $9.74)


Pampers Jumbo Pack 16-32 ct or Easy Ups Training Underwear 18-25 ct, 2 for $20


(excludes Pure)


-$1 off Pampers Diapers or Easy Ups Training Underwear, incl mega, jumbo, super, giant, and enormous packs, limit 2, PG 11/22
-$3 off Diapers or Training Pants, printing at CVS Coupon Center (EXP 11/27)


(buy (2), use (2) $1 off and $3 off store, makes it $7.50 ea.)


Dawn Dish Spray or Mr. Clean Clean Freak, 16 oz, $4.99
Russell Stover 8.25-12 oz or Whitman's candy 7-12 oz, B1G1
-$1/2 Russell Stover boxes, 4 oz+, limit 1, SS 11/08
-$3 off Candy purchase of $12, printing at CVS Coupon Center (EXP 11/27)
Pantene Shampoo or Conditioner 12-12.6 oz, 3 for $12


(excludes Hydrascalp)


-$5/3 Pantene Products incl Gold Series Collection, excl Intense Rescue Shots, Nutrient Blends Collection, Non-Wash Collection, 10.1 oz Collection, One Step Nourishing Mask, & trial, limit 2, PG 11/22
-$4 off Hair Care Products purchase of $20, printing at CVS Coupon Center (EXP 11/27)


(buy (3), use $5/3, makes it $3.50 ea.)


Head & Shoulders, Pantene or Herbal Essences bio:renew Hair Care, B1G1 40% off
Head & Shoulders, 13.5 oz, $6.49
Herbal Essences bio:renew, 13.5 oz, $6.99
Pantene Nutrients Blends Hair Care, $8.69
-$1 off Head & Shoulders Supreme, select varieties, Ibotta mobile app
-$3/2 Head & Shoulders products, excl Men's Styling & trial, limit 2, PG 11/22
-$4/2 Herbal Essences bio:renew Shampoo, Conditioner or Styling Products, excl Masks, 100 mL shampoo & conditioners, color, body wash and trial, limit 2, PG 11/22
-$5/3 Pantene Products incl Gold Series Collection, excl Intense Rescue Shots, Nutrient Blends Collection, Non-Wash Collection, 10.1 oz Collection, One Step Nourishing Mask, & trial, limit 2, PG 11/22
-$4 off Hair Care Products purchase of $20, printing at CVS Coupon Center (EXP 11/27)


(buy (2) bio:renew, use $4/2, makes it $2.90 ea.)


Oral-B Manual Toothbrush, Crest Pro-Health, 3D White or Complete Toothpaste, $2.99
-$2 off Crest Toothpaste 3 oz+, excl Cavity, Regular, Baking Soda, Tartar Control/Protection, F&W Pep Gleem, Kids and trial, limit 2, PG 11/22
-$2 off Oral-B Adult Manual Toothbrush 1-ct, or Multipacks 2-ct+, excl Healthy Clean, Cavity Defense, Indicator, and trial, limit 2, PG 11/22


(use $2 off, makes it 99¢)


Holiday Animation, Home Decor or Holiday Decor
Duracell Batteries, B1G1 at 50% off
Face Masks, starting at $3.99
Hand Sanitizer, B1G1 at 50% off
Aveeno Shaving Gel, Neutrogena Facial Care or any Neutrogena Men
Neutrogena Makeup Remover Towelettes, 25 pk, $7.49
Neutrogena Oil Free Moisture, 4 oz, $13.99
Neutrogena Rapid Wrinkle Repair, $29.99
-$2 off Neutrogena Skin Balancing Cleanser or Micellar Towelette printable
-$3 off Neutrogena Stubborn Acne AM or Stubborn Marks PM Treatment printable
-$2 off Neutrogena Skin Balancing Cleanser or Micellar Towelette, CVS eCoupon
-$3 off Neutrogena Stubborn Acne AM or Stubborn Marks PM Treatment, CVS eCoupon
-$10 Visa Gift Card WYB $25 in Neutrogena Products in one transaction, Online rebate
-$5 off Facial Care Products purchase of $30, printing at CVS Coupon Center (EXP 11/27)


(buy Rapid Wrinkle Repair, use $5 off store and $10 visa card, makes it $4.99 after ECB)


CVS Health Cold Relief


(excludes cough drops and all products with pseudoephedrine or ephedrine)


Sour Patch Kids, Swedish Fish 14 oz, Trident White, Vibes, Dentyne Ice 40-60 ct., or Trident 3 pk
-$3 off Candy purchase of $12, printing at CVS Coupon Center (EXP 11/27)
Haribo Gummies, 6.3-8 oz, 3 for $5
-$3 off Candy purchase of $12, printing at CVS Coupon Center (EXP 11/27)
Ghiradelli Original or Holiday Squares candy, 4-5.32 oz, 2 for $7
-$3 off Candy purchase of $12, printing at CVS Coupon Center (EXP 11/27)
Scarves, Hats, Earmuffs and more
Pepsi 12-15 pk, 12 oz cans or Bubly 8 pk, 12 oz cans, B2G1
CVS Health Foot Care or First Aid
-$4 off CVS Health First Aid products and treatments purchase of $12, printing at CVS Coupon Center (EXP 11/27)
Band-Aid Bandages or Neosporin
Band-Aid Bandages, 20 ct., $4.99
Neosporin Ointment, 5 oz, $8.99
-$1 off Neosporin ointment printable
-$10 Visa Gift Card with $25 purchase of Imodium, Band-Aid, Benadryl, Bengay, Motrin, Tylenol, Zyrtec, Reach, Lactaid, Listerine, Neosporin or Polysporin, Pepcid, Tena, Visine, Zyrtec, limit 2 online


(buy Neosporin, use $1 off, makes it $7.99)

$3 ECB WYB (3) Hallmark Greeting Cards, $2 +, , limit 1
-$5/5 Hallmark cards, printing at CVS Coupon Center (EXP 11/27)


(buy (5) at $2 ea. use store, makes it 40¢ ea. after ECB)

$1 ECB WYB (1) Hershey's King Size 2.4-3.4 oz or Twizzlers 5 oz, $1.88, limit 1
-$3 off Candy purchase of $12, printing at CVS Coupon Center (EXP 11/27)


(makes it 88¢ after ECB)

$1 ECB wby (2) Hershey's Popped Snack Mix, Dipped Pretzels 8-8.5 oz or BarkThins snacking chocolate, 4.7 oz, 2 for $7, limit 1


(buy (2), makes it $3 ea. after ECB)

$2 ECB WYB (1) SkinnyPop Popcorn 4.2-5.3 oz, 3 pk or Mini Cakes, 5 oz, $3.99, limit 1


(buy (1), makes it $1.99 after ECB)

$5 ECB WYB $15 Total Home Household Cleaners or Paper Products, , limit 1
$3 ECB WYB (2) Babo Unbleached Bamboo Toilet Tissue, 8 rolls, B1G1 at $10.99, limit 1


(makes it $3.99 ea.)

$2 ECB WYB (2) Scott Bath Tissue 12-18 roll or Viva Paper Towels 6 roll, $7.99, limit 1
-.55/1 Scott Extra Soft Toilet Paper, 8 rolls+ (sign up) printable
-.50/1 Scott 1000 Bath Tissue, 4 rolls+ printable
-.50/1 Scott ComfortPlus Bath Tissue, 4 roll+ printable
-.25/1 Scott Toilet Paper, 6-ct+, Ibotta mobile app


(use .50/1 and .25/1 Ibotta, makes it $7.24)

$2 ECB WYB (2) Hershey's Holiday Kisses or Miniatures, 7-8.5 oz, 2 for $3, limit 1
-$3 off Candy purchase of $12, printing at CVS Coupon Center (EXP 11/27)


(buy (2), makes it $2 ea. after ECB)

$3 ECB WYB (2) Cat Litter, any size, , limit 1
-$2 off Arm & Hammer Cat Litter printable
-$2 off Arm & Hammer Naturals Cat Litter printable
-$1.50 off Purina Tidy Cats brand Clumping Cat Litter, any, RMN 08/30
-$2.50 off Purina Tidy Cats Naturally Strong brand Clumping Cat Litter, any, RMN 08/30
-$2 off Purina Tidy Cats Naturally Strong brand Clumping Cat Litter, any, RMN 08/30 (EXP 11/23)
Extra Care Deals – Baby Care
$10 ECB WYB $40 Similac, Good Start, Earth's Best or PediaSure Products, , limit 1


PediaSure, 6 ct., $12.99


-$3/2 PediaSure Products (sign up) printable
-$1/3 Earth's Best Organic Jars or Pouches (sign up) printable
-.55/1 Earth's Best Organics infant cereal (sign up) printable
-$1/3 Earth's Best Organics jars and pouches (sign up) printable
-$5 off when you spend $25 on Earth's Best Products (e-mail signup) printable
-$5 off Pure Bliss by Similac Formula, Infant or Toddler Drink items, 24.7 oz container, Ibotta mobile app


(buy (2) PediaSure, use $3/2, makes it $11.49 ea.)

$5 ECB WYB (2) Pedialyte Product, 1 liter, 2 for $11, limit 1
-$1.50 off Pedialyte product (sign up) printable


(buy (2), use (2) $1.50 off, makes it $1.50 ea. after ECB)
Grocery
Quaker Cap'n Crunch or Life Cereal, 13-14 oz, $1.99
-$1/2 Quaker products, excl cups, SS 11/01
-$1/2 Quaker cereals printable


(use $1/2, makes it $1.49 ea.)

Nature Valley or Fiber One Bars, 5-6 ct., $1.99
-$1/2 Nature Valley bars, biscuits, cups, wafers, snack mix, soft-baked squares printable
-$1/2 Nature Valley Granola Bars, Biscuits, Cups, Wafers, Snack Mix, Soft-Baked Squares or Packed Sustained Energy Bars, 4-ct+ box, CVS eCoupon


(use $1/2, makes it $1.49 ea.)

M&M's Holiday Candy, 7.44-11.4 oz, B1G1
-$3 off Candy purchase of $12, printing at CVS Coupon Center (EXP 11/27)
Lay's Chips, Doritos 7.75-11.5 oz or Poppables 5 oz, B1G1
Cheez-It 3-4.5 oz, Keebler, Nabisco Cookies or Crackers, 2.12-6.5 oz, B1G1
-$1 off Cheez-it baked snack product, 7 oz + (850 points) printable
-$1 off Nabisco RITZ Cheese Crispers, 4.5 oz+ Cheddar variety, Ibotta mobile app
-$1 off Nabisco RITZ Cheese Crispers, 4.5 oz+ Four Cheese & Herb variety, Ibotta mobile app
-.50/1 Keebler Chips Deluxe Cookies, 8 oz+, Ibotta mobile app
-.50/1 Keebler cookie, 8 oz+, SS 11/08
Blue Diamond Almonds, 6 oz, $2.50
-$1/2 Blue Diamond almonds, 6 oz cans, limit 1, SS 11/22


(makes it $2)

Cola-Cola Products, 2 L, 2 for $2.50
Planters Peanuts, 16-20 oz, 2 for $5
Personal Care
Colgate Optic White 4.2 oz, 2 in 1 4.6 oz, Max 6 oz, Total 3.4 or 4.8 oz, $3.49, limit 1


-$2.99 off (1) with CVS store coupon


-.75/1 Colgate Total Advanced Toothpaste, 3 oz+ printable
-$1 off Colgate Optic White Advanced or Renewal toothpaste, 3 oz+ printable
-$1 off Colgate Max Fresh Toothpaste, excl 3-pk & trial, Ibotta mobile app
-$1 off Colgate Optic White, 3 oz+, Ibotta mobile app
-$1 off Colgate TotalSF Toothpaste, 3.3 oz+, excl multipack, Ibotta mobile app
-.50/1 Colgate toothpaste, 3 oz+, SS 11/22
(use $2.99 off store, .50/1, and $1 off Ibotta, makes it

FREE

)
Nature's Bounty Vitamins, B1G1
OPI or Orly Nail Polish or Treatment, B1G1
Oral-B Brush Heads 3 ct. or Vitality Rechargeable Toothbrushes, $24.99
-$10/2 Oral-B Replacement Brush Heads, 3-ct+, excl trial, limit 2, PG 11/22


(buy (2), use $10/2, makes it $19.99 ea.)

Sundown Naturals or Ester-C Vitamins (excludes kids), B1G1
-$1 off Sundown Naturals Vitamins, any, (sign up) printable
-$2 off Ester-C tablet, 60-ct or less, limit 1, RMN 11/15
-$3 off Ester-C tablet, 90-ct+, limit 1, RMN 11/15
-$2 off Sundown product, excl Probiotics, limit 1, RMN 11/15
-$2 off Sundown Vitamin or Supplement, CVS eCoupon
Clairol Nice 'n Easy, Root Touch Up, or Natural Instincts Hair Color, 2 for $15
-$2 off Clairol Nice n' Easy, Root Touch Up Permanent or Natural Instincts hair color, excl Crema Keratina, SS 11/22
-$5/2 Clairol Nice n' Easy, Root Touch Up Permanent, or Natural Instincts hair color, excl Crema Keratina, SS 11/22


(makes it $5 ea.)
Household
Merry Brite Clear Light Set, 70 ct., B1G1
Tide Simply Laundry Detergent, 31 oz or 13 ct., $2.94
-.50/1 Tide Simply laundry detergent 34 oz or less, Simply PODS 13-ct, Downy liquid fabric conditioner 40-load, Bounce or Downy Sheets 40-60 ct, Downy Unstopables in-wash scent boosters 4.3 oz, or ERA laundry detergent 50 oz or less, excl Bounce or Downy WrinkleGuard, Bounce Pet Hair & Lint Guard, Gain Fireworks, limit 1, RMN 11/08
-.50/1 Tide Simply Laundry Detergent 34 oz or less, Downy Liquid Fabric Conditioner 40 ld, Bounce or Downy Sheets 40 -60 ct, Downy Unstopables In-Wash Scent Boosters 4.3 oz OR ERA Laundry Detergent 50 oz or less , CVS eCoupon


(use .50/1, makes it $2.44)

Arm & Hammer Laundry Detergent, 43.75-50 oz or 17 ct., 2 for $5


-$1/2 Arm & Hammer Detergent, CVS eCoupon (coming Sunday)




(makes it $2 ea.)

CVS Batteries, 1-24 ct., B1G1
Regio or Oh So Soft Bath Tissue, B1G1