This post may contain affiliate links. Read our disclosure here.
If your savings goals fell short of what you wanted last year, start off on the right foot on the very first week of the new year.  You'll get started small with only $1.  By the end of the year you could have saved $1,378!
Each week you'll save the amount that corresponds with the week of the year.  For example, the 5th week, you save $5.
I will tell you that this method can hurt a little bit at Christmas.  This savings method is designed to ease you into the discipline of saving, but that leaves you giving around $50 every week in December (which is hard at Christmas).  If you are afraid of that, consider doing the calendar in reverse, checking off from the bottom to the top… I can handle $5 per week come Christmas!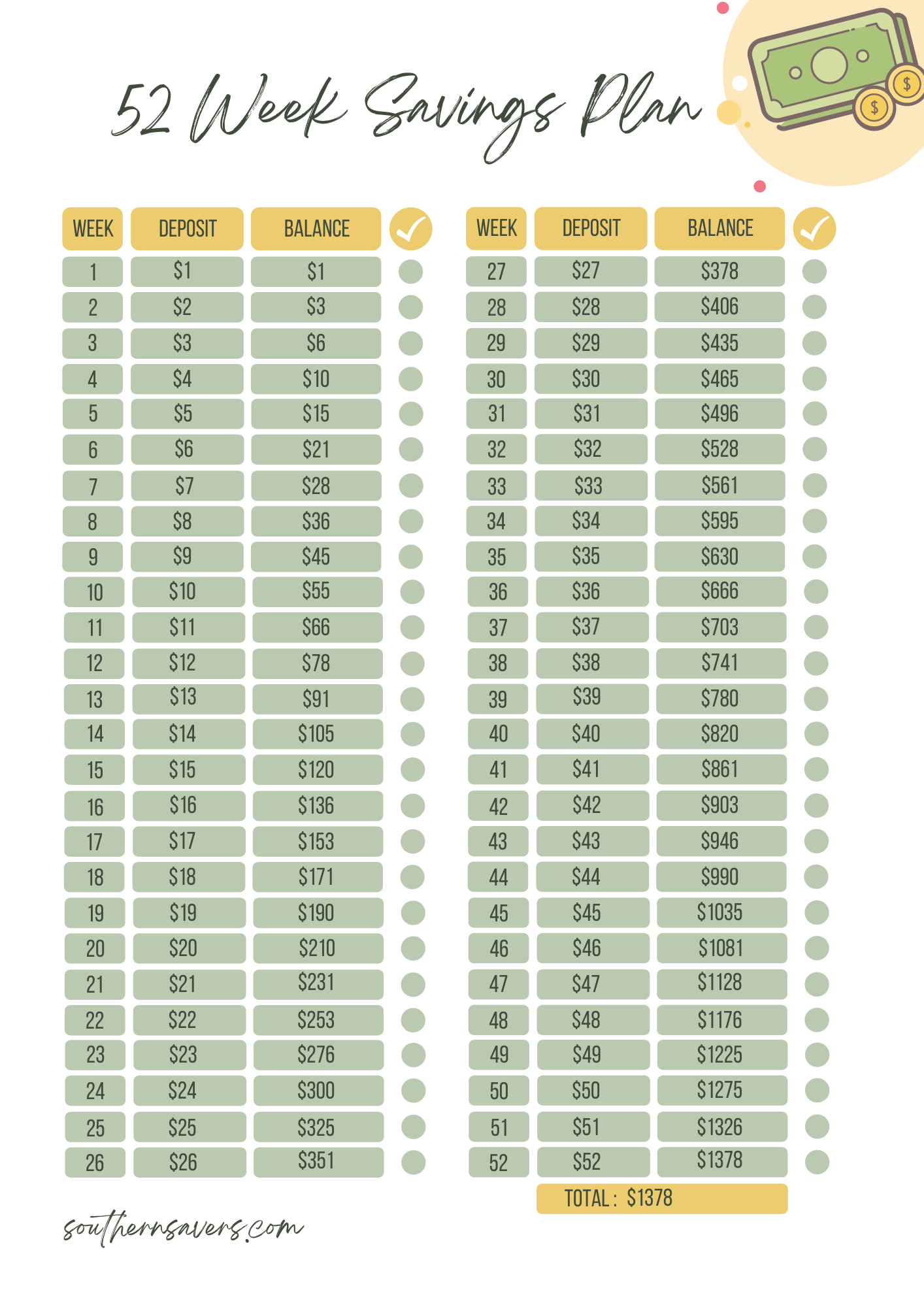 I've made a printable tacker for you to keep track of your savings and to visualize how much money you can save!
Want to change it up a little?  Here's a blank savings tracker so you can save whatever you can handle each week and keep track of your progress.
Hold Yourself Accountable
Don't just print this out.  Put it in a very obvious place you'll see daily!  The back of your bedroom door, the front the fridge… you get the idea.  The more you see your savings tracker the more you'll remember to save!
Make it even more doable by setting up automatic savings deposits.   While weekly deposits might seem a bit tricky to automate, you could easily do this with 12 monthly deposits.
January – $15
February – $30
March – $60
April – $85
May – $110
June – $135
July – $160
August – $185
September – $160
October – $153
November – $150
December – $135
I've changed up the exact amounts for each month so help take some pressure off December.  The total is the same though, at the end of the year you'll have $1,378 in your account.
Earn Even More on Your Savings
With each weekly savings amount (or monthly) make sure you are also earning more on your money.  Don't put this in your local bank savings account… they are paying next to nothing and you might as well just save it in a jar under the bed.
We put all of our extra savings into an Acorn account.  The money is automatically invested without you needing to research funds and stocks!  Last year our Acorns account earned 11.42%!!  That means you put in 1378 and earn another $151!!
With an acorn account you can withdraw the money at any time with no fees or penalties, but it is a tad harder to do than your local savings account.  That's a good thing!!  You are more likely to keep your hard earned savings!
When you get started with an account right now you'll also get a $5 bonus on your first deposit!