This post may contain affiliate links. Read our disclosure here.
I don't know about you, but there are certain foods that appeal to me in cold weather (soup) and others that appeal to me in warm weather (egg salad). I don't think I could stomach egg salad even in our mild southern winters, but it's something I really crave in the summer. Egg salad is a perfect summer lunch dish, and what's even better about it is that it's super easy to make and very cheap (especially if you have chickens!). This easy egg salad recipe only has three main ingredients aside from seasonings, so it's something you can probably make without a trip to the grocery store.
Easy Egg Salad Recipe
The most important ingredient of egg salad is… you guessed it, eggs! I recently shared how I make Instant Pot hard boiled eggs, and those are the eggs I use for this easy egg salad. I'm going to share how I make egg salad that is enough for about 2 servings. You can also double or triple the recipe if you want lunch for several days!
The first step is to peel and chop your eggs. If your peeled eggs don't look great, that's fine, because you're going to chop them up. Egg salad is also great for eggs that crack while you're boiling them. I don't like to put eggs like that into the fridge without doing something with them, so choose those for egg salad first.
Then you're going to want to add your mayonnaise and mustard. I like to add about 1 tbsp. of mayonnaise per egg I'm including, and about 1 tsp. of mustard for every 3 eggs. This ratio makes it the perfect consistency, I think, but if you like yours less creamy or more creamy, either decrease or increase the amount of mayonnaise. Adding more mustard is risky, unless you really like mustard. (Note: You can also use regular mustard if that's all you have. Ground mustard works as a substitute, but you'll only want to do about 1/4 tsp. per tsp. of prepared mustard, and you may need to add a little extra mayo.)
This is the consistency I like my egg salad to be, but you do you!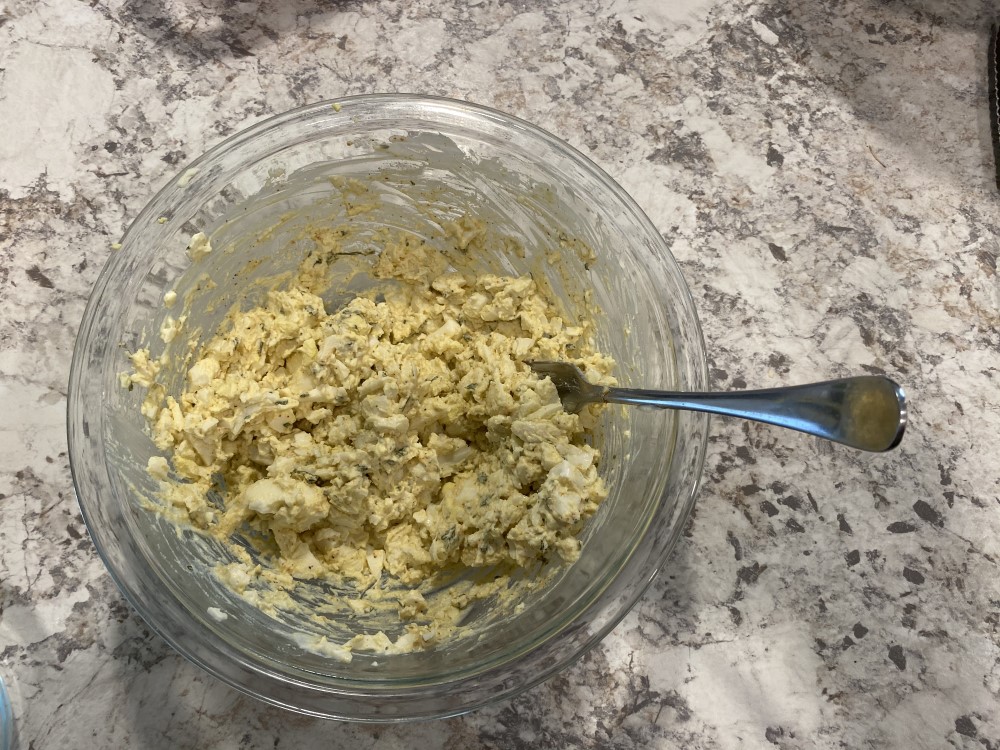 Now it's time to add garlic powder, salt, and pepper. I add about 1/4 tsp. of garlic powder for this recipe, but you can add more or less.
At this point, you can add whatever you want! I also like to add onion powder, paprika, parsley, and cajun seasoning, depending on my mood. Anything that sounds good is probably worth trying!
Another modification to this recipe is including avocado. You can fully replace the mayonnaise with it, or you can just add it to this recipe. It upps the fat content and makes it even more filling, which is perfect if you're doing keto or other low-carb diets.
Now it's time to dig in—if you're NOT doing keto, I like to eat it with wheat thins. If you're staying away from carbs, then you can dip raw veggies, wrap it in lettuce, or just eat it by itself (it's that good!).
Ingredients
6 eggs, hard boiled, peeled, and chopped
6 tbsp. mayonnaise
2 tsp. dijon mustard
salt and pepper to taste
1/2 tsp. garlic powder
other optional seasonings
Directions
Mix the mayonnaise and dijon mustard into the chopped eggs (add more mayo if you like it creamier!).
Add garlic powder and salt and pepper to taste.
Other optional seasonings: parsley, cajun seasoning, paprika, onion powder
Created by SouthernSavers.com