This post may contain affiliate links. Read our disclosure here.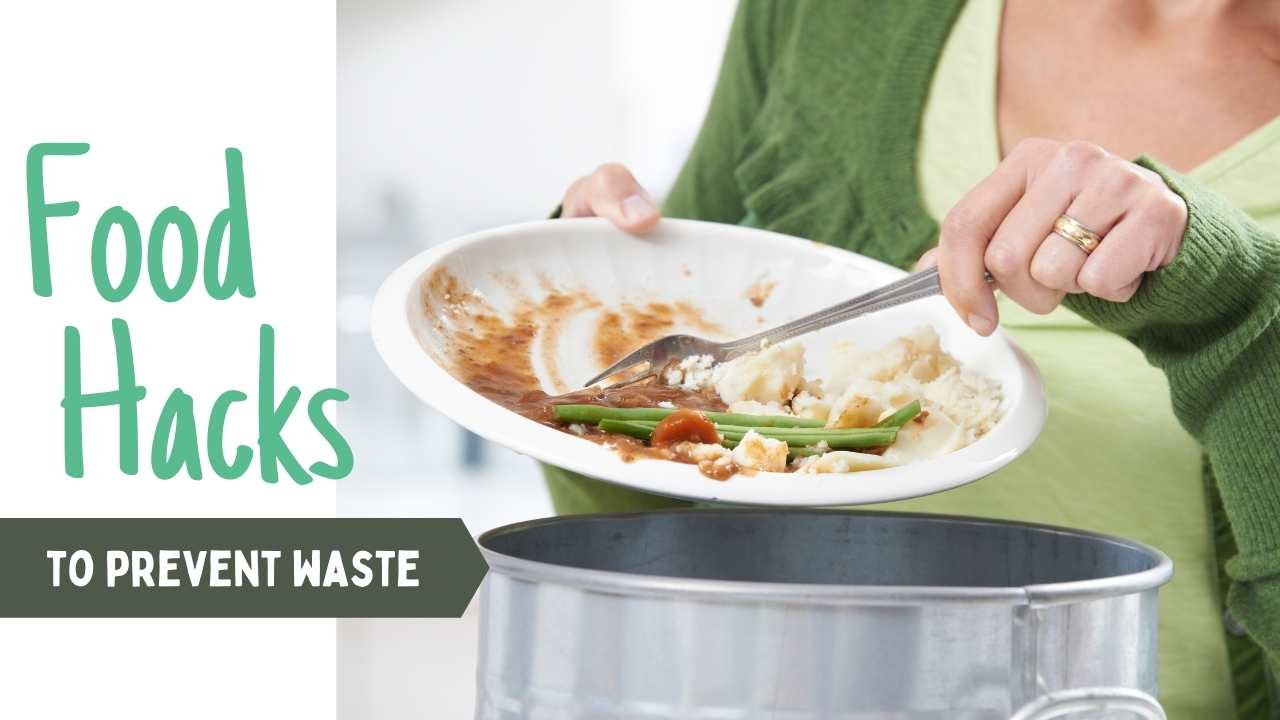 If you've ever dumped a bunch of food in the trash and felt a twinge of guilt, I'm here to help! It probably not possible to prevent all food waste, but there are a few things you can incorporate into your routine to help you waste less and save more.
These food hacks not only help you minimize food waste, but they also cut down on the stuff you have to buy! Make banana fertilizer, veggie scrap stock, leftover appetizers, DIY cottage cheese and more!
End-of-Week Leftovers Charcuterie Board
One of our favorite things to do after a holiday is gather all the edible leftovers and make a fun charcuterie board! But the great news is you can do this anytime. Grab your cutting board or a tray and pile on bite size pieces of Tuesday's meatloaf, last night's leftover salad veggies, the last few slices of pizza and all the rest of the nibbles that didn't get eaten. Pair with your favorite crackers and dipping sauce and pat yourself on the back – you basically got a FREE meal!
Leftover Veggie Stir Fry
After you've made all your planned meals, what do you do with your leftover veggies? There are lots of ways to use them, but one of my favorites is to make a leftover veggie stir fry. You can use all kinds of vegetables in stir fry and the sauce ties it all together. Think leftover carrots, squash, broccoli, green beans, radishes, asparagus, sprouts and even dark leafy greens. There are lots of recipes for stir fry sauce – here's one from Food.com if you want somewhere to start!
Throw Ends and Pieces from Chopped Veggies into the Freezer
When you're chopping veggies for meals, don't throw out those ends and pieces. Throw them in a freezer bag and make a stash of vegetable pieces. In the future, when you need cooking stock, throw all the usable pieces in a stockpot along with some herbs and spices and you can make a great base for another meal. That saves you a trip to the store as well as the cost of veggie stock! Check out this post from Little Broken for a great guide on making stock from leftover veggies!
Via Little Broken
Rotisserie Chicken Bone Broth
Rotisserie chicken is a great convenience meal – generally pretty inexpensive, healthy and filling for the whole family. However, even if you get all the meat off there's still so much leftover! But if you have a crock pot or instant pot you can put all that leftover to work and get you even more for your money.
Head over to Thyme and Joy for a great guide on making rotisserie chicken bone broth!
Freeze Fresh Herbs
Have you ever bought fresh herbs only to find them weeks later stuck behind something and now completely unusable? Using fresh herbs can really elevate home cooking but a lot of times recipes call for just a bit, leaving a lot leftover. Prevent this by freezing your herbs! All you have to do is wash and dry your leftovers thoroughly (they need to be completely dry), finely chop them and spread them on a plate in the freezer. When they're completely frozen, transfer from the plate to a freezer bag and put them back in the freezer. Just grab the amount you need the next time you're cooking!
Easiest Compost
For a beginner, starting a compost bucket can be so intimidating. What you can and can't put in, how often to mix it, how long to store on the counter – it's not completely intuitive! So just start somewhere small. Eggshells and coffee grounds may seem like trash to us, but they are fantastic for plants!
All you need is an old pasta sauce jar or mason jar. After you crack your eggs, rinse them off and then crush them as much as possible. (This is really fun – grab a kid to help!) Then after you've brewed your coffee, toss the cooled grounds in there, too. Close the lid and let it sit in the window. When you've got enough for your plants, mix it all together and then mix it into your soil. That's it! Do this at the beginning of the growing season and once every few months.
Want to jump fully into composting? Checkout my guide here!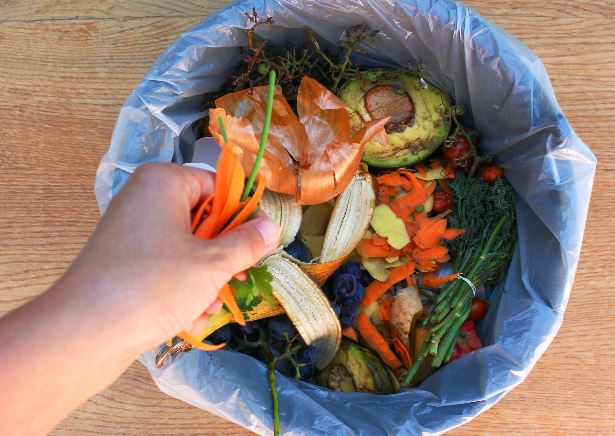 Banana Peel Fertilizer
This is a new idea I've started to see all over the internet. Instead of throwing out your banana peels, chop them up and throw them into a mason jar filled with water. Add new cubed banana peels every time you eat one and leave them soaking in the jar for a day or two. This is great for garden plants, flowers and even house plants!
DIY Croutons Made with Old Bread
I recently bought a loaf of gluten free bread that really didn't taste good for sandwiches or toast (which is what we mainly use bread for). In a desperate attempt to not waste a whole loaf of bread, I decided to try DIY croutons and to my surprise they turned out to be delicious! All you need is some old bread, olive oil or butter and some seasonings.
Here's a great step-by-step from Gimme Some Oven on how to make your own croutons!
Overripe Bananas in Baked Goods
This is a commonly used tip, but still a great one. You know how one week your kids eat 6 bananas in one day, and they next week the bananas are rotting away in the fruit bowl? Don't waste them – bake them! Here is my absolutely favorite banana bread recipe.
Don't have time to bake? Throw them in the freezer and take them out when you need them. FYI they will be black once they're frozen but they are still perfectly fine to cook with!
Sour Milk Cottage Cheese
Have you ever reached into the fridge to grab milk and realized it expired two days ago? You might not feel comfortable pouring it over your Cheerios but you CAN use old milk for useful purposes!
This is an excellent list of uses for old milk over at Bon Appetit magazine online!
See more frugal living tips!