This post may contain affiliate links. Read our disclosure here.
San Diego, California, is sometimes considered the birthplace of California because it is the first place visited by European explorers on the West Coast. It is a huge metropolitan area that is also a biotechnology and economic hub, which means there are endless options for things to do. It may not be the first place you think of when you plan a visit to California, but once you see this list of 25 free things to do in San Diego, you might change your mind!
25 Free Things to Do in San Diego
This free park has lots of options for water play, a playground, and several picnic areas.There is also a garden and public art for you to look at. In other words, a family with kids could spend at least a whole morning or afternoon here!
People Watch at the Gaslamp Quarter
Marketed as a "walkable urban playground," the Gaslamp Quarter features lots of dining and entertainment options, but there's plenty of entertainment without spending any money!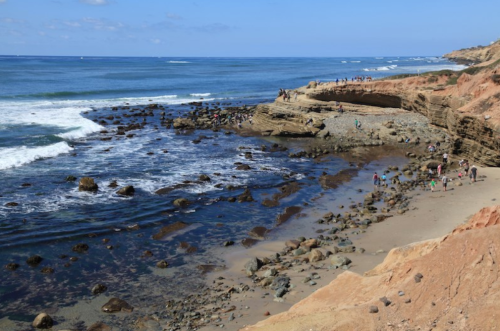 Examine the tide pools at Cabrillo National Monument
Part of the National Park Service, the Cabrillo National Monument commemorates the arrival of the first European explorer to west coast of United States. Located right on the coast, there are amazing tide pools at the southern end of the park that will give you a chance to explore and learn about marine ecosystems.
Play Disc Golf at Kit Carson's Park
This beautiful park features a playground, a free disc golf course, a sports complex, an arboretum, several ponds, and lots of walking and hiking trails.
Climb the Old Point Loma Lighthouse
While you're at Cabrillo, be sure to check out the Old Point Loma Lighthouse. One of the first lighthouses on the West Coast, it is no longer in operation but is still open to the public as a museum.
Browse the Art Galleries at University of San Diego
All kinds of art is displayed in the many galleries housed at the University of San Diego, a thriving art scene. Everyone in your family is sure to find something inspiring.
Presidio Park is the site of the Junipero Serra museum, which contains many items that show the history of original immigrants to California as well as their relationship to Mexicans and the Spanish. The park is broken up into different areas and includes big grassy areas as well as a playground.
This trail is considered to be of moderate difficulty and is between 5 and 6 miles long. It has beautiful wildflowers and at the top will give you an amazing view of the San Diego area.
Watch the sun set at Scripps Beach
The sunset at Scripps Beach is supposedly one of the most photographed sunset locations in the world. If you've ever seen one of those stock photo sunsets, it might have been taken here!
Appreciate nature at Torrey Pine State Natural Reserve
The Torrey Pine Reserve is home to threatened or endangered species, so it's not the kind of place where you'll have your kids running around all over the place. But there are many trails you can walk on and lots of amazing wildlife to enjoy. (Note: food and drink are not allowed in the reserve.)
Look for seals and sea lions at La Jolla Cove
You won't want to get super close, but that won't keep you from appreciating the opportunity to see these sea lions and seals in their natural environment.
Enjoy a free organ concert from the Spreckels Organ Society
You'll need to check their calendar for exact details, but these free outdoor organ concerts are a San Diego staple.
While the park covers a massive area and contains many attractions that are not free, including the San Diego Zoo, the gardens, playgrounds and walking trail are completely free to explore.
Swim at one of San Diego's many beaches
There are more than 70 miles of coastline in San Diego, and many of the beaches along the coast offer free parking and beach access. I don't know about you, but my kids could go to the beach every day!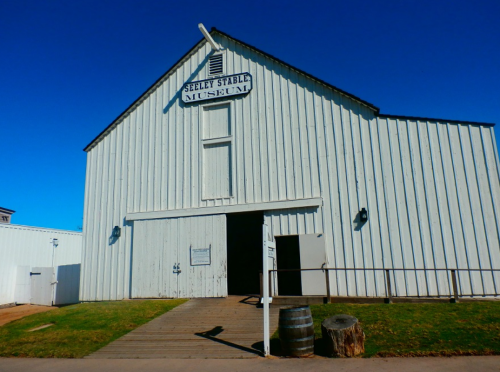 Visit the Seeley Stable Museum
See how important horses were to transportation in the 19th and early 20th century by visiting the Seeley Stable Museum. You'll be impressed by all the different modes of getting around before cars entered the scene!
Listen to local music at the Coronado Summer Concert Series
Generally running weekly from the end of May through the beginning of September, this free summer concert series features local musicians performing on the promenade.
Hike Mt. Woodson to see Potato Chip Rock 
Follow the Mt. Woodson Trail up to the top, where you can see a beautiful view of the Pacific Ocean as well as the unusually shaped Potato Chip Rock. You'll need to pack water and sunscreen and prepare for a tougher hike, but the view from the top is more than worth it!
Stroll Around Old Town San Diego
Home to dozens of historic sites, you'll be able to appreciate the beautiful architecture and surrounding scenery at your own pace.
Watch a free summer Movie at a San Diego Park
Various parks rotate hosting a free family friendly movie each week during the summer. Check the schedule to see which movie is playing!
Walk the boardwalk at Belmont Park
You may end up spending some money here on lunch or dinner, but walking up and down the boardwalk is totally free!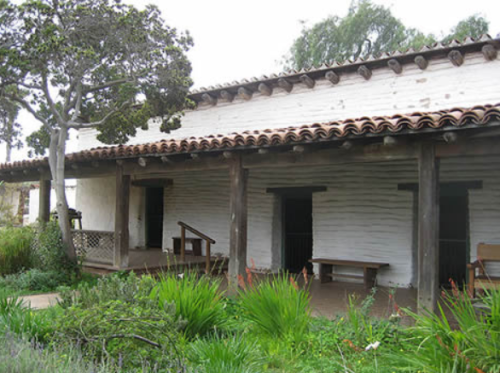 Travel back in time at the Casa de Estudillo
Built in the late 1820s, the Estudillo House is one of the oldest original surviving structures built by Mexican soldiers after Mexico declared independence from Spain in 1821.
Listen to live music at Seaport Village
There are free concerts almost daily at Seaport Village, perfect for when you need a break from sightseeing to rest your legs.
Watch artists work at the Spanish Village Art Center
Artists set up their studios each day to work and sell their art, so walking through this area of Balboa Park is almost like browsing a living art gallery!
Browse produce year-round at a San Diego farmers' market
Because of the mild climate in San Diego, fruits and vegetables are harvested year-round. That means no matter what time of year you head to one of the San Diego farmers' markets, you'll be sure to find something delicious.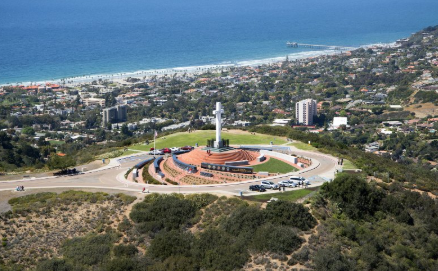 Remember veterans at the Mt. Soledad National Veterans Memorial
One of the most unique veterans memorials in the country, veterans from the Revolutionary War to the present are honored with images instead of just their names. Plaques can be bought in honor or anyone who has been honorably discharged from any branch of the military.
Heading elsewhere in the state? Check out our list of 25 Free Things to Do in San Francisco!