This post may contain affiliate links. Read our disclosure here.
With gas prices high and food costs rising as well, one option to save money this summer is just to stay home. If you want to go on a trip or vacation and not break the bank, saving where you can is crucial. One big area that adds up fast is eating out at restaurants and fast food. These frugal road trip food ideas will help keep people happy in the car and save money as well.
Frugal Road Trip Food Ideas
The cheapest option is to never eat fast food, right? That may not be feasible depending on the logistics of your trip, but just choosing any of the following ways to save money will still help your budget!
Drinks
Drinks seem like the most overpriced option when you're on the road. At a gas station, you can pay $2 or $3 for a 20 oz bottle, whereas a 6-pack from the store is only about $5 even when it's not on sale! It's definitely worth it to chill cans or bottles of soda ahead of time if that is something your family likes to drink on the road.
For water, we love to freeze disposable water bottles so they can keep other things cold. They melt along the way and the water stays cold. It's also smart to bring some empty reusable water bottles to fill at rest stops.
Refrigerated juice boxes are another option. These can be a fun travel treat for younger kids.
Snacks
If you're not going to be traveling during a mealtime, invest in a small cooler and bring some hearty snacks. Some of our favorites are hard boiled eggs, string cheese, grapes, and protein balls. We also like to bring beef jerky or snack sticks and trail mix.
If you want to bring chips/crackers, reduce mess and save money by buying the larger bags or boxes but bringing small snack sized ziploc bags to portion them out. Whenever we pass large bags around our car, something always spills.
Breakfast
Sometimes we like to leave super early in the morning, before breakfast, to get some hours on the road in while kids are still half asleep. Once they're awake, though, they're hungry! For breakfast in the car, I like to bring low-mess fruit like oranges and apples as well as some homemade muffins. You can also bring bananas, as long as you can keep them from getting squished!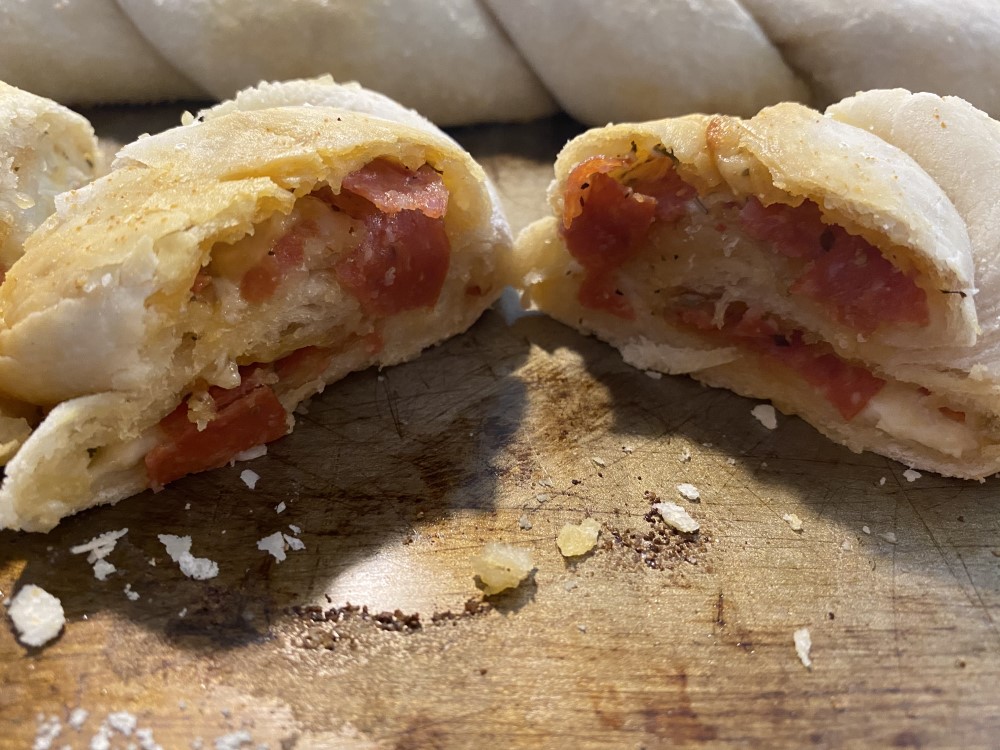 Lunch
One of the easiest lunch options is to bring sandwich fixings like bread, meat, and cheese. The easiest option is PB&J as just the jelly needs to stay cold.
A couple of other favorite lunch option for our road trips:
Pizza Bread
It tastes fine a little cold or at room temperature and you can make it ahead of time and store it in the freezer until the night before your trip!
We also enjoy Tuna Pasta Salad.  Make it ahead of time and keep it in the cooler.  Here's the recipe:
(1) box of rotini or penne pasta
(1) can of tuna, drained
(2) hard boiled eggs, chopped up
1/2 cup Mayo
Sweet Relish, Salt, Pepper to taste
1 tbsp sugar
Boil pasta and drain.  Add all the other ingredients with the pasta and stir.  I usually keep adding relish until it seems right.  The sugar might seem random but it adds something to it!
Tip: You can add any veggies to this your family will eat.  Peas, celery, and carrots are all ones we've tried.

Dinner
If you get creative you'll be amazed at what you can cook for dinner with just a microwave in a hotel room!  Make dinner easier by pre-cooking (and pre-seasoning) meats.  If you have room in the car bringing a crock-pot on the trip will open up a lot more dinner options.
A few easy meals for hotel rooms:
Tacos/Nachos
Chili or soups – make ahead and freeze so it lasts longer in a cooler
Baked Potato Night
Easy Microwave Mac & Cheese
Chicken Quesadilla
For dinner, remember that anything you "make" is cheaper than eating out.  That includes running by the grocery store and getting a rotisserie chicken and couple of frozen steam veggie bags.  You'll pay $12-$15 for a total meal that feeds the family compared to 4X that price with restaurants or delivery.
Other tips
Instead of packing individual lunch boxes or reusable containers, bring disposable dinnerware – plates, cups, silverware, napkins. You can toss them at a gas stop and reduce mess in the car. We also like to bring small packets of sauce and condiments (for example, we always save our extra Chick-fil-a sauces!).