This post may contain affiliate links. Read our disclosure here.
My favorite way to get up in the morning is before my kids with a cup of hot tea and breakfast, sitting in one of our recliners with my Bible and a good book. There are a lot of things that can conspire so that this doesn't happen, but over the years, I've found that making sure breakfast is already fixed makes it much more likely that this can happen! My favorite already-made breakfast is overnight oats, and over the years I've tweaked it so it only uses 5 main ingredients and takes less than 5 minutes to put together. If you want to learn how to make overnight oats, keep reading.
This is obviously not a keto recipe, and there really isn't a way to make it keto, but this is my all-time favorite breakfast when I'm not doing keto. It's also a great post-workout or afternoon snack!
How to Make Overnight Oats
Overnight oats are so versatile that as long as you have oats in your pantry, you can probably make some version right now. I make overnight oats using 5 components, which I'll explain below.
Oats: Use old-fashioned or steel cut. Steel cut will be chewier and heartier, and you may need to experiment to find the right amount of liquid.
Milk: You definitely want to use milk instead of the water you may use for regular oatmeal, but you can use any kind of milk. I prefer to use unsweetened almond milk.
Yogurt: You can also use any kind of yogurt! For this version, I used organic plain whole milk yogurt. My favorite kind to use is plain whole milk Greek yogurt, because it makes the final product thicker and extra creamy.
Sweetener: For this version, I used some maple syrup sent all the way to me from a friend in Wisconsin, who has a maple syrup farm right down the road from her house. Again, though, it doesn't matter! Liquid sweeteners like maple syrup or honey will add to the creaminess, but you can use regular sugar, brown sugar, or other sweeteners like stevia or erythritol. The amount of sweetener you add will depend on what other ingredients you're using. If your yogurt is already sweetened, for example, you may not need as much sweetener. But in this version, the cocoa powder can be bitter, so you may need a bit more.
Mix-ins: This recipe shows how to make chocolate overnight oats (because who doesn't love chocolate?) but you can add in almost anything that sounds good: fruit or fruit purees, nut butters, various extracts, or spices.
Tip: For toppings like nuts or chocolate chips, I would wait until the morning you're going to eat them to stir those in.
As for materials, all you need are a couple measuring cups and some kind of container to put your oats in. I use 12 oz Mason jars.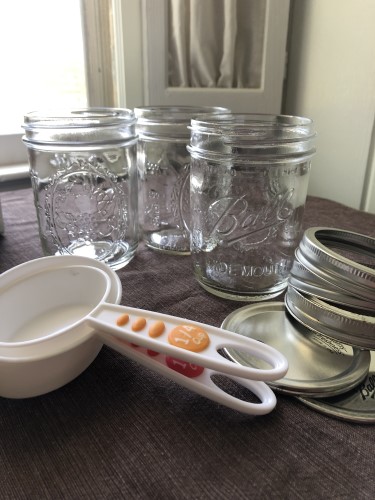 When you stir them together, the order doesn't matter at all. Dump them in the container in whatever order you want and stir well to combine.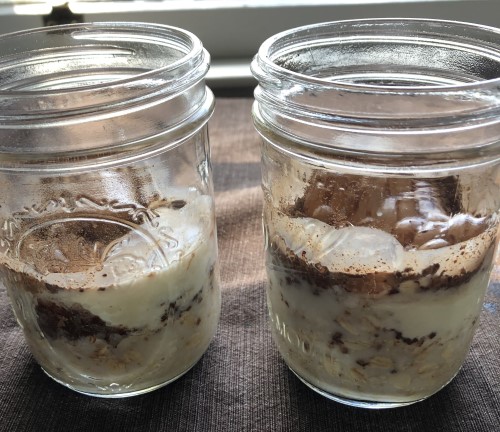 As I mention in the recipe, you can eat these cold the next morning (my preferred option) or heat them up to your desired temperature.
Chocolate Overnight Oats Recipe
Ingredients
1.5 cups old-fashioned oats
1.5 cups milk
3 tbsp. cocoa powder
3/4 cup yogurt
3-6 tbsp. sweetener
Directions
Set out three 12 oz Mason jars.
Evenly divide ingredients between the three jars: 1/2 cup oats, 1/2 cup milk, 1 tbsp. cocoa powder, 1/4 cup yogurt, and 1-2 tbsp. sweetener.
Stir each jar with a spoon until fully combined. Store in the fridge overnight.
Enjoy in the morning heated up or straight from the fridge!
Created by SouthernSavers.com
All other things being equal, I like something sweet for breakfast. So in addition to making these chocolate, I like to add a sprinkle of chocolate chips. You only live once!
A final note: I usually make them three at a time, but I've made them six at once in the past and they've still been good six days later. Make as many at once as is convenient for you!
If you are doing keto and this isn't an option,  try our Quick Keto Ham, Egg, and Cheese Cups for another easy make-ahead breakfast!