This post may contain affiliate links. Read our disclosure here.
When I was working on the 28 Secrets to Save at Amazon, I was reminded of the Prime Wardrobe service that is free for Prime members. I knew about it, but had never really looked into it. As I explored how it worked, I decided I wanted to try it so I could give you an honest review of how it worked and whether or not I thought it was worth it. Keep reading to see my final thoughts!
My Amazon Prime Wardrobe Review
What is Prime Wardrobe?
When explaining it to my husband, I described it as a version of Stitch Fix, only you get to pick out the items instead of having someone else pick them out for you (Note: There is an option to have a stylist pick out your clothes for $4.99/month, but I didn't try that). And, unlike Stitch Fix, there is no styling fee or penalty if you choose not to keep any of the items. That's right—you can send every single item back with free shipping and not spend a dime.
What kind of items can you pick?
There are options for men, women, and children, including clothes, shoes, accessories, and jewelry. You can mix and match if you want; for example, you could pick several kid's items and several women's items in the same box.
How many items can you pick?
You can pick between 2 and 8 items for each box.
How long do you have to try them on?
Amazon says you have a try-on period of 7 days to try out the items once you receive the box. Then you have to send back the items you don't want so that you won't be charged.
My Experience with Prime Wardrobe
Since this was a new thing for me to try and I don't think many people have tried it, I wanted to document as well as I could my entire experience! I'll start by saying that I went into this experiment planning to keep NONE of the items I chose. That way if I did decide to keep something, I knew it meant it really was an amazing deal or really good quality. I really didn't even pay attention to the price on the items; I just chose items that were similar to other items I already have or items that I could see myself wearing.
When you go to Amazon, the Prime Wardrobe section isn't immediately obvious, but you can just type "prime wardrobe" into the Amazon search bar to get there. You can shop by category (women, men, etc.), theme (new arrivals, certain styles), or brand. Once you select a category (for me, women), you can narrow down what you're looking for even more. Since I'm a frugal shopper and didn't have anything specific in mind, I chose to look first at the Amazon Essential items since I assumed they would have a lower price point than some of the other items.
Once you select an item to look at, you can choose your color and size, and then you'll see the option on the right to include it in your Prime Wardrobe box.
Select an item, it will take you to another screen where it will show how many items you have in your Prime Wardrobe cart.
I decided to order 8 items to fill the box completely and to be able to try many different items. I chose 8 different items, but you could choose the same item in several sizes if you had something particular in mind you were looking for. Here's what I ordered:
Daily Ritual Women's Supersoft Terry Long-Sleeve Hooded Pullover, $28
This was the most non-neutral color they had of this item, and since I don't normally gravitate towards colors like this, I thought I would try it on. It looks like something I could wear with leggings or with jeans this fall and winter. (Note: Daily Ritual is one of Amazon's brands.)
Amazon Essentials Women's Performance High-Rise Full Length Active Legging, $18
My favorite pair of leggings has a hole in the seam, and since I love pants with elastic waistbands, I'm on the hunt for a new pair of leggings. This price seemed pretty similar to what I'd be willing to pay for leggings at Target.
Signature by Levi Strauss & Co. Gold Label Women's Totally Shaping Pull-on Skinny Jeans, $23.53 
The idea of pull-on jeans was exciting to me! I could use a new pair of jeans, and these had really high reviews. If I weren't trying to choose 8 totally different items, I might have gotten these in two different sizes to see which one worked better, but for this box I just guessed as best as I could.
Amazon Essentials Women's Utility Jacket, $32
I have a jacket really similar to this that I got on clearance at Target several years ago, but it's looking pretty worn. The price point on this is amazing, but I'll have to wait and see how the quality is.
Daily Ritual Women's Wool Blend Open Cardigan Sweater, $39 
Sweaters like this are perfect for layering in the fall. Somehow I lost my favorite gray sweater last year, so I need another one! However, I doubted I would keep this one regardless of how nice it was because I'm loathe to spend $40 on a sweater.
Amazon Essentials Women's 2-Pack Slim-Fit Tank, $14.50
I couldn't find the colors I really wanted in my size that were available through Prime Wardrobe, so had to go with two gray ones. I figured I would try these on, and if I like them, I can always return these and order the colors I want in a separate non-Prime Wardrobe order.
New Balance Women's FuelCore Nergize V1 Cross Trainer, $54.29
I buy a lot of things at Target, including a casual pair of gray sneakers that I bought two years ago. But because they weren't the best quality, they're basically falling apart. I love having a pair of sneakers like this that can be worn with workout clothes OR with jeans and a T-shirt, and while this is a bit higher price than I would normally spend, they are New Balance and so probably worth it.
Skechers Women's Lasso-Caravel-Short Zip-on Ankle Boot, $42.76
I got an amazing deal on a pair of boots at Goodwill several years ago, but the soles are starting to come apart. This seemed like a pretty good price for boots, so as long as they're comfortable, I think these are one of the items I may actually end up buying.
Once I had selected all my items, I went to the checkout screen and it listed all my items again so I could confirm I had ordered what I wanted.
Then I selected "proceed to shipping" and could see the total with tax and the estimated arrival date.
I ordered on Thursday, September 5, and it said it would come by Thursday, September 12. I gulped a little when I saw the total, but was grateful to remember that I won't have to pay anything if I didn't like any of the items! That said, $250 for 8 items that included a jacket and two pairs of shoes doesn't seem that crazy, as long as they are good quality and seem like they will last a while. It seems if you try to stick to the Amazon brand, you might be able to get some pretty good deals.
The order actually arrived on Sunday, September 8 (4 days early), and I received an e-mail saying that I had until Monday, September 16, to try the items on, which is actually 8 days, but I'm assuming this is because it arrived on a weekend. I didn't get a chance to try the items on until Tuesday, September 10. I had to excitedly look at the box in our bedroom wanting to open it but also needing to wait so I could document every step!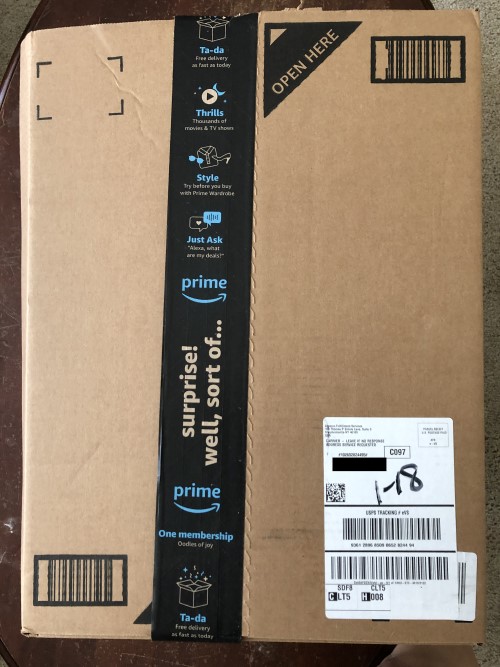 The box had clear instructions to "open here," which turned out to be a perforated flap so that it would be easy to close the box up and send the items I didn't want back. Once I opened it, here's what I saw.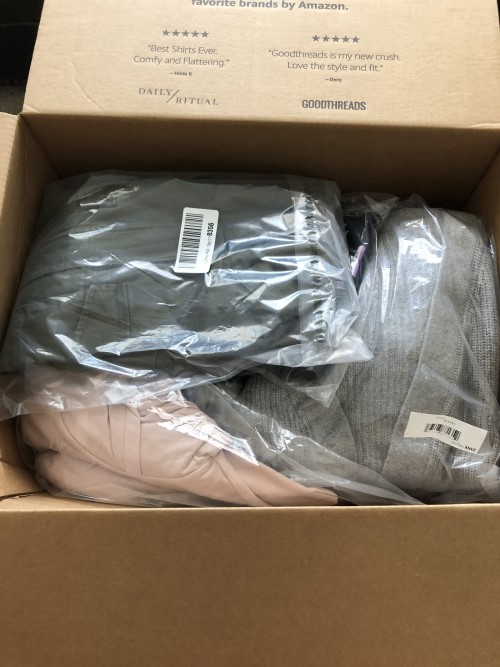 Underneath the six bags of clothing were the two shoeboxes.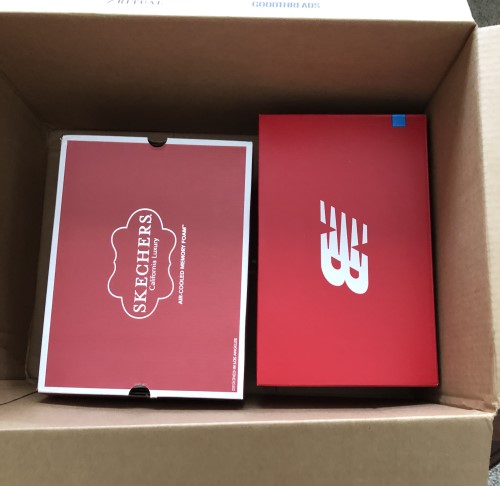 The box also included a little pamphlet that opened up to reveal a reminder about how the process works as well as the return shipping label.
Once I examined the contents of the box, it was time to try everything on! As you can tell from the image below, I somehow forgot to take a picture of the black leggings, but there's everything else.
It took me about 30 minutes to try everything on. Both pairs of pants didn't fit quite right—I might just need a different size—and I didn't love the way the tank tops felt. I really liked the look of the suede boots, but they were just a bit too small.
The items I liked were the pullover, the jacket, the sweater, and the sneakers. However, both the pullover and the sweater were a bit more than I was willing to pay since I don't necessarily NEED those items. I loved the color and feel of the jacket, but it was just a tad too small, so if I do decide to get it, I'll go one size up. My favorite item was the New Balance tennis shoes, and even though I hadn't been planning to keep anything, I did decide to keep them! I very rarely pay $50 for a pair of shoes, but I compared the price and it was as cheap as I could find them. (I also used a $10 gift card I earned through Swagbucks to bring the cost down!).
How to Return Items You Don't Want:
Once I was done trying everything on and had decided on the shoes, I went into "Your Orders" in the Amazon app and selected "Purchase or return items."
Then it shows a list of all the items and I could either mark "Keep" or "Return."
After you complete this process,  you'll head to the payment screen for any items you are keeping.  The last step, it will give instructions for how to return the rest of the items.
It then told me I had until Wednesday, September 18, to return it, which was about 8 days. I thought that I would have 7 days to try everything on and return them, which seemed like plenty of time, but it was nice to know I had at least 2 weeks to complete the whole process. 
I then put the items I was returning back in the box and attempted to figure out how to re-seal the box. Both of the top flaps had a peel-off label that revealed a sticky line, but when I tried to close the box that way, it didn't really stay closed. So I just went and got some packing tape and sealed the box myself. I also attached the return label over the previous label.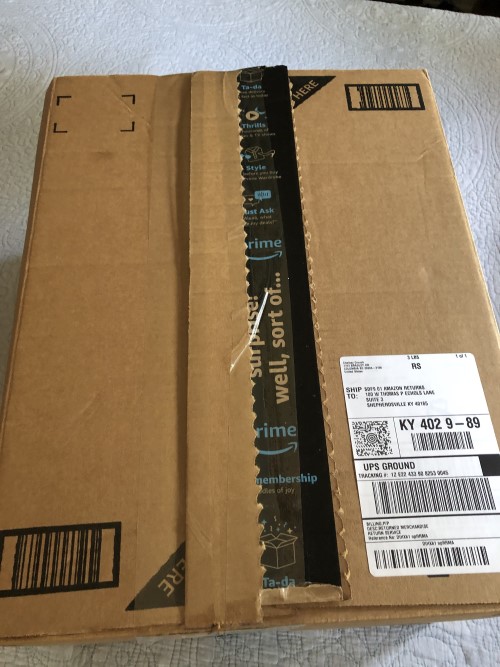 So, overall, what is my ultimate review? I would give it 4 out of 5 stars! Here are my final thoughts.
Pros:
I loved getting to try things on at home in my own bedroom instead of having to find time to go try things on at a store. It would have taken a long time to gather all these items at one store! I also liked that I could spend time looking for items on the website and not feel rushed. I told my husband that I thought I might enjoy, for Christmas or a birthday, receiving an Amazon gift card specifically for Prime Wardrobe items and then having all the time I wanted to order several boxes, if needed, and order just the items I wanted.
If you end up returning everything there is no cost at all!  This is awesome compared to some of the clothing box companies that charge a $20-$25 styling fee if you don't select an item.
Cons:
It wasn't necessarily hard to find things to buy, but a few times I selected an item and they didn't have it in my size or color, and there wasn't an easy way to get back to only Prime Wardrobe items. They would show similar or recommended items at the bottom as usual, but only some or sometimes none of them were eligible for Prime Wardrobe.
The other reason I wouldn't give it 5 stars is that I felt some of the items were very overpriced. For example, it seemed silly that the gray sweater cost more than the heavy-duty jacket! And it doesn't really look like these items go on sale, so you could probably get some better deals by going to local stores in person.
Since I mentioned the other programs (like Stitch Fix), you don't have the help of an official "stylist" so you might miss things that would be new and look great on you.  I'm not knocking the credit for this, just mentioning it as a possible negative for folks that get stuck in a rut sometimes.
Final Thoughts:
I think I'll definitely try Prime Wardrobe again the next time I'm looking for a specific item. I'm thinking if I need a new dress for a special event, this would be such an easy way to go shopping.
Have you tried Prime Wardrobe? Do you have any questions I didn't answer? Let us know in the comments!